Key Takeaways:
Planning and maximizing the most effective routes for delivery or service personnel is the process of route management.
The process of route planning can be streamlined and automated with the use of route management software.
Food delivery, package delivery, and field services are just a few of the delivery or service firms that can use route management.
By avoiding needless travel, route management can also assist in lowering fuel consumption as well as vehicle wear and tear.
Successful route management is not just limited to planning an optimized multi-stop route; in fact, it is so much more than that.
According to a survey in 2020, the average cost of a failed delivery to retail executives in the United States was 17.2 US dollars. As per the same survey, a failed delivery in the United Kingdom costs 11.6 British pounds.
Due to delays, failed deliveries can lead to re-deliveries, which can shoot up your delivery costs, leaving no scope for profitability.
Therefore, to successfully manage your delivery operations with reduced operational costs, save time, and boost revenue, you must know what route management is essential.
Let's find out what is route management and how you can optimize your delivery service business with it!
What Is Route Management?
To explain what is route management in simple terms, it is the planning of the most efficient routes to manage delivery operations and services conveniently. Effective route management helps reduce time and resources such as mileage and fuel expenses. You can, of course, go for manual route planning; however, an ideal software solution will be more advantageous.
Relying on route management tools for companies to scale their businesses will be effective since they offer several benefits of route management.
Before we get to know how route management software brings a difference in delivery operations, let's go through some of the top benefits of effective route management.
Benefits of Route Management
1. Plan Optimized Routes with Multiple Stops
Route management helps you plan reliable and accurate multi-stop routes in a matter of moments.
A route management system considers factors that can affect delivery operations, such as
Weather
Traffic congestion
Roadblocks
Vehicle capacity
Delivery time windows
These factors not only help save time and prevent facing any uncertainties on the road but also ensure timely deliveries.
2. Save Time and Resources and Optimize Growth and Revenue
Route planning management also helps save time when planning and finding the most efficient routes. Once efficient routes are discovered, it also helps reduce delivery time deadlines and fuel costs.
With reliable and automated route planning features in route management software, you can deliver loads of consignments every day and manage fleet operations well.
A robust route management system will help you boost your company's revenue by improving efficiency and scalability and cutting costs in numerous areas.
3. Assists in Increasing Delivery Frequencies
Over 131 billion shipments were delivered worldwide in 2020, which suggests the ongoing demand for delivery services.
A proper route management system ensures that delivery drivers get a balanced workload to reduce overworking and underworking. This also increases the frequency of deliveries, eliminating the chances of mis-deliveries and re-deliveries.
Drivers will be provided with optimized routes, which will enable them to make more stops without working overtime and getting exhausted.
4. Prevent Delivery Delays and Manage Delivery Windows Effectively
Establishing successful route management comes with knowing how to avoid potential delivery delays due to unexpected traffic or weather. It also entails making alternative route planning when these problems occur.
However, it is challenging to predict such unforeseen events that cause delivery delays. And if you plan your routes manually, recalculating the most efficient routes on the go is a logistical horror. In reality, it is nearly impossible. Things become even more problematic when specified delivery windows for specific packages are thrown into the mix.
You can, however, plan effective routes in real-time as traffic patterns shift with the use of route management software. It also automatically changes the driving instructions in the driver's smartphone app. Drivers can focus on completing their deliveries without having to figure out the best routes to avoid traffic jams.
5. Preventing Missing Deliveries and Re-deliveries
Delivering to the wrong location or having items go missing leads to more time and resources being wasted on the same delivery for no additional income. You can avoid these issues if you utilize a successful route management system.
Once optimized routes have been planned, drivers receive precise and reliable driving instructions for each destination, as well as estimated ETAs for the same. This alone prevents delivery drivers from reaching the wrong locations or leaving packages at incorrect addresses.
Customers receive accurate ETA alert links for their deliveries, increasing the likelihood that they will be home to accept the parcel when the drivers arrive.
The route management system also equips delivery drivers with digital proof of delivery features, such as photo capture and e-signature, to keep track of successful deliveries.
6. Increase Customer Satisfaction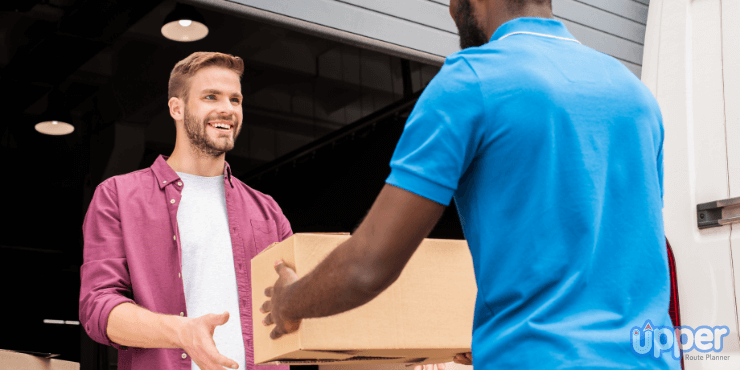 Just as you want to keep track of where your delivery drivers are, your customers would want to know where their parcel packages are.
A comprehensive route management system can provide both you and your customers with real-time updates on the delivery drivers' whereabouts, ensuring delivery ETAs are always accurate and reliable.
For instance, if one of your drivers is delayed due to some unforeseeable circumstance, it will be visible in real-time, keeping both your organization and the customers updated. The amount of time lost due to the delay will be added to the originally anticipated delivery time to ensure its accuracy.
This also minimizes the frequency of assistance calls to your help desk because customers can self-serve themselves the details they seek.
Though it offers a wide array of remarkable benefits, route management isn't easy when planning is done manually. Regardless of your company's size, a lot of factors need to be considered that are subjected to frequent changes.
3 Challenges to Overcome in Route Management
Here are the top 3 challenges to overcome in route management with route optimization software:
1. Multiple Routing Factors
Manual planning of routes forces you to consider a variety of factors, such as
Driver availability
Vehicle capacities
Service locations
Delivery time windows
Planning optimal routes manually is quite challenging. Not only is it time-consuming but also provides scope for human error, which can waste time unnecessarily and utilize more money. This ultimately affects delivery drivers and your customers too.
A route management software undoubtedly handles this challenge by automating all tedious and manual tasks and planning the best routes possible instantly, regardless of the number of delivery destinations.
2. Methods that Lack Agility
Another drawback with manual route planning is the inability to rapidly redirect when unforeseen events occur or come insight, such as poor road conditions or a weather alert.
You will not be able to notify your drivers about these changes in real-time unless you use reliable route management software. When you notify them, they will need to determine which route to take instead. That is a time-taking process, particularly if more than one route is impacted.
Your delivery staff can adjust to changes in real-time and get automated updates about routes based on the current situation with effective software for route management. This ensures that when changes take place, your delivery drivers will not be left fumbling to figure out what to do next.
3. No Sufficient Delivery Staff or Time
As the business starts to expand, many delivery executives and dispatchers lag behind with route management. Keeping track of ongoing operations in real-time, on the other hand, is simple with an automated route management system.
Your route planners and customer support representatives will have a detailed and real-time understanding of what is going on on the roads. They will be able to respond promptly to your customers if things are not going as planned.
A route management software's real-time information tool will continuously update estimated arrival times for every destination, allowing you to keep consumers informed, strive to meet their expectations, and ultimately assure customer satisfaction.
Simply being aware of these challenges is not enough. You need to overcome them efficiently, and you can do so with route optimization software.
Let's find out how you can change the game and optimize your business processes with route planning software.
How Can a Route Management Software Change the Game?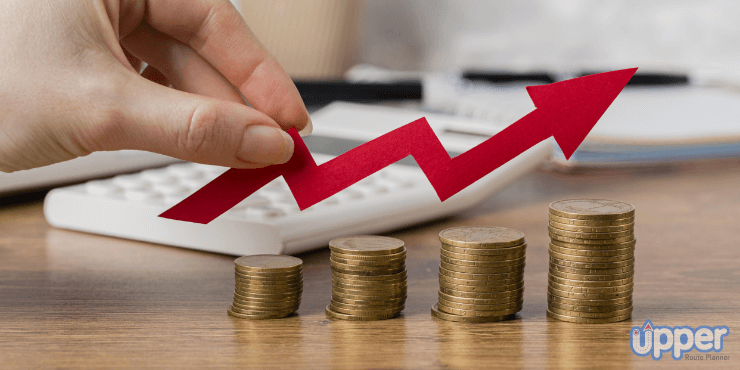 With the right route management software, you can plan efficient delivery routes, save time, lower operational costs, and boost revenue.
The right route management software will instantly automate the planning of the most optimized routes based on several factors, such as the number of destinations, driver working hours, unique delivery time windows, and vehicle capacities.
Delivery managers can use effective route optimization software to set parameters that automatically allocate deliveries of shipments based on proximity and route distance.
The optimization software will then deploy delivery drivers automatically, instructing them when and where to arrive, as well as providing a map of their delivery routes and any additional information they might require along the trip.
It will also provide your customers with automated alerts of their delivery ETAs so that they stay in the loop and be less anxious about delayed deliveries.
With exposure to this amazing and revolutionary information, are you curious to find one of the best route management tools?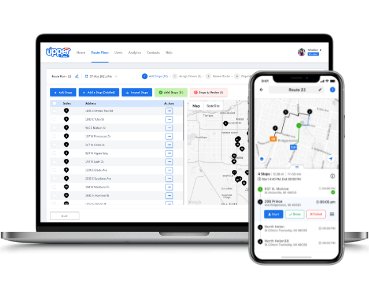 Upper Route Planner
A Simple-to-use route planner that every one is talking about.
Save up to 95% of planning time
Save up to 40% of time on the road
Plan 500 stops at once
---
FAQs
A route planning software can help increase the efficiency of your business operations and boost profitability. It will plan the most efficient and multi-stop routes instantly with automation. This will save operational as well as fuel costs, and drivers won't have to waste a lot of time planning to find more efficient routes, eliminating delayed deliveries.
You can plan efficient routing with a route management solution that helps you discover optimized delivery routes. Route optimization can simplify your delivery operations and save you time and resources.
If you have access to route optimization software, you can send your customers real-time update alerts about their delivery ETAs. This will also give them an idea to be at home at that specific time period and ensure preventing the hassles of missed deliveries.
Route management involves calculating how streamlined delivery processes can be with more efficient routing. It essentially plans routes to figure out which route will be more cost-effective when traveling from one location to another.
One of the best route management tools that automate delivery operations and effectively save time and expenses is Upper Route Planner. It will help you optimize routes by planning instantly with automation. It is an ideal route optimization software for small- and mid-sized businesses.
Relying on manual route management can certainly result in delayed or missed deliveries. Go for a route optimization software that will automate route planning instantly, showing you the best possible routes to reach a specific location without delay.
Upper Route Planner Has Got Your Back!
Do you wish to create effective route plans instantly with multiple stops?
If so, Upper Route Planner can be your safe bet.
Partnering with Upper Route Planner will help you get optimized routes, dispatch delivery drivers in a single click, and have access to insights into all your delivery operations.
Our route planner helps delivery drivers cover multiple destinations in one day and is ideal for small businesses such as
Couriers
Meal kit delivery
Retail delivery
Grocery delivery
Flower delivery
In-house food delivery
Pharmacy delivery
As mentioned earlier, planning a route manually takes far too long and is inefficient.
This is where we come!
We simplify route planning for you and save you a lot of precious time and money, enabling you to focus on matters of greater significance, which is scaling your business.
So what are you waiting for?
Start our FREE trial service today or book a demo and experience streamlined route management services.