This topic has been covered before by other websites, including this article about the Best Free and Open Source Fleet Management Software. However, as with many articles, there is always information to add or update. Some of the fleet management solutions in many articles are no longer without cost. So in this article, we will give an updated answer to the classic question, "What is the best fleet management software freeware?"
To give you, the reader, a more comprehensive answer, we will break it down step by step. We'll start by covering a wider net, and talk about fleet management as a whole: what does fleet management entail, and what types of software are suitable. Following this, we will look at some of the critical features offered by these software solutions and types to assess when choosing a new piece of free fleet management software. Finally, we'll give you the updated list of the best free fleet management software in 2022. Hope you find what you need!
The Basics of Fleet Management
What is Fleet Management?
To answer that question, we need to ask ourselves, "What is a Fleet?" It is a group of vehicles such as trucks, vans, ships, cars, taxis, and so on. A fleet can be one vehicle, two vehicles, or it can be thousands of vehicles. Truck fleets are also very widespread.
Therefore fleet management is the art and the science of managing fleets of vehicles. These can be private fleet businesses (company vehicles of small or large companies). They can also be public organizations such as police, ambulances, etc. Fleet managers, need to do project management to track all vehicles, fleet operations, maintenance tasks, and much more.
Fleet management includes aspects like fuel management, supply chain management, GPS fleet tracking, route optimization, vehicle management, and geo-fencing. These are just some of the aspects and features offered by free fleet management software.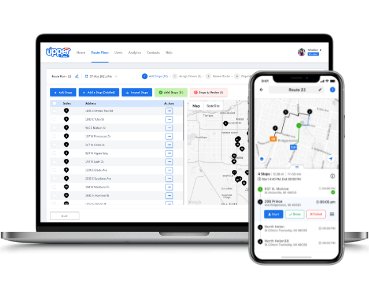 Upper Route Planner
A Simple-to-use route planner that every one is talking about.
Save up to 95% of planning time
Save up to 40% of time on the road
Plan 500 stops at once
No credit card details required
What is Fleet Management Software?
Fleet management software is a series of tools and products that support fleet managers to manage their fleet vehicles. The main reason to use fleet management software systems is to have a management solution and tracking system for all fleet operations. This system helps to reduce costs (such as fuel management), to keep track in real-time of fleet operations, reduce risk, and increase efficiency. This type of management software can be on a website (cloud-based), or it can consist of an app, or series of mobile apps (for the different types of mobile devices and users, e.g., the drivers and the fleet managers).
Who Uses a Fleet Management Solution Software?
A fleet management platform has several users. Below are several of those users:
Government and Public Users
Many government organizations have large fleets and a need for management software. These include public transit, municipalities, states, counties, police, and other government agencies. Each of these users needs to track asset utilization, keep a maintenance log, track work vehicles, and do employee management.
Transportation
Again, many users in the transportation realm need software technologies to take care of fleet management tasks. On the private side, delivery companies and private transport need fleet technology software. School bus companies – private and public- also require tracking devices and vehicle tracking. For all these use cases, business software such as fleet management software is useful to track all these business operations, preventative maintenance scheduling, keep a vehicle maintenance log, and more.
Utilities
Most utilities generally manage several types of vehicles and assets. The industry standard is that they have business intelligence for all their activities. Utilities need their assets to work and be dependable as they offer a critical service. They want to reduce downtime as much as possible. Software solutions for utilities generally include a suite of options for integration for their different types of assets.
Construction Contractors
Construction is similar to utilities in that they want to reduce the downtime of their machines and assets. Fuel economy is also critical for them, as well as asset tracking and maintenance approvals. Safety and regulations are also paramount for every construction team.
What are the Responsibilities of a Fleet Manager?
There is a long list of parameters and things for which a fleet manager is responsible. Fleet managers have various roles and responsibilities to manage. A good fleet management software will want to solve many of the problems that the manager will have, if not everything on the list below:
Compliance: Compliance is critical for any enterprise or provider. This compliance includes mainly safety, security, and health regulations, for example, from the department of health. Enterprises need to keep track of rules in their countries and states. As we know, laws change if you're in Canada, Spain, Georgia, Texas, or Arkansas. Risk management plays an essential role to play here. It includes doing checks daily, using inspection sheets, checking on drivers and licenses, ensuring proper insurance, and so on. With detailed service logs and periodic reminders, never miss a tune-up again.
Human resources: Database management is critical to follow each driver, vendor, and all employees. Of course, this overview dashboard tracks a profile change to their packages and other relevant HR info. Additionally, a user wants to add contact details and a photograph for each person.
Safety and Health: These types of health and safety measurements need to be done at frequent intervals. These measures include all the reporting to relevant authorities like insurance and medical agencies. A third party can do these checks at times.
Vehicle Maintenance: The goal of vehicle maintenance is to reduce the costs associated with asset depreciation and to maximize the lifetime value and the running time of each asset. The software can help store many details and vehicle information. It will also keep a detailed log of previous vehicle maintenance activities. A fleet manager is responsible for tracking and scheduling maintenance at regular intervals and specific mileage tracking. A user also wants a way to interact with the driver to understand vehicle performance and to correct any defects. Maintenance can also be preventative. For this, there are daily, weekly, and monthly schedules that track a list of frequently performed services.
Inspections: Inspections, of course, are required by the law of every jurisdiction. In an ideal world, the manager can view the status of checks in real-time, and can analyze all issues at once.
Vehicle Acquisition: A fleet is a dynamic thing; it fluctuates in size. Managers sell old vehicles and purchase new cars and assets. Another role is to ensure a process to select the right type of vehicle to be added. This means assessing the specifications needed for job order requirements, finding options, and doing a pre-purchase vehicle inspection.
Monitoring: It's essential to monitor and document, in real-time, all vehicles and assets. A large part of monitoring includes the documentation that outlines specifications, service history, assignments, mileage, and fuel logs.
Fuel: The ability to track fuel is paramount. One of the features of the software is the ability to track vehicle mileage and fuel transactions for each vehicle. Fuel cost is often the single biggest expense for a fleet. Once fuel consumption is tracked, the manager can allocate fuel cards appropriately.
Administration and paperwork: A recurring issue from personnel anywhere is the high amount of paperwork. On the one hand, it's onerous, on the other hand, it is critical to keep track of everything from the maintenance program, vehicle inspections, odometer checks and odometer readings, and all relevant vehicle data. Software with a good user interface certainly helps to reduce the burden on the organization, besides, to help with the automation of certain monotonous tasks.
Parts Inventory: Another use case of software is the management of parts. Ideally, one would know what parts are required, how many parts are available in inventory, and what parts were used. Good software will also automate purchase orders and keep purchase records. Keeping good inventory management is critical to a successful operation. This includes managing all work orders flow across multiple statuses.
Communications: Internal and external communications happen daily. Internally, the manager wants to communicate to the field teams on mobile apps and wants GPS tracking. Simultaneously, communications are coming the other way, such as notifications of engine maintenance, tire life, installation of parts, distance traveled, etc. Communication with partners and answering questions from customers with speed is another problem for the staff and team.
Productivity and efficiency: An essential contributor to business success is the aim to increase productivity. One of the main goals of the company leader has to be to reduce inefficiencies. When purchasing software, they want to ensure that there is a return on their investment both in terms of time and money invested. Ensuring an efficient process means high service delivery and, ultimately, high customer satisfaction.
Reports and Dashboards: Every manager wants insights, audits, and analyses. With quality software, the manager can quickly run a series of useful reports. This could be fleet management data, vehicle acquisitions, cost reports, or something else. Thanks to the programs, the manager can make critical decisions right from his/her computer. The processing of data and reports can be automated. A report with graphs can be sent to the email address of the managers.
Customer service: Finally, on top of business needs, there are the user needs. User reviews are essential when you feature your product online, so the key is to ensure that all people who come in contact with your company are content and satisfied.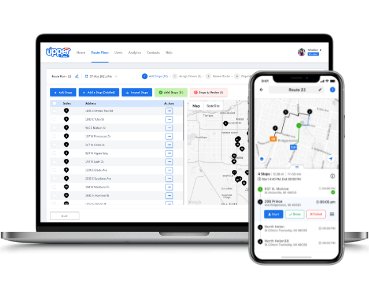 Upper Route Planner
A Simple-to-use route planner that every one is talking about.
Save up to 95% of planning time
Save up to 40% of time on the road
Plan 500 stops at once
No credit card details required
What are the Critical Features to Consider in Fleet Management Software?
Fleet management software is a central software tool that enables businesses to oversee all operations of a fleet. It is a vital management software for fleet businesses. This type of management tool is available on multiple platforms, such as a desktop application (Microsoft Windows or Mac) or on a smartphone device (Android or Apple iOS or iPad). This type of tool enables control for a fleet manager to view real-time data, reduce fuel costs, do route planning and routing optimization, manage maintenance, ensure vehicle safety, fuel management, GPS tracking, real-time driver information, as well as meet regulations.
To manage all these tasks and more, fleet managers require effective, web-based fleet maintenance software. These kinds of tasks cannot be carried out using an app like Google Maps. You need a feature-rich software solution to support your fleet operations.
What Features to Consider When Adopting Software?
When a fleet manager is looking at purchasing or adopting a new piece of the fleet management system, the following features are the ones they most should look for:
Central data entry and management: It captures vehicle and driver information and manages all the information about the fleet operations;
Visualization of assets and vehicles: On a macro level or an individual level;
Repair and maintenance: Scheduling calendar, logging (eld), and tracking of all maintenance and repairs of heavy vehicles. Fleet inspections and vehicle issues are taken care of to improve efficiency;
Parts and inventory: Central database for technicians and managers to keep track of all components;
Route Planning and Optimization: Ability to create and optimizing routes for one or several drivers, with instructions.
Fuel: Tracking of fuel costs, fuel cards, emissions, vehicle speed, and individual driver behavior. Real-time tracking for vehicle movements makes it easier to control costs;
Risk management: Help in keeping track, managing, and reducing the risk of accidents and speeding, and breakdown of equipment.
Compliance: The ability to record, track, and monitor all measures taken to comply with regulations (ELD compliance) and legal obligations.
Financials: Ability to assess spending, budget future expenditures, and create forecasting. Ability to link with accounting software;
Integrations: Integrations with other vital pieces of software;
Platforms: Which platforms are included? Are they the ones that most meet my needs?
Free and Open Source Software vs. Paid Software: How to Choose?
Fleet management software comes in all shapes and sizes, and the hard part is to choose the right one. They range in both functionality, price, and design. You have the option of a free and open-source software system, or intuitive web systems.
In this section, we'll look at some of the main differences between some of these types. For one, the software can be in-house. This allows for the maximum amount of customization but will be the most costly.
A vendor can install other software. A fleet management software solution can be for multiple users, or a single fleet manager, depending on the requirements. Here are some of the characteristics of the different types of software to consider:
Free Version Software
Our rule of thumb is that you generally get what you pay for. As a rule of thumb, the more software costs, the more features, and functionalities you get.
In the case of free management, there are some excellent options out there for certain types of companies, so if you are a user with a limited use case, this may apply to you.
Cloud-Based or Localized
Another consideration is whether or not the software is on the cloud, or whether it's a localized software (on a computer). Many software providers are increasingly moving towards cloud-based software.
The issue with this type of software is that it requires access to the internet. In remote areas, companies may require localized software. If you have a team, collaborating, then cloud-based software is likely the way you want to go.
Open Source
The first question is, "what is open source software?" Open-source software is a type of software where the source code is open, which means anyone views it. Generally, users do not see this code; they just see the user interface.
So why would anyone want to use this type of software? The answer is "control." With open-source software, a user has more control over their software. For instance, a company may want to customize certain features, and they may want it to fit their business needs more specifically.
Paid Software
Finally, there is "out of the box" paid software. Many companies will offer free trials or even freemium offerings to get customers to try their applications.
The advantage of this type of software is that there is a company that is working hard for the money customers give them. This means they will roll out new features as per their users' needs, and they will be quick to answer bugs and customer inquiries.
The disadvantage, of course, is that the upfront and ongoing cost may be higher than using an open-source or free version.
But in exchange for the cost, fleet owners get great features like asset management, data security, live GPS tracking, driver safety, smartphone apps, and several ways to reduce cost per mile. A paid software enables a transportation business to export data, save time, allow route deviation, and create multiple plans at once. This can only be done by a scalable software.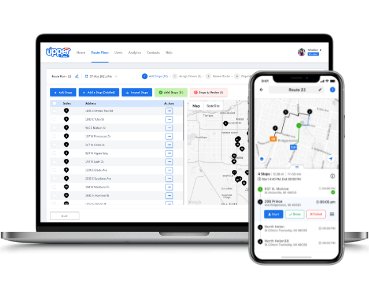 Upper Route Planner
A Simple-to-use route planner that every one is talking about.
Save up to 95% of planning time
Save up to 40% of time on the road
Plan 500 stops at once
No credit card details required
What is the Best Free Fleet Management Software?
Here are a bunch of fleet management software solutions to choose from.
Odoo Fleet (No longer free)
Odoo is sophisticated and advanced software and a leading fleet management platform. It includes all features that you would require and expect from a premium fleet management software. It also includes other components such as CRM/sales tools, e-commerce capabilities, marketing, and much more. Reviewers have given many a favorable rating to this company.
Odoo Fleet used to offer a completely free version of the app for free. The company has recently decided to change its business model and to offer a free trial instead. This means that this software technically does not qualify as free management software. Fleetio is in the same boat. We did include it in this list to inform readers about this change as other articles on the web will talk about this.
Pros
Extensive feature set including CRM,
High functionality and usefulness;
New and modern design and user experience;
Unlimited Users;
More like ERP Software.
Cons
Not free. Just a free trial.
GPSWOX
GPSWOX is another well-known software that offers a variety of exciting features. These include fuel consumption tracking, real-time GPS tracking of all vehicles' locations, map applications, alerts, and much more. Drivers can make use of tools on their mobile apps such as temperature, odometer, and mobile communications. These have a pairing ability with sensors. And clients can receive alerts on each of these components. It also offers white-label software.
Pros
Easy to use and well-designed interface;
Wide range of GPS trackers;
Integration with Sensors;
High quality to price ratio
FleetBip
FleetBip software is an open-source and free fleet management software. It has many capabilities, including inventory management, work order management, fleet maintenance tracking, and much more. It also boasts unlimited users and, unfortunately, lacks GPS tracking. FleetBip Company is a small company as compared to some of the industry leaders. This option is the more cost-effective option for smaller operators.
Pros
Completely free / cost-effective;
Asset and contract management;
Unlimited users
Cons
Not available on all platforms;
Technology stack and user experience outdated.
No GPS tracking
Fleet Co
Fleetco is another free option. It is a web-based system, thus can be accessed from any computer. Key features include fuel records, maintenance/inspection, inventory, expense reports, and much more. This software is a bit more technical and requires more technical knowledge from managers. This is another cost-effective solution.
Pros
Completely free;
The extensive feature set;
Multi-user and multi-language
Cons
No mobile app;
No real-time GPS tracking;
Technology stack and user experience outdated.
---
FAQs
Best is always a very subjective term. Therefore, the best software for you will be the software that gives you the best return on your investment of time and money. For a smaller operation with limited needs, then simple software would be advisable. For a larger operation, a robust and comprehensive software would be best, including perhaps a fleet management software with integrated ERP functions.
There are many costs associated with a fleet management solution. First, we need to look at human resources such as the fleet manager as well as the mechanics doing fleet maintenance. Secondly, there are software costs. The costs will vary with the size of the fleet. A good rule of thumb is to calculate $20 a month per vehicle for a comprehensive software solution.
---
Pick the Right Fleet Management System
In conclusion, we hope this article helps you learn more about the different free fleet management software options. Our goal is to provide value to our readers to help them make the best decision possible.
Please contact us and let us know if there's anything we missed, or if there's anything that we wrote that is inaccurate. As we wrote in the opening paragraph, the world is changing rapidly, and so to the relevance of information! Ok, safe driving to you all!