Key Takeaways:
The best option for shippers who are looking to save money on the shipping process is a regional parcel carrier.
One must consider factors like transit time, service area, and parcel weight before choosing the regional parcel carrier.
Also, you should pick the carriers that provide an online tracing option as well as excellent customer support.
The diversified landscape in the parcel carrier industry has brought new opportunities for retailers and regional parcel carriers to optimize their delivery methods. As per a report, around 41% of consumers are okay with paying additional charges for same-day delivery. This makes it extremely crucial for shippers to provide the fastest shipping and deliveries. Here's where regional carriers come into picture.
But, how do regional parcel carriers work, and how to choose one that fits your business?
To answer it shortly, regional carriers offer parcel delivery within specific regions in the country. While some carriers only cater to major cities, others offer services to a particular state or a multi-state locality, such as the Midwest or Northeast. Read on to make an informed decision about choosing one for your delivery business.
Why to Opt for Local Regional Carriers?
Massive networks and a shift towards local fulfillment models have raised the demand for local regional carriers. As compared to national carriers, regional parcel carriers offer shipping services to smaller geographies. Here are the top reasons you should use a regional parcel carrier.
1. Better customization on shipping
Nowadays, major carriers have started offering white glove services to deliver high-end items with extreme care and attention. These customizations on shipping also include heavy furniture for commercial and residential locations.
As regional carriers are free from managing the logistics of the entire nation, they can smoothly provide these value added services. These can specifically cater to the changing shipping and delivery needs of your business.
To cater to a widely diverse customer base in different geographical locations, national shippers must adopt a better shipping strategy with optimized and efficient operations. So when you opt for most regional carriers, you can customize your shipping options such as same day delivery and offer more flexibility to your customers.
2. Cheaper rates
There are many reliable parcel delivery services that offer lower rates for retailers. They only have to serve a smaller area and deliver parcels to shorter distances. So, they can ship through truck hubs that are cheaper than the air freight hubs used by major carriers like FedEx or DHL.
As regional parcel carriers come with lower operating costs, you can keep lower shipping costs for your customers. Thus, you can cut costs, based on delivery location and speed at which you deliver orders to your customers.
National shippers charge extra for reasons such as rerouting of shipments and large package sizes and thus cannot be viable if you are looking to deliver in a cost effective manner. Thankfully, local regional carriers do not tend to add surcharges and extra fees as they have bulk residential deliveries in nearby areas.
3. Faster delivery service
Major carriers are now using logistics and route planning software solutions to ensure timely deliveries. Working in a specific region gives expertise to shippers for that locality and helps reduce the time needed to deliver parcels.
Regional carriers also use strategies that can meet the requirement of smaller customer segments. Just like big giants including Amazon, UPS, and FedEx, you can also make same-day or next day delivery through regional shipping carriers.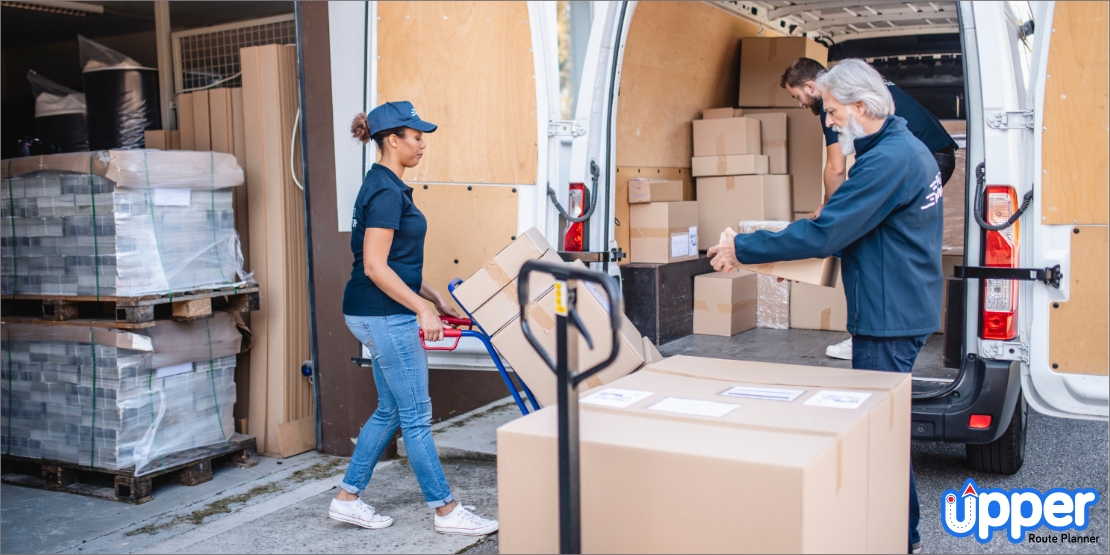 National parcel shippers often ship only full truckloads. This means that the order won't be shipped until there are sufficient packages to fill the truck unless you pay for expedited shipping.
However, this isn't the case with regional carriers, as they accommodate LTL (less than truckload) and partial truckload shipping through organized operations. As a result, regional shippers can make faster parcel shipments at lower shipping rates.
How to Choose the Right Parcel Carrier for Your Business?
To provide excellent services and achieve customer satisfaction, you must think of the carrier as your brand ambassador. One bad experience can hamper your reputation in minutes. Here are the factors that you must consider when choosing the regional carrier.
1. Know your customers
Consider the location of your customers and how much money they are willing to pay for delivery. If they want to receive their products faster, analyze if they are comfortable paying more for urgent deliveries.
2. Decide product pricing
The type of product you are selling will impact their price range. Also, the item weight, dimension, size, and the number of products you ship each week will help you determine the right prices. The cost may also vary by the distance between your hub and the final delivery stop.
3. Identify your competitors
Conduct an analysis on the delivery services and local carriers your competitors use. Know whether they utilize the performance of regional carriers or the reliability of national carriers. Additionally, know their strong points, the type of customer experience they deliver, and their operational procedures. This will help you gain clarity on what works best and how your business can stand out from them.
4. Define delivery area
If you are shipping products across a limited delivery radius, you can use a local courier or regional parcel carrier who knows the area and can operate on a small scale. Such regional shipping carriers will not be expensive for your business. But, if you are looking to expand overseas, you can use transportation services that are trustworthy and have a global network.
5. Check the delivery speed
If you are using a regional carrier and wish to offer next-day delivery based on your customer's demands, you can charge a little extra. So, you must check with the courier companies if they can provide faster deliveries. However, you can offer discounted shipping rates for those willing to wait more. The best option would be to lay out all the services of regional parcel carriers and choose the one that best fits your needs.
6. Analyze carrier's tracking capability
Major parcel carriers are now expected to provide tracking details so that customers can remain updated about their parcels. This brings them peace of mind and improves your company's reputation. So, you must ensure that you check the shipment tracking details of the parcel carrier.
7. Compare delivery costs
It would be wise if you don't just focus on a company that offers the cheapest rates, as they may not always be the best in terms of service. You can check the regional contracts of multiple carriers including national carriers and see if their prices fit your budget. Ensure that the costs are low as per a customer's viewpoint, but high enough for your business.
8. Utilize customer service
Knowing whether the shipping company is providing proper customer experience for your customers and your business is a vital factor. A background check across the websites of regional parcel carriers where they post honest reviews would help you here. Additionally, checkout their insurance options, and their support systems if you need assistance.
Top Parcel Carriers by Region in the US
Now that you have a basic idea about choosing a regional parcel carrier over a national carrier, you can cater to customers located in a specific state or area. There are multiple regional parcel carriers within the US. Here are the top ones you can check out:
| Regional Carrier | Delivery Area |
| --- | --- |
| CDL Last Mile Solutions | NY, NJ, CT, PA, DE, DC, MD, VA |
| Lasership | CT, NY, NJ, OH, FL, VA, MD, PA, GA, MA, MI, NC, TN, KY, IN |
| Spee-Dee Delivery Service | IA, IL, MN, MO, ND, NE, SD, WI, MI |
| United delivery services | IL, IN, WI |
| US Cargo | OH, PA, WV, Southeast Michigan, KY, IN |
| OnTrac Shipping | AZ, CA, CO, ID, NV, OR, UT, WA |
| Courier Express | AL, FL, GA, NC, SC, TN, VA |
| Lone Star Overnight (LSO) | TX, LA, KS, AR, MO |
Upgrade Your Parcel Delivery Process with Upper
While these regional parcel carriers are helpful in making deliveries and offer many benefits, they are not as cost-effective as having your own team. You can hire and train drivers to deliver packages with the fastest delivery routes using route optimization software. This gives you complete control over your delivery processes and helps you get greater cost savings because of lower shipping costs.
When you have Upper Route Planner, you can focus more on driving revenue and providing quality customer experience to beat other regional carriers. The algorithm helps find efficient and optimized delivery routes based on your delivery constraints and driving preferences. As a result, your drivers reach their locations in the least amount of time and save a lot of fuel boosting your cost savings.
The ability to add multiple stops through excel import functionality makes your dispatch manager's work super easy and negates manual entry. You can also add delivery service time, time windows, curbside delivery, and customer contact information which can be very useful for regional parcel carriers.
While regional parcel carriers may fail to deliver items on time, with Upper, you can set priority levels for urgent deliveries in case a customer demands it. So, your drivers can make those deliveries on priority and you can have a delighted customer at the end of the day.
Use Upper for Delivering Parcel on Time
Tired of planning routes manually and keeping track of deliveries? Let Upper reduce your route planning hassle, so you can deliver parcels with faster routes.
Start Using Upper

FAQs
While regional carriers my not fit every business, you can use them when:
You cater to multi-node fulfillment
You don't have huge volumes that count for a volume discount
You wish to have white glove deliveries
Regional parcel carriers work with 3PLs similar to major national carriers. Once they are added to the 3PL's carrier network, regional carriers share the negotiated rates with their merchants. Then, they pick up packages from the 3PL's fulfillment center and blend their technology to transport those parcels through a specific carrier.
National parcel carriers, such as USPS, ship packages to all the states in the U.S. Whereas, regional carriers provide shipping and delivery services to a small region within the country leading to lower shipping costs.
Conclusion
When you use a regional parcel carrier, you can expect affordable and faster services through short-haul ground services. This reduces the time wasted during idle parcel times at depots or airports. While regional parcel carriers offer delivery with more efficiency, you may want to streamline your route planning operations as a part of your new shipping strategy.
With Upper, you can save a lot of back office workload, plan optimized routes within seconds, and collect proof of delivery for all your orders. It also comes with customer notifications and accurate ETAs so that your customers can remain informed about their orders. Start using the benefits of the other advanced features of Upper by taking a 7-day FREE trial today.