Last-mile delivery plays a vital role for those who are running a delivery business. As a delivery business owner, you not only need to keep an eye on your delivery team but also make sure the product is delivered to the customer's doorstep. This journey of a product from the warehouse to the buyer's location is referred to as last-mile delivery.
In this process, you need to ensure the end customer receives the parcel at the given time. In fact, you need to take care of the entire delivery process till the parcel is handed over to the recipients. Now, performing last-mile delivery following the traditional method could be time-consuming. But fortunately, we have the best last-mile delivery software to automize the entire delivery process and meet consumer demands.
Here, let us explore them one by one to know their core features and starting prices.
Top 10 Last-mile Delivery Software Compared
Delivery App
Features
Starting price
Upper Route Planner

Single-click dispatch
Drag & drop files
Route scheduling
Reports & analytics
Delivery proof

$31.99 per driver (if billed annually)

Tookan

Tracker
Service App
Dispatch dashboard

Onfleet

Route optimization
Auto-assign
Driver chat
Feedback collection

Dispatch Science

Delivery tracking
Instant dispatch
Real-time alerts

$650 per month (for 10 drivers only)

Onro

Assigning and dispatching
Order management
Proof of delivery

Bringoz

Route monitoring
Re-routing
Real-time allocation

Pricing information on booking a demo

Scurri

Delivery disruption alerts
Delivery management
On-demand reports

Pricing information on contacting the sales team

Shipsy

Geocoding
Shipment tracking
Freight Procurement

Pricing on requesting a demo

RoadWarrior

Dynamic routing
Dispatch management
Access to mobile phone devices

$10 per month for pro version

Track-POD

Fleet optimization
Easy navigation
Customer feedback
1. Upper Route Planner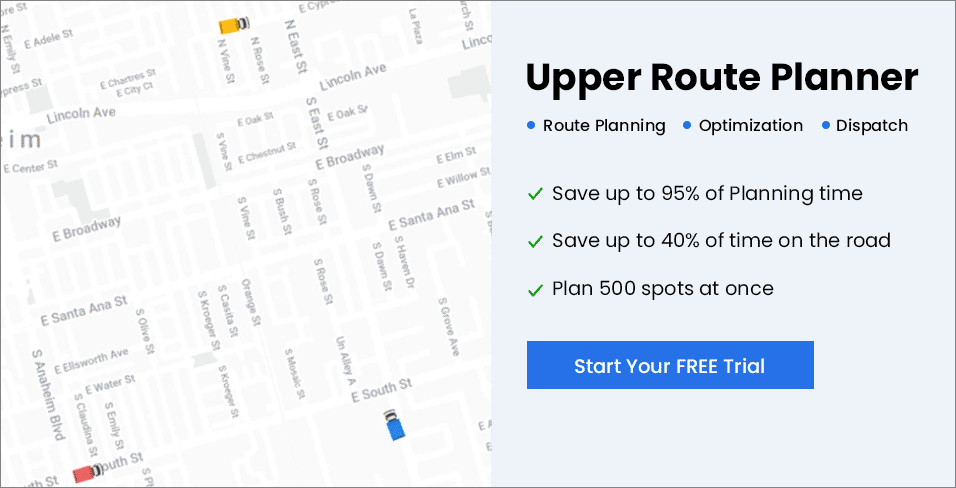 With an array of routing features, Upper has become the first pick of many delivery businesses to improve last-mile delivery performance. A modern route planner (last-mile delivery app) is capable of eliminating last-mile delivery challenges with its sophisticated algorithm.
It is an all-in-one delivery management software that caters to delivery business requirements, such as route planning, route optimization, scheduling, quick dispatching, and proof of delivery (ePOD).
Here are some features offered by Upper Route Planner to improve your final-mile delivery process.
Using Upper Route Planner, dispatchers can click a button to dispatch multiple drivers over multiple routes. Also, drivers are notified via automatic SMS notifications on their smartphones, making this process straightforward.
One of the best features of Upper Route Planner is the ability to import Excel spreadsheets or CSV files of all delivery stops and, in turn, receive highly efficient delivery routes.
It allows delivery scheduling for consumers' orders in advance to improve productivity and boost customer engagement.
Use the reports feature on a daily, weekly, and monthly basis to analyze the performance of the last-mile delivery partners and make adjustments wherever necessary.
Available on: Web, iOS, Android
Pros
Comprehensive features of last-mile delivery
On-demand report generation
Dedicated driver app
Customized delivery alerts
Cons
It offers a 7-day free trial only
No audio navigation for drivers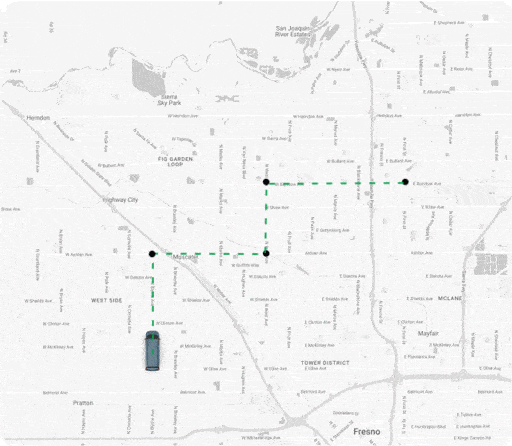 2. Tookan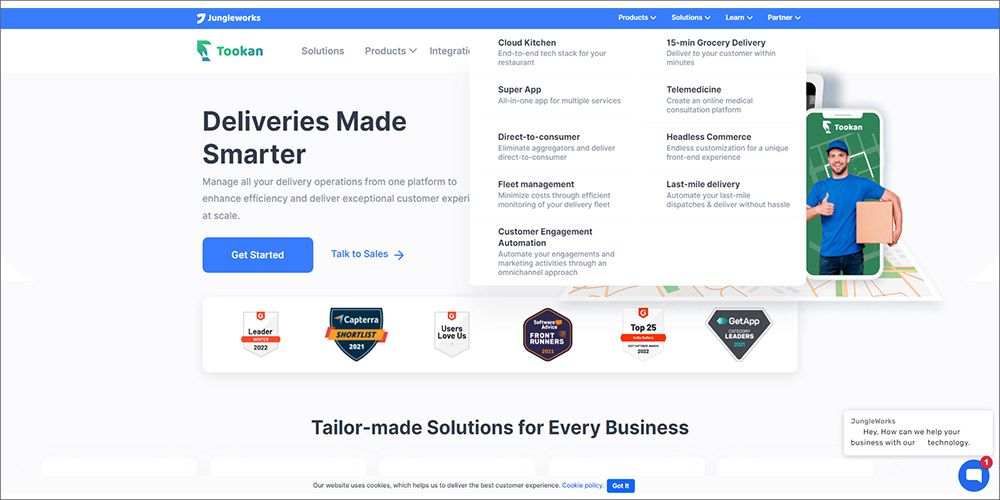 Tookan makes last-mile delivery the easiest journey for a business. It is the simplest solution to manage and operate all last-mile delivery operations. The simple web dashboard view of Tookan helps to view everything in one place. You can also add customization through field templates that pertain to activities in your business.
To improve the performance of the supply-chain network, the Tookan logistics feature manages and tracks same-day delivery. The mobile app acts as a guide for drivers and field agents to work efficiently. In addition to optimized routes, the Tookan app offers field agents with proof of delivery capturing, push notifications, easy navigation, and barcode generation for identification.
A few key features of Tookan are offered as extensions or add-ons only. For example, broadcasting alerts to agents or drivers. The app is excellent for businesses to meet modern consumer demands.
Available on: Web, iOS, Android
Pros
Automatic in-app notifications and integrations are available
Simple and functional UI
Cons
Add-ons make the app expensive
3. Onfleet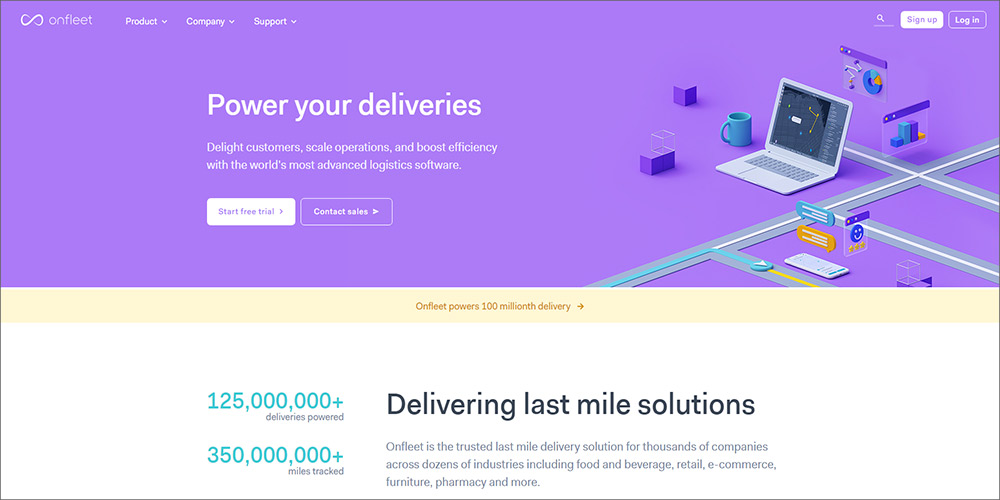 The Onfleet logistic software is an advanced last-mile delivery software. With its user-friendly web dashboard and predictive ETA's, this app offers custom features. For instance, customers can receive real-time updates about their order, ETA, and more. A few more desirable features include easy onboarding of new drivers, enhanced chat feature, and integration to Onfleet.
The mobile apps are equipped with interactive and straightforward walkthroughs that enable new drivers to familiarise themselves with the software faster. Onfleet has the best in-built communication mechanism via the chat feature where drivers and dispatchers can update each other without needing a third-party app. With Onfleet, your business can continue to use the tools and platforms used for last-mile delivery operations.
Available on: Web, iOS, Android
Pros
Barcode scanning for proof of delivery
Chat feature for drivers and dispatchers
Offers a 14-day free trial
Cons
The costly choice for small and medium businesses
4. Dispatch Science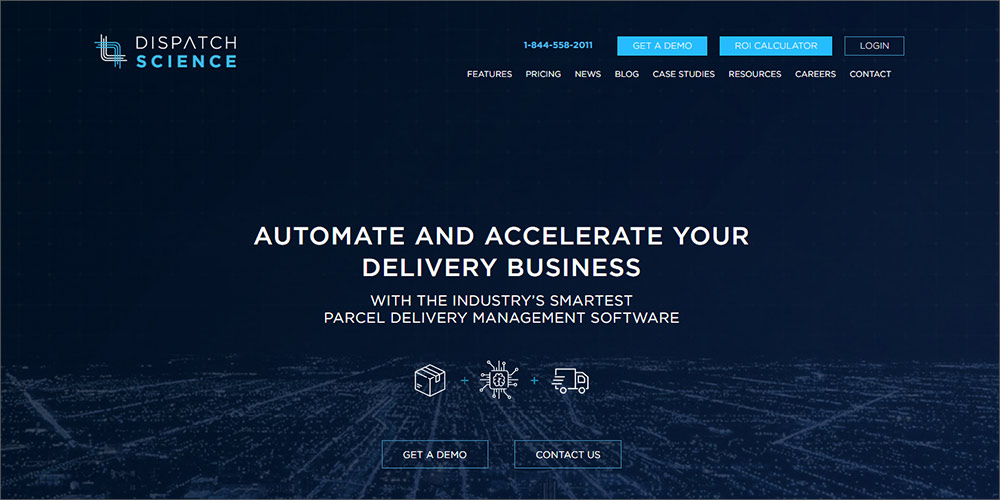 Dispatch Science is a customer-first delivery management software. This last-mile delivery software is powered by artificial intelligence to streamline the delivery operation for last-mile carriers and shippers. Dispatch Science boasts several business-friendly features such as handling the entire customer journey, better communication with delivery agents, and quick order processing and dispatching.
Also, modern customers are provided with a self-service portal to meet customer requirements, simultaneously cutting down costs for businesses. Dispatchers can better communicate regarding delivery status with drivers. A delivery agent can view the commissions and earnings they have received in real time for better accuracy and to build trust. Effortlessly dispatch e-commerce orders as fully optimized and efficient routes are planned by the algorithm.
Available on: Web, iOS, Android
Pros
AI-powered software
Cloud-based, all-in-one platform
Automatic dispatch and route optimization
Cons
Expensive compared to other alternatives
Complex dashboard and interface
5. Onro
Onro is yet another powerful SasS-based platform that simplifies last-mile delivery. With its customizable software and advanced delivery operation features, Onro is one of the best competitors in the technology market today. Its features include highly customizable software and order management. This last-mile delivery software can be customized to reflect your brand's aesthetics.
The order management feature involves several key players like dispatchers, drivers, management staff, and customers. Different stakeholders have access to varying features and views of the application. The pricing feature in the app allows you to view and manage prices. It calculates the cost by considering several parameters like a fleet of drivers, distance, surcharges, and more.
Available on: Web, iOS, Android
Pros
White-label branding page
Real-time chat capability with drivers
Cons
Insufficient knowledge and training available on software
No trial version provided
6. Bringoz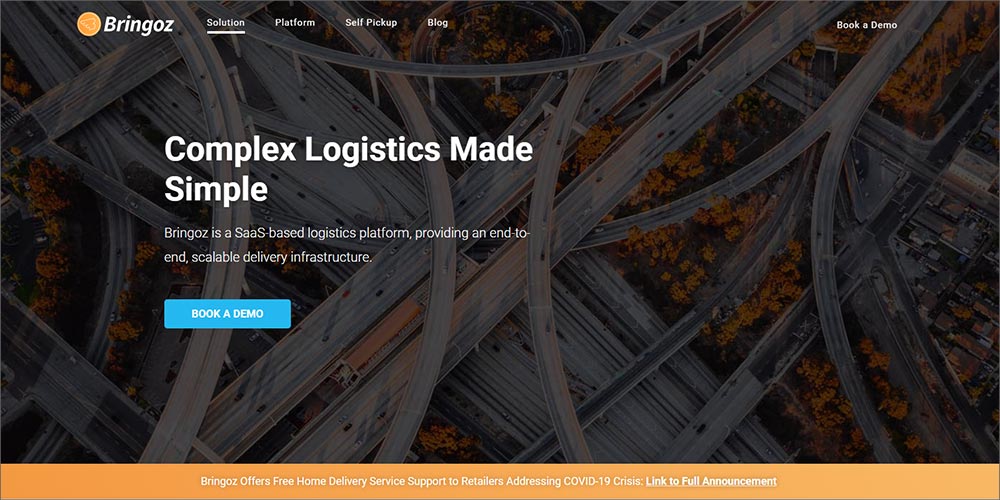 A Saas-based platform, Bringoz provides an efficient and scalable delivery structure to all businesses. Its fully automated last-mile delivery solution includes automated route planning, which lets business owners take the reign on timely delivery by avoiding common pitfalls like late deliveries. Bringoz key features are delivery route planning, optimizing, last-mile tracking, and fleet management platform. With Bringoz, business owners can focus on delivery needs such as last-mile, on-demand, first-mile, distribution, returns, and much more.
Sudden changes in delivery schedule, for instance, updation to routes, are all accommodated within the application. Dispatchers can now fully monitor the delivery staff, calculate the service time of orders, calculate the accurate delivery time windows, and predict ETA. Create the best delivery team there is for your last-mile delivery companies. The driver recruitment process becomes effortless through screening, compliance, and training.
Available on: Web, iOS, Android
Pros
Electronic proof of delivery with location and delivery time
Customer feedback through ratings, surveys, and driver scoring
Real-time vehicle allocation to drivers that are flexible and efficient
Cons
Low network coverage areas are difficult to reach due to built-in GPS capabilities
7. Scurri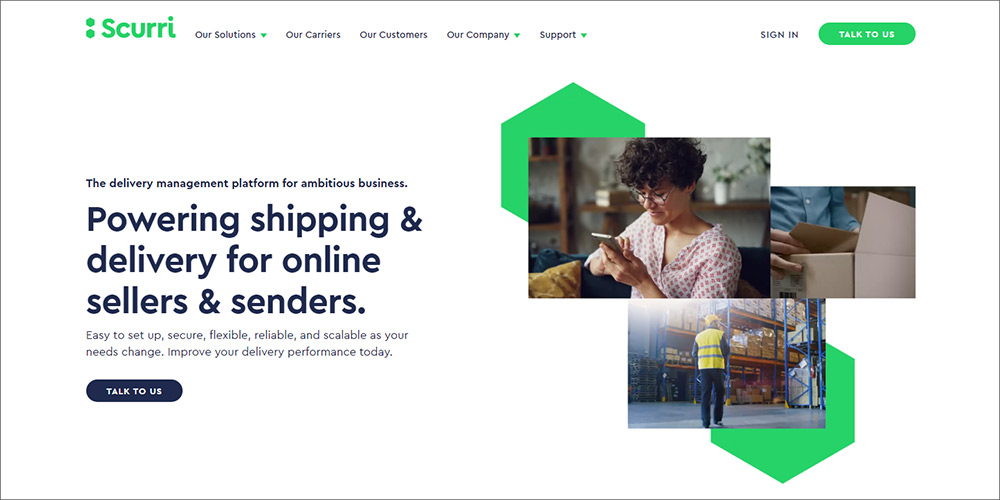 Scurri is a highly beneficial final mile delivery software for all business owners, from label generation for shipping to third-party integration. Scurri features that business owners find helpful are increased efficiency, real-time tracking of orders, and improved customer satisfaction.
Scurri allows e-Commerce retail stores to increase their retail efficiency with reduced operating costs. Scurri allows for live tracking (complete visibility) of orders. Logs generated include the speed, cost, and other metrics throughout the journey enabling business owners to evaluate specific pain points and improve the entire process. It keeps customers happy by keeping them in a loop with real-time updates.
Available on: Web, iOS, Android
Pros
Customer notification for improved transparency
Live tracking of orders
Cons
Web-only application
No price comparison for different carriers
8. Shipsy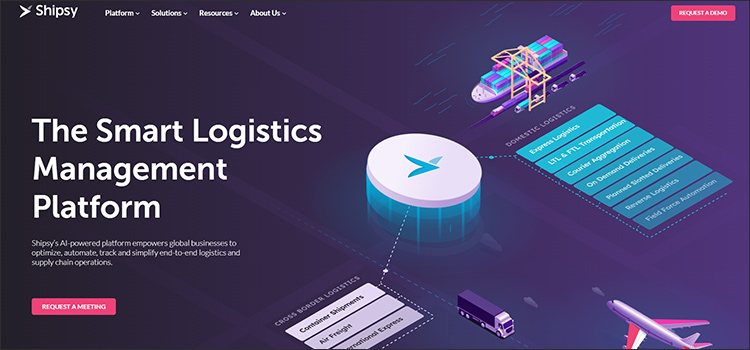 It is a multi-carrier management system that helps logistic company owners plan multiple delivery routes. This last-mile delivery software harbors a smart geocoding engine that lets you convert tons of deliveries into successful ones. The cloud-based delivery management software solution offers visibility of the entire delivery route plan and provides a real-time driver tracking option.
Besides, Shipsy assists business owners to optimize the fleet management so that dispatchers get an idea of driver availability. It provides the necessary delivery details like location, parcel information, and contact details directly to the driver. The sophisticated algorithm helps the admin fetch the data regarding the availability of delivery vehicles. Thus, it will bring down the operational costs and help you earn desired profits.
Available on: Web, iOS, Android
Pros
Easy to understand
Real-time tracker works well
Flexible integration
Cons
Limited customization
Transport information may vary
9. RoadWarrior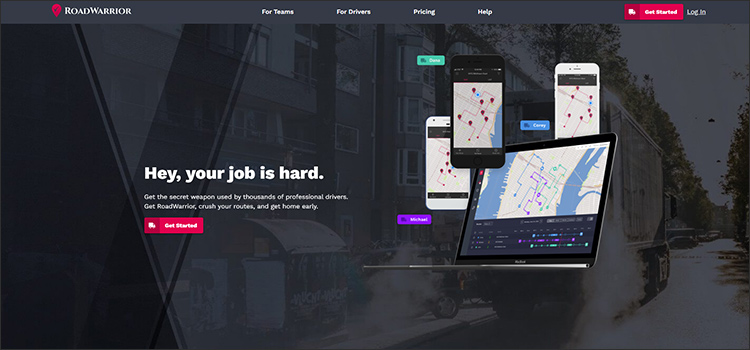 A multi stop route planner helps you find the best routes within a minute. Delivery managers can create an optimized route plan and share it with their drivers to make on-time deliveries. Using the app for drivers, they can know whether the parcel is being shipped or not. Then, they can simply follow the route plan and reach the delivery location quickly.
To perform such delivery on demand, drivers need to download the App on their smartphones. Apart from route planning, RouteWarrior helps you generate reports to analyze past deliveries and driver performance. Even the admin can plan the multi-stop deliveries from the multi-depot.
Available on: Web, iOS, Android
Pros
Automated route scheduling
Importing MS Excel files
In-app navigation
Cons
No turning indication on the app
Expensive plans
10. Track-POD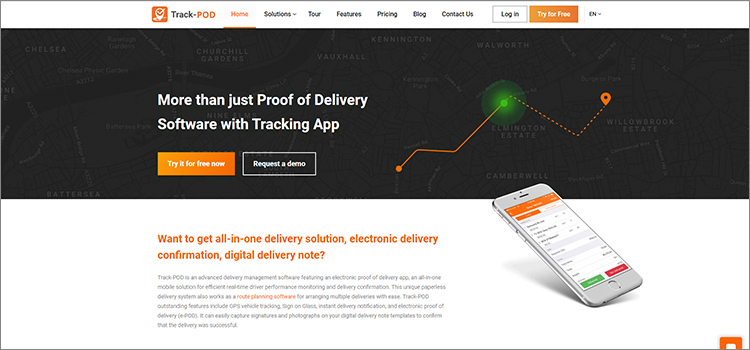 It is a route planning and optimization software which assists the owners in making deliveries real quick. Track-POD is equipped with an advanced algorithm that takes less than a minute to optimize the multi-delivery route plan. To start optimizing the routes, you just need to drag and drop the spreadsheet and it will automatically create the route map considering the on-road constraints.
On the other hand, Track-POD also has automation features for its customer. Therefore, the customer, too, can keep the tab on the driver's location and receive the delivery updates in a timely manner. It ensures two-way communication between drivers, which means there would be no conflicts post-delivery. During the last-mile delivery process, the admin can closely monitor on-road activities and keep their client updated.
Available on: Web, iOS, Android
Pros
Easy to navigate
Compatible with multiple platforms
Customer support
Cons
Difficult to reoptimize the route
Poor visibility on routes
Improve Your Last-mile Delivery Efficiency with Upper
If you are running a delivery business and considering the options to automize the process, Upper could be your ideal software. Upper aims to minimize the time required to transfer the parcel from the distribution center to the buyer's location. It keeps drivers updated in such a way that as soon as the parcel is dispatched, it won't take too long to get it delivered.
Upper provides on-road assistance for drivers so that they don't spend delivering the parcel. At the same time, it allows you to track the live location of the driver as well. A route planner is capable of finding optimized routes no matter how many extra stops you add to a route plan.
Choose Upper to Eliminate Last-mile Delivery Issues
Want to generate a route plan for your delivery orders? Leave things up to the Upper Route Planner. Create a multi-stop route plan, find optimized routes, and hand over the parcel in a timely manner.
Switch to Upper Now

FAQs
Essential features to keep in mind when looking for an advanced delivery software or last mile logistics software
Real-time web dashboard
Automatic driver dispatch
Last-mile delivery management platform
Robust analytics, and reporting
Important Metrics
Availability on all devices
Different solutions cater to businesses in slightly different ways. Amongst the ones mentioned above, Upper Route Planner is the best choice for all-rounded management software. It is affordable, manageable, highly optimized, and provides a better delivery experience.
It guides the owners to achieve the desired business goals with fewer resources. Also, it helps them to improve the customer experience and make last mile operations smooth. It makes the simpler route plan for the driver to carry out multiple deliveries in a short time.
The last mile delivery software lets you make last mile delivery operations considering the road and weather conditions. Therefore, it will reduce operational costs and save the valuable time of business owners. Minimizing the overall last mile delivery costs will help you achieve the financial goals for your business.
Conclusion
Nowadays, the right delivery software or route planner can help you in multiple ways as far as last-mile delivery is concerned. If you are willing to switch to a fully automated process, you can choose any one of these software, depending on your requirements.
In case you are unsure whether it would be helpful to your delivery business or not, book a demo with us to know how Upper simplifies your job. At Upper, you can directly import excel files and find the optimized routes with a single click of a button. From dispatching to collecting the proof of delivery, Upper ensures improved last-mile delivery services. As a result, your last-mile delivery troubles won't even exist.