Planning routes manually is a painfully lengthy and time-consuming procedure, especially when you have hundreds of drivers making multiple deliveries throughout the day.
If you do not have a streamlined process for your last mile deliveries, you will lose out on a large market share. A last mile delivery app will help you do exactly that!
With a good last mile solution, you can save up to 40% of planning time and increase new order capacity by 60% and overcome several logistics challenges.
Do you want to know which solutions can help you achieve these kinds of results? Keep reading.
What are the Challenges of Last Mile Delivery?
Here are some of the major last mile delivery challenges that can be solved using a last-mile delivery app:
Inadequate Route Planning & Optimization: Without proper technological support, it becomes difficult to get efficient route planning and optimization for providing faster deliveries.
Driver Inefficiency: Drivers are only able to improve efficiency if they are supported with the right tools and information.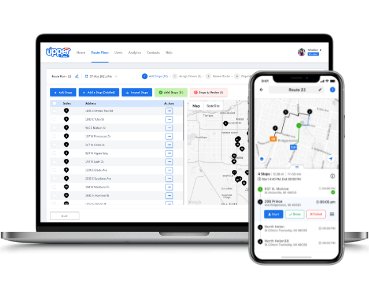 Upper Crew
A Simple-to-use route planner that every one is talking about.
Save up to 95% of planning time
Save up to 40% of time on the road
Plan 500 stops at once
No credit card details required
Delayed Deliveries: Delayed deliveries prove to be expensive for last mile logistics companies.
Lack of Visibility: There is barely any visibility into the last mile delivery process for the customers.
Higher Operational Costs: Last mile delivery costs make up at least 53% of the total cost of delivery for the companies.
Dealing with Customer Expectations: Most on-demand delivery models do not have a way to effectively handle customer expectations.
7 Best Last Mile Delivery App Solutions
Last Mile Delivery App
User Ratings
Key Features
Pricing
Onfleet

4.7/5

Driver chat
Real-time driver tracking
Monitoring key metrics

$149 Per Month
$349 Per Month
$799 Per Month
$1,999 Per Month

Upper Route Planner

4.4/5

Automated route optimization
Proof of delivery
Set delivery constraints
Reports & analytics

Tookan

4.4/5

SMS gateways
Geofencing
Payment gateways
Reports & analytics

$17 Per Month
$53 Per Month
$113 Per Month
$215 Per Month

Track-POD

4.6/5

Route optimization
Delivery tracking
Instant notifications

$29 Per Month
$49 Per Month
$69 Per Month

Dispatch Science

5/5

Real-time alerts
Turn-by-turn directions and navigation
Communication with driver
Reports & analytics

$650 Per Month
$1800 Per Month

Bringg

4.9/5

Intelligent driver & vehicle selection
Delivery Tracking
Real-time notifications
Reports & analytics

LogiNext

4.3/5

Dynamic rerouting
Delivery route planning visualization
Real-time tracking
Reports & analytics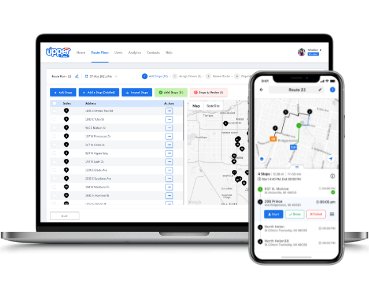 Upper Crew
A Simple-to-use route planner that every one is talking about.
Save up to 95% of planning time
Save up to 40% of time on the road
Plan 500 stops at once
No credit card details required
Which Companies Use Last Mile Delivery App Solutions?
A last mile delivery app can be useful to a large variety of industries. Some of the major industries making use of last mile delivery apps are:
Courier: Courier companies need speedy and safe dispatch and delivery for all their packages. A last mile delivery app helps them with route optimization, automated dispatching, and delivery analytics.
Retail & Ecommerce: Retail and eCommerce are constantly changing. With such a dynamic process, it is imperative to make use of tools that help you make a smooth transition from one trend to another.
Food Delivery: Food delivery apps need features like dynamic routing, two-way messaging, and proof of delivery which is provided by last mile delivery apps.
Flower Delivery: Flower delivery is another popular business that has the need to integrate last mile delivery apps for smoother operations from dispatch to routing and delivery.
Pharmaceuticals: Pharmaceutical companies are in constant need of innovative ways of making life-saving drugs available to their customers as quickly as possible.
The companies that have been making good use of last mile delivery app include industry giants like UPS, FedEx, Amazon, Walmart, Uber, and Postmates. These last mile delivery companies focus on providing same-day delivery with real-time alerts for which they require an efficient system in place.
FAQ
A last mile delivery software is a system that is used by delivery and logistics businesses to manage and streamline all the steps of the delivery process right from planning and optimization to delivery and daily reporting.
All last mile delivery solutions focus on majorly solving one problem i.e. the Travelling Salesman Problem. Held-Karp algorithm is a common algorithm used in all last mile delivery software solutions to come with the most optimized way of reaching from one address to another.
A last mile delivery app is important for delivery and logistics businesses to provide route optimization, route directions, real-time alerts, and other real-time delivery capabilities to improve customer experience. It is important for streamlining the delivery operations, improving savings, and boosting revenue.
Last mile delivery is often an expensive step in the delivery process because it relies on speed and efficiency. It includes smart algorithms, highly trained personnel, and other operational costs which can contribute to the higher price of last mile delivery.
Which is the App of Your Choice?
A last mile delivery app will help you automate and refine the steps of the final leg of the delivery process and make it more efficient.
Do you think the apps mentioned in this blog post solve your last mile delivery problems?
Try out Upper Route Planner and see for yourself how it helps your delivery business. Get in touch with us for a demo today!
Share some of the features that have helped your last mile delivery process or the features that you would like to see in a last mile app.