Top Features

3.9

Planning & Scheduling

4.0

Route Optimization

3.8

Reports & Analytics

4.0

Team Management

3.7

Customer Support
Overview
Tookan is a cloud-based delivery management software created to simplify delivery and dispatch operations for businesses planning delivery routes.
The ability of Tookan to optimize routes is one of its key features. Businesses can reduce delivery times and operating costs by determining the most efficient route for any kind of transportation. Moreover, the platform supports automated dispatch, which eliminates manual work by automatically allocating orders to the closest available delivery agents.
By tracking ratings, feedback, and communication, businesses can use the platform to gain insightful information about the experiences of their customers. Using geo-analytics tools to track on-field personnel in real time improves workforce efficiency and order management.
The platform offers business interfaces in the form of customer, agent, and manager applications. Real-time order tracking and safe payments are made possible through the customer app. For quick doorstep delivery, the agent app assigns the most efficient routes. The manager app takes care of order details, generates advanced analytic reports, and manages personnel.
In short, Tookan is a versatile and efficient platform for delivery management that offers a number of features to speed up delivery procedures. It enables businesses to outperform their competition and provide a seamless customer experience.
Tookan Review
Positive
Orders are automatically assigned to the nearest available delivery agents, streamlining operations.
Valuable insights from ratings, feedback, and communication improve customer experience and service quality.
Fleet managers have access to comprehensive tracking summaries and graphical reports for up to 90 days, facilitating data-driven decision-making.
Customers can track orders using real time through a user-friendly map interface.
Integration with payment gateways and online wallets ensures swift and secure transactions.
Allows real-time tracking of orders and seamless communication for effective workforce management.
Customizable web forms simplify order processing, directly creating tasks from customer orders.
Flexible management of third-party and in-house fleets for scalable growth and optimized deliveries using delivery orchestration.
Seamless integration with other business apps and software helps in coordination and automating tasks.
Real-time monitoring of fleet behavior reduces maintenance costs and ensures better safety and security.
Agents can scan barcodes, add notes and images, and collect digital signatures for reliable proof of order completion.
Negative
Users experience significant downtime, with the app being down at least every week, leading to lost revenue due to booking disruptions.
The app drains phone batteries quickly, causing devices to die before fully utilizing it.
The desktop version's appealing appearance is marred by glitchy functionality.
Customization comes at a high price, with users suggesting lower costs for existing customers to manage expenses better.
Users encounter delays in receiving replies to queries, sometimes waiting days or weeks for satisfactory responses.
Tookan's knowledge base lacks sufficient information and answers, making it challenging to manage growing businesses and on-field operations effectively.
Some users express frustration with unhelpful customer support, difficulty canceling accounts, and unaddressed billing issues.
Basic features, such as route optimization, ETA generation, and in-app messaging that other platforms offer as standard, are charged as expensive add-ons.
Tookan's integrations tend to glitch and lag, causing inconveniences for users.
Larger companies find Tookan's pricing too expensive for the value it provides, especially with essential features as costly add-ons.
Startup
$129.00
PER MONTH
Key Features
Unlimited Agents/Drivers
Additional Tasks at $0.17/Task
Growth
$299.00
PER MONTH PER DRIVER/VEHICLE
Includes 2000 Tasks/Month
Key Features
Unlimited Agents/Drivers
Additional Tasks at $0.15/Task
Includes 1 Customer Booking Form
Standard
$599.00
PER MONTH
Includes 5000 Tasks/Month
Key Features
Unlimited Agents/Drivers
Additional Tasks at $0.12/Task
Includes 2 Customer Booking Forms
Enterprise
–
Contact for Pricing
Price Plan For Team
Upper
Essential
$80/mo
Unlimited Tasks
Growth
$160/mo
Unlimited Tasks
Enterprise Contact for pricing
Free Trial Available

Tookan
Startup
$99/mo
700 Tasks/Month
Growth
$249/mo
2000 Tasks/Month
Standard
$499/mo
5000 Tasks/Month
Free Trial Available
---
Assessing the Worth: Is Your Investment Worth the Price?
When choosing a delivery management platform, make sure the features and functionalities offered are worth the price. To help you decide whether the investment is worthwhile, we'll compare Tookan with a leading delivery management solution.
By carefully analyzing the offerings and their impact on simplifying your processes, you can make an informed choice that maximizes the value of your investment.
Let's take a closer look at the comparison to help you find the best option for your delivery business.
| | | |
| --- | --- | --- |
| Route Optimization | An additional cost | Without extra charge |
| Tasks/Month | Limited | Unlimited |
| Additonal Costs | Yes | No |
| Specify Pickup & Delivery in the Same Route | | |
| Live Driver Tracking | | |
| Expected Time to Arrive (ETA) | | |
| Curbside Delivery | | |
| Route Swapping Between Drivers | | |
| Reverse Routes | | |
| Customer Notifications | | |
| Proof of Delivery | | |
| Integration | | |
| Analytics and Reports | | |
| Dedicated Support Manager | | |
| Pricing | Additional costs for essential features | Affordable and feature-rich plans |
Features Tookan Upper

Route Optimization

Additional cost

Without extra charge

Tasks/Month

Limited

Unimited

Additonal Costs

Yes

No

Specify Pickup & Delivery in the Same Route

Live Driver Tracking

Expected Time to Arrive (ETA)

Curbside Delivery

Route Swapping Between Drivers

Reverse Routes

Customer Notifications

Proof of Delivery

Integration

Analytics and Reports

Dedicated Support Manager

Pricing

Additional costs for essential features

Affordable and feature-rich plans

Try Upper for FREE No credit card required
What People Say About Upper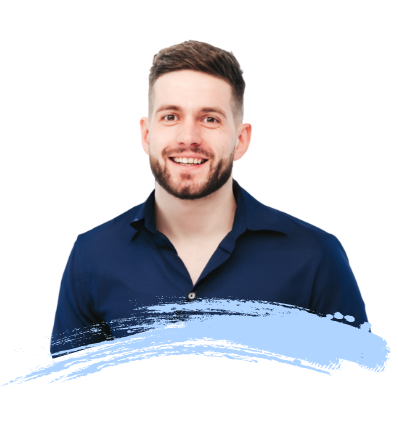 Saved 10 hours per week & delivering 3x more meals with Upper. It's easy to take proof of delivery, the speed is great, it's super super fast!

Ben Parker,
Delivery Manager of Flavors2Go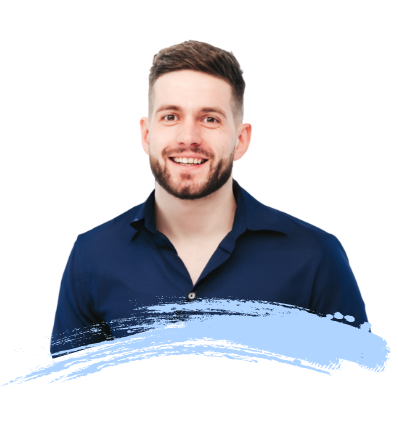 Key Features of Tookan
1. Dispatch Dashboard:
The dispatch dashboard serves as the focal point for managing all business activities in Tookan. It gives businesses a comprehensive and real-time view of the delivery management process, enabling them to assign jobs more effectively, check order status, and track agent activities. The dispatch dashboard's primary features include
Way Bills: Automate barcode generation for single and multiple delivery orders.
SMS Gateways: Regulate end-to-end communications with customers easily.
Payment Gateways: Provide swift and convenient payment options for transactions.
Geofencing: Mark operational areas of agents with multiple geofences.
API Access: Choose from a variety of APIs to customize freight management software.
Recurring Tasks: Create tasks with various rules to suit business needs.
Custom Field Templates: Capture specific information through customizable forms.
Inventory Management: Check customer orders against driver inventory and send notifications with sufficient inventory.
Tookan Logistics: Manage and track last-mile deliveries to improve supply chain efficiency.
2. Service App:
The service app is a mobile application designed for field agents, enabling them to work efficiently while staying connected with managers and customers. It empowers agents with essential tools to perform tasks effectively. Key features of the service app include
Task Notification: Customize operational alerts and communicate directly with managers, dispatchers, and customers.
Optimized Routes: Easily navigate to multiple destinations for on-time deliveries.
Proof of Delivery: Allow agents to scan barcodes, add notes, capture images, and collect digital signatures for order confirmation.
Easy Navigation: Access customer information, monitor tasks, and travel hands-free.
Agent Wallet: Provide agents with a wallet to record all transactions.
Agent Capacity Management: Auto-allocate tasks based on agent capacity criteria.
Automatic Barcode Generation: Automatically generate barcodes for order verification.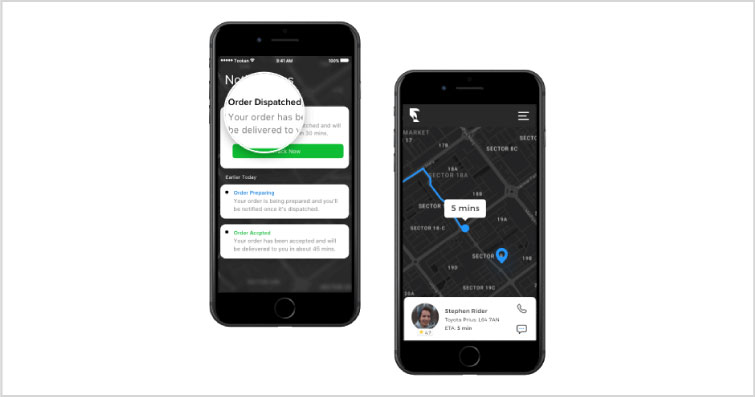 3. Extensions:
Tookan offers a variety of extensions, which are designed to address specific business requirements and enhance the overall functionality of the platform. Some of the key extensions include
Utility Apps: Increase efficiency with specialized apps for your business needs.
Email/SMS Alerts: Enable real-time tracking and communication with email/SMS alerts for expected time of arrival.
Customer Ratings: Gain valuable insights through customer ratings and feedback.
Merchant Add-On: Facilitate effortless onboarding and efficient management of merchants on your marketplace platform.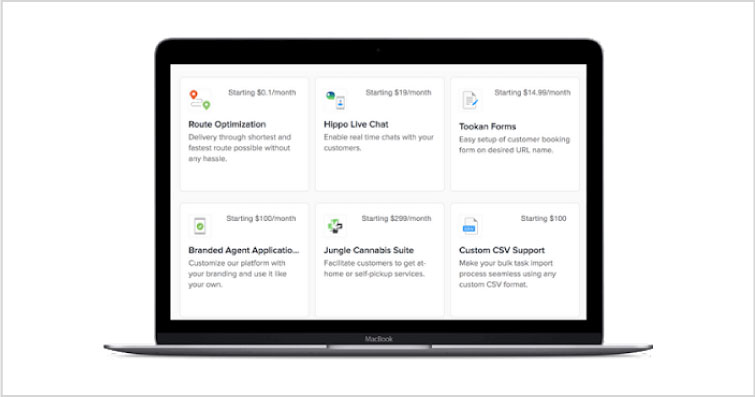 4. Tracker:
The Tracker feature provides advanced fleet tracking capabilities, enabling businesses to manage their vehicle fleets efficiently. Key functionalities of Tracker include:
Alerts for Maintenance: Minimize vehicle breakdown expenses with early warning alerts for maintenance.
Geofencing: Improve operational efficiency and security with alerts for vehicle entry and exit from specific geofences.
Behaviour Monitoring: Monitor fleet behavior in real-time, including idling time and rash driving, for better management.
Smart Analytics: Fleet Managers access comprehensive graphical reports and tracking data for up to 90 days.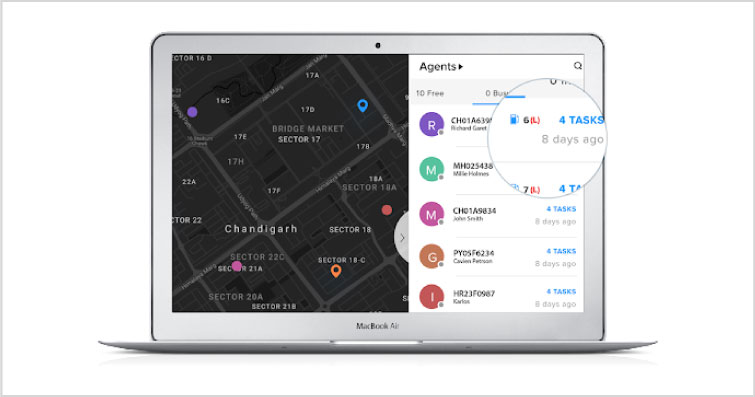 Is Tookan Right for Your Business?
Before deciding whether Tookan is a good fit for your business, you should weigh its benefits against its drawbacks. Even though Tookan provides a number of delivery management features, like route optimization, automatic alerts, and a user-friendly mobile app, it does have several shortcomings that might have a negative impact on your business.
Downtime and malfunctions in the app can result in lost revenue and frustration for customers, while delayed customer support can impede speedy issue resolution. Additionally, the expensive pricing plans and limited tasks per month can hinder the potential of growing businesses to scale.
It's crucial to weigh these negatives against the platform's features and benefits to determine if they align with your specific business needs. Always conduct a thorough evaluation and consider alternatives that offer competitive features and more affordable pricing plans. Choose wisely to optimize your delivery processes and enhance your customer experience.
Herein we are recommending you explore Upper, which is a leading route optimization software in the market.

Tookan
$499/per month
Tasks: 5000/Month
Limited Route Optimization
Additional Cost for Route Optimization
Upper
$160/month
Tasks: Unlimited (All plans)
Unlimited Route Optimization
No Additional Cost for Route Optimization
Make delivery operations smoother within budget!
Upper presents a combination of powerful features and budget-friendly pricing that helps streamline your deliveries.
Experience the seamless integration of route optimization and multi-stop planning, all while staying within your budget.

Ensure that your hard-earned money is well-spent on a platform that enhances your delivery operations.
A Perfect Alternative for You
We are not saying that Upper is the only alternative to Tookan software, but we are saying that Upper is the best alternative to Tookan as Upper is the most user-friendly delivery management platform. It requires no training to use it, so any non-technical person can access it smoothly and manage all deliveries/pickups with a breeze.
Its advanced routing features and dedicated support make it an ideal choice for optimizing delivery operations and enhancing customer satisfaction.
Advanced Route Planning and Optimization: Upper goes beyond simple mapping when it comes to route optimization. To generate the most efficient routes, it takes into account a number of variables, including delivery distance, service times, time windows, and delivery priority. Upper enables quicker deliveries, lower consumption of fuel, and higher workforce productivity by reducing travel distance and time.

Live Driver Tracking: With the help of Upper's live driver tracking feature, businesses can track the precise location of their delivery personnel on a map. Dispatchers can use this feature to make well-informed decisions, promptly adjust to any changes in the delivery process, and give customers precise ETA updates.

Automated Customer Notifications: Upper automates customer notifications throughout the delivery journey. Customers receive timely updates on their order status and expected delivery time via SMS/email. These proactive notifications increase transparency and keep customers engaged, leading to higher customer satisfaction and repeat business.

User-friendly Mobile App: Upper's mobile app offers an easy-to-use interface for delivery agents. They can easily view their assigned tasks, get turn-by-turn navigation to destinations, and capture proof of delivery like digital signatures, photos, and notes. The intuitive app reduces training time for drivers and ensures smoother on-field operations.

Comprehensive Analytics: The report and analytics feature of Upper offer a comprehensive understanding of driver efficiency and delivery performance. This enables companies to track key performance metrics, identify bottlenecks, and enhance their delivery processes through data-driven decisions.

Seamless API Integration: Upper's flexible API integration enables businesses to connect their existing systems and third-party applications seamlessly. This integration capability empowers businesses to customize the platform according to their specific needs and extend its functionality to streamline their entire delivery ecosystem.

Customer Support Excellence: Upper is backed by a dedicated customer support team that offers prompt assistance and resolves queries efficiently. Whether it's technical support, platform training, or general inquiries, businesses can rely on Upper's responsive customer support to ensure a smooth and successful delivery management experience.
DON'T MISS OUT! LIMITED OFFER
Upper's Growth Plan now available @
$160/mo
Get the Best Cost-Effective Tookan Alternative & Speed up Your Deliveries by 3x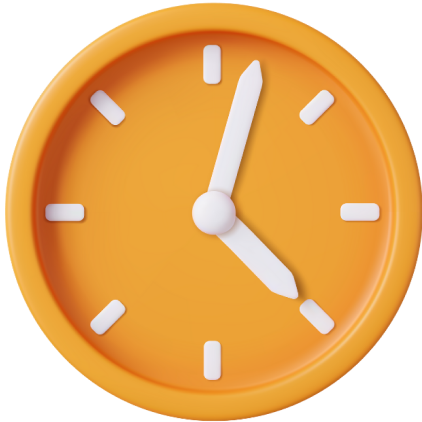 Conclusion
While Tookan offers some valuable features for delivery management, it is not without its drawbacks, including occasional technical issues, slower customer support, and extra charges for essential functionalities.
As businesses strive for seamless and efficient last-mile operations, they deserve a solution that addresses their needs comprehensively. That's where Upper stands out as the perfect alternative. With a user-friendly interface and advanced routing functionalities, Upper ensures smooth and optimized deliveries, enhancing the overall customer experience.
The best part is that you don't have to commit right away. Experience the power of Upper firsthand with our 7-day free trial. Sign up now and revolutionize your delivery management process.
Frequently asked questions
Can I try Tookan before committing to a subscription?

Yes, Tookan offers a 14-day free trial, allowing you to explore the platform's capabilities and determine if it aligns with your business requirements before making a commitment.

Is Tookan a cloud-based platform?

Yes, Tookan is a cloud-based delivery management platform that offers easy access, data security, and scalability without the need for on-premise installations.

Can I use Tookan for industries other than delivery services?

Yes, Tookan is versatile and can be used across various industries, including food delivery, medical pharmacy, beauty services, home services, fleet management, e-commerce, and more. Its customizable features cater to diverse business needs, streamlining workflows and optimizing operations for different sectors.

Can I integrate my existing payment gateways with Tookan for seamless transactions?

Yes, Tookan allows seamless integration with popular payment gateways, ensuring smooth and secure transactions for your customers during the delivery process.

Is there a limit to the number of agents or drivers I can manage using Tookan?

No, Tookan offers unlimited agent/driver management, enabling you to scale your workforce as your business grows effortlessly.

Can I schedule recurring tasks or deliveries in Tookan?

Yes, Tookan's platform enables you to schedule and manage recurring tasks or deliveries, streamlining repetitive processes and saving time.

Is there a limit to the number of orders or tasks I can process using Tookan?

Depending on the subscription plan you choose, Tookan offers a specific number of monthly tasks or orders. If needed, additional tasks can be availed by paying some additional fee.