Key Takeaways:
Route4Me is an expensive piece of software, for any medium-sized or small firm that cannot afford to pay hundreds of dollars for route planning.
Route4Me's address detection can be sluggish and unreliable at times.
Reasons like reduced planning time, automated delivery planning, boosting profitability helps to consider Upper Route Planner over Route4Me.
Other alternatives can be Circuit Route Planner, Optimoroute, and BadgerMaps.
Route4Me's route optimization software is a good option for quite a few large enterprises. But that doesn't mean it is the best option for all kinds and sizes of businesses out there.
To begin with, Route4Me is an expensive software, especially for any medium and small business that cannot pay hundreds of dollars for route planning. With Route4Me's pricing, if you have more than 10 drivers, then your monthly payment goes up quickly.
Now coming to the features, Route4Me has made its entire software a more customizable solution for businesses. But that means most of the essential features you require to plan and optimize deliveries are available for an additional fee.
These reasons are enough for any delivery business to go out looking for a suitable Route4Me alternative. To make it easier for you, we have listed a few of the best Route4Me alternatives to manage your logistical operations.
Reasons To Look For an Alternative To Route4Me
Route4Me is a dynamic route planner, but like every other software, it has its downsides too.
The multi-driver route optimization is sometimes not very accurate.
Address detection is slow and inaccurate.
It has a steep learning curve.
A lot of the important features need to be purchased from the marketplace.
Creating a route can be time-consuming, even when you upload an Excel sheet.
SMS and email notifications do not work very well.
It has an expensive plan for small business owners.
Fortunately, there are several alternatives. Some are quicker, some are more accurate, some of them are slightly cheaper, and overall much better when compared to Route4Me.
Keep reading to learn about some of the best Route4Me alternatives.
4 Best Alternatives To Route4Me Route Planner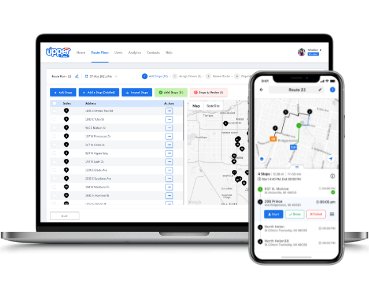 Upper Route Planner
A Simple-to-use route planner that every one is talking about.
Save up to 95% of planning time
Save up to 40% of time on the road
Plan 500 stops at once
Why Should You Consider Upper Route Planner As An Alternative for Route4Me?
Here are some of the major reasons why you need software like Upper Route Planner to manage your delivery route planning.
Reduce Planning Time: Manually planning each route will take hours time and effort. But Upper Route Planner plans multiple delivery routes in just a few minutes.
Save Time & Money: Having dedicated resources to plan routes means spending way too much money and time on route planning. Save money and time with Upper Route Planner's automated and quick route planning.
Automate Delivery Planning: When you have smart software like Upper Route Planner, you don't need to worry about managing your pickup & delivery planning manually.
Scale Your Deliveries: With optimized routes, it becomes easier for your drivers to have the most accurate directions. Covering more stops with each order then becomes possible.
Boost Profitability: When your drivers are able to cover more stops and deliver more orders within the same time and details with the same amount of resources, business profitability also gets a boost.
Among all Route4Me alternatives, Upper stands out from all when it comes to features, functionalities, ratings, reviews, and affordable pricing.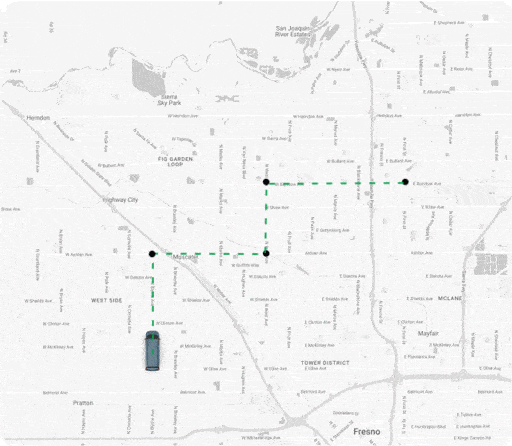 Still, have some questions in mind? Don't worry. Here, we have answered frequently asked questions.
FAQ
Route4Me has several pricing plans. There are three different plans if you choose to go for dynamic routing. This is for businesses whose driving routes change daily.
The first plan is Route Management at $199 per month.
The second plan is Route Optimization at $249 per month.
The third plan is Route Optimization Plus at $349 per month.
Upper Route Planner has a simple pricing plan that covers all major features needed to plan, schedule, and optimizes your delivery routes. You can use Upper Route Planner for $31.99 per month, paid annually.
Some of the best route planning software are Upper Route Planner, Badger Maps, Circuit Route Planner, and Optimoroute.
Final Thoughts on Route4Me Alternatives
The Route4Me alternatives mentioned in this blog have been used thoroughly and weighed against the features and pricing of Route4Me. Whether you are a business and enterprise offering door-to-door service or doing pick-ups and deliveries, you will need to keep good routing software in your arsenal.
If you feel like Route4Me is not the best route planning software for your requirements, you need not worry. We have you covered with the alternatives.
Upper Route Planner is the most suitable option for any kind of business handling multiple drivers and their schedules. It not only has all the necessary features as a delivery management platform but is also affordable when compared to other route-planning software.
If you are looking for an efficient and cost-effective way to plan and optimize local deliveries and driver schedules, Upper Route Planner is the best bet for you. Try out our 7-day free trial today and see how it suits your requirements.