Key Takeaways:
Dispatch routing software can help the dispatchers by automating the entire dispatch process.
The main features of dispatch software include route planning, optimization, scheduling, dispatching, real-time tracking, and analytics.
Better customer satisfaction and faster operations are two major benefits of dispatch routing software.
In the modern day, dispatchers genuinely deserve a break from the grueling work of route planning and dispatching as it takes hours of their time on a regular basis. Thankfully, this impending break is already here in the form of dispatch routing software for dispatchers.
According to Indeed's career guide, truck dispatchers often work long hours given the nature of their position. Dispatch routing software can streamline the work of dispatchers and truly improve performance across all parameters.
But what even is route dispatch software and how exactly will it benefit dispatchers and businesses alike? This is what we will be looking at today in this all-encompassing blog that tells you everything that you need to know to get up to speed on dispatch routing software.
What is Route Dispatch Software?
In essence, route dispatch software is all about automating and refining all the processes that take the most time for dispatchers. So, this would include tasks such as route planning, route optimization, and the dispatching of routes to the designated drivers.
Because this process is fully automated, it often boasts greater efficiency when compared to manual route planning and dispatching. This is not only because of the time saved on manual work but also the inherent performance superiority of the automatically planned route.
Reasons Why You Should Switch to Automated Routing and Dispatch Software
While it is true that no process is perfect, there are some aspects of the traditional routing and dispatching process that desperately need an upgrade. Let us dive into the aspects that warrant switching over to automated routing and dispatching software.
1. Time taken to dispatch routes
Dispatching routes to individual drivers is a part of the process that dispatchers would hardly call interesting as it involves repetitive work for prolonged periods. This is because each driver may have a different method of getting their routes.
Some prefer their route plan on printed paper, while others like getting them on mobile. A dispatch routing software can circumvent this issue by allowing dispatchers to send drivers their designated routes with just one click on their preferred method of receiving instructions.
2. Inefficient use of resources
One of the most difficult tasks for a dispatcher or business that conducts frequent delivery trips is distributing the workload equally among the workers. When the workload is not distributed optimally it can have a big collective effect on operational efficiency.
However, if you use dispatch routing software then this issue becomes trivial as it will handle the distribution of stops in the most optimal manner automatically. With such efficient work distribution, you not only destress your crew but also get to streamline operations.
3. Unoptimized routes
If a dispatcher were to optimize routes by themselves then, they would not only be limited by the number of parameters taken into consideration but would also take copious hours of time. This is obviously not good for the fast-paced world of logistics.
This is why route planners are extensively used in the industry to save hours of time on planning routes in the most optimized manner imaginable. As you can imagine, automating the dispatching and route optimization process takes a massive burden off the dispatcher's shoulders.
4. Unfeasability of last minutes changes
Because delivery route planning is done hours or days in advance it becomes difficult if not downright impossible to implement last-minute changes to the route plan. The flexibility to change the route plan at any given moment is a luxury that many businesses would like to have.
Alas, this can only be granted by dispatch routing software with its advanced capabilities to shape and mold any given route to your liking within an instant. Unlike human dispatchers that need rest, you can call upon the trusty software solution to modify the delivery route at any given time.
5. No monitoring of crew
Fleet management is a massive challenge when you do not have any method to track the progress and status of your crew on the ground. Tracking is considered essential by businesses that want to gauge the performance of their employees.
You can also plan ahead by looking at the delivery status of every individual driver. This is why many route optimization software comes preloaded with such tracking features.
4 Best Route Dispatch Software to Consider in 2023
The market for route dispatch software is vast and constantly expanding. With so many options to choose from, you are bound to be confused when finding the best software to go with. To aid you in your quest to find the best solution, we bring you this list of the 4 best route dispatch software that may best suit your needs.
1. Upper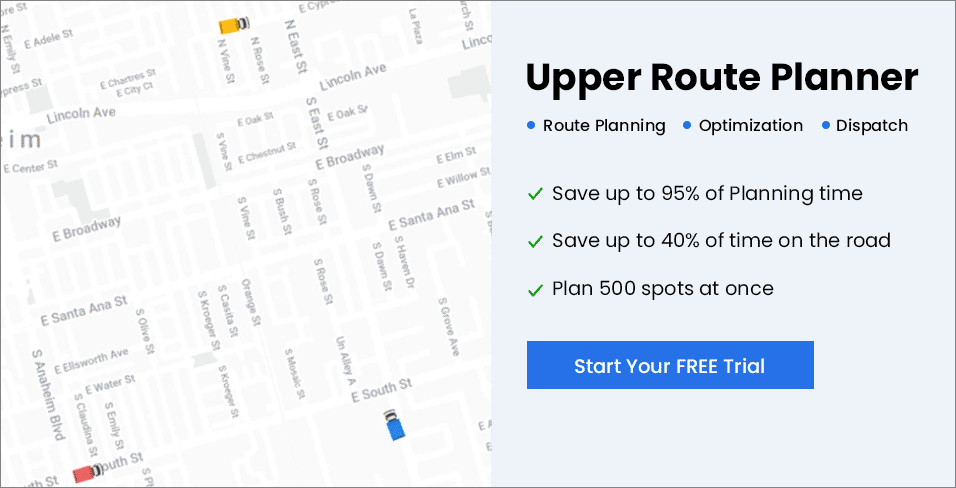 Upper has established itself as the go-to routing solution for any delivery business with its vast array of features that refine your delivery process. Everything from planning routes to dispatching them is easy when you use Upper as the entire process only takes a few clicks.
The delivery routes delivered by Upper are highly efficient and allow you to reach more stops in the same time frame saving you a whole bunch of costs. Dispatching is also a breeze with Upper thanks to the One-click dispatch feature that allows you to send drivers their designated route via text, email, or directly to the driver app.
Companies that use Upper also enjoy the ability to collect proof of delivery using the driver app to ensure successful delivery. You can also get reports and analytics regarding the performance of your fleet and make the required changes accordingly.
Key Features:
Route planning
Report and analytics
Route optimization
Route scheduling
Proof of delivery
API integration
One-click dispatch
Driver tracking
Customer notifications
Dispatch Routes With a Click of Your Finger
Grab Upper's automated routing process and leave the hassle of dispatching routes forever. Achieve your delivery targets in less time with optimized routes.
Start a Free Trial

2. GoFleet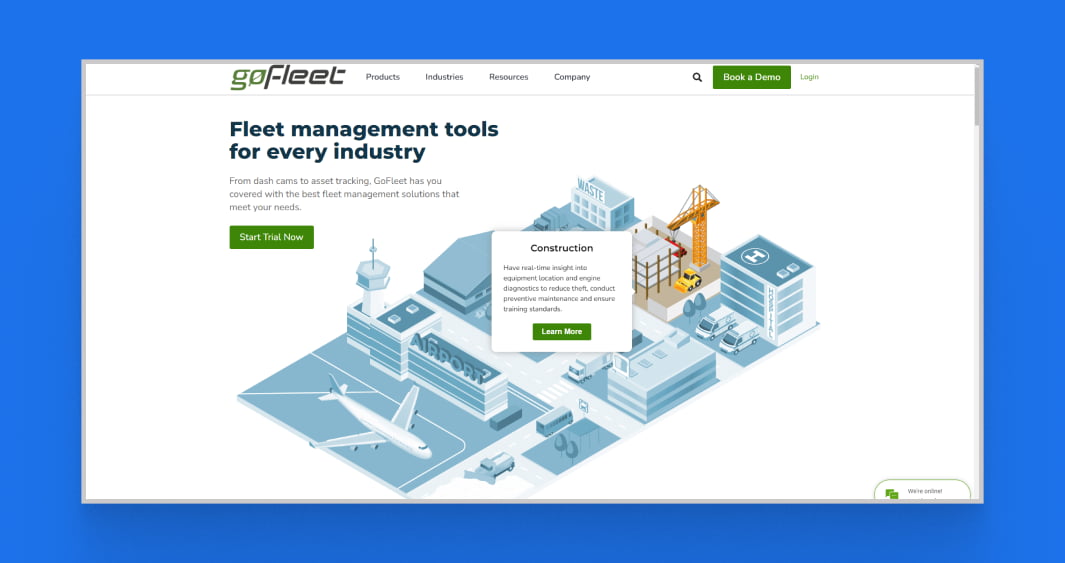 As the name suggests, GoFleet is built to be an all-rounding fleet management solution for the companies that need it. They have a vast variety of products to peruse and choose from that are all made to enhance delivery operations.
They offer everything from AI-powered dashcams to asset management software for the betterment of your fleet operations. Their offerings of both hardware and software solutions make them a formidable player in this industry for enterprise business applications.
Along with its routing and dispatching solutions, they have more in store such as vehicle maintenance tracking features which make it a dream come true for fleet managers.
Key Features:
Asset tracking
Vehicle maintenance tracking
Route optimization
Instant dispatching
ELD solutions
3. Samsara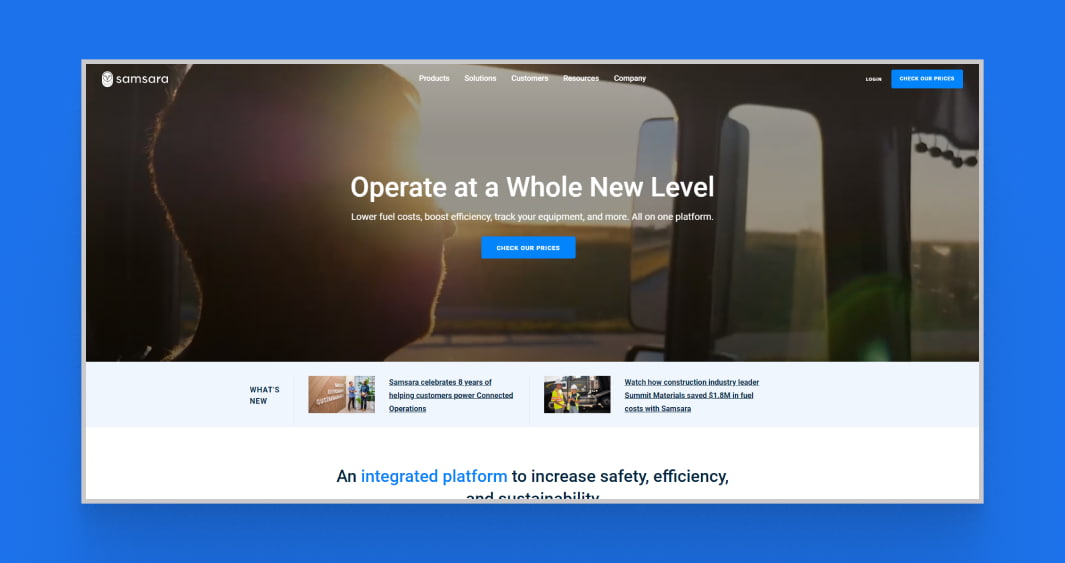 Samsara has been very well-known in the industry for providing fleet management products that track the behavior of drivers and suggest ways for improvement. They are also known for providing hardware solutions for other complex forms of tracking and optimization.
One of these solutions is the vehicle diagnostics tracker that monitors the health of your fleet vehicles and suggests optimal maintenance times accordingly. Samsara does also have GPS tracking features for better delivery management.
Not to mention their route optimization and dispatching software that kicks the delivery efficiency of your business up by quite a margin. Their solutions are geared towards large fleet dispatchers that require such extensive information to function.
Key Features:
Route optimization
Route dispatching
ELD systems
Vehicle monitoring systems
Driver compliance
Asset tracking
GPS tracking
4. Omnitracs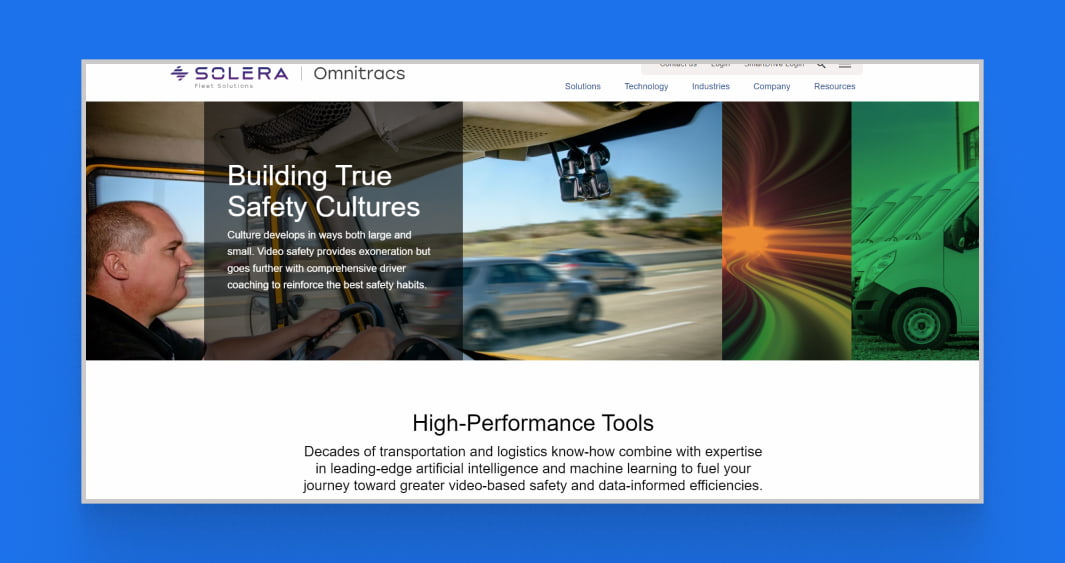 A leading provider of fleet management services, Omnitracs works with companies to effectively handle their fleets while enhancing safety and cutting costs.
They offer companies cloud-based fleet management software so they can track the real-time location of their cars, keep an eye on driver behavior, and plan the best routes. The software offers tools to reduce travel time and fuel consumption by optimizing routing and dispatching while taking into consideration variables like traffic, weather, and road conditions
The company also provides a variety of safety and compliance options, such as electronic logging devices (ELDs), driver scorecards, and vehicle inspections. Additionally, Omnitracs offers tracking options for assets like trailers and large machinery, enabling companies to keep track of their whereabouts and condition at all times.
Key features:
Route planning
Route optimization
GPS tracking
Quick driver dispatch
ELD solutions
Also Read: How to Choose Dispatch Management Software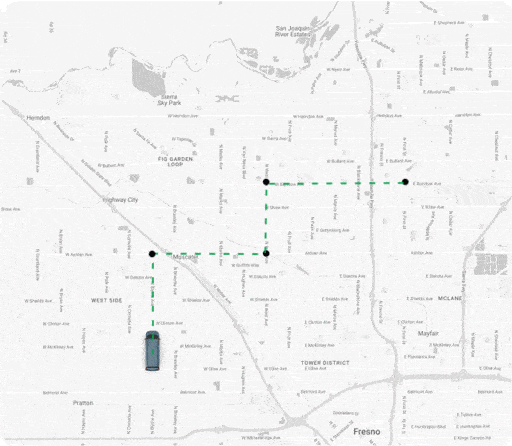 Major Benefits of Dispatch Routing Software
The cost of having dispatch routing software for your business might seem vain to some, however, the benefits of using such software solutions are far greater than most realize. This is because the efficiency granted by such solutions has shocking effects on other aspects of the business. Let us look at some examples of the major benefits of dispatch routing software.
1. Greater customer satisfaction
Because of the faster delivery speeds your customers are likely to get their packages delivered faster than before. Not only this, but your customers also get highly accurate estimated times of arrival thanks to the highly advanced predictive capabilities of dispatch routing software.
You can also expect to get referral clients if your customers are well-satisfied by your delivery performance, giving you a bigger client base. This is why using a software solution is considered one of the best ways to increase customer retention.
2. Faster operations
Since you get nothing but the most efficient routes from dispatching routing software, it is sure to accelerate the speed at which your drivers are able to reach customers. It also drastically cuts down on the time spent by dispatchers on route planning and dispatching.
This increased efficiency can create room for additional stops that may not have been possible to integrate into an inefficient route plan. Such savings on time can be invaluable to employees and businesses alike as it gives both some additional breathing room.
3. Delivery cost savings
Efficient routes are inherently shorter than inefficient routes which allows them to be faster. However, another benefit of shorter routes is the fuel savings that result from it. While these fuel cost savings may seem negligible, they do add up quickly.
Such heightened savings are what push many businesses to adopt a route planning solution into their work regimen. Dispatch routing software's additional perk of accommodating more deliveries in the same time frame can also help you save massively on extra costs.
4. Less vehicle wear
When following an efficient route from your dispatch routing software, your vehicle spends significantly less time on the road. It is well known how high mileage can exponentially increase the chances of mechanical failure in vehicles which is why it is best to use them conservatively.
The dispatch routing software ensures that your fleet does not have to endure the harshness of travel any more than it has to, reducing the amount of wear sustained by the vehicles. This leads to lower maintenance and repair costs down the line.
5. Better employee retention
Dispatch routing software lessens the brunt on both dispatchers and drivers alike as it cuts down on the ambiguity and time taken by traditional operating procedures. The traditional process of assigning routes to drivers leaves a lot of room for error.
These errors and miscommunications can cause workplace issues that are frustrating to employees. With an automated solution, such miscommunications are eradicated and the workload is eased on workers leading to better employee retention.
FAQs
In the vast ocean of routing software options, it can be difficult to choose the right one for yourself. Still, here are some top features to look out for in dispatch routing software to see if it is suitable for the needs of a business.
Route optimization
Instant dispatching
Ability to configure route on demand
Progress monitoring
Route scheduling
By taking into account multiple factors such as traffic, turns, stop priority, weather conditions, and more, routing software is able to craft the perfect routes that are tuned for efficiency given the current parameters within minutes.
Typically, dispatch routing software should come in the neighborhood of under $200 and grant most of the advanced features that are needed for your business. The primary deciding factor behind the cost of dispatch routing software is your usage and business requirements.
Conclusion
All in all dispatch routing software is a boon to businesses that desire higher operational efficiency and greater customer satisfaction. It single-handedly holds the potential to wipe out all of the issues that plague the logistics industry such as delivery delays, miscommunications, and more.
Though not all dispatch routing software is made equal, some are inherently superior to others while others are simply overpriced for what they bring to the table. Choosing between so many options can quickly prove to be a stressful and confusing endeavor for many individuals.
Thankfully, software such as Upper route planner can always be relied on to provide some of the best utility and functionality in the segment at affordable prices. You need not pay even a single dime to experience the bump in performance delivered by Upper with our 7-day free trial.