Key Takeaways:
Online food delivery has become increasingly popular in recent years due to advancements in technology.
There is surge in demand of fresh and healthy food options as food buyers are willing to pay even more for them.
Subscription-based meal services are attracting more food lovers who want convenient and cost-efficient option.
In order to thrive in the food delivery industry one must be well-versed with all the current industry trends to push their own business forward. Take for example the trend of restaurants using third-party delivery apps to fulfill online food delivery orders.
Your competition is always on the lookout for such trends which is why you must make it your priority to find the best food delivery trends first. And what better way to find the latest trends than by simply going to one blog that has them all in one place for your convenience?
We have compiled the most diverse list of trends that display the different ways in which businesses have been getting more profitable using modern technological innovations. Let us look at what they are in greater depth.
10 Food Delivery Trends to Watch Out in 2023
Having the top 10 food delivery trends by your side will empower you to be able to bring them to fruition.
1. Drones for Food Delivery
Deliveries using drones is one of the best technology trends for the food industry as it performs less contact with other individuals while meeting consumer demands for timely and cost-effective delivery.
In addition, this type of delivery could support changing consumer behaviors over the long term as per the interest in eCommerce platforms and improve user experience. U.S. e-commerce is increasing at a rate of 17.9% annually which is an indicator of the success of such technology.
Restaurant delivery services are another area likely to experience significant growth. Some of the best examples of companies using drones for delivering food to customers are mentioned below.
Domino's
In November 2016, a New Zealand couple received the first food delivery through a drone in the world. They ordered Peri-Peri Chicken and Chicken and Cranberry pizzas, and within less than 5 minutes, the order touched down.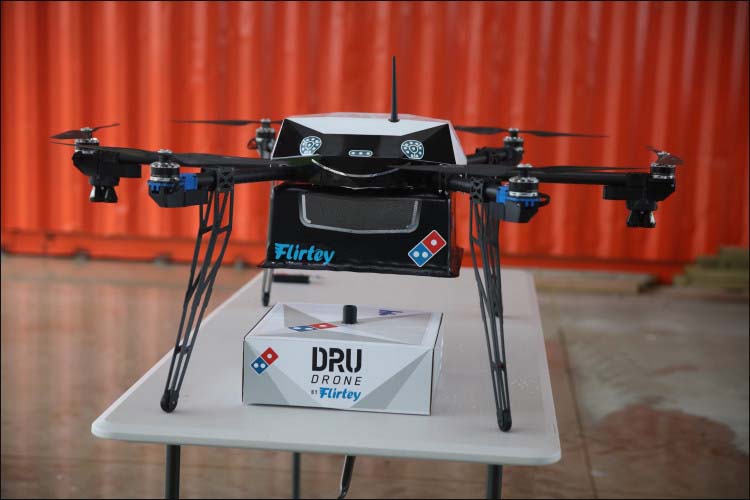 Mr. Meij, CEO and Managing Director of Domino's Group, states that drone delivery services are an integral part of pizza delivery. This technology enables you to safely decrease delivery time and distance by traveling straight to customers' houses by avoiding road congestion and traffic signals.
Uber Eats
On 30 July 2019, Uber Eats went off for a trial of its first food delivery. They performed testing in a high-density urban area with the help of ModalAI. A drone equipped with VOXEL, a powerful yet lightweight computing platform with 4G cellular connectivity, performed food delivery operations.
The new drone design is capable of transporting meals for up to two people and is equipped with six rotors. The drone can travel up to 18 miles in three six-mile segments: up to six miles to the restaurant, up to six miles from the restaurant to the client, and up to six miles back to the launch location. Not only food delivery but this drone is also used for online grocery delivery purposes too.
2. Food Delivery Robots
Robots are highly advanced solutions that hold the potential to forever change the chain of custody when it comes to ordered goods. Because these robots are completely autonomous they can not only reduce delivery costs but also kick the delivery speed up a notch. Let us look at an example of a company that has used delivery robots on a small scale.
DoorDash
This robot possesses the capacity to carry 22 lbs of food. The good part of this robot is that its compartment is locked during the delivery time. The reason behind it is that no one else can steal the food or make any changes.
Once the robot arrives at the destination point, DoorDash sends a text message with a link to the recipient to unlock the robot.
3. In-House Delivery Fleets
In the last few months, many businesses have realized that relying on third-party delivery services is not enough to fulfill food deliveries. Many of these restaurants and food businesses have realized that with an in-house delivery fleet, they can exercise more control over their deliveries and also have clear visibility into the process once the package leaves their restaurant.
Even though developing and maintaining an in-house delivery fleet is quite expensive, many food businesses believe it to be extremely useful for their business.
4. Third-Party Delivery Services
Third-party food delivery providers like DoorDash, Uber Eats, GrubHub, and Postmates have been in huge demand. It is a convenient option for restaurants as well as their customers.
Even with most restaurants opting to have an in-house delivery fleet of their own, the demand for third-party delivery services isn't dying down anytime soon. If anything, the demand for third-party delivery services is only going to shoot up in the future. It has been a trend for quite some time now and it will remain to be a major trend in the coming years.
5. Contactless Delivery
More than a year into this global pandemic, almost all the food businesses are working hard to stay in business to provide customer loyalty.
Owing to strict social distancing regulations, the emergence of contactless delivery is one of the best delivery models that many food industries have accepted. In this model, a delivery worker puts an order outside the customer's front door to avoid personal contact. This effectively eliminates the risk of acquiring the COVID-19 virus.
Contactless delivery provides you with features like
Contactless pickups
Contactless payment
Contactless proof of delivery
Temperature tracking
6. Smart Technology
Smart technology is all about infusing the digital space into everyday applications. This is done by bringing traditional offline systems online to increase their utility and appeal to the customer base. Some areas where smart technology is being developed are given below.
Twitter

Twitter is the best tool to promote your restaurant or food business
Your customers can directly order food by just making a tweet.
Using social media channels like Twitter, your business easily possesses exposure to enhance online sales and brand awareness.
With a Twitter business account, you can list multiple ideas for promoting your business and customer communications.
The best example is Domino. Domino's Pizza was one of the first food providers to conquer the Twitterverse. The customers can easily order pizza by just tweeting a pizza emoji to the company's Twitter account.

Virtual Assistant

Chatbots, an AI-powered software solution, makes the business ordering process and user conversations easier.
Chatbots help to process and customize food & meal ordering quickly. The customer receives real-time information instantly.
Domino has created a pizza bot named "Dom." Customers find more convenience by just sending the order to Dom and requesting food with a single word.

Smartwatch

A food delivery platform can be integrated with Android and Apple smart devices.
Customers can order meals from their wrists in a few clicks. That's cool.
Domino was the first to launch a smartwatch app for Android watches that drastically simplifies ordering.

Smart TV

Your customers can easily book orders while relaxing in bed and enjoying popcorn.
For example, Papa John uses Apple TV to display the menu for the customers. So, the customers just have to select their orders and even make contactless payments.
Another example is TVtakeaways that provides the same offerings. It directly integrates with Samsung's Smart TV operating system, and the customers having Samsung TV can easily avail of these offers.

Using self-driving cars

Yes, you can even book your favourite order from your car.
In collaboration with Accenture and Visa, Pizza Hub initiated the concept of a pizza ordering system, especially for the customers who want to order from their car.
With its active integration in your customer's car dashboard, Visa Checkout allows them to order the food by voice.

Order with your eyes

Shocked? Order your food with eyes? How's that possible?
Pizza Hut has come up with an innovative idea that can read the customer's mind and not their thoughts.
The company has designed an interactive menu, "Subconscious menu," specially built on eye-tracking technology.
7. Food Delivery Subscriptions
Food delivery subscriptions are an ideal choice for online food deliveries as well as the millennial generation. Millennials are the first generation that would have very less restaurant visits or rather stay in than go out. They prefer to dine in with a reusable or compostable packaging meal kit or home food kits delivered to their door.
Consumers are making use of subscription boxes from food delivery apps to try a new or specific world cuisine and currently it is in on-growing demand in the food market. Moreover, with the increasing number of customers for various food sources, there has been the continued growth of specialized food subscriptions.
With the increased number of online orders from customers, there has been an unprecedented opportunity to enhance delivery revenue and customer reach. One of the biggest challenges will be to balance the customer data and customer demand to meet the delivery expectation.
8. Delivery Management Software
When you use food delivery management software, your overall delivery performance is instantly improved because of the automated processes powering the software. The major powers granted by automatic delivery management software are as follows.
Easily managing and tracking food deliveries
Enhancing the customer experience
Tracking the status of your employees
Helping you deliver food faster and safely
Managing your drivers smoothly
Enhance your business productivity
Keeping your customers happy
The biggest challenge for you is maintaining the rising number of delivery routes and delivery flows, especially those handled by third-party providers or drive-thru. In addition, you need to stay ahead to measure, analyze and improve your daily business operations by having accurate data collection.
With perfect food delivery management software, you can quickly gain full visibility into delivery operations and make flawless deliveries for your customers.
9. Grocery Delivery
After 2020, most people have become comfortable sitting at home and ordering groceries using delivery apps. One of the most popular examples of successful pickup and delivery options in the grocery market is Whole Foods.
Grocery delivery can be fulfilled through several delivery options like in-store pickup, curbside pickup & delivery, and contactless delivery. Some grocery store chains that do not offer delivery such as Trader Joe's have made patrons go wild looking for ways to get Trader Joe's delivery.
10. Ghost Kitchens
A ghost kitchen or dark kitchen or cloud kitchen is basically a kitchen space equipped with all the necessary tools and equipment to prepare meals for customers. The only thing that differentiates a ghost kitchen from a conventional restaurant is that it doesn't offer a dining experience.
Ghost kitchens only prepare meals or dishes for takeaway or delivery. Regardless of this fact ghost kitchens have a large customer base. Ghost kitchens are one of the biggest food trends and it's going to continue to be a leading trend in the near future.
It is one of the most profitable business models where you can expect more delivery orders, lower operating costs, and more profit margins.
Deliver Foods 3x Faster Using Upper Route Planner
For decades, restaurants and delivery services have been looking for the perfect solution that holistically improves delivery performance. But now the wait for such a solution is over as Upper route planner has entered the game with some of the finest delivery route planning features that are bound to make delivery businesses ecstatic.
Nifty features such, excel import, route scheduling, dispatching are accompanied with sophisticated reports and analytics. Giving you a birds eye view of your operations and thus plentiful opportunities to refine them to the fullest in the quickest manner possible.
With highly optimized routes and insights into your operations, you are granted the opportunity to drastically reduce delivery times and costs almost instantaneously. Plus, boosting customer satisfaction and business profits has never been easier than using Upper.
Enhance Your Delivery Performance Like Never Before
Get highly optimized routes at your command on Upper. Unlock limitless improvement for your food delivery business using advanced routing features.
Start a Free Trial

FAQ
Any food delivery service will have to be wary of technological improvements that threaten their livelihood. Throughout history, the development of technology has impacted and vanquished a lot of industries. However, those that did survive were usually the first to implement said technology the fastest. The future will present a lot of technologies that food delivery businesses must quickly implement to surpass their competition.
The one food delivery trend that is undoubtedly the most popular at the moment is automation. With the automation of most processes conducted by humans, companies can save a lot of costs and improve their order accuracy. This is why it has seen such rapid adoption in almost all industries, including the food and restaurant industry.
Online food ordering has become the norm for many customers across the globe, especially after the pandemic. Given the convenience of having any dish delivered to your doorstep, it is no wonder why customers would prefer the delivery of food over dining outside. Due to this preference, we can see the growth of new giants in the food delivery space.
Conclusion
While it is true that one has to keep up with modern technology to prosper in their respective fields, not all innovations are created equal. Thus, comparing all the methods of optimizing your operations becomes crucial in the food delivery market.
The implementation of some solutions might be outright unfeasible or unnecessary for your business depending on your scale and customer base. This is why it is sometimes best for a food delivery business to implement affordable and turnkey solutions first to see how they work.
One such solution is using Upper route planner to fulfill your route planning optimization needs. Route planning has never been faster and simpler for businesses as Upper gives them nothing but the best. Why not try the abilities of Upper for absolutely zero cost yourself with our 30 days free trial?