In recent years, there has been an explosion in the number of new last mile delivery startups. This article showcases how a bunch of last mile delivery companies managed their delivery process and maximized customer satisfaction.
For many months, these companies struggled with a slow and inefficient delivery process, were unable to offer same day delivery or even next day delivery, spent a lot of time in planning, and incurred a higher total delivery cost for each task.
This is where they looked for a last mile delivery solution to help them optimize their route planning. This article is about how our clients fought the challenges of last mile with the help of Upper Route Planner route optimization software.
The Challenges Faced by Our Clients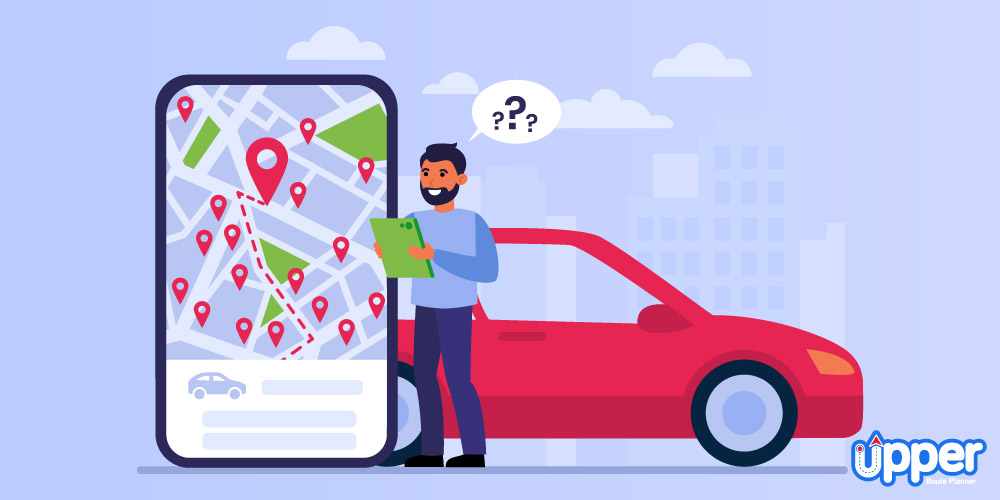 A lot of our clients belong to the food delivery, meal-kit delivery, flower delivery industries, and other sectors offering last mile delivery. While conducting their delivery process, our clients realized that there was a great need to step up and improve their delivery operations.
Let us take a look at some of the challenges faced by these businesses:
Planning & Optimizing Multiple Stops for Multiple Drivers

Our clients have multiple deliveries to fulfill daily. Most of these clients have around 5-10 drivers making deliveries for them. Planning and optimizing multiple stops for multiple drivers had always been a challenge for them.

Upper Route Planner

A Simple-to-use route planner that every one is talking about.

Save up to 95% of planning time
Save up to 40% of time on the road
Plan 500 stops at once

No credit card details required

Spending Too Much Time

Planning and optimizing multiple routes manually takes a lot of time. Our clients spent around 5-6 hours in planning their deliveries. Even then the routes were not optimized enough, for obvious reasons.

Meeting Specific Consumer Demands and Instructions

Different customers have different instructions and demands for their deliveries. Keeping a track of these consumer demands and keeping the drivers in loop about them was a challenge for all our clients.

Incurring Higher Fuel Costs

Following poorly optimized routes led to the drivers going around, looking for addresses on their own. This exercise not only wastes time but also led to incurring higher fuel costs per delivery.

Less Transparency

There was always a confusion regarding which driver delivered to a particular address, whether or not the delivery was accepted and signed for, and many other smaller details. These issues were due to the lack of transparency in the planning and last mile delivery process.

The Problem – Too Many Stops!

This is a common issue: you are the last mile delivery enterprise, and there are too many stops to manually do last mile delivery route optimization. When you have 10 or more stops, there is just a staggering amount of possible routes that it's impossible to choose the best path. This is called the "Travelling salesman problem," and we discuss it in our article What is Route Planning. 

What are the options? You can use a simple map interface like Google Maps and Apple Maps. But these tools will not cut it. What you need is a delivery management system.

But before we get there, let's talk about the desired situation.
The Desired Situation – Control and Inner Peace
For this, let's look at the desired situation from a few perspectives (in no particular order):
The Last-Mile Delivery Business

From the perspective of our user, the last-mile delivery business, here are their needs:

Simple delivery route planning and route optimization;
A delivery software of app that can manage all the real-time demand delivery services;
It would like to create a last mile logistics platform to manage all the stops;
It would love to create an automated last mile delivery experience for its' clients;
Cut down on last mile delivery costs;
Provide a seamless, flawless last mile delivery experience, ideally real-time tracking;

The Retail Stores

From the perspective of their end-user, the retail stores, here are their needs:

A solid and trustworthy delivery partner for e-commerce sales;
Seemless deliveries to every location they indicated;
Electronic proof of delivery for all delivery orders;
and ideally real-time GPS tracking of each delivery on the last mile delivery tracking app

The Delivery Driver

From the perspective of the delivery driver, here are their needs:

Driver facing app;
Simple navigation;
Real-time feedback through the delivery management software;

The End-User

The needs from the perspective of the end-user are the following:

Efficient last-mile delivery services and delivery options to their door;
Simple logistics in regards to their order fulfillment;
Consistently outstanding delivery experiences like same-day delivery;
Real-time updates on their last-mile delivery app for customers following the delivery operations (is considered an asset).
Plan quickly, deliver faster, delight customers and get home early.
Everyone deserves to have simple and easy route planning.
The Search Criteria: Finding the Ideal Delivery Management Software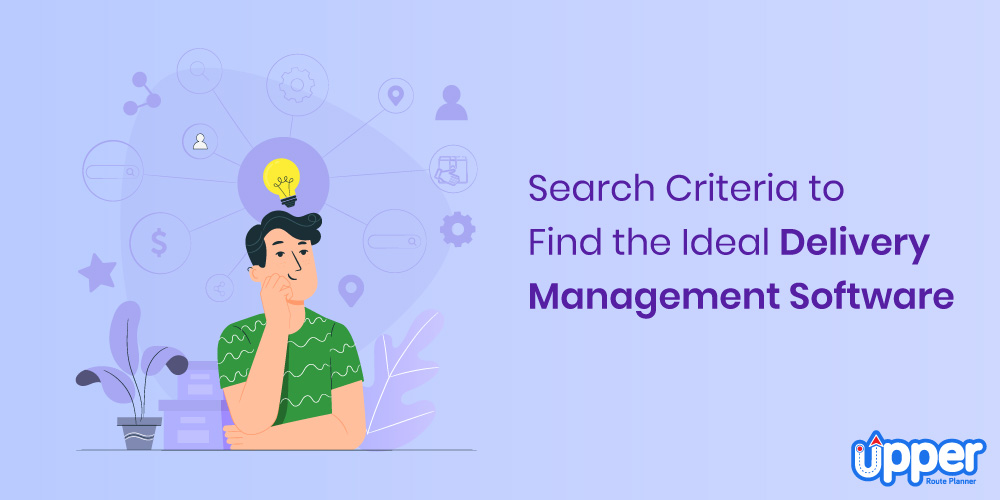 Our clients decided to search for last mile solutions that would help them solve their last mile logistics issues. The solution must help them build a robust delivery ecosystem that would provide route planning optimization.
So how do we look for a solution? We Google it! Upon a google discovery, there were several options. And like many users, they use the same search criteria:
Last Mile Route Optimization and Delivery Management: The first order of business is to find out: can this last mile delivery app do what I want it to do?
Cost: What is the cost of the app, system, or service?
Platform: Is it multi-platform? Can the admin manage stops on the web portal, and can drivers use a mobile app to complement?
UX and Ease of Use: Is it easy to use? Or does it require lots of technical background to get started?
Responsiveness of the team: Does the development team look like it would be responsive? Would they be available in real-time to help me in case I have any questions?
All these factors mentioned above are of great importance to all kinds of companies, especially delivery companies, whether they have in-house delivery services or have logistics partners to fulfill their delivery tasks.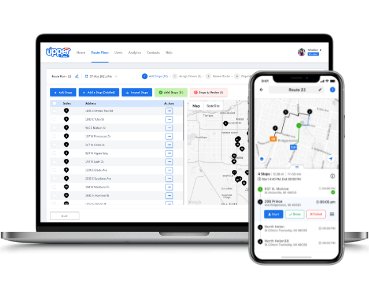 Upper Route Planner
A Simple-to-use route planner that every one is talking about.
Save up to 95% of planning time
Save up to 40% of time on the road
Plan 500 stops at once
No credit card details required
The Solution: Optimized Planning with Upper Route Planner
The optimal solution allows you to quickly and easily do your planning. With Upper Route Planner, we provide last-mile delivery companies, supply chain and logistics companies, and other companies requiring delivery route optimization to quickly and easily create, manage, assign, and track routes. Let's give a quick overview of how we can do that.
Step 1 – Enter Your Stops
The first step is to add all your stops. Often, your client (retail shops or otherwise) will have a list of addresses in an excel spreadsheet. The easiest thing to do is to use the "import" function.
Step 2 – Optimize
Once the stops are imported, check to be sure all the addresses have been inputted correctly. There is often room for user error at each stage!
Step 3 – Export Your Stops and Create Your Routes
Once you have optimized all your stops, you'll see an optimized route of all the stops. If you have only one driver, then you can create one route for him/her.
If you have 2 drivers, you can export your optimized route and create 2 separate routes. To do that, take the exported optimized route, create 2 separate excel sheets, and then re-upload the new smaller routes using the "Import Feature".
Once you have created your routes, you are ready to assign your drivers.
Step 4 – Assign your Drivers
In the route settings, you can assign the route to the appropriate driver. NOTE: You must have added this driver previously. For more information on this, please check out our FAQ section.
Step 5 – Deliver!
Now it's time to drive! At this point, drivers can go and do their deliveries. As mentioned, our application has a proof of delivery module – you can add photos, signatures, and notes directly from the app.
Step 6 – Tracking and Reporting
Once the route is completed, you'll have data on the route: how many stops were successful, how many failed, what issues were encountered, and proof of each location delivered along the way!
How Our Clients Transformed Their Last Mile Logistics Processes with Upper Route Planner
In short, for anyone starting a last-mile delivery operation, it is crucial to have some sort of delivery system to manage, track, and view your delivery operations. We strongly recommend our delivery solutions as a best-in-class and cost-effective solution for small and medium-sized companies. As always, let us know if you have any questions; we are here to help!
Saved 4-5 hours of manual work each day.
Tackling unforeseen changes became easier.
Expanded delivery services to other major suburbs.
30% increase in the number of orders being accepted and scaled last mile delivery capacity.
Increasing the number of drivers.
Started accepting and managing orders from larger commercial establishments.
Gained a competitive advantage over others in the market.
Major Last Mile Delivery Trends Our Clients are Now Able to Comply With
Being able to comply with trends is extremely important for any business to stay relevant in the market.
After using Upper Route Planner, our clients not only started accepting more orders and saved time and money, they were also able to facilitate several trends as well like Contactless Delivery and Curbside Delivery.
FAQs
Using the best last mile delivery software helps in boosting your last mile delivery process by offering:
Automated planning and routing for last mile operations;
Auto-dispatch;
Bird's eye view;
Real-time updates;
Proof of delivery; and
Reports and Analytics
Using a last mile delivery solution helps logistics companies fight the challenges of last mile delivery process and offers the following benefits:
Saves time and money;
Offers flexibility;
Boosts scalability and driver productivity;
Helps cover more deliveries over a stop; and
Streamline shipping and last mile delivery operations.
Last mile delivery logistics will keep shifting to accommodate the changing needs and demands of the consumers. The future of last mile delivery will see more use of technology for urgent, same day delivery, next day delivery, contactless delivery, and curbside delivery using autonomous vehicles, drones, and other technological tools. Prime examples of these advancements are Amazon Flex and Matternet.
Optimize routes
Make proper planning before starting your route
Enable real-time route modification
Combine forward and reverse logistics
Sanitize all utensils, packages, and other tools before and after delivering the orders
Optimize Your Last Mile Logistics Process with Upper Route Planner
In short, for any business offering last mile deliveries, it is crucial to have some sort of last mile delivery solution to manage, track, and view their delivery operations. We strongly recommend our route optimization solution Upper Route Planner as a best-in-class and cost-effective solution for small and medium-sized companies. In case you have any questions or queries, you can feel free to reach out to us. For more articles and resources on last mile delivery, route planning, and route optimization, visit our blog