Key Takeaways:
You can consider providing specialized courier services to niche markets.
Make relationships with other businesses in your area that can benefit from your courier services.
Utilize social media to showcase your services and engage with potential clients.
The rapid surge in the eCommerce and online shopping industry has made courier delivery an essential part of consumers' lives. With the majority of people opting for home delivery services, the courier industry is bound to see an expansion in the upcoming years.
Research shows that the market size of local delivery and courier services in the US rose to $142.8 billion in 2021. This is good news for businesses that already have their courier business and those starting a new one. However, if you wish to attract customers, you need to implement advanced strategies.
So, if you're wondering how to get clients for courier service, this blog will give you detailed insights.
6 Marketing Strategies that Help You Attract Clients for Your Courier Service Business
Marketing your courier business isn't just about spending thousands of dollars. Your target audience must find it useful and interesting if you want to get a return on your resources and efforts. So, you must go beyond traditional marketing to compete with today's market.
Like any other delivery service business, you can attract clients with a blend of conventional and creative marketing methods.
Here are the 6 marketing strategies and channels that can help you promote your courier business:
1. Social media marketing
In today's world, social media brings any small or medium business to the spotlight, given they have a solid strategy to apply. Whether you're planning to start a delivery service business, or have it already, you need to plan advertising ideas in advance.
Before planning and executing your marketing ideas, clarify things like:
SWOT analysis of your business (strength, weakness, opportunities and threats)
Identifying your competitors
Knowing your target audience
Social media platforms consumers use the most
Message you wish to deliver
Goals you wish to achieve
How you will analyze growth of your marketing campaigns
Social media platforms you can use:
Facebook: On a global level, Facebook hosts a user-base of 2.96 billion every month as per Statista. So this is a platform that you must leverage to market your courier services business. You can create a community group or use the platform for advertising. Ensure you have a click-worthy call-to-action (CTA) when running Facebook campaigns.
Twitter: Twitter reports that 53% people are most likely to buy products based on the Ad they see on the platform! This makes it an excellent channel to remain at the top and ensure that your business is reaching a wider audience. You can start marketing your courier services with a mix of organic tweets, replies/retweets, and Twitter Ads.
LinkedIn: LinkedIn has been reported to have the largest users in the US, around 190 million as of April 2022. It is a great place to connect with businesses providing courier delivery services, and create a business page.
You can also get recommendations, engage with your audience, and post jobs to hire delivery drivers. The more you are recommended by your existing customers, the more customers you attract.
2. Email marketing
Email marketing strategy is well-known and significantly used nowadays. Businesses use it to connect with potential clients and enhance their relationships with them. Being able to convert promotional emails into leads, it is a cost-effective form of digital marketing.
Emails are one of the best forms of actionable marketing strategies if you have a formulated plan. Through customization and segmentation, you can formulate every email as per your audience. Unlike social media channels, emails give a personal touch as they address the preferences of different types of customers.
With a message that gives a customized offer or unique information, you can take your courier business to the next level. They can make customers sign-up for your courier services, subscribe to your newsletters, and even buy instantly.
3. Print media marketing
Old is gold!
And the saying deems true even in marketing!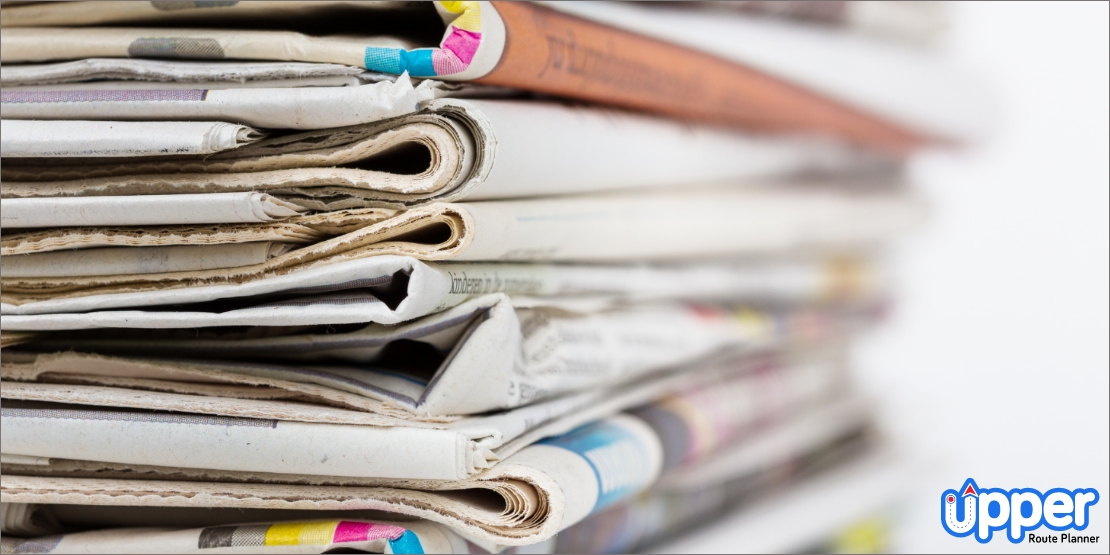 Even today, people find interest in Ads printed on a flier, newspaper, or a magazine! Despite the growing trend of digital marketing, print media is still effective when targeting local businesses. And if you have a small budget, brochures and fliers can be your affordable marketing tools.
You can also send direct mails to local and small businesses who may be interested in taking your services. Another way to leverage print media marketing is to use your car or delivery vehicle as a mobile advertisement.
You only need to make the initial investment on printing, and in time, you'll start getting the return. You can use creative graphics on the car and keep promoting your courier service business.
4. Website and blogging
Most people search for the websites of courier companies on Google whenever they see an Ad or want to know more about them. So if you don't already have a website, you should create one as it helps reach a wider audience.
It will not only bring more customers but also make you stand out given you have attractive visuals and valuable information. You can attract people looking for courier delivery services to your website through landing pages and other content marketing methods.
Along with that, you can also start posting blogs related to the courier services industry. Ensure your blogs address your customers' needs and give clarity or solution. This will help build trust and they will remember your services before any other courier company.
5. Courier service app
With a range of apps coming in the market and making lives easy for businesses and consumers, you must consider this option. On-demand courier apps enable clients to order services as per their convenience and comfort. Developing an app can market your courier business and boost revenue as it enhances customer experience.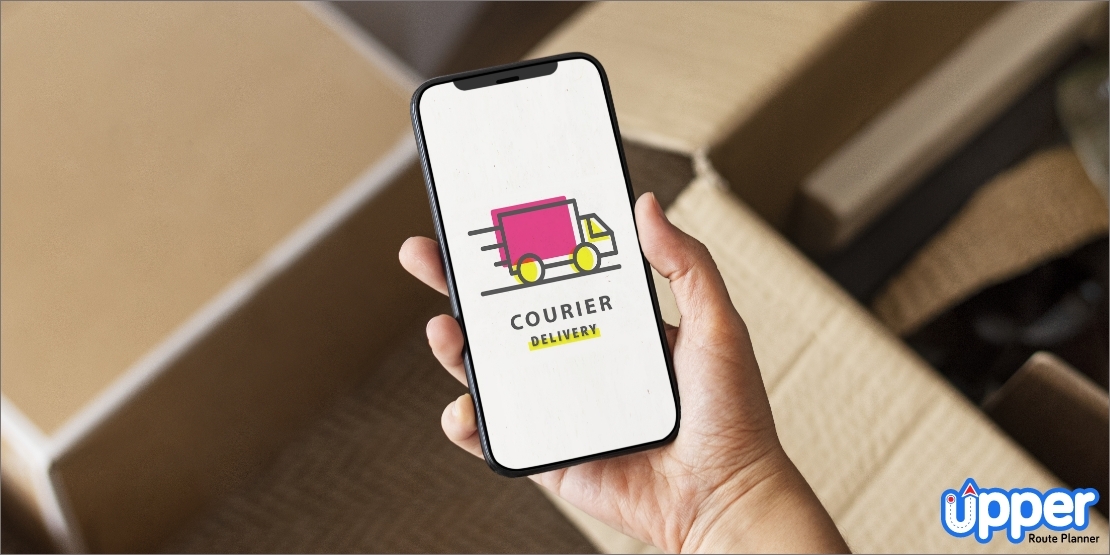 A few things to consider while creating your app:
Interface and design: The interface and look of the app should be user-friendly.
Payment: You must offer different payment options for ease of purchase.
Tracking: Real-time tracking enables customers to check the estimated time of arrival within the app.
Security: An app that is safe and secure to use makes customers repeat purchases with your business.
6. Google Ads
Google Ads has grown in popularity with the era of digital marketing. This marketing strategy works as 'pay-per-click', so you only pay when a user clicks on your Ad. The focus keywords will drive the cost of clicks.
As a courier marketing idea, it lets you reach your target audience. Google Ads is what you need in order to drive immediate traffic to your services page. Moreover, you can target people based on a specific locality and be assured that the Ad will reach the people dwelling in that region.
With Google Ads, you can control your advertising budget and choose the idea that suits you. You can also select languages for your Ads and a specific time for optimum results.
Automate Your Courier Delivery Service with Upper
Why go for long and tedious tasks of assigning routes when you can use an automatic route planning software? Get the fastest routes and deliver 3x more couriers with Upper.
Start Using Upper

Expand your Courier Business and Make Efficient Deliveries with Upper Route Planner
Marketing your courier business and getting clients may take a lot of your time and resources. While you're busy making business plans and making them work, you can reduce the route planning process and paperwork.
Upper Route Planner is all you need to streamline and optimize routes for your delivery drivers. Here are a few features that helps delivery business owners:
Route optimization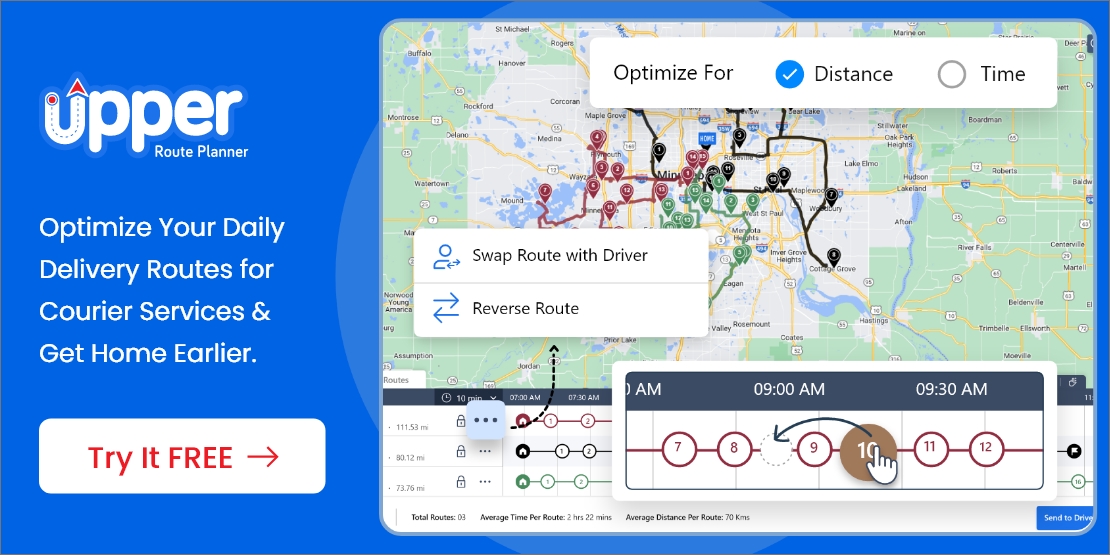 Are you wasting needless hours on manual work and fuel costs on courier deliveries? Guess what? Now you don't have to! Our route optimization software will reduce your efforts and help reduce fuel costs by 40%. The dynamic optimization algorithm offers the best route combinations for different delivery drivers in a matter of a few minutes.
One-click dispatch
One-click dispatch makes the delivery scheduling process smooth and notifies drivers about their daily jobs instantly. With this feature, drivers do not need to visit the depot to get routes, instead, they can receive them through emails or text messages. In case a driver has an emergency and cannot perform the delivery, you can allot the same route to another driver.
Proof of delivery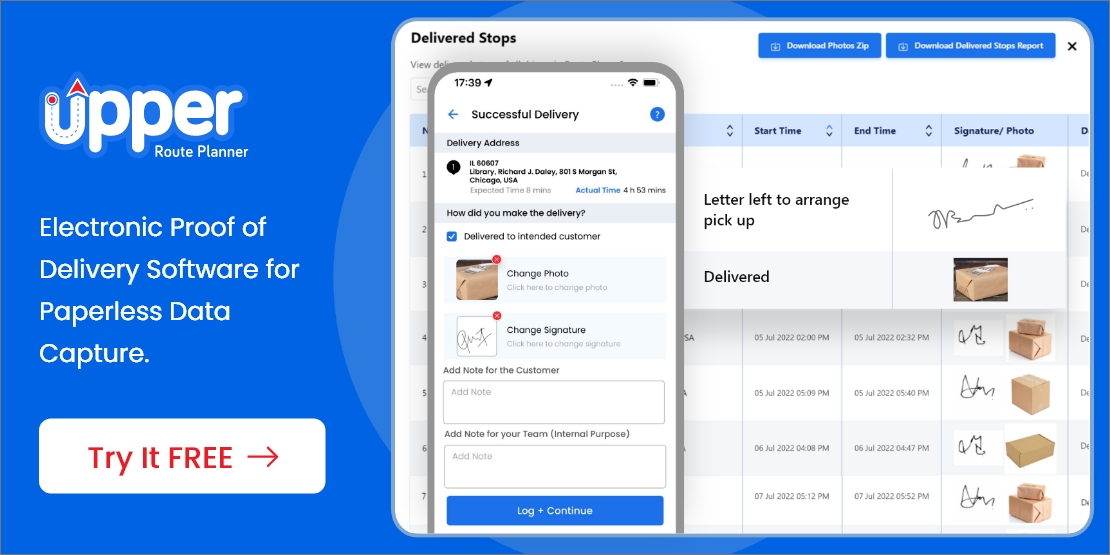 Analytics & reports
With the reports and analytics feature, you can easily check the performance of your drivers to boost efficiency. The report shows you the total number of tasks completed by your delivery drivers in detail.
Know more about the features of Upper and make faster courier deliveries by signing up for a 7-day free trial today!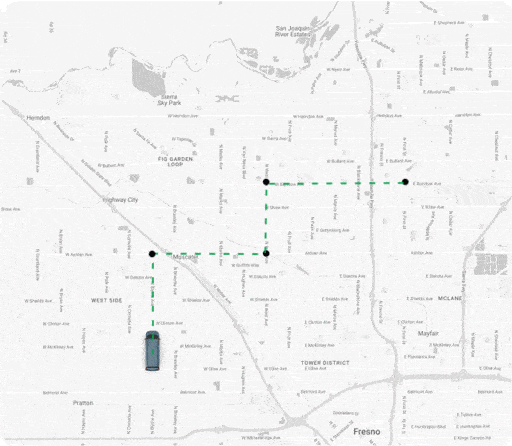 FAQs
To start a courier business, you need to find space for your inventory, get a proper vehicle to make deliveries, a logistics ecosystem, and register your business. You can also partner with delivery businesses based on contracts. Once you have everything as needed, you can market your business by following the strategies mentioned above and start getting clients.
Referral bonuses can change the game and induce growth in your courier business. When happy customers speak about your services to their friends and family, you just saved the effort of marketing! You can offer customers rewards as discount coupons, loyalty points, or free subscriptions.
You can contact local businesses who wish to improve the quality and experience of their deliveries. Businesses like flower shops, cafes and restaurants, grocery stores, medical stores, and bakeries can be a few options you can contract with.
Conclusion
Getting clients for a business takes more than planning the strategies and executing them with a team of individuals. To run your delivery services smoothly and reduce the hassle of manual work, you simply need to add an extra layer of automation. A route planning software can be your best buddy if you have a lot of couriers to deliver.
Upper Route Planner ensures that you get the most streamlined routes to make faster and cost-efficient deliveries. With features like excel import, route planning, proof of delivery, API integration, and many others, you can finish delivery tasks as quickly as possible.
Get Upper Route Planner to enhance the quality of delivery experience for your clients. Take the 7-day free trial today.