Because customer needs change as the economy evolves, the market adjusts to those specific changes to provide new growth avenues.
The emergence of courier, express, and parcel (CEP) services is evidence of this growth in the transport and courier industry.
Courier services have become an integral and indispensable part of everyday lifestyles.
It has become one of the top trends of our day, stretching from in-house food deliveries to eCommerce clothing and furniture deliveries.
According to sources, the global courier, express, and parcel industry will be worth 375.5 billion euros in 2020.
Now isn't that huge?
This only suggests that businesses can begin their own in-house courier services with reduced operating costs and fuel expenses and increased profitability and customer satisfaction.
However, there are still a lot of variables and challenges to consider that come with courier management. To manage those variables and beat those challenges, you need effective courier management software.
But first, let's understand what is courier management and how it can benefit you.
What Is Courier Management?
The process of organizing and managing last-mile courier delivery operations is known as courier management.
Based on your logistics company's business strategies, size, and other variables, courier management could include daily tasks such as
Efficient scheduling of shipments
Assigning deliveries to available drivers
Fleet management
Route optimization
Tracking of operating costs
Fuel costs management
Courier management systems enable courier companies to optimize and manage these delivery operations in a centralized location.
Some platforms offer driver dispatching, GPS tracking, and real-time navigation updates to delivery drivers. The majority of modern courier management systems integrate with accounting software, CRMs, ERPs, and other advanced features.
Benefits of Courier Management System
Using a courier management system allows courier companies to effectively manage and optimize all of the procedures involved in getting a shipment from the warehouse to the customer's hands.
Here's a listicle of the top benefits that a courier management system makes available for a courier company:
1. Increased Effectiveness
Courier management systems assist delivery drivers in driving more effectively and delivering packages on or before the expected time of arrival.
A proper courier management software, as opposed to, for instance, Google Maps, enables logistics companies to plan and create optimized delivery routes with several stops.
These courier tracking software solutions generate efficient delivery routes by taking into consideration factors such as
Driver availability
Driver availability
The number of stops
Taking these variables into account eliminates the errors that arise when manually planning routes and guarantees drivers arrive at their destination stops on time.
If you use a robust courier management software, its dispatch management capability will automatically update routes based on real-time traffic conditions or weather changes.
2. Reduced Operating Costs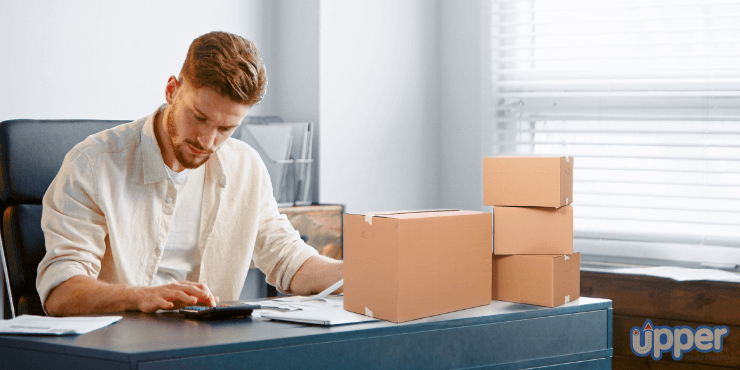 Route management capabilities in courier management software optimize routes to cut fuel costs and overtime of delivery drivers. At the same time, the auto-dispatch feature ensures the right available drivers are being sent at the right time.
Furthermore, your fleet management staff can adapt to changes in real-time, enabling delivery drivers to accommodate changing situations without adding additional time to their schedule.
Also, automation, along with an optimized courier management system, reduces the possibility of human error. This saves time and money for a courier company on rework, replacement orders, and wasted gasoline.
3. Enhanced Customer Experience
With features, such as forecast ETAs, operator chat, and real-time GPS tracking, courier management software assists logistics businesses in improving the customer experience and increasing customer satisfaction.
These features ensure that clients are constantly updated on the arrival of their shipment. Customers can use the built-in communication capabilities to contact drivers and dispatch centers if they need to.
Furthermore, built-in feedback gathering and analytics can assist you in improving the customer experience in terms of delivery by focusing on the aspects of the delivery service that require attention.
4. Provide Data That Is Relevant and Advantageous
An effective courier management software usually provides relevant and actionable insights that are generated in an incredibly simple manner and is used wisely.
Users can track the performance of the team members and individual workforce against performance determinants like feedback scores, on-time delivery rate, and distance traveled.
You can monitor performance over time or observe how the scores fluctuate depending on the time of day or individual driver too.
5. Improved Driver Safety
Automatic rerouting and a live GPS tracking link function connect drivers to dispatch centers instantly and effectively.
This allows delivery drivers to keep their hands on the wheel rather than worrying about manually changing their routes to avoid traffic, construction sites, or other roadblocks.
6. Increased Autonomy
Courier management software puts you in control and provides you complete autonomy over the dispatch and delivery process.
With courier software, you can:
Manage to schedule
Assign deliveries to drivers
Create efficient routes
Handle customer support issues
Make sure shipments arrive on schedule and in excellent condition
A reliable courier management software offers much more than the above-discussed benefits.
Let's get to the details of courier software to understand its features and advantages better and learn how they can help scale logistics businesses.
What Is Courier Management Software?
Courier management software, also known as courier software, allows you to manage the handling and delivery of goods and services and shipments from your warehouse or transit hub to the end customers.
A courier management system automates the numerous delivery operations involved in operating transportation businesses and tracks the dispatch of packages and parcels at every stage of the route.
The courier software allows you to:
Acquire new deliveries
Manage efficient scheduling of drivers
Enhance courier tracking
Create efficient route optimization
Optimize live tracking
Monitor delivery vehicles using GPS tracking
Integrate courier scanning systems
Shipping software, logistics software, direct courier software, and delivery management software are all terms associated with courier management software. They aid transportation businesses in the dispatch of packages.
The software automates and accelerates the logistics operations from your distribution center to the delivery of items to the end customer.
With the advancement of technological solutions, there has been an increase in the demand for next-day and same-day deliveries in recent times.
Therefore, courier management systems play a significant role in addressing the challenges and needs of delivery operations.
They aid in the efficient scheduling of pick-ups and deliveries, as well as the management of all operations involved in running a profitable logistics and courier company.
Why Do You Need a Courier Management System?
According to sources, the package transportation rate in the United States reached 20 billion parcels by 2020. That year, the United States generated 171 billion dollars in courier sales.
The rise in eCommerce shopping for everyday, household, and grocery necessities is one of the primary causes driving the rise in parcel shipments worldwide.
According to another survey results, 67 % bought clothing online, while 60 % bought household items, 56 % groceries, 51% cleaning and hygiene supplies, and 49% electronic gadgets.
You will not be competitive enough and meet the industry standards unless you have a courier delivery management system.
A courier delivery management system, or CMS, is business software that facilitates courier management and routing.
A CMS simplifies the following tasks:
It helps you in planning and optimizing delivery routes efficiently.
It facilitates courier tracking and scheduling to streamline delivery operations.
It helps you analyze your courier performance with reliable insights.
It helps you track packages during delivery service.
It helps you to update your customers with real-time alerts of their shipment's delivery status.
Planning and scheduling routes manually are time-consuming activities. It is difficult to choose the optimized delivery route through cities with thousands of unique roadways.
It is practically impossible to do well when you have to calculate hundreds or even thousands of locations. However, this problem can certainly be dealt with through a courier management system.
Simply learning why you need a courier management system is not enough. You need to get reliable and efficient one to streamline your entire business process.
How Can Upper Route Planner Help Optimize Courier Management?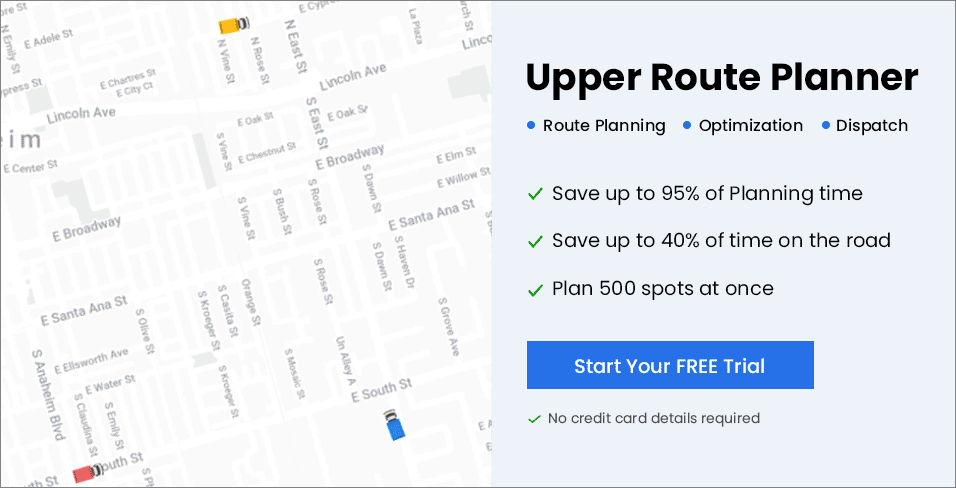 Upper Route Planner is a comprehensive courier tracking software that can help you optimize your business processes with ease.
Our accounting software is much suited for a small or mid-sized logistics company that aspires to grow with every single delivery.
Here's a listicle of benefits you can achieve with Upper Route Planner:
1. Cut time in route planning and discover optimal routes
Upper Route Planner's advanced route optimization algorithm strives to make each stage of the planning and delivery process as simple as possible.
Therefore, we can help you save up to 95% of your route planning time by generating the most efficient routes for several drivers.
2. Plan and optimize several routes at the same time
We can help you create multiple effective delivery routes for multiple drivers simultaneously. If you have got hundreds of stops to divide among multiple drivers, worry not.
Upper Route Planner will create efficient routes and allocate them seamlessly among the delivery drivers. With us, you can plan optimal routes for same-day delivery at once without any trouble.
3. Increase in the number of deliveries with each route planning
When you optimize delivery routes efficiently, there is always room and time for more distribution of deliveries.
You can simply incorporate additional stops with each route with the Upper Route Planner software, allowing you to make more deliveries.
4. Improve profitability by reducing transportation costs with each deliver
When you optimize delivery routes effectively, you will notice a decrease in transportation costs while delivering more customers at the same time.
Upper Route Planner's courier software allows you to deal with the rise in demand without needing to recruit more drivers for increased deliveries of shipments.
The above-discussed advantages don't even begin to cover all the benefits that Upper Route Planner's accounting software provides.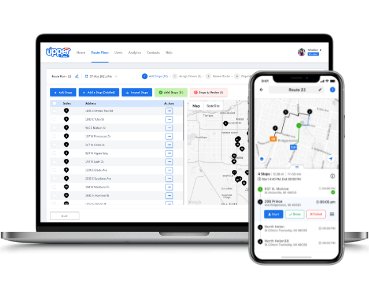 Upper Route Planner
A Simple-to-use route planner that every one is talking about.
Save up to 95% of planning time
Save up to 40% of time on the road
Plan 500 stops at once
No credit card details required
---
FAQs
An automated courier management software is a cloud-based system that optimizes all courier-related tasks. It manages the entire procedure, from scheduling the package to picking it up and delivering it.
In addition to using courier software such as Upper Route Planner, you can implement the following advice to manage your courier service business efficiently.
A delivery service system is any means or process for conveying a product or service to the end customer. Using courier management software such as Upper Route Planner.
Yes, providing courier service is a profitable business. You can start your in-house delivery business with the help of a courier management system.
If you want to be an independent entrepreneur and earn profits to deliver packages, you should establish your own courier service business.
A courier management software is a solution used to optimize the delivery process from start to finish. It can benefit both the delivery drivers and end consumers.
Drivers can streamline dispatch operations and pick-up processes and get optimized routes to reach the customers quickly to make the deliveries on or before time.
The last mile is the final stage in the supply chain. When a product moves from a business (usually a warehouse or distribution center) to a customer's home or office building or to a pick-up point, such as an eCommerce lockbox.
Upper Route Planner Is Your Reliable Courier Management System
Gone are the days of manually planning routes and struggling with delayed deliveries and re-deliveries.
With Upper Route Planner, now you can efficiently plan delivery routes with multiple stops in a matter of moments with automation.
Isn't that just fantastic?
Our courier software can help you reduce operating costs and fuel expenses and increase the efficiency of your business processes and profitability.
Go for our free 7-day trial today or book a demo to learn how you can scale your courier business with robust automation and comprehensive features.