The past decade saw a rise in online shopping, causing several courier services to pop up to streamline the online shopping experience for users across the world. It has enabled people to order products not only from the local market but also from international addresses, no matter how large or heavy their orders.
Apart from delivering consignments and parcels, individuals use courier companies to transport important documents and mail, especially for those who work from home.
This subject is so vital that there are even a great many academic papers written on the subject. In this article, we will cover and answer the question, "What is courier service and why do I need it?" In doing so, we will give a broad definition of the matter; we will look at different types that exist, we will explore the benefits as well as the advantages and disadvantages of courier services.
What Is a Courier?
Couriers are an ever-present commodity in the present world, from the United States to the United Kingdom to New Zealand. Simply put, a courier service lets one send or receive any form of parcel or consignment from one location to the other, whether it is delivery of a single letter from within your city, country, or from abroad.
Brands and businesses form partnerships with courier services, especially those who sell online to have a safe and reliable shipping method for a smooth delivery experience. The multiple shipping and delivery options provided by these courier services are what sets them apart from the traditional mailing services. This helps immensely when shipping internationally. They have great in-house resources and fewer size restrictions.
Couriers specialize in last-mile delivery or shipping process for time sensitive deliveries. Moreover, the payment procedure is entirely secure, and people can choose to pay either online at the time of booking their order or pay at the time of delivery, as per their convenience.
Courier vs. Postal Services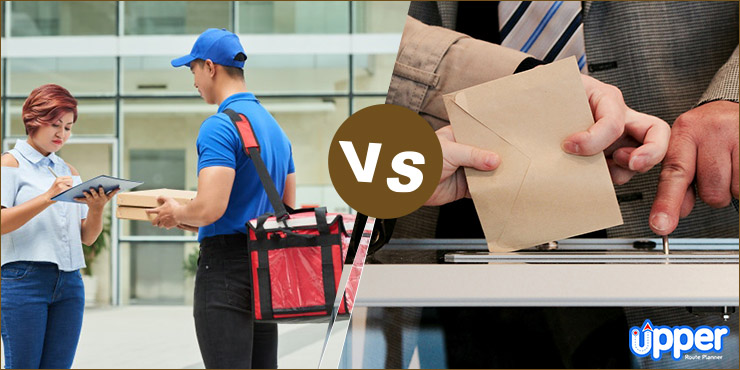 When it comes to sending parcels or documents, understanding the differences between courier and postal services is crucial:
Cost
A postal service (known as the post office) is cheaper than a courier service for delivery as you only have to pay for the shipping cost.
Courier costs, as opposed to postal service, include a fee for parcel handling, additional fuel, duty, and taxes, if any. One can find these on a website in the terms of use or part of that page.
Service Quality And Reliability
Governments operate the post office postal services, and they are usually not as responsive as the courier. United States postal service is usually affordable but not always reliable when it comes to essential shipments, especially international ones.
Lack of frequent package tracking, unresponsive customer service, and other issues with delivery are some of the many factors that contribute to the inefficiency of traditional postal services. 
Courier services take care of everything, from shipping to duty and tax costs, while allowing you to track your last mile delivery as it travels through multiple stops until it reaches its destination. In case of any issues with your parcel, a CSR is always there to assist you.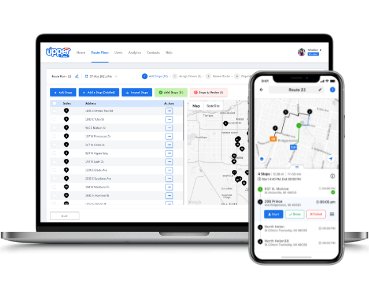 Upper Route Planner
A Simple-to-use route planner that every one is talking about.
Save up to 95% of planning time
Save up to 40% of time on the road
Plan 500 stops at once
Types Of Courier Services
There is certainly no shortage of courier businesses or international courier companies in the world as almost 400 companies ply their trade of providing courier services. We've seen this many times in the news.
As referenced by IBIS world, experts expect the industry to increase rapidly in the next few years. Each of them has a certain goal and is offering its services in a particular niche. Here's a brief review of some of them.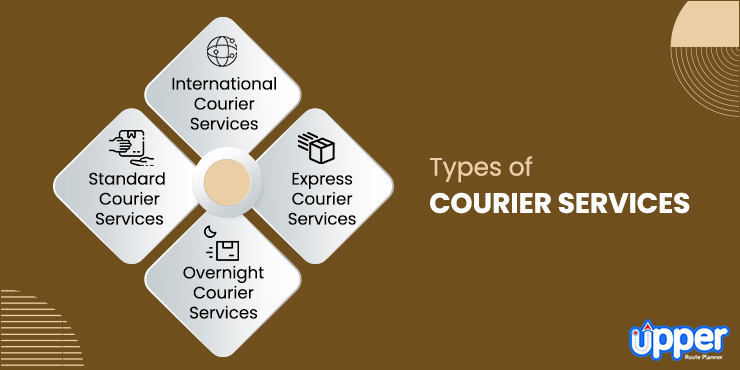 International Courier Services

The largest and most well-renowned logistics providers include international shipping services. The shipping can be between any two countries. For example, it can be between countries like the UK, Japan, India, Singapore, France, the United States, Ireland, and many other countries.

These companies usually have several delivery vehicles including a bus fleet, trucks, and in some cases, they also own jets to carry out international shipping. They promise delivery within 3-4 days of consignment booking, making them a worthy choice for shipping and delivering packages.

Many of these companies, like UPS, FedEx, or DHL, are located in the United States.

Express Couriers Service

An express courier, as the name suggests, relies on the speediness of the delivery to woo their customers. They offer same-day delivery services within the same metropolitan area, making them ideal for businesses that rely on private communications. Among these are law firms that require same-day shipment of court orders or notices to their clients.

Overnight Courier Services

The overnight courier delivery service is a godsend for achieving the speedy delivery of packages. In case of urgent deliveries, you can ship using overnight delivery, and rest assured your package will be delivered at your address the next day in the morning.

Standard Courier Service

The basic courier services provided by a shipping company takes a little bit longer than express courier services. These companies will ensure the delivery of your packages within two to three days of processing, making it less speedy, but more cost-effective.
Benefits Of Courier Services
The benefits of courier services vary from company to company. Large delivery companies can opt for an in-house delivery setup. However, for small to medium organizations, courier services offer a wider range and collection of exclusive features and benefits.
Small companies and businesses could avail of some benefits if they chose a reliable courier service over in-house shipping and delivery to the final destinations. The categories of those things are: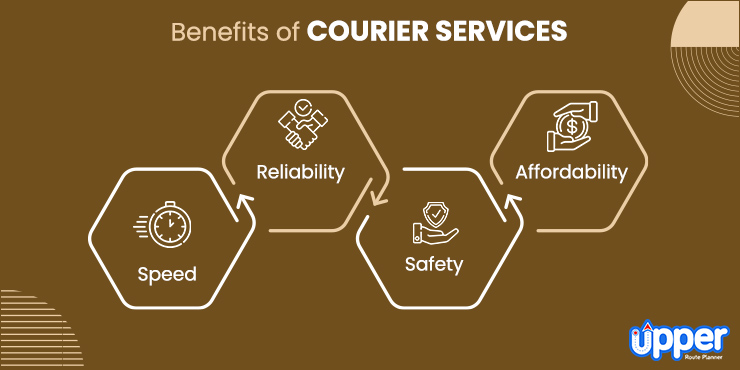 Speed

Courier services are focused on making parcel deliveries a hassle-free experience for you. Their efficient fleet management, route planning, and trained staff ensure on-time deliveries of your parcels to their final destination. Airlines help to transfer pallets and share posts more rapidly. Freight, of course, is better for high-level volume transportation.

Reliability

Courier services provide one of the most reliable delivery services when it comes to logistics. They offer a host of options like tracking services, door to door deliveries, and a meticulous work ethic.

With smartphone apps and GPS tracking services, you can keep an eye on where your item is and instantly get notified when they misplace a package. Information is now readily available too.

Companies provide a quote and a price for all items to be shipped. Details of the product can also be sent by email to someone who is waiting on the pick-up arrival side. This check can take the form of a signature or the ability to message the van in real-time.

Safety

In-house courier services cannot match the safety of professional courier services. These courier companies have established procedures, trained staff, and have state of the art logistics management.

Using courier services reduces the risk of incurring losses in case of any in-transit damage to shipped articles. By relying on external couriers, small businesses can enjoy the peace of mind that their parcels are in safe hands.

They can continue focusing on running their business without having to worry about shipping damages. They also provide insurance, something to ensure a feeling of security for senders.

Affordability

Courier services may be slightly more expensive than your standard parcel carriers, but they provide a level of business efficiency and affordability that the former cannot.

Setting up a fleet of trucks, training the staff, and the administrative cost of managing logistics can be a nightmare for a small to medium enterprise. Courier services provide a platform with optimal rates, thereby simplifying the overall process.
Plan quickly, deliver faster, delight customers and get home early.
Everyone deserves to have simple and easy route planning.
Pros & Cons Of Using A Courier Service
Let's discuss some of the pros and cons of courier service.
Pros
Efficiency, delivery speed, reliability, affordability, and safety.
Perfect solution for budget small and medium enterprises
Good options for those who are looking to save on their delivery expenditures and company resources
Cons
Charge premium rates for normal deliveries and have stricter limitations when it comes to package dimensions and weight
Consignments change hands at multiple stops making it less reliable and more prone to damage
We also ensure any company or business reads material and online reviews. The account of other people and the messages they post can give you the type of information that can be very useful.
FAQs
Courier service refers to a service that delivers goods, packages, letters, and documents to your door. A company that provides such a service is a courier service. We consider them to be a fast and expedient service, even if it is a standard delivery service or standard shipping. A courier service is professional and specializes in delivery and shipping services with a focus on quality customer service.
The primary types of courier services include:
Same-Day Courier
Next-Day Courier
International Courier
Express Courier
Standard Courier
Specialized Courier
Freight Courier
The main difference is that one is public, and the other is a private firm. The Courier company is a delivery service that is generally a for-profit venture that aims to be competitive in speed, efficiency, and service. They tend to be more costly. Whereas mail services (like China Post and Australia Post) are a shipping service that generally runs slower, less efficiently, and costs less.
Courier Services Are Becoming More Reliable
All the renowned e-commerce businesses depend on some of the largest courier service or logistics providers that give them value for their money. Their state-of-the-art shipping techniques, unique operations, and unique solutions have helped many businesses run their shipping operations and fulfilled their delivery needs successfully.
Moreover, these courier services have taken the lead in looking after customs, taxes, and duty fares in international shipments. They take these measures to ensure neither the buyer nor the sender has to worry about losing their parcel in transit.
These couriers integrate GPS technology to give you a seamless real-time tracking experience. There are fees associated with these aspects, of course, and discounts are hard to come by. Yet most individuals agree that the stress of solving these problems outweigh the costs.
As always, let us know if you have any comments, questions, or feedback. We'd love to hear from you.