Are you looking to grab new delivery contracts?
Do you want to expand your delivery business by satisfying a more extensive clientele?
In the era of big guns like DHL and FedEx dominating the delivery space, multiple businesses find it challenging to create a substantial impact.
But with the rising customer and industry demands, there's a lot of opportunity up for grabs. You just need the right path to punch on multiple delivery contracts to climb the success ladder.
So, how to get delivery contracts?
Let's find out.
Tips on How to Get Delivery Contracts
Over 20 billion parcels were delivered in North America in 2020, and the number is exponentially rising in the industry. There are significant contracting opportunities for professional delivery providers with an end-to-end agile delivery system that can fulfill the industry's requirements.
But to fulfill the basic delivery requirements and contractor eligibility requirements, you need to grab the delivery contracts. We have filtered the top tips analyzing all the information available on how you can get the best delivery contracts seamlessly.
1. Define your niche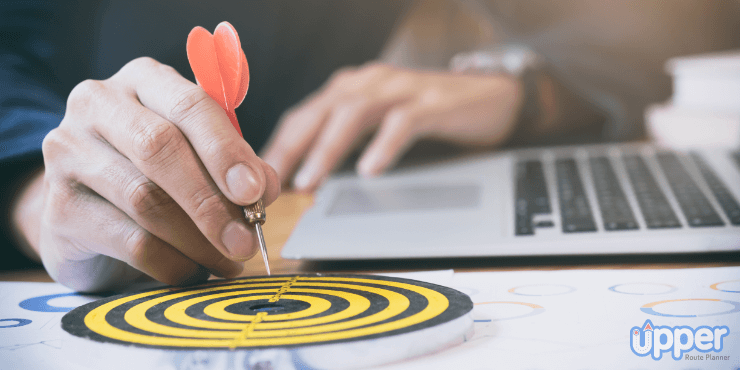 You need to strengthen your basics to get a new delivery contract in the delivery business. The first step is to filter your niche.
How to do that?
Different industries require different types of deliveries; you need to find your strengths and weaknesses and decide which industry you serve the best depending on the type of business.
Choose whether you want to win a furniture store or a medical delivery contract. Deciding your niche will help you make well-informed and focused future steps, and it can help you streamline your delivery operations for a quality delivery experience.
You can finalize the vehicles and equipment required for your delivery business. If the industry demands a more extensive delivery fleet like the furniture industry to carry heavy loads, you need to include bigger trucks and specialized delivery drivers to handle the delivery movement with finesse.
Setting up a strong foundation can help you minimize future expenses and optimize the delivery cost for a tailored delivery experience to your clients.
You can channel your branding and marketing based on your specialization, the niche you have selected to attract different businesses, and new delivery contracts.
2. Bid for courier work
Once you know which industry you want to target and serve as a delivery partner, you need to search for different websites that list delivery service requirements to find the proper courtier contract to kickstart your delivery service business.
Sites like Shiply and FindRFP are a few websites where you can find suitable delivery contracts for your business. You can connect with potential customers who want a professional delivery partner to handle their delivery process.
Some of these sites don't charge any registration fees but can charge you once the quote is finalized between the two parties. You can also bid for different government contracts, apart from private delivery contracts.
You can get the delivery contract if your bid is at the lowest price. That is only possible if you can optimize your delivery workflow with the right strategies and tools available in the industry.
3. Strengthen your online presence with a quality website
With advancements in the digital world, it has become more accessible and convenient for delivery businesses to get delivery contracts from leading businesses around the globe.
You need to create a robust digital presence with a solid website for your delivery service. You can hire the best developers to help you with the development process. Try to focus on delivering an intuitive experience to your potential prospects with a crisp and straightforward website UX/UI.
Ensure that you can get the delivery contract within a few clicks when the prospect lands on your website. But you need to keep in mind different ways to attract website traffic.
You need to focus on the keywords your target audience uses on the search engines to help you increase your online website's visibility.
For example, if you have a flower delivery business in Manhattan, your website should rank when a user types "flower delivery services Manhattan."
Use advanced tools to perform robust keyword research, and create and add those keywords on your website for a better online presence.
If we dive deeper into driving traffic to your delivery website to attract more delivery contracts, you need a holistic branding and marketing approach.
4. Branding and marketing
There are different ways you can ace your branding and marketing to get in touch with niche-oriented local businesses to assist them with their delivery requirements.
Try to maintain a unique brand and tone across multiple communication channels on the internet.
From web to social, try to get in touch with small businesses, medium or large organizations in your specialized niche and prove why you can handle their delivery service better than anyone in the business.
Use Google Ads or Facebook Ads to leverage a robust advertisement ecosystem to target your potential prospects and convert them into your long-term associates.
Hire marketing professionals or a digital marketing or advertising agency to help you master the branding and marketing aspect to drive various leads and potential customers. You can increase your client base with businesses having stringent delivery requirements.
You need to build a healthy and long-term relationship with your clients by solid branding and marketing efforts and delivering their desired results.
If you can maintain dedication and consistency with your offline or online marketing and branding, you can land multiple independent courier contracts to help you achieve your business goals with finesse.
5. Connect with local and hyperlocal businesses
The competition between small-scale and large-scale businesses is in every industry. Similarly, the local businesses compete with retailers like Walmart and Amazon to sail forward in their industry.
You can get in touch with those businesses to land local delivery contracts that can help them improve the quality and experience for their potential customer.
Different local businesses like florists, restaurants, breweries, bakeries and grocery stores need a local courier service to assist them in delivering their products to the customers' doorsteps.
You can cover the untapped market and assist the local business to streamline their delivery service and adapt to the changing consumer behavior. Get the delivery contract and strengthen your position in the hyperlocal delivery market.
6. Improve your delivery service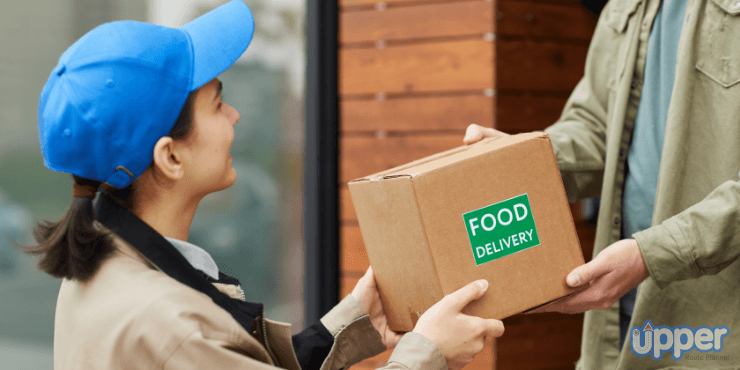 Optimize your delivery process to minimize the operational cost and improve the quality of your delivery experience. It can help you convert more clients because of solid word-of-mouth marketing and boost your profits.
You can expand your delivery business over the coming years and increase your footprint in the industry. But to make these benefits a reality, you need to integrate the right tools and strategies to enhance the delivery experience quality.
Route planning is a critical area of your delivery service where modern-day infrastructure requirements increase.
Proper route planning and optimization can help you optimize your delivery approach and improve your customers' experience. You can skyrocket your chances of getting more delivery contracts to achieve your business goals and targets.
Let's further discuss how route planning and optimization can increase your chances of getting more delivery contracts.
How Route Planning and Optimization Can Help You Get More Delivery Contracts?
Delivering a quality delivery experience can directly impact your delivery business future and the delivery contracts you'll get.
If you can optimize your delivery process and achieve your delivery target in minimal time and operational cost, your delivery contract number can increase.
And that's where professional route planning and optimization come into the picture.
Route planning is one of the foundational and time-consuming tasks for your successful delivery business. It's figuring out the most optimized and shortest multi-delivery path for your drivers to minimize the inefficiencies and increase productivity.
But you can't rely on the traditional route planning approach in the rising industry demand and demand for quick and agile delivery service by the customers.
You need to use modern route planning and optimization software to streamline your delivery process and improve the productivity of your workforce.
It removes the barriers of manual planning and logistic operations by analyzing multi-stop delivery paths considering different aspects like traffic and weather conditions, driver and vehicle capacity, among other touchpoints.
You can get real-time information about the delivery process and assist your customers in tracking the order details for a better delivery experience.
You can streamline your delivery route and improve your team's productivity by removing the redundancies in the delivery workflow. But with the rise in competition in route planning and optimization software, it becomes hard to finalize one for your business. So we did the filtering for you and found the pitch-perfect match.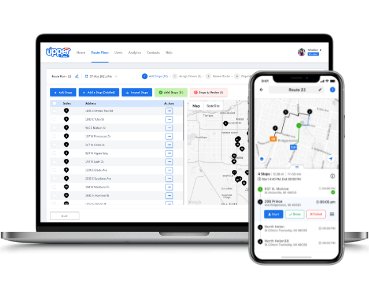 Upper Route Planner
A Simple-to-use route planner that every one is talking about.
Save up to 95% of planning time
Save up to 40% of time on the road
Plan 500 stops at once
No credit card details required
---
FAQs
Starting a courier delivery business is not sophisticated; you need quality transportation with the correct vehicle size, a robotic logistics ecosystem, great inventory space, and the best delivery management software and strategies integrated into your ecosystem. You need to have clients kickstart the delivery operation using your oiled setup.
You need to create a solid online presence or bid for private or government delivery contracts to get your delivery clients. You can also use different marketing and branding methods to attract your target audience to associate with you for their delivery requirements. With the big guns like Amazon delivery service partners, Walmart, and IKEA, among others, strengthening their delivery ecosystem, there's an excellent requirement for local businesses to connect with the third-party general moving company to manage their end-to-end delivery solutions.
You can check multiple websites that help you get delivery contracts from different businesses or agencies or take the matter into your hands and build a solid network in the industry. You can use different offline and online marketing techniques to represent your delivery brand as the best in business. You need to streamline your delivery workflow and cut additional operational costs to fulfill customer satisfaction.
You need to create a website to kickstart your online delivery service. Then follow a result-oriented digital marketing service to connect with your target audience and drive delivery opportunities. Once you can attract traffic, you'll have to ensure a robust delivery ecosystem to handle the clients' requirements.
Yes, the delivery business is highly profitable because of the rise in demand in the industry. Prospective customers now prefer instant and secure delivery service at their doorsteps, and businesses are switching towards providing delivery service.
Upper Route Planner Got You Covered
Upper Route Planner is a simple and agile route planner. Being one of the industry's leading software, it offers a wide range of features at highly reasonable prices. You can use the intuitive UX/UI of the software and enhance the productivity of your business by 40%.
You can add 500 delivery addresses within a few clicks from your Excel sheet to save 95% of the manual routing time and better fuel efficiency. You also get proof of delivery and different customized delivery options to stand out from other delivery companies.
Streamline your delivery process and focus on core business elements to deliver a quality service to your clients. Create a quality ecosystem within your organization to attract more delivery contracts, and achieve your business goals with finesse using Upper Route Planner. Assist your delivery driver in riding their truck without thinking about the routing process.
Get instant access to a 7-day free trial of Upper Route Planner, and help your potential clients with the delivery segment of their business. You can contact our expert team to get your doubts resolved.