Key Takeaways:
The market for route optimization software was estimated at $3,729 million. By 2030, it is anticipated to reach USD 12,416 million.

By 2023, it is expected that the global market for GPS tracking devices will grow to $3.5 billion, demonstrating the rising need for GPS technology in route planning.

Efficient route optimization can help lower carbon emissions, increase customer satisfaction, and save time, money, and resources.

North America holds the largest market share for route optimization software.
As the number of businesses that rely on delivery services rises, route optimization software has become a crucial tool for boosting productivity and cutting costs. Given that the market for route optimization software is anticipated to reach USD 12,416 million by 2030, it is obvious that current trends will continue to grow in the near future.
So, what are the latest route optimization trends and statistics, and how can businesses take advantage of them? Let's find the answers to these questions.
Overview of the Global Route Optimization Software Market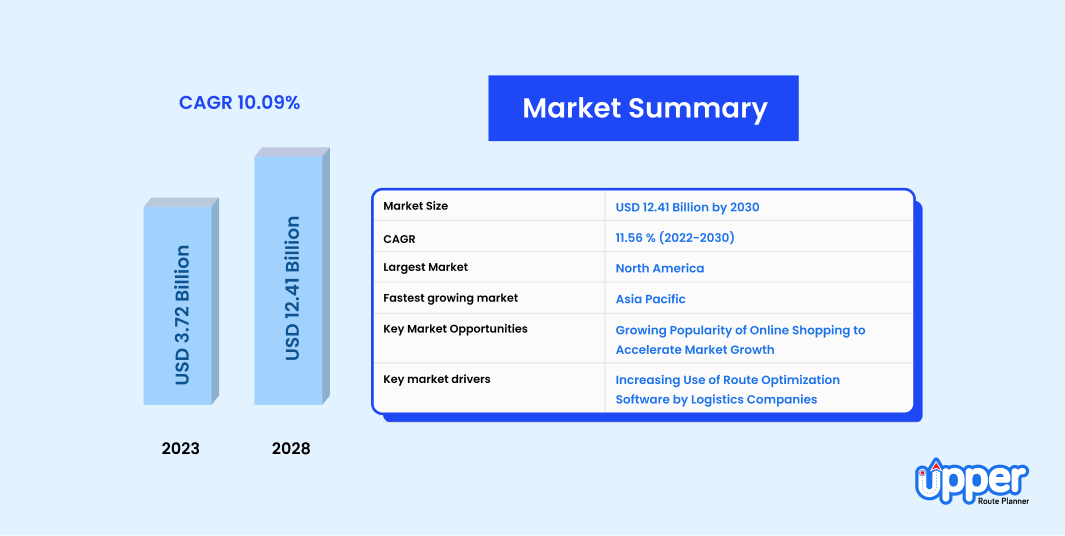 The market for route optimization software is expected to grow at a compound annual growth rate (CAGR) of 11.56% between 2022 and 2030. The demand for e-commerce delivery is rising, fuel prices are increasing, and businesses seek to streamline their supply chains, all of which contribute to the growth of route optimization.
Major market trends include the expanding use of cloud-based software and the development of artificial intelligence in route optimization.
Straits Research also points out that, with a market share of more than 50%, the transportation and logistics industry is the largest consumer of route optimization software solutions.
Key Route Optimization Statistics for 2023
The market for route optimization software is anticipated to grow at a CAGR of 10.9% from 2020 to 2025, according to research by ResearchAndMarkets.
The MarketsandMarkets report indicates that the market for GPS tracking devices is anticipated to grow to $3.5 billion by 2023, demonstrating the rising popularity of location-based route optimization technologies.
According to research, route optimization can significantly lower fuel costs by 20%.
The U.S. Department of Energy estimates that an idling vehicle could consume up to one gallon of fuel per hour.
A study discovered that the more unexpected disturbances there are on a route (such as traffic congestion, a dinner break, or a last-minute pickup job), the more crucial it is to use route optimization (if efficient fuel utilization is your objective).
According to the American Transportation Research Institute, the cost of congestion for one truck in the US in 2019 was $5,525; therefore, it is crucial to lessen congestion and save money.
The route optimization market's largest market share belongs to the logistics and transportation industries.
Due to rising e-commerce demand and developing online transportation businesses, Asia-Pacific is anticipated to see the highest growth rate in the route optimization market.
According to the Geotab survey, 63% of fleet managers who use telematics technology rank route optimization as their top priority, highlighting the significance of efficient route planning in the logistics sector.
According to a survey performed by Bobit Business Media for Verizon Connect, 72% of government fleets have GPS fleet tracking technology in place.
The survey also showed that 75% of fleets utilizing GPS technology agreed that the technology is extremely helpful and beneficial.
Despite major advancements in technology, 28% of fleets still lack fleet maintenance software.
According to a study by Dot Distibution, delivery time affects 87% of online buyers' purchase decisions.
Geotab study suggests that despite traveling 20,000 miles annually on average, fleet vehicles only spend 10% of their time driving, indicating the possibility of significant cost savings and increased productivity through route optimization.
Latest Route Optimization Software Market Trends That You Must Know
Keeping up with the most recent trends in the route optimization software industry can help businesses make strategic decisions regarding their operations.
So, let's take a look at the latest route optimization software market trends that businesses should be aware of.
Increasing use of route optimization software in logistics
A Sustainable America study claims that the average American driver idles for more than 16 minutes each day, squandering 3.8 million gallons of gasoline and about USD 7,980,000 each day.
American commuters spend an average of 41 hours per year stuck in traffic, and in 2017, the cost of traffic congestion in the US was estimated to be USD 305 billion, or USD 1,445 per driver.
Just-in-time business models are impacted by traffic congestion, which also increases operational costs.
In order to avoid traffic jams, logistics companies in the US are increasingly utilizing route optimization software.
Cloud-based platforms and fleet management solutions have been used by the logistics sector to streamline operations. This enables them to use their resources more efficiently and manage their fleets more effectively. These logistics-specific solutions make it simple for businesses to monitor their vehicles, fuel usage, and maintenance requirements.
Cost-effective route solutions have been a top priority for software providers in the logistics industry. Due to the software's capability for monthly, quarterly, and annual payments, businesses of various sizes can use it. As a result, route optimization software is becoming more and more popular.
The emergence of innovative software solutions is another important driver in this industry. A new generation of software solutions based on blockchain, data analytics, and other technologies is being created by the leading players in the market. These developments have given fleet operators more efficient and optimized routes.
Online shopping popularity is accelerating market growth
Due to a surge in smartphone usage and digitization throughout the world, e-commerce businesses are rapidly employing route optimization software to improve consumer satisfaction and last-mile delivery efficiency.
Businesses struggle to meet deadlines since customers desire next-day deliveries. The route optimization software. Due to inaccurate deliveries, customers stop making purchases from businesses, so they use route optimization software to retain them.
Operations in the supply chain and logistics are impeded by late deliveries, poor route planning, increasing delivery costs, and idle vehicles. Since the introduction of route optimization software, the prevalence of the causes mentioned above has decreased. It helps to decrease vehicle idle time and boost delivery executive productivity by allocating the most efficient routes.
An increase in IoT and cab demand
Route optimization is a major web-based service that will be influenced by the development of IoT.
Cloud-based products that are inexpensive make route optimization more accessible.
Route optimization and associated businesses will have additional potential for growth as taxi and online cab demand continue to rise.
IT infrastructure in under-developed nations
Because of its underdeveloped IT infrastructure and poor digitalization, Africa has limited adoption of route optimization software, claims a UNCTAD report.
Government initiatives and the region's rapid adoption of smartphones are both expected to accelerate the development of the route optimization software industry in the near future.
Surge in online purchase post COVID-19 era
Globally, the COVID-19 pandemic had a tremendous effect on people's lives and businesses. The delivery service sector is one of the industries that was impacted by the pandemic.
More people began making purchases online as a result of the strict restrictions put in place during the pandemic. Delivery service providers saw a sharp increase in demand as a result. Due to a lack of resources to meet the rising demand, e-commerce and online retail & grocery businesses had a hard time delivering food on time.
Delivery service providers began utilizing route optimization software to solve these issues. By giving delivery executives the most efficient vehicle route, the software reduced vehicle idling time and increased efficiency. It reduced delivery time and costs while ensuring that deliveries were completed as per the schedule.
Due to its success in resolving the problems faced by delivery service companies during the pandemic crisis, route optimization software usage increased. It supported the continued functioning of delivery services and fostered the route optimization software industry.
Regional Trends
North America
According to the report published by Straits Research, North America has been at the forefront of the route optimization software market because of the innovative solutions offered by vendors in this region.
These solutions meet the demands of several industries, including those in FMCG, restaurant chains, and cab & taxi service providers, among others.
An increase in the number of partnerships between software providers and delivery service providers can be seen in the area. Because of this, North America has created a dominant market position in the world market for route optimization software.
Customers in the area can use on-demand food delivery platforms and applications on their mobile phones. Using these, they can quickly and easily order meals from a variety of restaurants or fast-food franchises. For these platforms to be successful, there should be simplified commercial vehicle operations and transparent delivery processes.
Asia-Pacific
According to the report by Straits Research, the route optimization software industry is anticipated to expand significantly in the Asia-Pacific region. Industry players are aware of the necessity of managing connected devices in the supply chain network properly and arranging delivery routes as efficiently as possible.
Due to the substantial need for route optimization software solutions and the development of the online transportation industry, the market in the area is anticipated to expand.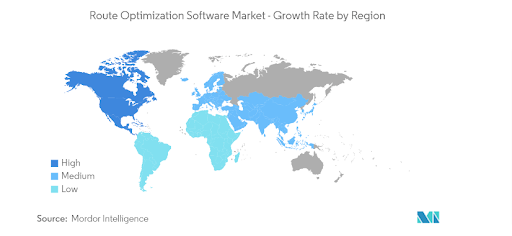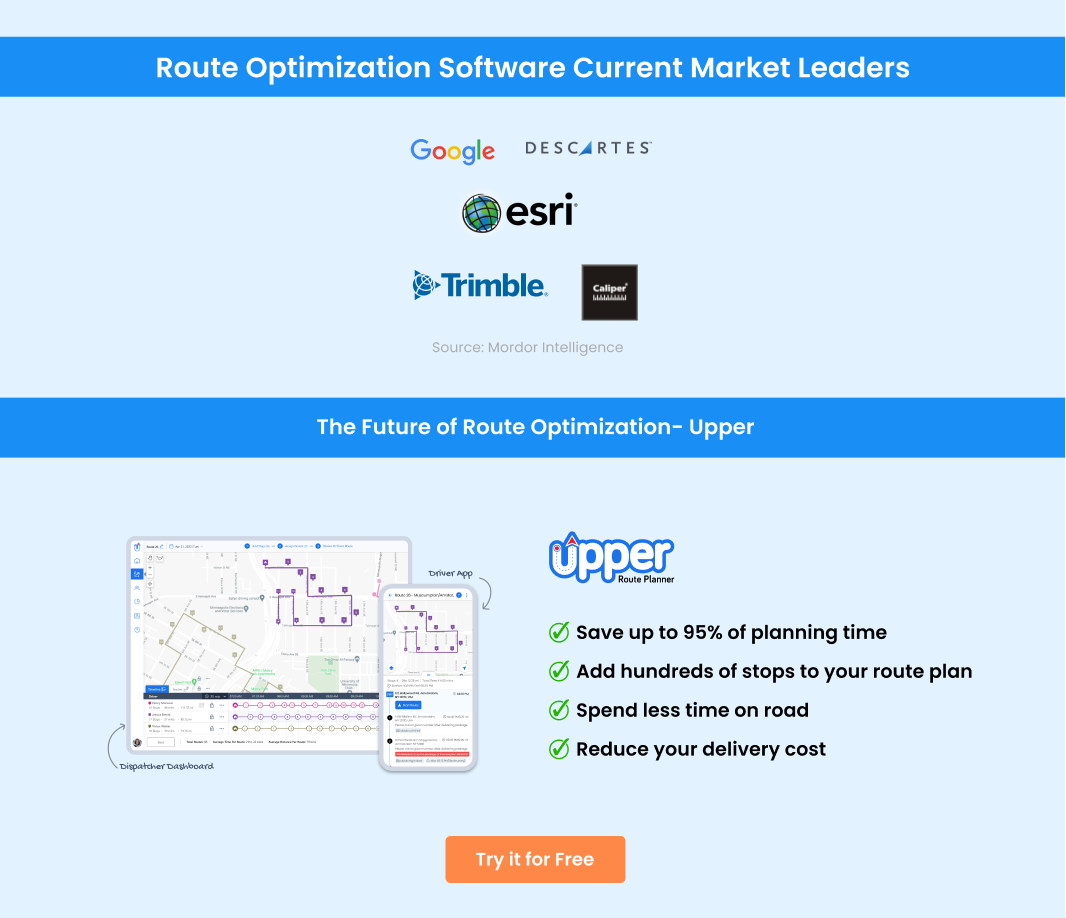 Plan and Optimize Unlimited Routes Using Upper Route Planner
As we look to the future of route optimization, we cannot ignore the potential impact of Upper Route Planner. Upper has the potential to completely transform the route optimization market with different types of route optimization algorithms and advanced routing features.
If you want to put current trends into action, consider using Upper. It is a capable route optimization tool that will help your company streamline routing processes while saving time and money. Upper is a user-friendly software that can optimize your routes, reduce fuel consumption, and improve your delivery times, all while keeping your customers happy.
Upper provides a simplified and structured solution, which makes it simple for businesses to use, in comparison to other route optimization software. Upper is a highly effective solution that offers a plethora of features, as stated below:
Optimizing routes for unlimited stops
Prioritizing urgent deliveries
Advanced scheduling
Single click dispatch
Real-time driver tracking
Proof of delivery
API integration
FAQs
There are several ways that route optimization software can benefit businesses. It can aid in lowering operating expenses and boosting efficiency by cutting down on travel time and fuel consumption. Additionally, it can help businesses consistently meet delivery windows, which will enhance customer retention rate.
The route optimization software can be useful for any business that relies on delivery, transportation, or field services. This includes businesses in a variety of sectors, including retail, e-commerce, logistics, and food delivery service providers.
Upper, a route optimization software, helps businesses by lowering their vehicle costs, saving time, increasing delivery effectiveness, and boosting customer satisfaction. It aids in optimizing routes, reducing idle time, and avoiding unnecessary trips, which results in cost savings and increased operational productivity.
The route optimization software market has been dominated by North America, which holds the largest market share.
The market for route optimization software is anticipated to expand at the fastest rate in the Asia Pacific region.
Yes, Upper can locate the best routes for deliveries with multipel stops. In fact, it can determine the most effective routes by considering factors such as distance, number of stops, delivery time windows, priorities, and driver availability.
Navigate the Roads With the Power of Advanced Route Optimization
Following these trends, we now know how route optimization software is playing a bigger role as the need for logistics and transportation services increases.
In order to save time, money, and resources, businesses and organizations now rely on route optimization solutions. The statistics and trends we've covered today demonstrate the significant impact that effective route optimization can have on cutting costs, boosting efficiency, and raising customer satisfaction.