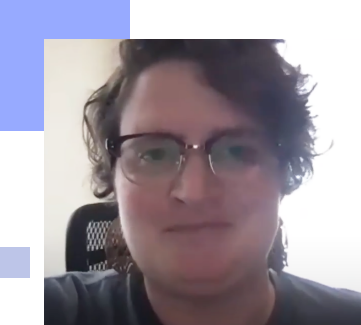 "We simplified everything from Planning to Optimizing and made our business more profitable. We're comfortable taking more and more deliveries because we have Upper's route optimization"

Phred Swain-Sugarman
Wishlist.Delivery Maker
Simplify Your Route Optimization for Maximum Efficiency
Upper Route Planner is here to plan and optimize your routes effortlessly. Whether you are adding stops or optimizing them, our software finds the most efficient routes possible, saving you time and money.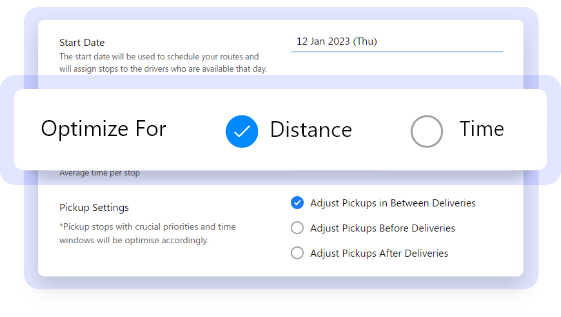 Time & distance-based
routing solution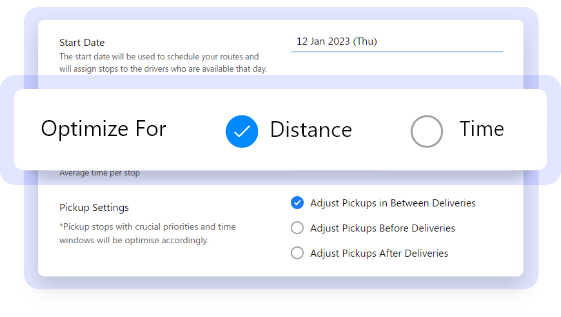 Optimize routes based on distance or time as per your preference
Change your time or distance preference on the go if required
Get a list of optimized routes to meet your needs and priorities
Flexible route swapping
between drivers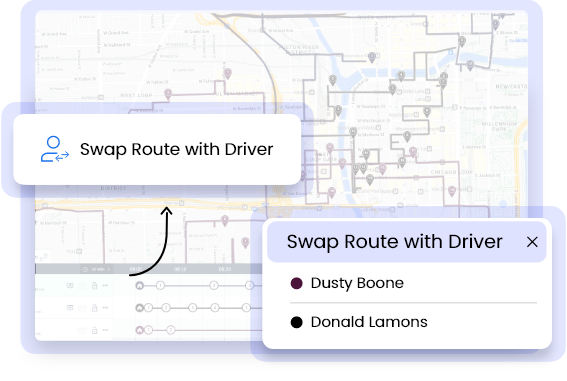 Swap a pre-planned route between your drivers in case of emergency
Make last-minute changes to your delivery plans when required
Swap routes in a click and ensure every delivery is fulfilled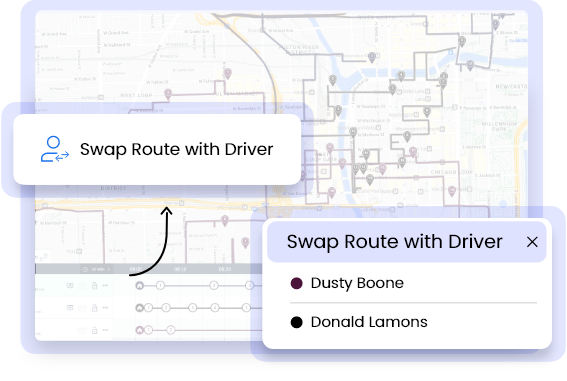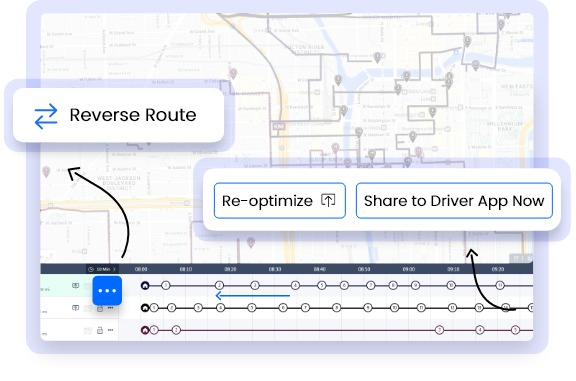 Reverse routes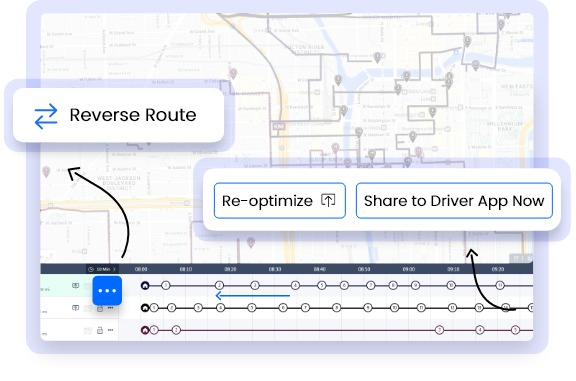 No need to re-plan the entire route again; reverse it in a tap
Get complete flexibility to reverse routes without any errors
Make your back-and-forth delivery schedules easy
'Drag & Drop' for stop adjustments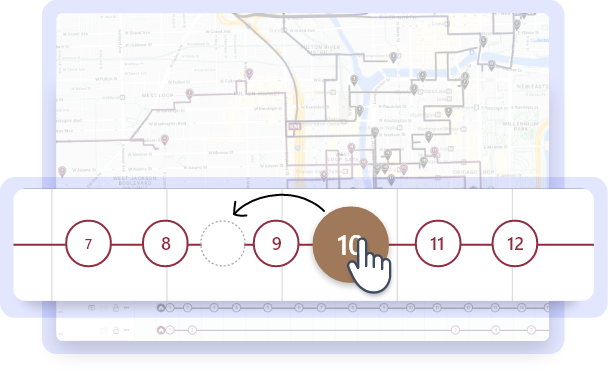 Drag & drop any stop and update your timeline automatically
Adjust stops, and Upper will reoptimize the entire route
Get the flexibility to rearrange stops without any limitations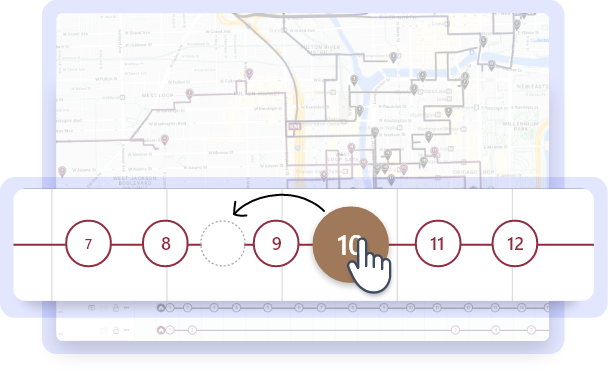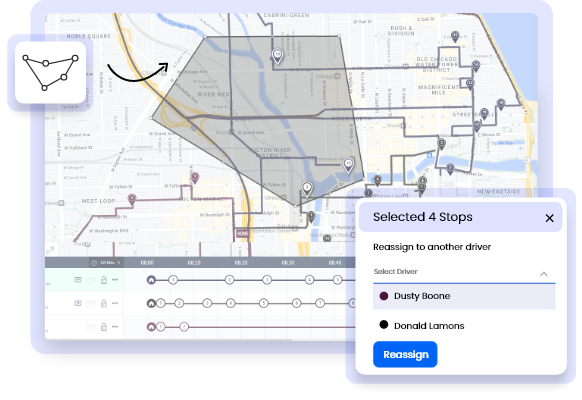 Multi-stop selector tool for
reassigning routes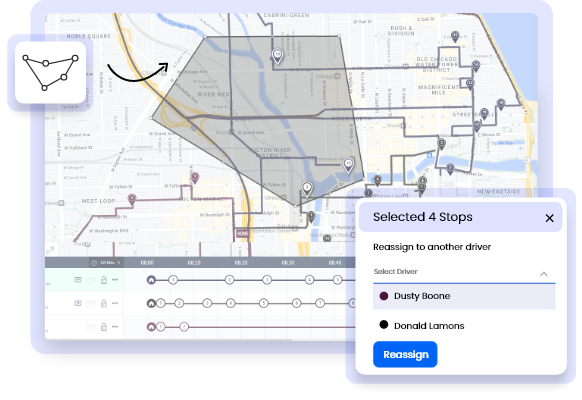 Quickly group the stops and reassign them to another driver
Make quick modifications even after routes are optimized
Save time and efforts by selecting and reassigning stops
Optimize Your Routes in a Minute & Save Hours on Manual Process
Plan & optimize routes in a tap and assign them to your delivery team to save your business hours each day.
Start Your FREE Trial
Traditional Methods of Route Optimization
vs Upper's Route Optimization
Traditional Methods of Route Optimization
Rely on guesswork to determine the best routes
Allow for little to no route adjustments
High chance of creating inaccurate and unreliable routes
Are time-consuming and stressful to execute
Upper's Route Optimization
Uses a highly advanced algorithm to find routes
Allows last-minute changes
Sends accurate ETA to your clients
Crafts entire routes in a minute for your crew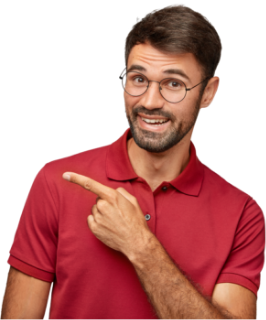 Delivering Clients Satisfaction is All That Matters to Us
A stride ahead with Upper's advanced route optimization software means boosting business productivity. Explore the success stories of our satisfied clients to see how we exceed their expectations by standing with them every step of the way.
"It felt a little silly at first, it's a delivery app and you're not actually delivering anything and only taking pictures but fine, it works for us."
Anneliese Holland
Operations Administrator at Station 31 Partners
"The best feature for us was to be able to take pictures of the person with the product delivered. It helped us get rid of complaints about damaged goods on arrival."
Jacob Turner Steel
Supply Chain Manager at Parkwood Products Ltd
"UpperInc has really helped us streamline our delivery services. I'd recommend it to other businesses like meal delivery, bakeries, basically anyone making deliveries."
David Greensmith
Founder at Essential Meal Delivery
Make Your Route Optimization Simpler With Upper Route Planer!
Try Upper TODAY and experience how it helps you to plan and optimize your routes in less than a minute. Save hours of planning and optimizing time!
Try Upper for FREE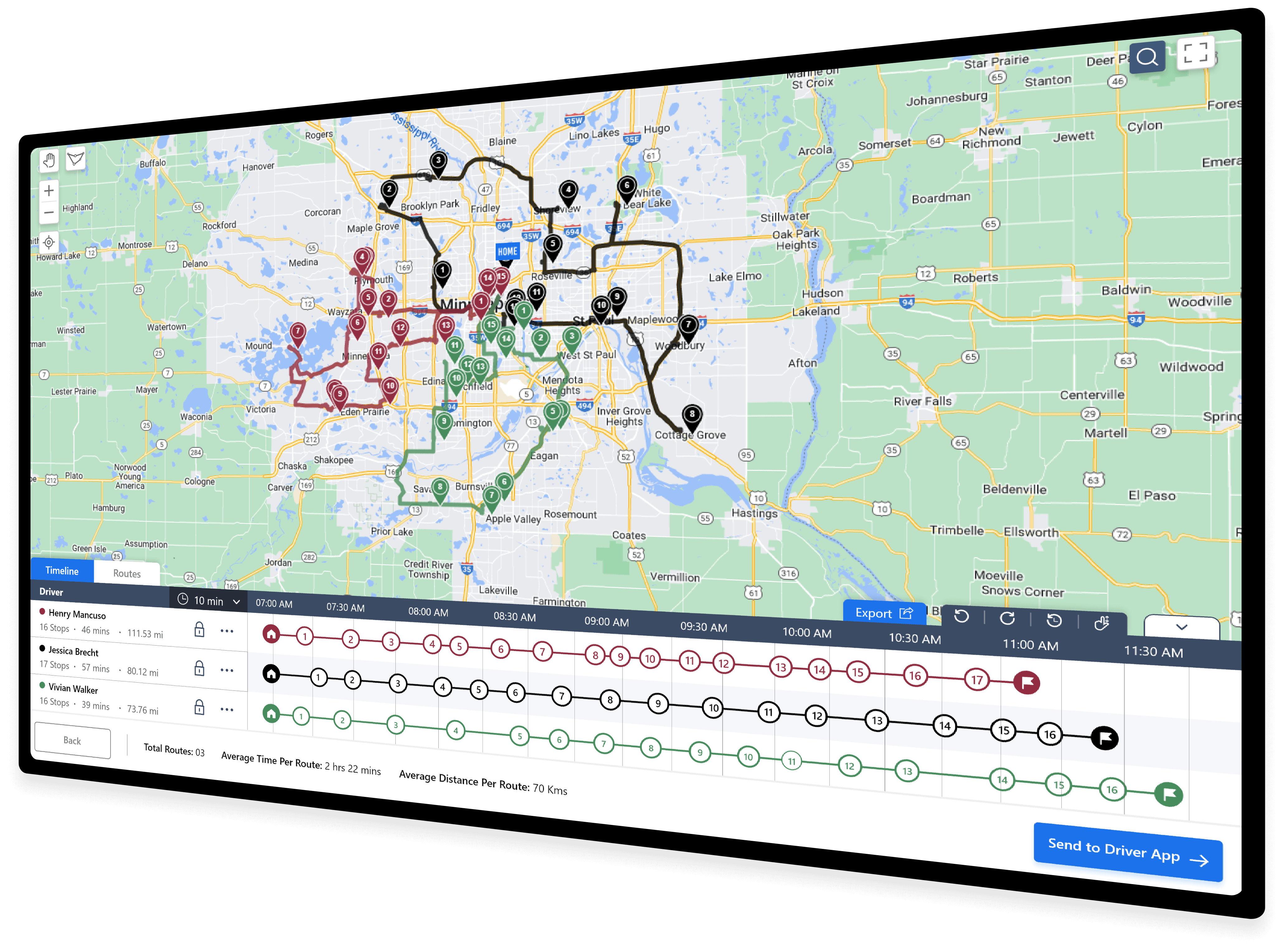 Frequently Asked Questions
How do I optimize my routes using the Upper Route Planner?

With Upper Route Planner, you must import stops into your route plan and set all the priorities. Upper will get you optimized routes in a fraction of a second.

Here is how you can optimize routes on Upper:

Step 1: Import stops directly from your Excel or CSV file
Step 2: Verify and edit the stops if required
Step 3: Next, select the drivers you want to assign the routes
Step 4: Click the "Optimize & Assign routes" button

How does the Upper Route Planner find the most efficient routes for my stops?

Upper Route Planner considers many parameters while planning routes, such as avoidance zones, traffic flows, driver preferences, and stop priorities. Considering all those factors, Upper optimizes the most accurate route to perform deliveries efficiently in less time.

Can I make changes to my route plan after it has been optimized?

Yes, you can make changes to your route plan anytime as per your need. You can add, edit, and delete any stop, even after optimization. To make changes in the optimized route, you can:

First click on the stop you want to edit, and it will open the stop details
Then, click on the edit icon to make the required changes
Similarly, if you want to delete any stop, click on the "delete" icon
Now, in case of adding a stop, click on "Add Stop" and fill the required details

What is a multi-stop selector tool & its functionality?

A multi-stop selector tool allows users to select and manage multiple stops together easily. It enables users to group stops for reassignment to another driver or route. This can save time and effort when dealing with multiple stops and provides a convenient way to edit or reassign stops in a streamlined manner.

What is swap routes functionality, and how can I quickly swap routes in case of urgency?

The swap route functionality is useful when you want to swap a pre-planned route internally between your drivers.

For instance, let's say you have 3 drivers in your team, and they have scheduled delivery on the 7th date of the month. On the previous day, one of the drivers informs you that he won't be available to make delivery. In this scenario, you can quickly swap the route with the available drivers.

In which circumstances does swap routes functionality help me?

Swap routes can be useful when any assigned driver is not available due to any reason. So, you can swap that assigned route to another available driver.

For instance, you have 5 drivers working in your delivery crew. You have assigned routes to 3 drivers for performing pickups or deliveries, leaving 2 drivers with no assigned routes. Now, in case one of your assigned drivers is unavailable due to any reason, you can quickly swap routes with the remaining driver, who has no task at the moment.

How can I reverse an entire route plan?

To reverse the route plan, switch to the Upper's timeline module and follow the steps below.

Step 1: Click on the reverse route option from the three-dot menu on the right side of the driver's name.
Step 2: Once you hit the reverse route button, there will be a new start, and the endpoint rest in-between stops will remain unchanged.

In which circumstances does reverse functionality help?

Reverse route plan is useful when your driver needs to travel from the last point to starting point or depot, or when a driver wants to return to the origin of the route after completing all the deliveries. You don't need to replan the entire route from scratch with the reverse route.

Here's one scenario, reverse route functionality helps in planning routes for waste collection trucks to efficiently collect waste from customer locations and return it to the waste processing facilities.

What is "Drag & Drop stops" functionality & in which circumstances is it helpful?

Drag & drop stops is the easiest way to rearrange the stop's order manually. After optimizing the route, if you want to make any changes in the sequence of stops, just drag & drop that stop to put it wherever in the route. So, you can easily rearrange the order of stops in a route to optimize it based on specific needs or constraints.

Suppose you are a meal kit delivery business owner, and you have planned a route with 10 stops in it. The estimated delivery time for the 5th stop is 1 PM, but due to any reason, they are expecting the delivery at 12 PM. So, with drag & drop functionality, you can rearrange the stop and put it before 3rd delivery to match the ETA with the customer's expectations.

Why should I Use Upper's Route Optimization over traditional route optimization methods?

There are several reasons why you may want to use Upper's route optimization over traditional route optimization methods:

Time-saving: Upper's route optimization algorithm is designed to save you time by creating optimized delivery routes that take into account the most efficient and fastest routes to your destinations.
Cost-effective: With Upper's route optimization, you can save money on fuel costs and other expenses by minimizing the distance traveled and reducing the time spent on the road.
Flexibility: Upper's route optimization can accommodate a variety of different delivery constraints, including time windows, vehicle capacity, and delivery priorities, allowing you to customize your routes to meet your specific needs.