Businesses offering direct-to-door delivery services keep on growing. This is due to the increasing demand for products being delivered directly to your doorstep. Courier businesses do a lot of heavy lifting when it comes to last-mile delivery services. They provide things ranging from documents to consumer products. No matter what products they deliver, they can use route planners to deliver products on time.
How many stops do you need to cover in your daily deliveries? 100? 200? No matter how many addresses you need to cover, all businesses making deliveries can reap benefits from using a multi-stop delivery route planner.
Are you looking to know more about courier route planner software? Read on.
In this article, we will take a look at how a delivery route planner can help courier businesses, the benefits offered by it, and the tips to keep in mind while choosing a courier route planner.
Basics About Courier Businesses
A courier delivery business offers to transport envelopes, mail, packages, paperwork, and other items to the customers. This delivery service time can be provided through different delivery vehicles like bikes, motorbikes, cars, and delivery vans.
In the United States, the courier and local delivery service is the 3rd highest-ranking Transportation and Warehousing industry by market size. Brands and businesses often tie-up with courier delivery businesses to offer a quick and reliable shipping method for their products.
Courier businesses form a significant chunk of the last-mile delivery industry. It includes large courier companies like UPS and FedEx and thousands of other smaller players. The businesses that are a part of the last-mile delivery industry have to use delivery route planner apps to make faster, on-time deliveries to their customers.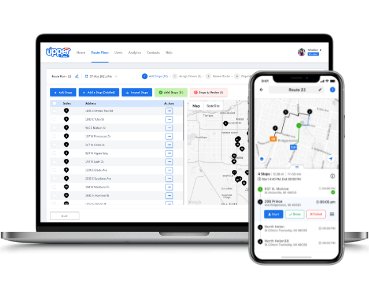 Upper Route Planner
A Simple-to-use route planner that every one is talking about.
Save up to 95% of planning time
Save up to 40% of time on the road
Plan 500 stops at once
What is a Delivery Route Planner?
The delivery route planner app is a software solution that can schedule, sequence, and navigate stops for drivers delivering goods and services. It is often referred to as route optimization software or delivery routing software. In addition to route planning features and scheduling, the delivery route planner app can offer various features like real-time route optimization, driving directions, real-time traffic updates, and proof of delivery.
A delivery route planner can be used as a web app and a mobile app. A delivery route planner helps delivery and courier businesses operate more efficiently by delivering on time, with minimal errors. Many of these route planners can capture feedback and data and translate them into reports and analytics to improve the delivery process.
What are the Benefits of Having a Route Planner for Courier Businesses?
Here are the benefits of having a route planner for courier businesses.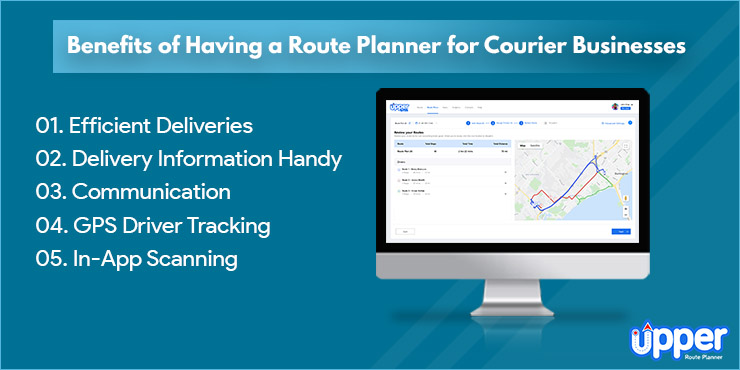 Efficient Deliveries
With proper route planning, drivers receive an optimal delivery schedule using which they can make timely deliveries. Deliveries are efficient when they are made on time, and drivers can save on fuel costs. This is made possible by making use of route planning software.
Delivery Information Handy
The route planning app can bring all the vital information related to delivery like customer name, contact details, address, etc. can be provided to the drivers on their mobile phones. When such elements are handy, the drivers do not have to rely on the management team.
Communication
Route planner apps can make communication lines clear. Using the route planner apps, delivery teams can send messages or updates to drivers on their mobile phones. Several delivery route planner apps allow customers to contact their drivers directly. This makes communication lines clear, and it also becomes more accessible for customers to find out about their deliveries.
GPS Driver Tracking
GPS driver tracking makes it possible for a delivery business to know the exact location of its drivers. With the real-time location of the drivers, it becomes easier to keep track of the deliveries. Any detours or mishaps along the route can be instantly corrected. Customers can also be allowed to track their packages in real-time. Providing such real-time information can improve the customer experience.
In-App Scanning
In-app scanning can help drivers in making sure they are delivering the packages to the right customers. Drivers can also scan essential delivery documents as proof of delivery. This way, a delivery business can ensure that all the deliveries are being fulfilled according to the schedule.
Tips for Choosing a Courier Route Planning App for Your Daily Deliveries
Here are some tips for choosing the most suitable route planning app for your courier business.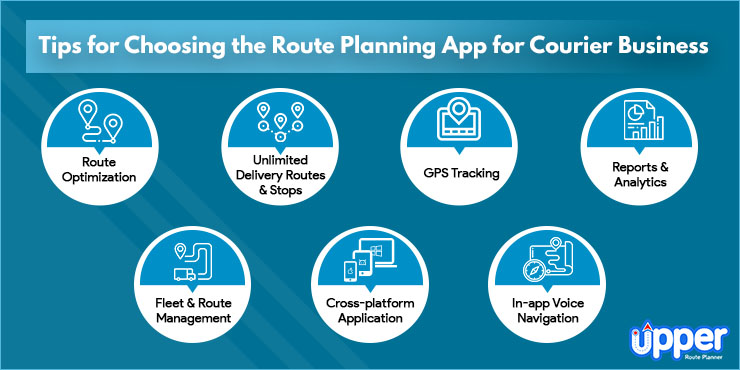 Route Optimization
Planning routes is not enough. Finding the best possible way to reach your destination in the shortest time possible is the key. Choose route planning apps that optimize your addresses by considering real-time factors like traffic data and delivery priority.
Unlimited Delivery Routes & Stops
No business wants to limit its delivery operations and business growth. To make sure that doesn't happen, companies must opt for a route planning tool to plan and optimize multi-stop routes for multiple drivers at once. Don't choose routing apps that will limit or restrict you to plan for only a certain number of deliveries per route.
GPS Tracking
GPS tracking feature allows delivery teams and fleet managers to track the drivers and the deliveries. It offers the real-time location of the drivers and the deliveries they have finished or left unfinished. The visibility can be extended to the customers to be aware of where their package has reached.
Reports & Analytics
All the data recorded by the route planning and optimization software can be turned into reports and analytics that can be used to make decisions and plans for the future. Route planning apps offer daily, weekly, monthly, and quarterly reports on the driver performance and deliveries fulfilled. This data can be of help to fleet managers and delivery drivers.
Fleet & Route Management
A route planning tool can also work as a fleet management or route management tool. It can record the total number of fleets, fleets being used by drivers, and fleets available for use. It can also save routes and keep them for future use as well. Choose a tool that can help you keep a record of your fleet operations and the routes you create daily.
Cross-platform Application
It is imperative to select software that works across different platforms. Not all businesses and drivers use the same platform. A cross-platform application is easily adaptable and can blend in with the ongoing system of the business. No significant changes are required to be made to accommodate the software.
In-app Voice Navigation
Allowing the drivers to focus on the road is one of the essential elements. When delivery drivers can receive in-app voice navigation through the mobile app, they do not have to look at the mobile app for directions. It allows drivers to focus on the road and avoid errors or mishaps while making their deliveries.
---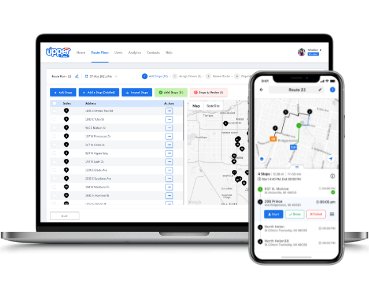 Upper Route Planner
A Simple-to-use route planner that every one is talking about.
Save up to 95% of planning time
Save up to 40% of time on the road
Plan 500 stops at once
---
Route Planners Make Your Courier Deliveries Efficient
Creating multi-stop route plans is a challenging task for any business. But with the help of multi-stop route planners, businesses can use technology to find the most efficient way to deliver products on time. We have tried to cover essential information relating to route planning software in this article. If you have any specific questions that you need answers to, you can feel free to reach out to us.