In any environment where you manage a fleet of delivery vehicles, you will want to ensure you operate maximum efficiency.
By constantly optimizing your delivery operation, you can realize incremental profits while ensuring all your customers remain satisfied with different delivery options.
Even if you've been involved doing deliveries for decades by way of e-commerce or offering home delivery of food, you can still use modern tech in your business to increase productivity and cut down on costs.
In this guide, we'll cover everything you need to know about delivery route optimization and how it can help improve your daily operations. Increased demand for delivery services will continue, and ensuring you serve your current customers while being able to scale quickly will likely come down to the technology stack you select.
Route Optimization – The Basics
If you've ever used a GPS unit or the navigation on your smartphone, you'll probably be familiar with mobile routing apps. The main difference between a route planner and a delivery route optimizer software is that instead of letting you choose a single route for a single trip, you can plan multi-stop delivery routes for any number of drivers. This allows you to schedule everyone's work while expertly planning every mile you have to spend on the road.
In today's hyper-connected world, you'll want to choose a solution that reduces your administrative burden while helping you improve efficiencies over time. Historical data should inform future decisions and help you continuously improve your delivery scheduling workflows. Orders can come in at any time, and adjusting your delivery routes in real-time could prove the difference between you and your competitor's optimization strategies.
What is Route Optimization?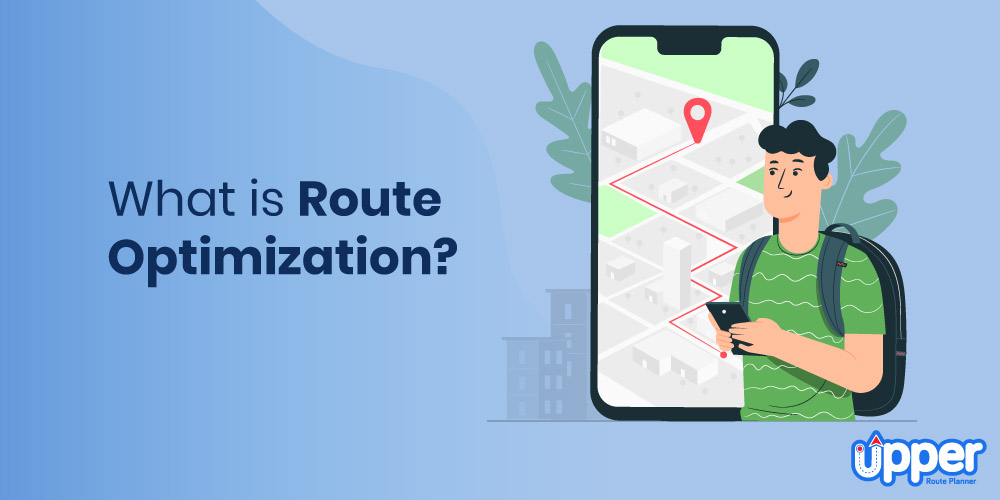 Whenever you need to plan multiple stops during a trip, you'll want to weigh time against distance and order priority. Systems that create optimized routes are ideal. But before the internet and Software as a Service (SaaS) became standard, implementing these solutions was costly and depended on advanced GIS software developed mainly for government organizations.
Most companies will start with Google Maps and do their delivery planning manually. With some advanced skills, you'll probably be able to set multiple stops for any specific region and track your driver throughout the trip. A route optimizer can help you plan your trips quickly and adjust to the inevitable changes that are sure to follow without you having to spend hours planning a new route.
How Does Delivery Route Optimization Software Work?
In distribution and delivery companies, route planners aim to reduce time on the road, save on fuel costs, and improve customer satisfaction. Fuel costs remain one of the biggest expenses for delivery companies, with more than 20% of expenses used for fueling your vehicles (according to the American Transportation Research Institute).
Route optimization software shuffles your destinations to find the most efficient path for multi-stop deliveries. If you have eleven stops on a single trip, you have about 40 million possible routes available. When you're into managing an entire fleet, you'll want an app to help you find optimal delivery routes that can help you save on fuel costs.
Can Google Maps Optimize Delivery Routes?
Google Maps is good at helping individuals avoid traffic and find the quickest route to a specific destination. However, multi-stop route optimization is a hard problem to solve. While Google Maps may be great for your private trips, it doesn't have the necessary features to help you optimize a fleet of deliveries.
Using a delivery-scheduling app designed specifically to help optimize your delivery routes is a better option for what software to use. Trying to solve the Vehicle Routing Problem (VRP) using only Google Maps won't help you improve your efficiencies.
Why Should You Care About Route Optimization?
Consumers expect more from companies today. The market forces driving route optimization include reduced time, more frequent deliveries, and greater visibility into your estimated arrival time. Customers want to know where you are and how long it will take you to arrive with their packages or food.
Additionally, volatile fuel costs and urban restrictions for certain metropolitan areas add an extra layer of complexity to your operations. Route optimization software can help you navigate all these challenges successfully.
For more information, check out
What is Route Planning?
Optimizing Your Business with a Route Planner
Optimized route combinations help you save time and money. You can use your drivers effectively and ensure you get to your customers in less time, every time. Managing your route planning manually will take a lot of time and effort, and, likely, you won't be anywhere near as accurate as a software solution designed to solve the problem for you.
A route-planning algorithm will use what you know (address and type of goods) and things you'll want to know (congestion, average speed) to calculate the most efficient delivery routes. Depending on which app you choose, there may be other variables included in the calculation.
What are the Main Benefits of a Route Planning Tool?
Organizations that use route planning apps likely want to cut down on operational costs and efficiently improve their delivery management.
Some of the main benefits of route optimization software include: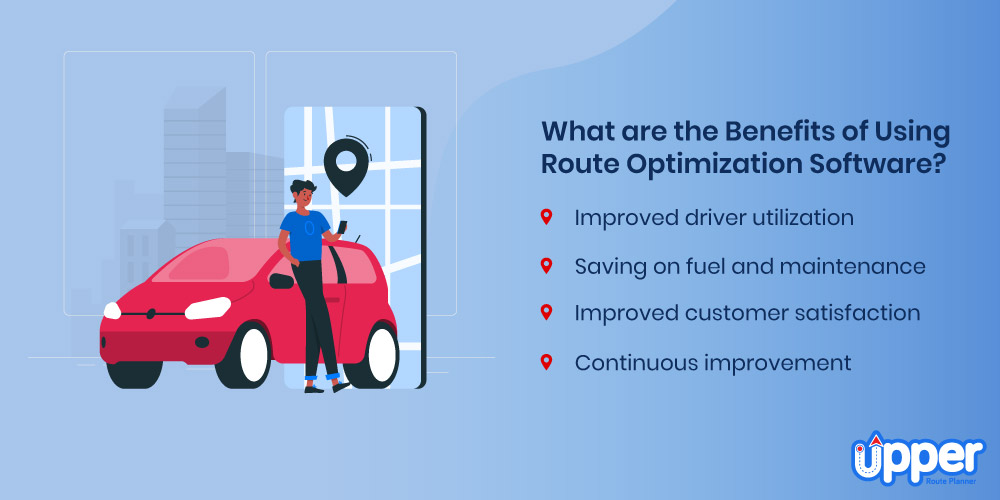 Improved driver utilization – One of the biggest upsides is getting to every stop on time without hiring more drivers. You could even find ways to reduce your delivery fleet size by considering the vehicle capacity and the number of drivers required.
Saving on fuel and maintenance – The quickest route will use less fuel and reduce the number of miles traveled for each stop. Fewer miles means less maintenance, helping you save on vehicle overheads.
Improved customer satisfaction – Getting your deliveries to customers in time is still your primary concern. Optimized routes mean happier customers. Route optimization apps with live tracking will help keep your customers in the loop with updated time windows and allows you to respond to issues quickly. Can offer real-time updates and SMS notifications. Delivery notifications can improve customer satisfaction.
Continuous improvement – Using built-in reporting features can help you continue to improve your delivery processes. Continually optimizing your deliveries with the latest information will maximize your savings over time.
Another benefit is that you'll reduce your carbon emissions. You can set up practices like delivering heavy goods first or find backhaul opportunities to maximize your productivity and do your bit for the planet during every trip.
Can Route Optimizers Add More Value?
Choosing the right app can bring greater value to delivery businesses and their operations. If you want to open a new warehouse or location, you can study the impact on your deliveries before making the final decision. Integrating the route optimization software with your ordering systems will give you greater insight and strengthen your customer experiences.
You can also compare your planned activities against real-time information generated from the app. Using this information, you can avoid issues in the future and make smarter business decisions.
How Do Delivery Drivers Plan Routes?
Delivery drivers spend a lot of time on the road, using years of experience to find the quickest route. The more experienced the driver, the better they'll be at finding the best route for every trip. Conversely, inexperienced drivers will need help you can give them to avoid costly mistakes or excessive travel times. Whenever a driver sits idling in traffic or has to wait at a location for someone to show up, it costs you money.
Instead of looking for experienced drivers who know a specific geographic region like the back of their hand, a route optimizer will ensure everyone remains efficient from their first day. You can also use your driver debriefs to share information with the entire team and improve delivery planning for future trips.
Choosing the Right Route Planning Software for Your Business
Before deciding which route optimizer app to use in your business, you'll need to consider all the features. Your solution should make delivery planning for multi-stop routes easy while giving measurable results from day one.
When evaluating a route planner, consider the following features:
Easy address input – Capturing the right address should never depend on guesswork. You'll want to consider how quickly and easily you can set up your different locations with smart-lookup features to avoid making any mistakes.
Smart location lookup – Along with capturing the address, your solution should recommend the right address as you type using your current location.
Reusability – If you run the same routes regularly, the app should allow you to save and duplicate routes without hassle.
Route customization, bulk address import, and quick driver assignment are other features you may want to look for. Other factors to consider before making a decision include sharing contacts easily, generating detailed reports, and multi-device support.
Determining the ROI of Your Route Optimizer
Due to the nature of delivery operations, you can expect to see tangible benefits within the first year (or even within the first quarter, in some cases). Some of your savings will be measurable early, while others will take time to realize. Hard-dollar savings may be why you opted for a route planning solution, but the ROI will continue with some less apparent benefits.
When it's time to review your operations, you can measure driver KPIs and ensure everyone knows what you expect from them during every trip. With everyone on the same page, you'll have happier drivers, field service workers, and more satisfied customers. Drivers get predictable finish times, customers know when to expect their delivery, and you'll be doing more deliveries every day, which is great for your bottom line.
What is the Best Route Planning Software?
Most applications and routing solutions available on the market provide many of the same features. So you may want to consider ease-of-use and the price point when evaluating what software to use. The best route planning solutions provide you with easy scalability, maximum flexibility, and reliable accuracy. Many of these tools will meet your business needs, such as Routific, Optimoroute, and Route4Me. We recommend you test a few solutions. Some are ideal for a large delivery fleet of trucks and vans, while others are suited for your food delivery business.
Considering Upper Route Planner for Your Business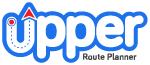 Upper Route Planner gives you all the features you need for any sized business. With error-free address capturing, bulk excel import, quick route sharing, and a hassle-free route optimizer engine, you can focus on important tasks that help grow your business.
The multi-stop route planner can sync across all platforms, including Web, iOS, and Android devices. Upper Route Planner can help reduce your costs and give you new insights into your delivery operations to find new opportunities for improved efficiency. Staying ahead of your competition will require a delivery scheduler app that helps you during every step of the process.
Upper Route Planners' features include: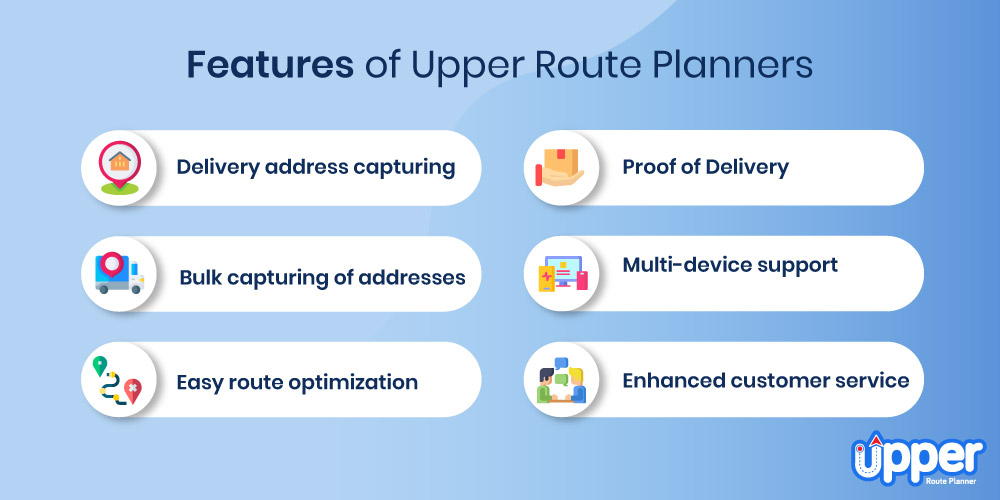 Delivery address capturing – Smart lookup allows you to capture your address with easy entry and reliable accuracy.
Bulk capturing of addresses – If you take orders over the phone or use an ordering system, moving your addresses into Upper Route Planner is quick and efficient with an excel import.
Easy route optimization – Once you have your addresses, Upper Route Planner will give you the optimal routes in seconds for every planned destination.
Proof of Delivery – Proof of delivery allows the drivers to save in the routing software photos, notes, or signatures on the app while visiting the various locations on their routes. This proof of delivery is stored on the app and then can be exported to a list of outputs for the dispatchers and administrators.
Multi-device support – You can plan and optimize routes on a desktop and then assign your trips to drivers across all major operating systems, including mobile devices like iPads or smartphones.
Enhanced customer service – Keeping your customers happy depends on an efficient operation that delivers according to their expectations every time. Upper Route Planner continues to add the best-in-class features that your customers have come to expect with its support team.
For more information, check out: Best Route Planner App for Delivery Drivers in 2022
---
FAQs
To optimize a delivery route, businesses need delivery route planner free or paid software – or vehicle routing solutions. This optimization software will take the list of addresses and create the most efficient way or route. Generally, it will be the route with the least driving time. This will allow drivers to improve the speed of delivery service, improve customer experience, and hit the delivery windows.
Unfortunately, Google maps is not an optimization routing software. It can only give the efficient way between 2 stops and is not the most suitable for last-mile delivery services or solve the vehicle routing problem. Apps like Google Maps and Apple Maps are navigation apps, so you cannot optimize routes.
The drivers generally will input a list of stops into a routing or last-mile delivery app. This software will then create routes in minutes with optimized driving time. A driver who "ballparks" or "estimates" the best stops will lose a lot of time.
---
Enjoy the Benefits of Using Delivery Route Optimization Software
Implementing a route optimization solution in your delivery services business will drive your operational efficiencies and help you keep your customers happy. With many options to choose from, you'll want to consider how well your app can support every element of your delivery services and fulfillment process.
Upper Route Planner combines all the latest features required for optimizing your routes but remains flexible and easy to use. Considering the savings available from reducing the time spent on every trip, planning your routes manually will not be sustainable. As your business grows, you'll need to include additional resources, like route optimization, to ensure your dispatch team can keep up with customer demand.
With a mobile-friendly route planning solution, you can cut down on delivery costs, increase your customer service, and continue improving with detailed reports that give you actionable insights. Upper Route Planner can also support any ordering process by allowing your import addresses from an Excel sheet to get you on the road quicker.
To see how Upper Route Planner can help your business, Get started today
.