Key Takeaways:
Route monitoring involves the use of technology to track and examine the movement of vehicles and their drivers.
Data from route monitoring can be utilized to spot trends and patterns, which can help businesses gradually improve their operations.
Real-time route monitoring enables businesses to take prompt action and react to unanticipated situations like traffic jams or vehicle breakdowns.
Route tracking can assist businesses in adhering to legal regulations, such as those governing the working hours of commercial drivers.
Delivery businesses require reliable and comprehensive route planning or fleet management autonomous systems. A comprehensive fleet management system has modules like route planning, route optimization, robust mapping data, route monitoring, and fleet tracking. Each of these modules contributes towards a smoother last-mile delivery process in its own way.
The route monitoring module can provide a business with the right information in order to successfully monitor the execution of effective routes. It can also support anticipating future events and making informed fleet management decisions.
What is Route Monitoring?
Route monitoring is a method to detect strategic routes and monitor the activity log on those custom routes. A route management software not only optimizes routes for delivery addresses but also helps in monitoring routes allocated to drivers. The route monitoring aspect of the route optimization software solution helps in identifying the static route destination of the driver. Learn more about what is route management and how it is useful for your business.
GPS tracking cannot be so helpful in knowing the exact deliveries finished by the driver or trying to identify when a driver will do a particular delivery.
Route monitoring is an easy and cost-effective way of checking out detailed travel times, traffic delays, vehicle speeds on static routes or dynamic routes. The provide data can be used to create real-time analytics, which can then be shared with the drivers. It supports broadcasting effective decisions and information with a positive effect on traffic and driving conditions.
How can Route Monitoring Help Delivery Businesses?
With route monitoring, user can see in real-time whether their drivers have completed a certain set of deliveries or not. This option can save time by identifying the tasks finished by the driver and updating a customer on the latest ETA of their order. It doesn't require calling a driver for updates.
Delivery businesses plan ahead with proper route monitoring. As soon as they get to know that the driver is about to finish a delivery, they can schedule the next delivery instantly. So the driver can come back and pick up the latest orders.
Benefits of Having Route Monitoring in a Route Management Software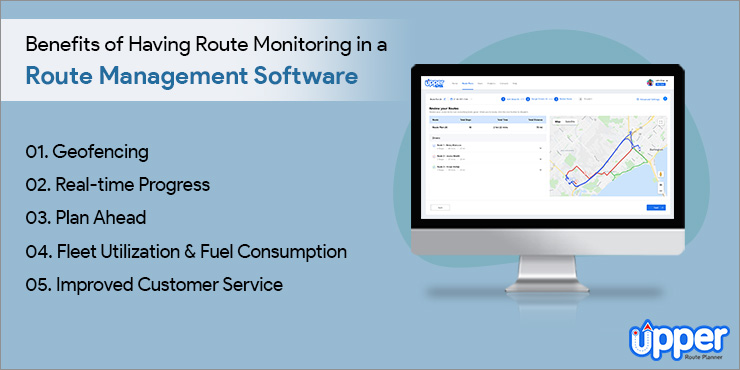 Geofencing: The fleet managers can see whether or not the drivers are within the context of the assigned routes. Any activity outside the designated area can be acted upon.
Real-time Progress: Tracking the real-time progress of the deliveries is made possible through path monitoring. Real-time progress can assure the fleet managers that the deliveries are being carried out smoothly. If there are interruptions, those can be tackled with necessary action.
Plan Ahead: By following the progress of the drivers, the next set of orders or packages can be prepared accordingly. By finding a match between planning and execution, business managers can know about their fleets and drivers availability.
Fleet Utilization & Fuel Consumption: The major daily spend for any company is fuel consumption. The default route monitoring module not only saves fuel but also improves fleet utilization and control. With better control, businesses can take action before it's late to correct the situation.
Improved Customer Service: A company can inform its customers, via email or SMS, about the estimated arrival time of their driver. This keeps the customer in the route loop, better informed, and ready to accept the order once it arrives.
Use-cases You Can Implement Using Route Monitoring
Identifying traffic congestion or hold-ups on the route
Compare travel times and route distance
Measuring current delay times on execution of routes
Monitoring key routes on the network
Measuring route performance before, during, and after delivery operations
Measuring performance KPIs of drivers
Generate notifications, alerts, and reports
---
Monitor Routes Closely on Upper
Want to keep a tab on the delivery process? Utilize Upper and get real-time updates about your driver's activity. Explore drivers' routes and their locations using a live driver tracker. Experience it by yourself!
Join Upper Now

FAQs
Monitoring a route works in the background at the time a delivery is in progress. It can route monitor on the virtual network. The route conditions can be seen in real-time on a dashboard, and alert details can be received when discrepancies occur. It is usually a part of a larger route planning system.
Route tracking is something done by GPS tracking devices. In comparison, route monitoring requires your GPS tracking device to communicate with your route planning software and send alerts for activity logs.
---
Monitoring Route Plans is Helpful in More Ways Than One
Monitoring plans and deliveries helps in maintaining the flow of streamlined activities. It can help a business in saving planning time, fuel costs, planning ahead for interruptions, implementing sudden changes, and more. We hope this article was helpful in knowing how monitoring route plans are helpful for a business offering delivery services.