Key Takeaways:
The amateur delivery drivers who are just starting their operations and need just route optimization for faster deliveries are the target market for Road Warrior.
Because the daily stops are restricted to 8 in the free version and 120 in the pro plan, Road Warrior does not have the ability to establish extended multi-stop delivery routes for delivery drivers.
For small to medium-sized businesses, independent contractors, and other independent drivers, the Upper Route Planner provides route planning, optimization and scheduling functions.
The Upper Route Planner is accessible to a wide audience because of its availability on iOS and Android devices.
Road Warrior may seem like a brilliant option, but here's the complete picture. The dashboard focuses more on optimizing daily routes and less on creating an intuitive user interface when it comes to route planning dashboards. Even the most expensive plan of Road Warrior is limited to only 200 stops and 500 daily optimized stops. While the subscription model sounds feasible for startups, they might face difficulty working with limited stops.
These reasons are more than enough to encourage the newer and small delivery businesses to look for better and inexpensive alternatives. But, the process of finding the perfect alternative to Road Warrior is easier said than done. The business owner must consider the following things before committing to other systems or an alternative route planner.
Does the alternative keep the customers informed about their packages and orders?
Does the alternate route planner cater to the needs of the small, medium, and large-sized businesses?
Does the route planner allow the drivers to send the proof of delivery to the server?
Can the customers use the interface of this app to attach instructions for the delivery of their products?
Once a route planner provides satisfactory answers (and services) for the above questions, you should choose it as an alternative for Road Warrior.
Why Should Delivery Businesses Look for an Alternative to Road Warrior?
There is no denying that Road Warrior is good route planning and delivery management software that helps drivers create multi-stop routes for their delivery businesses. The delivery business teams also get a birds-eye view of the routes and positions of the drivers. However, Road Warrior lacks some essential elements that hinder the scaling process of small businesses.
To begin with, Road warrior is designed for amateur delivery drivers that are just starting their businesses and only need route optimization for better delivery times.
Road warrior also lacks the feature to create extensive multi-stops delivery routes for delivery drivers as the daily stops are limited to 8 in the free version and 120 in the pro plan.
Drivers cannot send the proof of delivery to their teams via the app interface.
The Road Warrior might seem like the better option with its free trial plans and low prices when it comes to pricing. However, Road Warrior subscribers are also missing out on valuable key features their business needs.
Pricing is a crucial factor but not the only factor as what businesses get at that price is more important.
Therefore, when you can find more features and unlimited optimized stops with one of the alternative route planning platforms, why not go for it?
3 Best Alternatives To Road Warrior
1. Upper Route Planner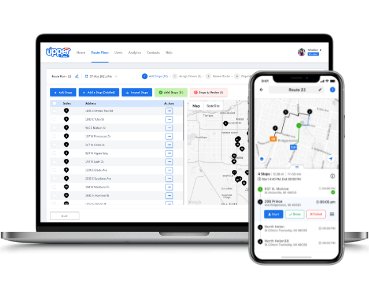 Upper Route Planner
A Simple-to-use route planner that every one is talking about.
Save up to 95% of planning time
Save up to 40% of time on the road
Plan 500 stops at once
Upper Route Planner is one of the better road warrior alternatives. The user interface is intuitive, and the user experience is unparalleled. The software is designed specifically for small-sized firms looking for more functionalities at a lower price point. However, the features offered by Upper Route Planner are also powerful enough to handle the delivery operations for large businesses.
The Upper Route Planner offers route planning optimization and scheduling functionalities for small to medium-sized firms, independent contractors, and other independent drivers. As a road warrior alternative, its UI elements are easy to navigate, and users can start using them even if they are not very well-versed with technology.
Where Is It Available?
The Upper Route Planner is available on both iOS and Android devices to make it available to large masses.
What Are The Features Offered By A Bundle of Upper Route Planner?
The import feature prevents the business owner from wasting their time by manually entering addresses (business data) into the app. They can easily import an excel sheet with 500 addresses into the app directly from Excel, GPX, or CSV files.
The functionalities of this app make it easier for you to divide multiple stops between the drivers with a single click.
The app is designed to quickly optimize routes of multiple drivers in under a couple of minutes.
Transparency about the processes also improves drastically as the customers can see accurate ETA for delivery.
Upper Route Planner has even more features for the customers. The customers will get updates through their notifications about the delivery.
Finally, the Upper Route Planner can quickly generate custom reports that help the business owner keep an eye on their business operations.
Which Type of Delivery Best Suits Upper Route Planner?
Since Upper Route Planner is a highly versatile app, it can cater to the need of delivery businesses in multiple industries. This app can all control post, courier, meat, flower, furniture, pharmaceutical delivery, and inspection services.
What Is The Pricing Structure For Upper Route Planner?
Understanding the needs of the small delivery businesses, Upper Route Planner houses three different plans – essential, growth, and a customized package for business owners.
The Essential plan comes with limited but great benefits at $80 per month for up to 3 drivers.
The Growth plan is a premium package with the best in segment features at $160 per month for up to 5 drivers.
The Custom plan is rolled out to meet the flexible needs of businesses. For pricing, you need to directly get in touch with the Upperinc team.
2. Circuit Route Planner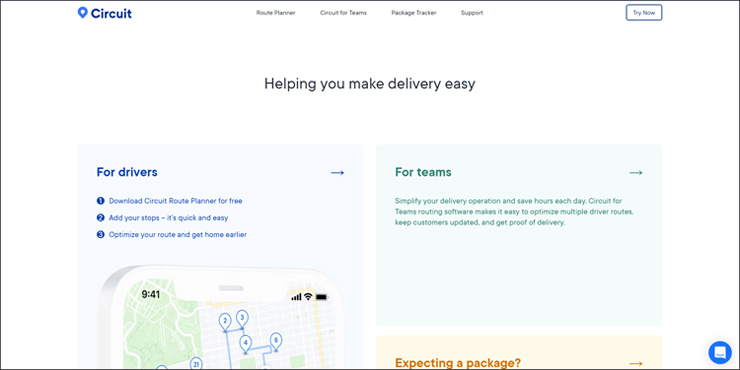 Circuit Route Planner is second to none if you want to plan the routes for your field sales rep and field sales team. Circuit Route Planner allows the field sales rep to optimize routes to hit their targets more efficiently without having to worry about disruption on the road. The management also gets special access to the real-time driver tracking feature on the app.
Where Is It Available?
The Circuit Route Planner is available on both Android Playstore and iOS devices. You can access their web app dashboard through your windows and MAC PC.
What Are The Features of Circuit Route Planner?
With Circuit, you can increase the effectiveness of your field sales teams by getting them all on the same page using their shared program.
Circuit also sends notifications to the customers to keep them updated about the delivery status of their packages.
The performance activity reports of a sales representative can also be easily generated using the dashboard of this app.
The smart scheduling feature optimizes their routes according to their schedule to increase their sales pitches for a sales rep.
The dispatch management team can also send the updated routes and new schedules directly to the drivers.
Which Type of Delivery Best Suits Circuit?
Circut Planner is geared more towards delivery businesses that manage multiple drivers and schedule deliveries and pick-ups. Plant, meat, and beverages delivery businesses are the best-suited industries for the Circuit Route Planner.
What Is The Price of Circuit Plans?
The Circuit Route Planner is also moderately expensive but has multiple plans to cater to different business models.
The premium plan is priced at $500 per month.
The Dispatch plan offers the least features and is priced at $200 per month.
And their most well-balanced Recipient plan is set around $100 per month.
3. Tookan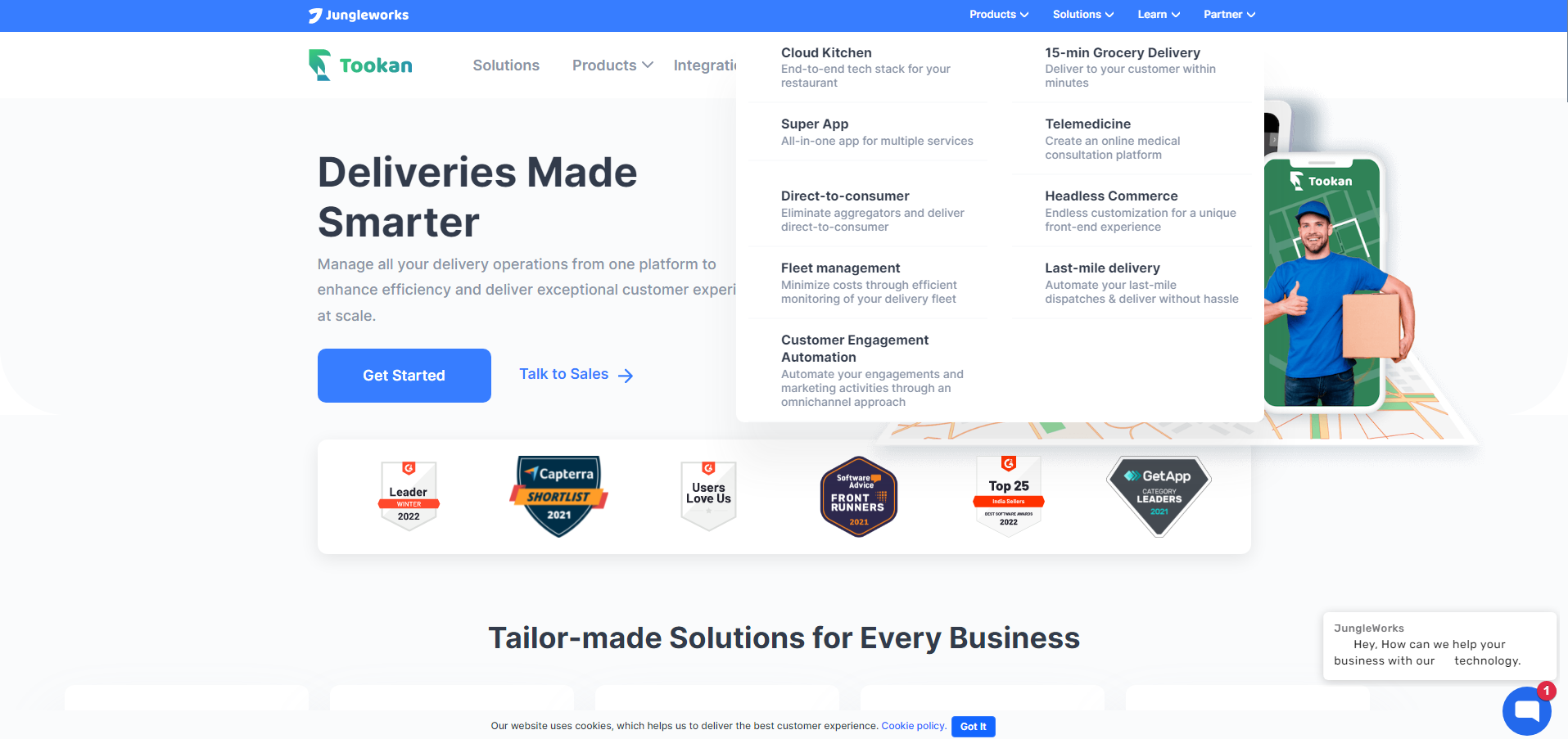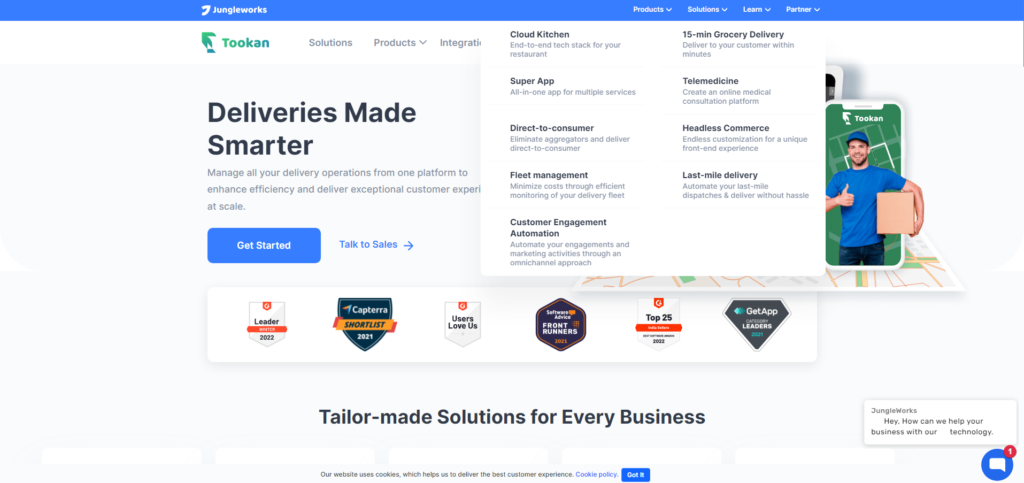 Like the other Road Warrior alternative on this list, Tookan also lets the user control its operations from a single platform. Real-time tracking, automation for planning, and optimized routes features are built into the platform. Furthermore, Tookan is best suited for last-mile food delivery businesses. You can use this software to enhance your delivery routes and deliver the food to your customers while it's piping hot.
Where Is It Available?
Like all the other route planning platforms, Tookan is available on iOS, Android Playstore, and (web app) PCs.
What Are The Best Features Of Tookan?
The main feature offered by Tookan is their task assignment feature that includes functionality like geofencing, manual assignments, dispatching automation, and route optimization.
Task creation is also a straightforward process in this app. The users can add new customer addresses and accept their orders. However, this feature is limited to only one address and single customer contact information.
Tookan software also updates the customers through notifications regarding the delivery status of their food.
Tookan software uses an advanced delivery feature that shows the efficiency of the delivery personnel based on time windows and distance. Rider ratings and reviews are also integrated into the platform.
What Is Tookan Best Used For?
You will best utilize Tookan if you are running a food delivery business.
What Is Pricing for Tookan?
Tookan offers four pricing structures.
The early-stage plan is offered at $21 per month.
The startup and growth plans are offered at $59 and $137 per month.
Lastly, the standard pack is offered at $257 per month.
The plans have all the same functionalities but are limited by the number of tasks you can create.
Why is Upper Route Planner the Best Alternative to Road Warrior?
Here are a few reasons you should choose Upper Route Planner over other platforms.
Highly accessible: Upper Route Planner is one the easiest-to-learn and easy-to-use platforms on this list. When you take a subscription plan, the experts at Upper Route Planner will offer one-to-one training to the user.
Intuitive UI: The goal of Upper Route Planner is to create an uncluttered user experience for their partners. All the essential features are listed on the front page, and the steps to perform any tasks are simple.
Easy to scale your business: Regardless of the type of industry, you can quickly scale all your delivery operations with Upper Route Planner. Since the app is designed for small, medium, and large businesses, you can partner with them from the inception of your business until it expands into a large-scale operation.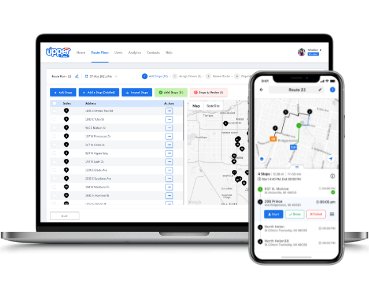 Upper Route Planner
A Simple-to-use route planner that every one is talking about.
Save up to 95% of planning time
Save up to 40% of time on the road
Plan 500 stops at once
Choosing an Alternative Route Planning Software to Road Warrior
The reason for searching for an alternative to Road Warrior will be different for different delivery businesses. While some might shift to enjoying more features, others prefer a simpler UI. The business owner should decide based on the activity reports and operations levels of their enterprise. But, the best way to ensure that you are getting the best delivery platform is to opt for the one that prioritizes customer satisfaction and accessibility for the delivery drivers. And the platform that captures this sentiment ideally is Upper Route Planner.