Key Takeaways:
Consistency is key – have a regular cleaning schedule for your clientele.
Employ top-notch cleaning products to get optimal results.
To deliver outstanding customer service, properly train your personnel.
Use technology to boost productivity and optimize your business processes.
Starting a cleaning business requires low initial costs and no prior experience. It includes a wide range of services such as window, floor, furniture, carpet, and air duct cleaning for commercial and residential customers.
The global market is growing exponentially and is projected to rise by 6.5% by 2030. This makes cleaning an affordable and advantageous option for those looking to start their own business.
The cleaning industry is growing due to increased hygiene awareness post-pandemic. Hence, a cleaning business is likely to face challenges due to rising demand and competition. Therefore, you must follow cleaning business tips to stand out from this competitive market.
9 Effective Tips for Starting a Cleaning Business
The cleaning company is highly profitable as compared to other industries. But starting a cleaning business is not the end; you need to follow some cleaning business tips to build a future cleaning business brand. Here are the 9 effective tips that will be helpful for starting your cleaning business:
1. Get cleaning equipment
To offer quality cleaning services, you must be clear about the niche and services you want to provide. You can choose one niche from the below options:
Sanitization and disinfection
Residential cleaning services
Commercial cleaning services
Janitorial services
Based on your niche, you should focus on purchasing the best-class equipment and resources for your business.
2. Analyze your competitors
Before you start a cleaning business, you must learn about the industry leaders and their business models. You should find out your target market's problems and expectations from a professional cleaning service business. This will help to identify the strengths and weaknesses of your competitors.
The research will help you to work on your core operations and deliver the best to your potential customers.
3. Fulfill legal requirements
After you have finalized the services you will be offering; you must register your business as a Sole proprietorship or Limited liability company (LLC). This will help to protect your new business from any legal complications.
You must comply with your state's tax, business, and other regulations to run your cleaning service business smoothly. Also, get business insurance and acquire an active license to avoid unfortunate financial events.
4. Business bank account
Being a business owner, you should manage your business's finances in a separate bank account. This will help to differentiate your personal and business expenses.
You will be able to analyze your financial situation and focus on different aspects of improvement. Moreover, integrate with financial software to check your business invoices, purchase orders, and employee salaries.
5. Channelize the recruitment process
Creating a team of employees based on your business structure can assist you in achieving your desired business goals. It would be best if you analyzed the applicants based on your residential and commercial cleaning business requirements.
This will help you to understand their thinking and skill levels to handle operations in real-world scenarios.
6. Effective marketing
Marketing helps to promote the professional cleaning business among your target audience. Both organic and inorganic marketing strategies boost your reach and visibility. Additionally, you can also take the help of digital marketing strategies to scale your residential and commercial cleaning services.
Apart from this, communication is also the key to maintaining your customer base. So, increase communication with existing and new clients and give them different incentives, discounts, and multiple special offers to retain current customers.
Moreover, you can also develop referral programs to bring on new customers when you have high customer satisfaction.
7. Design pricing structure
You must analyze and compare the pricing of your competitors. It will help to set service prices and ensure you offer higher value to your clients. Before finalizing your service price, you must include the profit margins, labor hours, other fees, and taxes.
You can set prices based on Flat rate, Room rate, Square foot rate, Hourly rate, and Specialty services rate.
8. Gauge business performance
Providing better cleaning services and working on areas that need improvement can help to deliver a quality experience to your cleaning clients.
Moreover, you can offer extra services to deliver excellent customer service for your loyal customers. This can help you to be different from other cleaning companies and create brand value in the cleaning industry.
9. Adapt advanced technologies
Modern technologies and many automation software help to reduce human error and minimize manual dependencies. This is the reason cleaning service business owners need to realize the importance of such software.
Professional software can help small business owners to save time and effort and focus on business operations. However, cleaning businesses still have some upsides and downsides, let us find them in the next section.
Use Optimized Routes for Dispatching Cleaners
Get your cleaning business off to the right start using Upper. Instantly find optimized routes for your client's visit instead of manually planning routes. Try now!
Join Upper for Free

Pros and Cons of Starting a Cleaning Business
There are always two sides to a business, advantages, and disadvantages. In this section, we will shed more light on both sides.
First, let's take a look at the pros of starting a cleaning business.
Low start-up capital
The cleaning service startup needs minimal capital as it does not require a lot of equipment. For example, you can start cleaning homes or offices with a microfiber cloth, a vacuum cleaner, and a mop because these products can be purchased with an investment of a few dollars only.
Then, once your business is established in the market, you can invest more in equipment and start offering professional cleaning services.
Flexible schedule
A flexible schedule is another benefit, as you can control everything yourself. You can work a few hours or clean several times a week. But if you want to make more money, you must work longer business hours. However, a cleaning business gives you flexible freedom and allows you to perform several hours daily.
Requires no prior experience
If you have a good understanding of what your ideal customers want, you can easily complete this task. A general understanding of cleaning and online self-training is enough to start profitable cleaning services. However, you would need on-field experience to provide specialized and professional services.
High-income potential
With the rapid growth of the cleaning industry, the potential for generating revenue also increases. Cleaners are adopting advanced technologies for more efficient cleaning. Still, you can earn the desired income by giving your time to the cleaning business.
Following the pros, it's time to talk about the cons of a cleaning company.
A lot of manual labor
Cleaning services require a lot of manual labor, such as wiping surfaces, cleaning toilets, and mopping floors. The operation of a heavy vacuum cleaner is also tiring. Other cleaning chores like washing windows on a hot sunny day can also take a toll on you.
Growing competition
Due to the growing demand for cleaning services, you will always be competing with your competitors at lower prices. Many cleaners would start offering the service for half the price you charge to retain a contract. However, the fact that there are so many cheap cleaners shows that this industry is very price sensitive.
Maintenance of equipment
You will maintain specific cleaning equipment if you work as a professional cleaner. This equipment can get damaged, break down, and may need repairs over time which can be costly. Therefore, it is important to be prepared for these additional costs and avoid damage.
High employee turnover
The cleaning industry often has high employee turnover, which can be very costly and time-consuming for your business. It is important to avoid this as much as possible by offering competitive salaries, benefits, and a positive work environment.
Choose Upper to Automate Route Planning for Your Cleaning Business
Worried about last-minute route planning for your cleaning crew? Upper Route Planner handles all your routing needs in the most efficient way. Here are some reasons why you should give it a try:
1. Plan multi-stop routes
Upper Route Planner excels at planning multi-stop routes in minimal time. It creates optimal routes considering various factors such as traffic flows, weather, and delivery time window, thus minimizing your manual efforts.
Upper also allows you to plan your routes months in advance saving around 10 hours of your route planning time. This ensures that your workforce can take advantage of the scheduled cleaning request.
Also, if you don't have a driver (cleaner) available, you can assign the same route to another driver and share just with a click.
2. Route optimization
The Route Optimization feature is an intelligent way to reduce fuel usage costs. The optimized routes ensure that the cleaners spend minimal time on the road providing faster cleaning services. The software also considers delivery constraints to optimize the routes. Our route optimization software helps you cut fuel costs by 40%, thus saving money on gas.
3. Route scheduling
The advanced Route Scheduling feature enables you to plan your routes in advance for a month or week. Upper notifies the driver and the manager about their upcoming tasks, thus improving the efficiency and productivity of the delivery team. As a result, you can accomplish more appointments, tackle large projects and boost profits simultaneously.
4. Reports and analytics
It helps to analyze your cleaner's work history and cross-check your scheduled cleaning calls to avoid failed service. The report helps to check the performance and shows the total number of tasks completed by your cleaners. You can generate EOD reports and summaries whenever you wish to.
Access a 7-day free trial of our powerful route planner to complete your cleaning service successfully.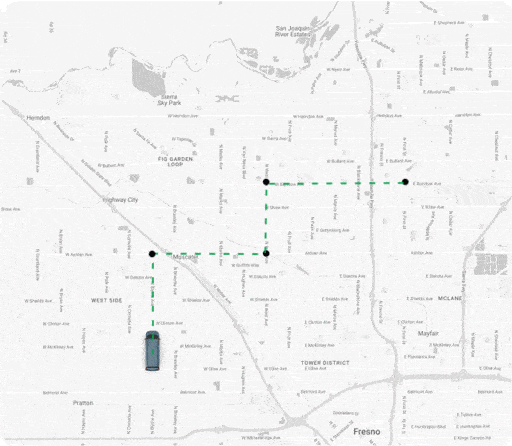 FAQs
You can boost your house cleaning services, including window cleaning, and carpet cleaning, among other domestic cleaning services, by implementing powerful marketing strategies to boost your reach and visibility. Use organic marketing efforts like search engine optimization and inorganic marketing like paid advertising.
Below are the steps to build a successful cleaning business:
Develop cleaning skills
Find your niche
Provide personalized services
Assemble a team of good cleaners
Ensure an efficient cleaning workflow
Manage business operations
Numerous factors need to be considered before starting a cleaning business are:
Acquiring your business license

Establishing robust cleaning supplies for your required equipment and products

Choosing a cleaning company logo and business name

Analyze your startup costs.
The professional cleaning industry has seen consistent growth in recent years as cleaning jobs are in demand. So, if you have a solid business plan and are ready to serve the target market. Then, it's worth starting your cleaning business.
Conclusion
Cleaning has always been an on-demand industry with high-income potential. Therefore, starting your own house cleaning business is a smart move that goes beyond just registering your business. You need to strengthen your foundation, overcome challenges, and implement result-oriented tips to stand out from your existing competition.
In case you are doing things manually, then leave the tedious routing to Upper and ensure your cleaners reach their destination on time. It cuts down hours of route planning with the Excel import feature regardless of a number of stops. This will help you get more time to attend more calls and as a result, there will be no unanswered calls.
Take your business to the next level and ensure your employees reach the site without a minute delay. Book a demo with us to check out the features of Upper Route Planner.