As a food business owner, are delivery delays taking a toll on your food business?
If you answered yes, then you are in the right place. Today, we are going to deep dive into one of the major issues faced by food delivery businesses these days — delivery delays.
In this fast-moving world, no one likes to be kept waiting. And shipping delays, single-handedly take the fun out of a good customer experience. And let's get real here, nobody wants a grumpy customer.
Enhancing customer satisfaction and experience is the number one key to running a profitable food business. And the way to do that is to make this ride as smooth as possible.
By ensuring high standards for customer satisfaction, you are building a loyal customer base. Needless to say, this will not only increase your profit margin but also take your business to newer heights.
The Rise of Food Delivery and the Potential of the Business
In countries such as the US, food delivery as a service began in the 1990s(1995 to be precise).
Fast forward to today, having gone through the bleak and distressing pandemic for the past two years, there seems to be a rather promising future for food businesses and delivery services.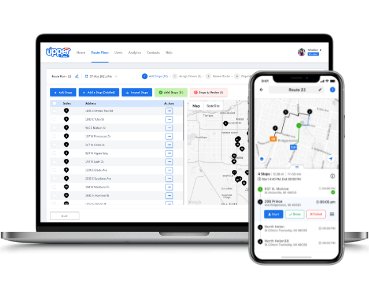 Upper Crew
A Simple-to-use route planner that every one is talking about.
Save up to 95% of planning time
Save up to 40% of time on the road
Plan 500 stops at once
No credit card details required
Businesses are switching to a hybrid or complete remote presence. Millennials are choosing remote working professions. And gen-z is preferring to order out rather than cook. In such a scenario, the pressure of home cooking has been relieved, thanks to the rise in better and reliable food delivery services.
In the earlier days, food establishments used to fulfill delivery supplies by themselves. However, these days with the improved technology at hand, the market has seen the rise of food delivery (suppliers) giants like UberEats, DoorDash, Postmates, and more.
But the same technological advancements now allow small businesses to directly deliver to their customers using planning and routing software instead of relying on third-party vendors that take a cut off your profit.
Now what this means for you and your business is nothing short of good news.
As the online food delivery services market is projected to grow to reach a whopping 154.34 billion dollar industry by 2023, the demand is at a higher stake than ever before.
According to McKinsey, in the US alone, the market has nearly doubled during the pandemic.
Now we know numbers don't lie. The potential for your business to grow in profit is astronomical.
By tackling problems faced by your food business like shipping delays and pushing your business to keep going forward by implementing smart and elegant solutions, you can be sure to reap great benefits. Building an efficient business with a loyal customer base will give you the edge over your competitors and be a dominant force in the food business.
5 Quick Ways to Solve Delivery or Shipping Delays
Being a business owner, it is really important to understand customers and their preferences. The food business industry is expanding which means with each step there is immense competition. Businesses that struggle to keep the interest of their customer base slowly fall down the ladder.
As customers are spoilt for choice in this economy, your biggest business challenge will always be to keep loyal customers close while converting new customers to using your services often.
With that being said, an issue that can be solved to reach this goal is ensuring timely delivery of food orders. Let's look at 5 effective solutions to improve these problems.
Evaluate and Revamp your Delivery Strategy

If you are facing supply chain issues, delivery issues, or delays often, then it is time to analyze your delivery strategy.

Is your current delivery plan meeting customer satisfaction?

Are you able to keep up with the delivery times or the number of deliveries?

If your answer to any of the above is no, then it's time to evaluate and change your plan of action. Having a fool-proof strategy for managing growing demands and orders is important to avoid future problems.

Realistic Minimum and Maximum Delivery Times

Always set a realistic goal for delivery time. This allows you to provide a great delivery service minus the stress.

Make it reasonable too, so that your customers, who hope to receive your products in good time, are not kept waiting all day.

You can also personalize this experience by delivering faster than the estimated time.

For example, setting a reasonable minimum time sets a certain expectation in the mind of the customer. But if you deliver earlier than this estimated time, your customer satisfaction scale will skyrocket and they will be more than pleased to buy from you again.

By playing to this human psychology, you can do better business without going too overboard.

Upper Crew

A Simple-to-use route planner that every one is talking about.

Save up to 95% of planning time
Save up to 40% of time on the road
Plan 500 stops at once

No credit card details required

Optimize Routes for Delivery

Most food businesses rely on Excel to plan their delivery route. There is also the overhead of using services like Google Maps, manually entering the addresses each time. It might sound all good on paper, but there is so much room for optimizing delivery routes.

Imagine a scenario where a driver delivering multiple orders gets stuck in traffic after the first delivery or say, the usual route has a few roads closed for maintenance. Not an ideal day to run a food delivery business, are we right?

In such scenarios, as an owner, you'd wish for some miracle. But don't forget you are living in the 21st century where anything is possible. Technology has grown so much to the point where there are software solutions available today to plan routes more efficiently. Smart software solutions are a blessing and improve your business without enormous investments.

Software products like UpperInc save you a lot of overhead in the long haul by making sure delivery drivers utilize the most optimized route for delivery. This helps you avoid unforeseen delays and you can ensure food reaches fresh in the hands of the customers.

By using a software solution like UpperInc you can save time while delivering food to your customers. This means saving fuel costs by focusing on making smart delivery choices even when drivers are on multi-stop deliveries. The optimized route planning also allows for last-minute order changes or cancellations without compromising efficiency in delivery times.

Communicate Unplanned Schedule Changes

Food delivery is extremely fast-paced. If you fail to deliver the order fresh, you are left with a frustrated customer that demands their money back.

Also, with an increase in orders received from customers the chance of wasted journeys due to cancellations of shipments or food spoilage is incredibly high.

To avoid such unfortunate and last-minute changes, it is important to communicate with the delivery team constantly. If, for example, a customer has changed their order last-minute, make sure that your team is aware of this swiftly before the journey becomes a pointless one. Active communication with the team is key for this one.

Managing Customer's Expectations by Being Transparent

We are all used to the seamless online delivery experience of clicking a button and having shipments delivered to our doorstep with the least amount of hassle. Customers today are highly aware and used to this routine, so ensuring your business's delivery is just as smooth and efficient is such an integral step.
Using online tools and software solutions, you can now track your delivery drivers or partners with GPS. By making this tracking information visible to your customers, you add to the overall experience by being transparent.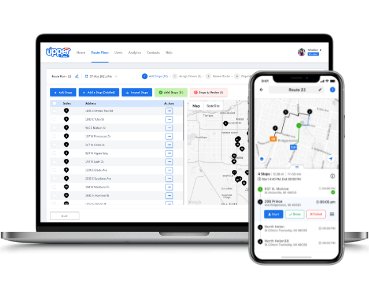 Upper Crew
A Simple-to-use route planner that every one is talking about.
Save up to 95% of planning time
Save up to 40% of time on the road
Plan 500 stops at once
No credit card details required
Conclusion
The food business industry is filled with competition left and right, but with the right tools in your arsenal, you can achieve the glorious status of being the best.
By acting on customer feedback, optimizing routes, and ensuring fresh deliveries, you can build a loyal customer base even in this highly cutthroat industry.
Transparency, efficiency, and keeping customer interest front and center of your business can elevate the quality of your products and services. It doesn't take much effort to be the best. Focus on only providing quality and you will be miles ahead in this industry.
But how you will make sure that you make quick deliveries, manage delivery crew, save fuel cost by reducing driver's on-road time? All you need is Route Planner software like Upper Route Planner that helps food businesses to plan out delivery routes in a few clicks. Now, you can plan and optimize up to 500 stops together and save time, effort, and fuel cost. start your free trial today and experience how it helps you!