As a delivery business owner, are delivery delays taking a toll on your business?
If yes, then you are in the right place. Today, we are going to deep dive into one of the major issues faced by delivery businesses these days — delivery delays.
In this fast-moving world of delivery service, no one likes to be kept waiting. And shipping delays, single-handedly take the fun out of a good customer experience. And let's get real here, nobody wants a grumpy customer in addition to incurring the cost of domestic or international shipping delays.
Enhancing customer satisfaction and experience is the number one key to running a profitable delivery company. And the way to do that is to make this ride as smooth as possible.
10 Ways to Avoid Delivery and Shipping Delays
Here are 10 strategies to avoid delivery delays and ensure faster shipping:
1. Adopt Logistics Technology
Automating the planning process helps you prepare for your deliveries faster. Automated software not only makes it easier to plan for deliveries but it can subsequently lead to delivering goods to your customers on time.
2. Plan & Schedule in Advance
E-commerce businesses are always aware of certain periods throughout the year when the delivery orders are going to go through the roof. Planning and scheduling delivery schedules for the busy holiday season in advance helps you be more prepared when the workload eventually increases.
3. Set Minimum/Maximum
Set a minimum/maximum realistic delivery times for your business. The shipping time should be decided by taking into consideration all external factors that come into play. This way, you are not overshooting when making delivery promises your customers that their package will be delivered on a particular day.
4. Make Package Finding Easier
Establish a systematic way of loading the delivery vehicles in such a way that the packages are easier to find for your drivers. If the packages are arranged haphazardly in the back of the van, it is going to take longer for your driver to get his hands on the package.
5. Incorrect or Misspelled Addresses
Incorrect or misspelled addresses due to human error are one of the major roadblocks in supply chains. Drivers spend around 2 hours every week looking for the correct location.
6. Avoid Traffic
One of the major reasons for delayed deliveries is the traffic faced by your drivers while handling stringent delivery times. Having routes that help them avoid major traffic blocks on the road can help you deliver on tie and meet customer expectations.
7. Avoid Failed Delivery Attempts
There are several reasons for a failed delivery attempt like the customer not being present, driver unable to access the location, or incorrect address. The best way to avoid failed delivery attempts is by informing the customers about the arrival of their package and having the right customer information given to the driver.
8. Improve Visibility Throughout the Process
With real-time web-based tracking of shipments, you can provide more visibility in the delivery process for your customers. When the customers are aware of the whereabouts of the package and any potential delays, they make sure that they will be available to accept the shipment when it arrives. Customer communication helps you avoid delays by ensuring a successful delivery attempt.
9. Get Accurate Routing
With accurate routing, your drivers do not have to rely on guesswork or inefficient tools to find a delivery address. A route optimization software can provide the best way to reach an address by avoiding traffic, bad weather, highways, tunnels, and adopting the fastest route for timely delivery.
10. Tackle Last-mile Challenges
Last-mile challenges include problems like failed delivery attempts, inefficient routing, and lack of resources. Investing in tools and human resources that provide you with efficient delivery routes is essential for avoiding delayed deliveries.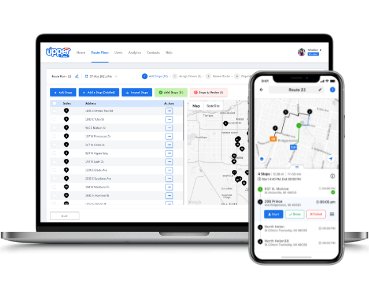 Upper Route Planner
A Simple-to-use route planner that every one is talking about.
Save up to 95% of planning time
Save up to 40% of time on the road
Plan 500 stops at once
No credit card details required
How Upper Route Planner Will Help You Avoid Delivery Delays?
There are several ways in which Upper Route Planner helps an e-commerce business avoid delivery delays.
1. Accurate Route Planning & Optimization
With a powerful route planning automation software like Upper Route Planner, you do not have to plan delivery routes manually. Get accurately optimized route plans for making timely deliveries to your customers.
2. Schedule Routes in Advance
Swamped with deliveries throughout the busy holiday season? Plan and schedule faster delivery routes in advance with Upper Route Planner. It optimizes and schedules your routes for months in advance, so all you have to do is pull out the routes on the given date and start delivering.
3. Package Tracking
Dispatchers, managers, and customers get to look into the delivery process with the package tracking feature. Customers also get more details into where their package is.
4. Improve Last-mile Visibility
Another important part of improving last-mile visibility is customer notifications. Keeping your customers informed about the ETA of their deliveries gives them a view into the process and makes them feel important. It helps drive customer retention rate and brand loyalty.
5. Easy Package Finding for Drivers
Your drivers will not waste time looking for the right package in the back of the van. Parcel Info tells them exactly where the package is, so they can simply pull it out and drop it off at the location. This can help you avoid delays.
What Causes Delivery Delays?
1. Global Events
If the global supply chain is slow, it will naturally have an adverse effect on your supply chain. Due to global supply chain issues, businesses often do not get access to raw materials, labor, or finished products, which leads to delivery delays.
2. Product Shortage
Not having enough supplies in the inventory and forgetting to keep a tab on the inventory can severely affect your deliveries. Finding out about product shortages at the last minute can lead to canceling or postponing the order to a different day. An experienced warehouse team will be able to help you better.
3. High-volume Shipments & Communication Around Holiday Shipping
Holidays are a peak season for ecommerce businesses. During this time, the number of deliveries can go up to 10x the deliveries to be made on a normal day. High-volume shipments during the peak season is often a major factor in causing delays in delivery.
4. Incorrect Addresses
If the address you have on the route is incorrect or misspelled, it can be difficult to find the right address while on the road. Even one or two incorrect addresses can cause major delays in delivery to be followed.
5. Poor Planning
Not being able to create a proper plan by considering all the uncertainties like weather, traffic, driver availability, vehicle breakdown, etc. often lead to delivery delays.
Why Should You Avoid Delivery Delays?
Having gone through the bleak and distressing pandemic for the past two years, there seems to be a rather promising future for delivery businesses.
Every e-commerce business is switching to a hybrid or complete remote presence. Millennials are choosing remote working professions. And gen-z is preferring to order from an online retailer rather than stepping out.
In the earlier days, businesses used to fulfill delivery supplies by themselves. However, these days with the improved technology at hand, the market has seen the rise of delivery giants like Amazon.
But the same technological advancements now allow small businesses to directly deliver to their customers using planning and routing software instead of relying on third-party vendors that take a cut off your profit.
Now what this means for you and your business is nothing short of good news.
As the online food delivery services market is projected to grow to reach a whopping 154.34 billion dollar industry by 2023, the demand is at a higher stake than ever before.
According to McKinsey, in the US alone, the market has nearly doubled during the pandemic.
Now we know numbers don't lie. The potential for your business to grow in profit is astronomical.
By tackling problems faced by your delivery business like shipping delays and pushing your business to keep going forward by implementing smart and elegant solutions, you can be sure to reap great benefits. It also gives you a competitive advantage.
Building an efficient business with a loyal customer base will give you the edge over your competitors and be a dominant force in the food business.
FAQ
Here are some simple ways to fix shipping delays and ensure faster shipping:
Use route planning and optimization software for accurate delivery routes.
Plan in advance.
Get access to shipment or driver tracking.
Communicate with your drivers and customers throughout the shipping process. It's even better if you can set up constant dialogue between drivers and customers, this will reduce your customer support tickets.
The best ways to solve the effects of shipping delays are:
Planning and scheduling delivery routes in advance will help.
Only add delivery orders that can be accommodated in a given time frame.
Keep a track of your inventory.
Use logistics software that helps you optimize delivery routes to minimize time and distance on the road.
Keep your customers informed throughout the delivery process.
Instead of having to give excuses for delayed deliveries to a customer, you should keep them informed about their delivery order throughout the delivery process.
When your customers are informed of the whereabouts of the package, it helps you set realistic customer expectations about the expected time of the delivery.
When clear expectations are set according to your plan, you will be able to reach customers on time and will not have to give explanations for delayed deliveries.
You can significantly improve your shipping process by a good warehouse structure. Factors like warehouse size, communication between warehouse, warehouse staff, etc. have a significant effect in the shipping process. For larger warehouses, all data must be accurately entered and maintained in the warehouse management program to help warehouse staff locate things faster.
Conclusion
The delivery business industry is filled with competition left and right, and the effects of shipping delays can have an adverse effect on customer churn and customer attrition. But with the right tools in your arsenal, you can achieve the glorious status of being the best.
By acting on customer feedback, optimizing routes, and ensuring timely deliveries, you can build a loyal customer base even in this highly cutthroat industry.
Transparency, efficiency, and keeping customer interest front and center of your business can elevate the quality of your products and services. It doesn't take much effort to be the best. Focus on only providing quality and you will be miles ahead in this industry.
Whether it is an ecommerce business, food delivery business, a fulfillment service, online retailers, or courier companies, can all benefit from using Upper Route Planner support you through the process. Start your free trial and see how Upper Route Planner fits in and makes your delivery process smoother.