The medical courier service transports healthcare equipment, medical supplies, medical records, and blood or organs to clinics or hospitals. This courier service is as critical as saving a life in many cases.
An integral part of this business is preparing and packaging medical supplies and safely transporting them. They must comply with the regulations set by the Health Insurance Portability and Accountability Act (HIPAA) regarding the transportation of medical records or materials.
By 2027, the medical courier sector anticipates a 5.55% increase in revenue. Therefore, now is the ideal time to benefit from market expansion. To help you get started, in this blog, we will shed light on how to become a medical courier contractor.
Let's jump right into this topic.
Here are the steps to become an independent medical courier contractor:
How to Become an Independent Medical Courier Contractor?
Becoming a successful and independent medical courier contractor may require serious effort. But, it may not take longer than usual following below steps:
Step 1: Analyze about the medical sector
Medical couriers are in high demand as they are part of the developing industry. So it is important to explore the market before starting a medical courier. But, due to the competitive medical sector, you must be well-versed in the industry. Also, ensure that you are familiar with medical terminology to establish your business and build a reputation.
As an independent medical courier, you will be responsible for moving and delivering medical goods and tools, such as lab specimens, medical documents, medical equipment, and drugs.
One of the key advantages is that you get the flexibility to set your schedule and work at your convenience. However, to start and expand your medical courier business, you must put in a lot of time and effort, but the chance for success makes it worthwhile.
Step 2: Look for a reliable courier company
It's important to look for a trustworthy courier firm to work with when beginning as an independent medical courier contractor. But before that, you must have a driver's license and a clean driving record. As it may be the requirement of a reputable courier company for hiring medical couriers.
A reputable courier company will offer you consistent work, resources, and support to help you establish a reputation as an effective medical courier contractor. While looking for a courier company to work with, consider the factors such as reputation, services, insurance, and compensation.
You can research the courier companies by reading internet reviews and speaking with other independent contractors. Once you've found a trustworthy company to deal with, build a strong working relationship by meeting their expectations, and offering first-rate customer service.
Step 3: Complete the required training & certification
You must finish all training and certification requirements to become a medical courier. It will help you comprehend the rules and regulations related to the medical industry and improve your chances of being a reputable courier service.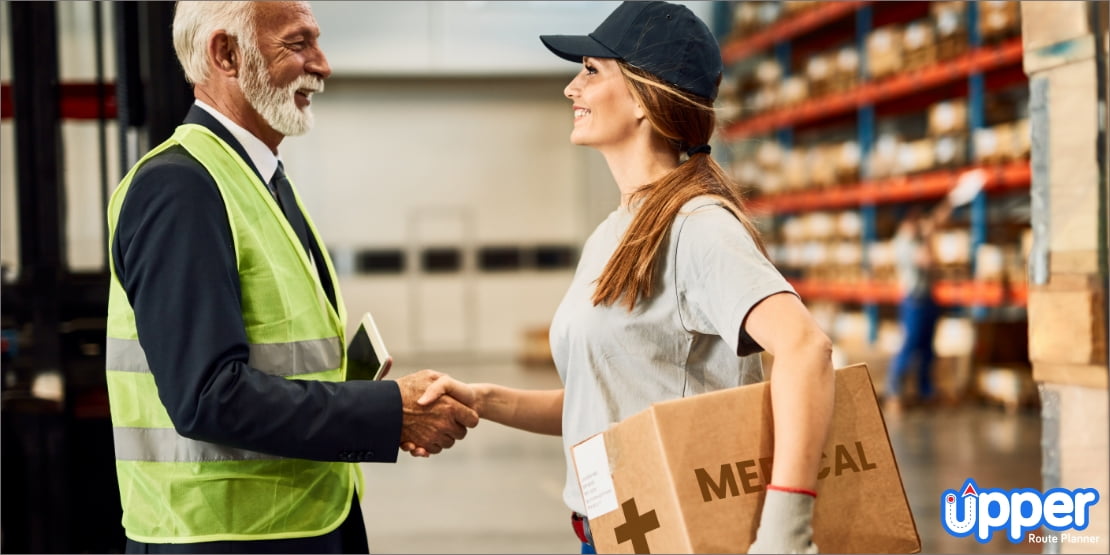 Some examples of the required certifications and training include:
Commercial Driver's License for a business vehicle
Hazardous Materials Transportation certificate for transporting hazardous materials
Bloodborne Pathogens certificate for handling medical specimens
First Aid certification to provide services in case of emergency
Completing the necessary training and certifications will make you a certified medical courier making you capable to handle the job efficiently and safely.
Step 4: Adhere to industry regulations
Along with certificates, you also need to be aware of the trends and laws that control the medical courier sector. For example- HIPAA regulations, OSHA rules, and traffic laws
One of the most important regulations that you will need to adhere to is HIPAA (Health Insurance Portability and Accountability Act). It is designed to protect the privacy of patients' health related information.
Adhering to the industry will help to maintain the trust of your clients and build a positive reputation in the medical courier industry.
Step 5: Get necessary equipment and vehicle
The right equipment and vehicle are prerequisites for working as an independent medical courier. The kind of equipment and vehicle you'll need depends on the medical supplies you'll be transporting and applicable legislation.
To guarantee the product's security and safety, you will also require the appropriate tools to load and unload the products. Some of the equipment needed by medical couriers include:
ID card and certification
A reliable vehicle
Communication devices
Delivery bags or containers
Security features like cameras
To know more about the list of equipment needed by medical couriers, click here.
Step 6: Develop links with healthcare facilities
You can find work and expand your business as an independent medical courier contractor by creating connections with healthcare facilities such as hospitals, clinics, laboratories, and pharmacies. Additionally, you should build a network with other couriers and work with the ones that are compatible with the service you will be offering.
Look for collaborations with makers, suppliers, and distributors of medical equipment, supplies, and medications, as they might need transportation services for their products. It could provide you with a consistent flow of work.
Once you have discovered potential clients, focus on emphasizing the advantages of working with you, such as dependability, efficiency, and compliance with industry rules. Offering top-notch customer service will help you develop positive working relationships with your clients.
Step 7: Get familiar with local routes
To provide customers with a reliable and efficient service, you must be familiar with the local routes, including the locations of nearby hospitals, clinics, and other medical facilities. You can also take the routes yourself to better understand traffic patterns, road conditions, and any hazards.
Knowing the best routes to take, traffic patterns, and potential hazards can help you save time, save money on fuel and also reduce your risk of accidents.
To begin, you may study maps and use GPS navigational tools to familiarise yourself with surrounding routes. It is also important to be aware of local parking restrictions, commercial vehicle routes, and weight limits to avoid fines and penalties.
Basic Requirements of Being a Medical Courier:
The basic prerequisite for being a certified medical courier is having a minimum qualification is a bachelor's degree which is either a high school diploma or a college degree. Additionally, a background or interest in healthcare can also be helpful.
Working as a medical courier needs a valid driver's license and a clean driving record. In some cases, courier drivers may need a CDL (Commercial driver's license) depending on the size of the vehicle.
To become a medical courier, you must have good interpersonal skills like organizational, communication, and problem-solving skills. Being independent contractors you should be able to solve problems quickly at work.
It's important to have a solid understanding of technology and to feel at ease using it because independent medical couriers frequently interact with technology, including communication devices, route planning and tracking software, and other applications.
The medical industry is operational 24/7, so the supplies and equipment have to be delivered at any time. Therefore you must be dependable and willing to work flexible hours, including evenings and weekends if necessary.
It is important to note that we have shared the general requirements above but it may vary depending on location. Going ahead let us learn how to get an optimized route for becoming a successful medical courier.
Utilize Upper to Get Cost-effective Routes for Transporting Medical Items
Transporting medical items, such as lab specimens and equipment, can be complex and costly. But, making deliveries in a timely manner leads to the key to success for a medical courier.
Upper Route Planner can optimize routes and streamline operations to make it a profitable business venture. It considers traffic, weather, and other constraints to help you find the most efficient routes possible. This will ultimately lead to cost savings and ensure the timely delivery of medical items.
In addition to route optimization, Upper allows you to monitor real-time deliveries and make any necessary delivery adjustments. One of the best things about the Upper Route Planner is its flexibility. It can adapt to the needs of a medical courier company considering delivering medical samples, medical equipment, or other critical materials.
To utilize the above features in your medical courier service, you can get a 7-day free trial today.
Elevate Your Medical Courier Service to New Heights
Since efficiency is key in the medical courier service, Upper never lets it sink regardless of your number of deliveries. Experience automated route planning on Upper.
Join Upper Now!

FAQs
The main responsibilities of a medical courier include:
Preparing and packaging the medical items for shipment
Transporting testing equipment, and body parts to the designated laboratory or clinic
Safely transporting the medical supply
Getting the recipient's signature upon successful delivery
Maintaining adherence to biohazard safety standards
According to the Bureau of Labor Statistics (BLS), the annual average salary for medical couriers and express delivery services workers was $35,850 as of May 2020. However, this may vary depending on the location, experience, and employer.
The demand for medical courier positions is anticipated to increase by 5% from 2020 to 2030. This job is considered to be a secure and growing job. However, it might vary depending on location, experience, and the employer's size.
To work as a medical courier, you may need your own vehicle such as a van, or small truck, and some specialized tools like refrigeration units, GPS tracking devices, thermal bags, and packaging material. Many medical couriers may provide them while others may expect you to use your own. But, sometimes the requirement of specific equipment or vehicle may change depending on the employer and the nature of the deliveries.
The benefits for a medical courier include health insurance, retirement programs, and paid time off in addition to bonuses or commissions for reaching specific delivery or performance goals.
Summary
Every second matters when it comes to delivering life-saving medical supplies and equipment. Being a medical courier, you play a vital role in ensuring that medical facilities have the resources required to provide the best possible treatment for their patients.
Using Upper Route Planner, medical couriers can optimize their routes, save time, and reduce costs, making their delivery service more efficient and profitable. Overall, Upper is the ultimate tool for any medical courier looking to optimize their operations and take the company to new heights.
To learn more about Upper Route Planner, you can book a demo right away.