Key Takeaways:
If you want to cancel the Walmart order, you need to get in touch with their customer support team.
Even if your order has been shipped, you can request a delivery cancelation and ask for a refund.
Before canceling the order, it is recommended to double-check Walmart's cancelation policy.
Ordering items on Walmart is surely one of the easiest ways to get your packages delivered at home. Being a colossal retailer, it offers customers with all kinds of products in the US. With a revenue generation of around $73 billion, Walmart has experienced a rise in its online orders in 2022.
If you can't buy from a local Walmart store, you can take advantage of Walmart's online platform. It provides delivery for items including groceries, electronics, clothing, kids' toys, sporting goods, and books.
But, what if you made a mistake or no longer need the item? This blog explains the exact steps on how to cancel a Walmart order, and information on alternative workarounds if you can't do it.
How to Cancel an Order on Walmart: 4 Simple Steps
Can you cancel a Walmart order once you have made the payment? Yes, you can do it for genuine reasons. It is quite simple, so let's get started with the steps to cancel your Walmart order.
1. Visit the Walmart website and log into your account using your email address and password.
2. Go to 'Purchase History.' Once you do this, you will see a list of all your previous orders.
3. Find and select the order you wish to cancel from the 'Purchase History.'
4. Click 'Request Cancellation' if you see this option. You will receive an email confirmation regarding order cancellation.
If you can't view the 'Request Cancellation' option, your order might have passed the timeframe for cancellation request. Even in this case, you may be able to get a refund. You simply need to return the order once you receive it.
What to do if you can't cancel your Walmart order?
As we saw, it's possible and quite easy to cancel an online Walmart order. Usually, you may be able to cancel an order within 30 minutes of payment. So, you will need to be really fast in requesting order cancellation.
However, if you don't see the button for order cancellation as mentioned in the steps above, you can still try other options as below:
Scenario 1: If you missed the cancellation deadline by just a short time gap, you can try canceling it by contacting Walmart customer support.
Scenario 2: If you crossed the threshold timeline to a point where the order is shipped, you can start a return process by checking their return policy. Once you receive the order, you can start the return if eligible.
How Can You Edit a Walmart Order?
Let's say, you don't want to cancel the entire order, but only make some changes, such as adding or removing items. Then, you can edit the delivery or pickup order given that it is still in the processing stage.
Follow these steps to edit your order if it is yet to be shipped:
1. Sign in to your Walmart account
2. Select 'Purchase History'
3. Click 'Edit items.'
Once you do this, you can make the required changes as below: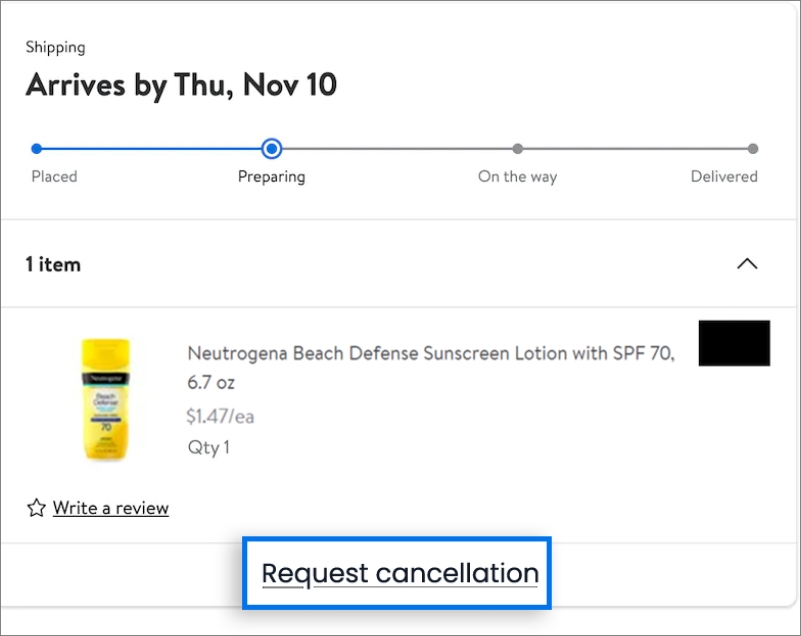 You can make the following changes:
Increase or decrease item quantities
Add or remove products
Allow or disallow substitutions
Reschedule your delivery time slot
Select a different pickup store location
Note: The changes you make may mean that your order total will be under or over the $35 threshold. If the order value is under $35, you may be charged a flat-rate shipping fee, and if it exceeds the $35 threshold, the fee will be removed.
How to Cancel Walmart Pickup Order
Canceling a pickup order can be done in a similar way as canceling a Walmart spark delivery order. So, if you want to cancel a Walmart pickup order at the local store, login to your Walmart account.
Next, select 'Purchase History' and find your order. If it's still processing, you will see a 'Request Cancellation' button.
If the cancellation option isn't there, your order may have been prepared for pickup. In this case, you can contact Walmart's customer service and see if they can assist with canceling your pickup order.
Know the Status of Your Order in Seconds
Regardless of your number of purchased items, you can now track your package anytime using our Upper's package tracker.
Track My Package Now

FAQs
Order cancellation takes a few minutes whether you do it through the Walmart app or website. The order will be canceled within immediate effect given that you could do it within the cancellation time window.
If you fail to pick up your Walmart order in the scheduled time window, the store will try to contact you to reschedule the pickup. The order may get canceled considering a missed pickup if you fail to respond to the team's attempts to contact you or miss the pickup again.
No. Once a Walmart order is shipped, it may not be possible to cancel the order (but you can still check with their customer service team). In that case you can wait for the order to arrive, and return it as per Walmart's return policies.
Conclusion
Canceling a Walmart order is a seamless process and can be done within seconds. But, you must be aware of the cancellation timelines, order status, and policies that apply to a specific product. Generally, most orders can be canceled in their processing stage. However, if they are already shipped, they may not be eligible for cancellation. You will be able to cancel your Walmart order with the steps mentioned in the above guide.
Want to know how companies are delivering orders with more efficiency and planning routes for their delivery drivers? Well, a route optimization software is all it takes to automate maximum tasks in scheduling stops for drivers. Upper is an incredible and advanced routing solution that helps delivery companies surpass constraints and save hours of route planning.