Over 20 billion parcels were shipped in the United States in 2020. And delivery drivers were the underrated focal points of making this number a reality.
They are one of the vital components for the success of your delivery business.
You need to optimize their performance with the integration of advanced tools and help them bypass different challenges they face during the delivery process to deliver better results.
But optimization with no data support is like hitting an arrow in the dark. You need to understand different data elements to help your delivery drivers become more effective.
To help you with better results, we have researched on your behalf and filtered the best delivery driver statistics that you can use.
So without further ado, let's get started.
Delivery Driver Statistics in The United States
The increase in the delivery volume of parcels is possible because of the rising demands. But still, these numbers are just the start, the consumer shift towards online shopping will increase rapidly in the coming years, and the load on the delivery drivers will rise significantly.
Even now, the efficiency of the delivery drivers is not excellent. On average, a delivery driver is given an allowance of 1-2 minutes to deliver the package and move on to the next one.
But on the ground, they take 5 minutes to complete the manual process at every stop, and it acts as a roadblock to streamlining the delivery process.
Apart from that, there is a rise in demand in the same-day delivery segment, which is problematic for retailers.
Over 50% of the businesses are falling short on their same-day delivery shipping because of an inefficient delivery process and under pressure drivers.
Also, recently Zippia conducted an analysis of 30 million profiles and estimated delivery driver demographics and statistics in the United States, and here is what they found out.
There are over 1,300,000 delivery drivers in the United States, and the average age is close to 48.
The education industry is the highest pay industry for delivery drivers in the United States.
The average starting salary of the delivery drivers is $29,000 per annum.
The gender division of the delivery drivers is in three sections, with 80% majority of men, 17% by females, and 3% from the LGBTQ+ community.
These labor statistics are the few significant checkpoints you can use to tailor a better delivery strategy for your on-ground workforce and improve their work efficiency.
Businesses need to overcome the hurdle of digital adoption for the delivery drivers as the average age is close to 48. You need to conduct education sessions to help the drivers optimize modern-day route planning and delivery methodology.
Creating a balance in your delivery driver workforce can also boost the productivity and efficiency of your team. Diversity boosts the morale of an organization and promotes a healthy working culture.
That's not it.
There are result-driven strategies that you can use to boost the effectiveness of your delivery drivers. Have a look.
How Can Your Delivery Drivers Become More Effective?
1. Proper planning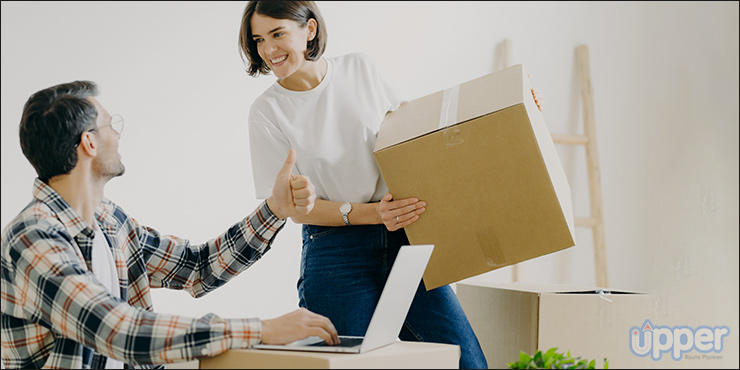 Planning is the core ingredient that can help you increase your on-ground workforce's efficiency. Your fleet management needs to think and strategize a robust delivery and driver management plan to achieve the desired results.
To figure out the best logistics and transportation workflow for your business, you need to understand the significant roadblocks people face and change customer demands.
Explore the advancements in the delivery industry because of the introduction of the latest and advanced technologies. Tailor down the suitable integrations for the delivery business to increase the efficiency of your workforce.
Executing the delivery process with end-to-end planning can help you match the expectations of the consumers and help you bypass the problems faced in the same-day delivery process.
2. Proper education
Once you are done with the planning, you need to educate the drivers and pass on the crux of your planning. Focus on training the delivery drivers to help them adapt quickly to the new advancements in the logistics and delivery industry.
Use the optimized channels of communication for better understanding for most delivery drivers. Fleet managers need to constantly monitor the progress and impact of new learnings on the on-ground light truck drivers for better optimization results.
3. Follow the shortest and traffic-free routes
You need to channel your drivers to follow the shortest paths and choose the traffic-free routes using the latest modern technologies. With the increase in the online delivery business segment, essential tools like Google Maps won't help you with optimized route planning.
The reason why 50% of business owners cannot deliver the promised delivery experience to the customers is primarily linked to a lack of dedicated delivery tools in the organization.
4. Minimized distractions
With minimal distraction for tractor-trailer truck drivers, the efficiency of the process can be improved, and it can help the business. An agile delivery ecosystem should be in place for better communication and data management to cut down the roadblock in the transportation and delivery process.
Automation and control over the delivery process can help the delivery drivers encounter minimal distractions and increase the effectiveness of their work.
5. Access to dedicated route planning and optimization tools
Dedicated route planning and optimization tools can assist in achieving all the above goals to optimize the delivery process for better drivers' productivity. A route planner can help the driver access the shortest path for the multi-stop delivery process and escape the hassle of harsh traffic and weather conditions.
It can help the driver communicate seamlessly with the management team for better coordination and management of the delivery process. A route planning and optimization tool can take digital delivery proofs and manage the data professionally.
You can cut the redundancy and time lag faced by the drivers and help them work with optimal focus and accuracy.
But out of multiple route planning and optimization tools, which one is suitable for your delivery drivers?
3 Best Route Planning and Optimization Apps For Your Drivers
1. Google Maps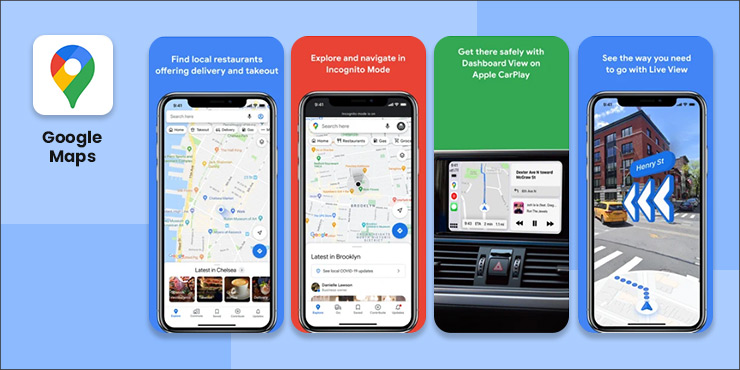 If we talk about the basic and free route planning app for businesses, Google Maps can't escape our minds. Google Maps is one of the successful apps used for locating the location and getting turn-by-turn directions. You can create your favorite destinations and a list of frequently visited destinations to escape the hassles.
You can even download the offline map for the destination and get voice command directions for effortless delivery efforts. Google Street View can help you to explore unknown locations. The highlighting feature of using Google Maps is that it offers route preference selection to help the delivery drivers avoid highways, ferries, toll roads.
Pros
It can automatically reroute if you miss an exit.
Google Maps offers accurate ETAs, street-view, and offline navigation.
It is available on the web and mobile devices.
You can use the "Pin" feature to archive routes.
Cons
It doesn't collect user data for better optimization of the delivery process.
Your delivery drivers can't collect proof of delivery.
It offers routes up to 10 stops only.
The route planning does not consider driver breaks, time windows, or restrictions.
2. Upper Route Planner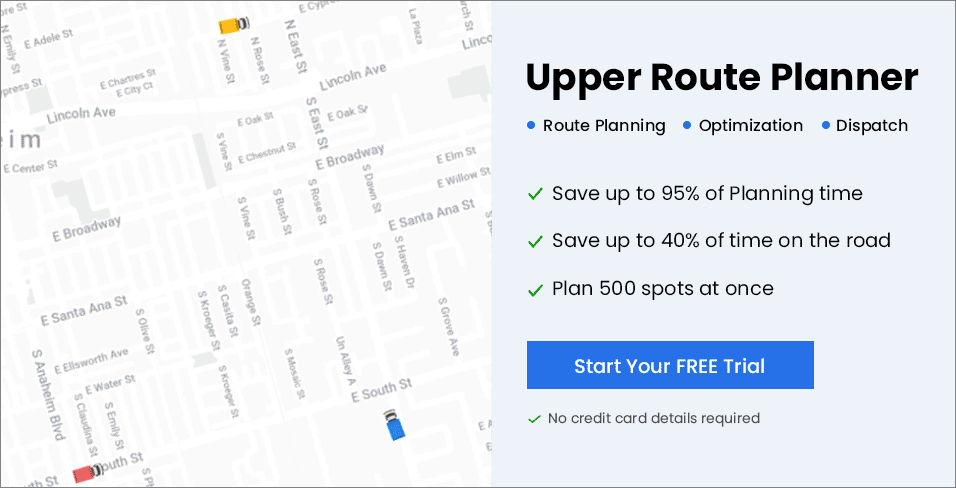 The human-centric design approach and an advanced algorithm deliver highly optimized results. Upper Route Planner is one of the leading tools for your delivery driver's compelling work.
Available for iOS and Android devices, Upper Route Planner provides route optimization and advanced route scheduling within a few seconds.
Being one of the most affordable route optimization and planning tools in the industry, it has an intuitive UX/UI and a robust dashboard that gives you complete control over different delivery operations.
It has multiple features, but a few are the highlights of Upper Route Planner.
It can export 500 addresses using CSV, GPX, or Excel sheets.
You can optimize multiple routes and assign them to different delivery drivers.
You can deliver a quality experience to customers with swift notifications about the update.
Easy record of proof of delivery.
Generate in-depth analytics reports for better optimization of the delivery driver's work.
Pros
It supports different location navigation apps like Apple Maps, Google Maps, Waze.
You can re-route and re-distribute delivery locations to the delivery drivers with a few clicks.
Better route optimization with consideration of factors like time windows, time constraints, among others.
It takes 2 minutes to get a cost-effective shortest delivery path for your delivery drivers.
Cons
No voice direction commands.
Doesn't offer live tracking of the delivery drivers.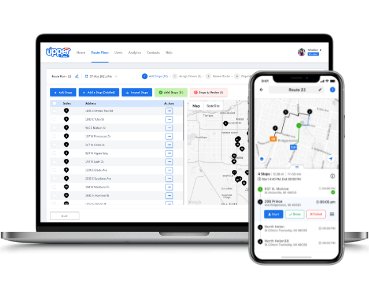 Upper Route Planner
A Simple-to-use route planner that every one is talking about.
Save up to 95% of planning time
Save up to 40% of time on the road
Plan 500 stops at once
No credit card details required
3. RouteXL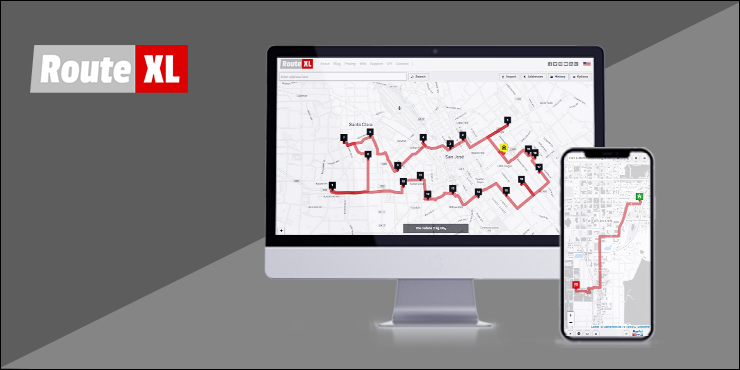 RouteXL is a powerful web-based route planning and optimization software available for both iOS and Android platforms. RouteXL uses a global positioning system, geocoding, and multiple other features for mapping. It offers a smooth interface for importing and exporting using Excel sheets.
You can create multi-stop deliveries and help the delivery drivers save time from backtracking and following ineffective delivery routes.
You can use live driver tracking, QR code scanning, data sharing, and other features to maximum effect to enhance the productivity of your delivery drivers.
Pros
You can save previous routes.
RouteXL enables you to add up to 200 address stops at a time.
It offers a drag-and-drop scheduler with powerful features.
Deliver great optimization results with increased accuracy and precision.
Cons
It doesn't provide any customer service
RouteXL doesn't offer proof of delivery.
It's not focused on delivering a quality experience for delivery businesses.
There are hundreds of route planning and optimization tools available in the market. But these are the prevalent and best route planner apps you come across in the delivery software industry.
But are they suitable for your business?
---
FAQs
Over 1.3 million delivery drivers are operating in the United States. They are vital reasons why the United States has surpassed over 20 million courier packages.
Businesses want delivery drivers to maximize their efficiency with the delivery process and quickly adapt to the new technologies for better results for the business.
Adapting to the new technologies can happen with clear communication from the management and regular educational workshops, and hands-on experience with the modern tools.
Although there have been improvements in the self-driving vehicle industry, the delivery process involves a certain level of human involvement for better and optimized product delivery.
Route planning tools are great for delivery drivers as it enables them to achieve maximum productivity and efficiency. It creates a solid connection with the fleet managers for a guided delivery process.
Automating warehouse process management and execution enables more efficient, error-free operations, which speeds up middle-mile deliveries and boosts the company's competitiveness.
Which Route Planning and Optimization Tool to Choose for Your Business?
Based on your delivery requirement and consumer and industry shifts in the last-mile delivery industry, we recommend that Upper Route Planner be your go-to route planning and optimization tool.
It can handle the growth and scalability of your delivery business and help you match the expectations of your modern-day consumers.
You can increase the productivity of your delivery drivers and help them quickly adapt to the easy-to-use interface of our tool.
So, are you ready to transform your on-ground delivery workforce?
Get access to the 7-day free trial and experience the change yourself.