The demand for last mile and on-demand delivery has risen rapidly as a result of the Covid-19 pandemic. Industry experts expect these evolving customer expectations to continue expanding in the years to come.
In response to this rapid growth in demand, several last mile carrier startups & last mile logistics operators have entered the competition. These last mile delivery startups offer a variety of innovative features to solve major last mile delivery problems.
Wondering how they do it?
What is Last Mile Carrier?
Last mile carriers are logistics operators that provide fast and accurate shipping of the products from the shipping hub to the end customers. These are mostly third-party logistics companies that help meet customer expectations through exceptional delivery services. Final mile delivery remains one of the most important parts of the delivery process.
Some of the most popular last mile carriers or best last mile delivery companies in the United States are FedEx, UPS, USPS, DHL, and other regional companies offering logistics services.
Looking to Integrate an Optimization & Tracking Solution in Your Last Mile Delivery Process?
Upper Route Planner helps you by providing the right tools to optimize and track each delivery.
Last Mile Delivery Business Model
Exceptional delivery experience is offered if you have an effective last mile delivery business model. Let us take a look at the ideal models that last mile logistics providers can follow: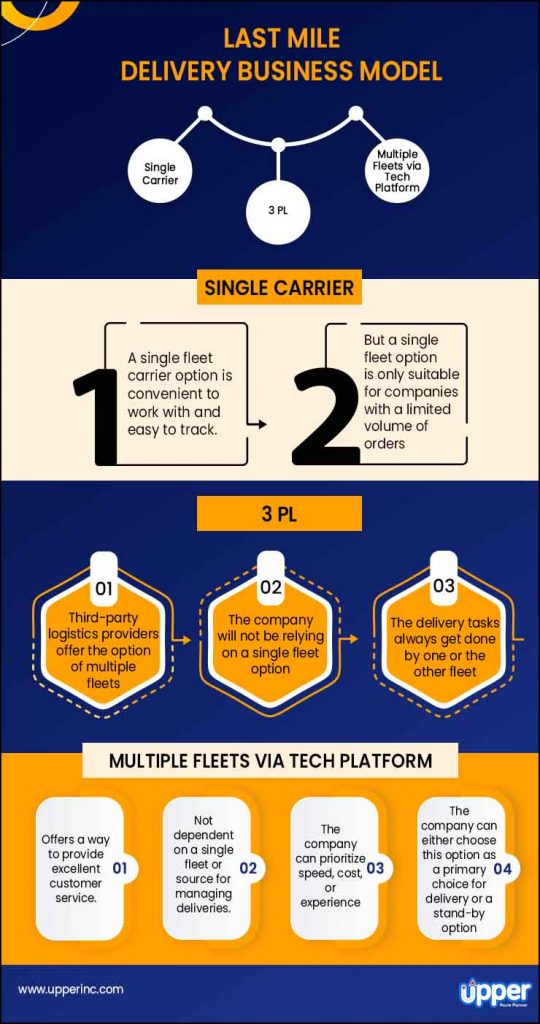 How are Carriers Solving Last Mile Delivery Problems?
Lower Costs and Time: A last mile carrier allows businesses to focus on more important aspects of the process and also save money and time. They promise to offer same day shipping possibilities, shipment tracking, automatic alerts, and managing delivery expectations while cutting down on last mile delivery costs.
Provides Real-time Tracking: A last mile carrier has all the technical support to provide real-time tracking details for the customers to be informed about the location of their package. Order tracking apps & geo-fencing improves visibility and accountability.
Establishes Clear Lines of Communication: When the customer knows that for any changes or questions, they can talk to the delivery driver, it becomes easier for both the parties involved. The same goes for the driver. Customers always expect to have simple and quick communication, without having to rely on mediators.
Use Optimized Routes for Delivery: A last mile carrier uses highly optimized routes that are built considering factors like urgency, time windows, and proximity. Using optimized delivery routes makes the driver's job easier. It can help them deliver more efficiently.
Improved Overall Customer Experience: When factors like real-time tracking, direct communication, and faster delivery are combined, it improves the overall experience of the customers. It improves the possibility of exceptional delivery services and customer loyalty.
Factors to Consider When Choosing a Last Mile Delivery Service
In this section, we'll look at several critical features to consider when choosing carriers.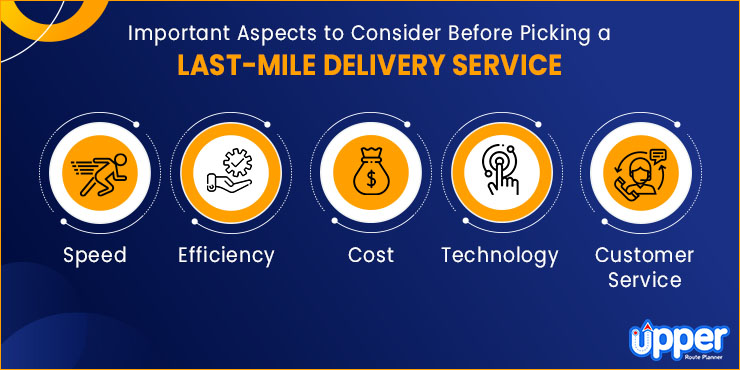 Speed

Customers want to receive packages from logistics companies like Amazon very quickly.

Often they are using a driver and vehicles that ship from warehouses at different routing points.

The last mile is the final leg of the supply chain. It is also the leg with the most need for a faster pace.

If the delivery does not happen quickly, customer satisfaction will definitely suffer.

Efficiency

An efficient company will have last mile technology and systems in place to manage every aspect of the delivery system – from sophisticated route planning software to well-trained drivers that follow a standardized delivery process at each residence or business.

An efficient process reduces things like delays and inventory in all industries (from furniture to appliances to food, or anything else for that matter).

It also works towards increasing the delivery capacity, profit margins, and pushing brand loyalty among customers.

Cost

Cost always matters, but beware of choosing the cheapest option just because it appears the most cost-effective.

If the carrier is skimping on customer service, technology, and other features to save money, you may end up losing customers and spending more time and resources dealing with issues that crop up.

Last Mile Technology

Innovative technology solutions can contribute to better delivery data, greater efficiencies, fewer errors, and exceptional customer service in the last mile delivery.

Everything from route optimization, to machine learning, to transportation management, to proof of delivery, to dispatching, can be better managed with sophisticated software.

Understanding your business' needs when it comes to last mile delivery will help you identify the best technology match.

Technology can support final mile tracking through the package's journey.

Last Mile Delivery Models

The order fulfillment model needs to be as easy as possible. For this, a wide range of possibilities need to be provided like:

Ship from store vs. ship from hub options: Check whether the last mile carrier offers ship from store or ship from distribution hub. It decides whether you get the product same-day, next-day, or later.
Same-day, on-demand delivery operations: If you have proper retail outreach, you can enable same-day delivery.
Point-to-point vs. batching: Point-to-point refers to one order at a time while batching refers to clubbing multiple orders per route.

Customer Service

A customer-centric approach is a must to provide the best last mile delivery experience.

You want to ensure that the carrier has a solid reputation for excellent customer communication (such as real-time delivery notifications for orders) and delivery experiences during its services.

In short, the standard is higher and higher for clients. Meeting consumer expectations must be paramount for any delivery business.
All these above-mentioned aspects can be controlled if the last mile carrier companies use a good planning and optimization tool. Using a route planning tool will not only contribute in terms of advanced technology, but it will help reduce costs, find local routes quickly, reduce unexpected delays, meet consumer expectations and improve customer experience.
Step Up Your Last Mile Fulfillment With a Route Optimization Software
Upper Route Planner works toward making your last-mile fulfillment tasks quicker and easier for your drivers with local routes.
Which Are the Best Last Mile Delivery Companies?
The best last mile delivery service providers that are serving the United States are:
| Last Mile Carrier Companies | Best Used for: |
| --- | --- |
| FedEx | Fast Delivery |
| UPS | Larger Shipments |
| USPS | Smaller Shipments |
| DHL | International Delivery |
A List of Last Mile Delivery Startups
In recent years, many startups have emerged in the last mile delivery space. These startups have developed SaaS and other technology solutions to make the last leg of the delivery process more efficient.
Many partners with local couriers to execute the final deliveries. Others have innovated their in-house carriers, including robots and autonomous cars.
| Startups | Services Provided | Service or Product |
| --- | --- | --- |
| Postmates | Delivers food, drinks, groceries, and more. | Offers services. |
| Startship | Delivers food and packages through autonomous deliveries. | Offers products. |
| Deliv | Crowd-sourced, same-day delivery service for retailers. | Offers services. |
| ShipHawk | Advanced shipping software for high-volume wholesale, retail, and eCommerce. | Offers products. |
| Matternet | Urban drone logistics platform for deliveries using drone technology. | Offers products. |
The following five top last mile delivery companies in the US are proving to be top contenders in the market: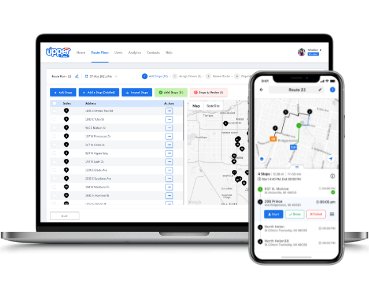 Upper Route Planner
A Simple-to-use route planner that every one is talking about.
Save up to 95% of planning time
Save up to 40% of time on the road
Plan 500 stops at once
FAQ
It's the portion of the delivery from the last warehouse to the door of the end consumer. For the most part, it happens with the use of trucks and delivery drivers. Many would say that Amazon and eBay jump-started e-commerce sales in North America to meet customer expectations.
Last mile carriers help in avoiding costly processes and making things easier for the sellers as well as the buyers by:
Fixing inefficiencies
Saving costs
Saving time & effort
Providing accurate delivery details
Providing more visibility
Improving customer experience
When you order a product through a last mile carrier, it takes between 8-10 days for the product to be delivered with economy class service. If you have applied for expedited delivery, you may get your package in 2-3 days.
The average total cost of a last mile delivery is $10 per package. Businesses can easily cover around $7-8 from last mile charge and the rest from the profit of the products.
Final mile logistics make up almost 53% of the total delivery cost of a product. It is an expensive step for the logistics provider in the business model. It involves a human element and is supported by advanced, sophisticated technology for the purpose of last-mile carrier tracking, providing real-time information, and improving customer experience. With good route planning solutions, you can ensure timely deliveries and control last mile delivery costs.
The last mile carrier tracking is the process or act of using tracking technologies by the last mile delivery partners to find the correct location of the packages being delivered.
Final mile carrier tracking is done so that the seller is aware of the exact location of the packages and also for providing customers with regular notifications to let them know about the ETA of their deliveries.
The Amazon Last-mile team helps deliver products from delivery stations or warehouses to the customer's address. Amazon is constantly working on improving customer delivery times and offering innovative delivery solutions to its customers.
Choose the Most Suitable Last Mile Carrier Partner
The key message here is there are a lot of startups working towards a single goal. It comes down to finding the right match for your business's specific needs.
For instance, an urban grocery store has a different last-mile approach compared to large retailers. Even though the end result is the same, the processes need to be more customer-focused.
If you are handling your last-mile deliveries on your own, you will still need to optimize your routes. For that, you must try route planning and optimization software like Upper Route Planner.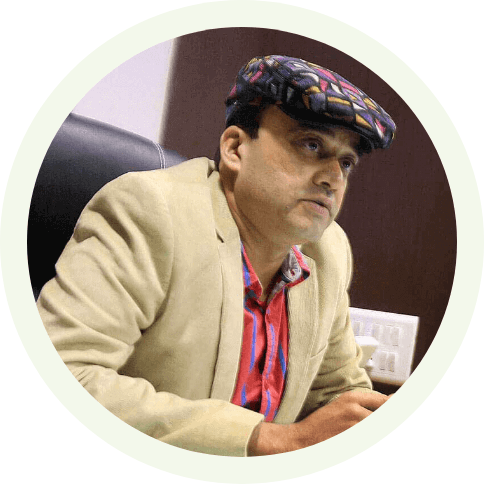 Rakesh Patel is the founder and CEO of Upper Route Planner, a route planning and optimization software. With 28+ years of experience in the technology industry, Rakesh is a subject matter expert in building simple solutions for day-to-day problems. His ultimate goal with Upper Route Planner is to help delivery businesses eliminate on-field delivery challenges and simplify operations such as route planning, scheduling, dispatching, take a proof of delivery, manage drivers, real time tracking, customer notifications and more. He loves sharing his thoughts on eliminating delivery management challenges via blogs. Read more.
Sign Up Now!
Get weekly updates from Upper Route Planner.