Key Takeaways:
Companies that provide last-mile delivery services give customers convenient and quick delivery options.
It's crucial to pick a dependable last-mile delivery service that can accommodate your company's demands.
Businesses that provide last-mile delivery services can benefit from the variety of delivery options they provide, including same-day and next-day delivery.
Companies that handle last-mile deliveries have the resources and know-how to manage deliveries effectively, lowering the possibility of errors and delays.
Most people may not deal with patience when it comes to delivery. Customers expect their parcel to be delivered as soon as possible after placing the order. According to BusinessWire, customers are also willing to pay 65% more if they get faster deliveries.
It is a huge number, and therefore, last-mile delivery companies have come into the picture. Last-mile delivery companies are the firms that ensure goods are delivered to their intended destinations.
We will cover the meaning, best last-mile delivery companies, and things to consider while choosing delivery companies that match your needs. Let's get started.
Last-Mile Delivery: Explained
Last-mile deliveries have a significant impact on any business. As 61% of online retailers believe the last mile is an ineffective part of the supply chain, last-mile delivery must be handled with care.
The primary function of last-mile delivery companies is to cater to the increasing customer demands by strategizing the business processes. All this is done to make delivering shipments quick and efficient.
Whether it is a personal residence or a retail store, the last-mile delivery company must be able to deliver products at a lightning-fast pace. Since this leg of delivery is more expensive than others, optimization is necessary.
Also, every customer demands different last-mile services, so it is not just about reaching the final destination correctly. But the process that goes into the last-mile delivery solution is equally important.
Customers want complete transparency and want to be a part of the process that involves the arrival of goods.
But if your last-mile service providers fail to satisfy your customers, you'll lose them in the competitive space. As 56% of the customers won't purchase from your brand the next time, they encounter a poor delivery method experience.
With the surge in demand in the delivery market, multiple logistics and courier companies have come up to help you fulfill your delivery demands and buying experience. So, how can you choose the best for the business that can fulfill customer expectations and help you retain and increase your customer base?
We have filtered the best third-party last-mile delivery providers to help you simplify the filtration last. So, without further ado, let's go through the list.
Top Last-Mile Delivery Companies
We have shortlisted the last-mile delivery startups and the industry-leading major delivery companies to help you pick one that suits your requirements. We have focused on highlighting their best factors to make things simpler for you.
1. FedEx
FedEx is one of the biggest eCommerce shipping companies with a vast network of warehouses and delivery vehicles globally.
It's an American multinational delivery company established in 1971 and gives businesses a more comprehensive range of delivery service time than just a last-mile delivery.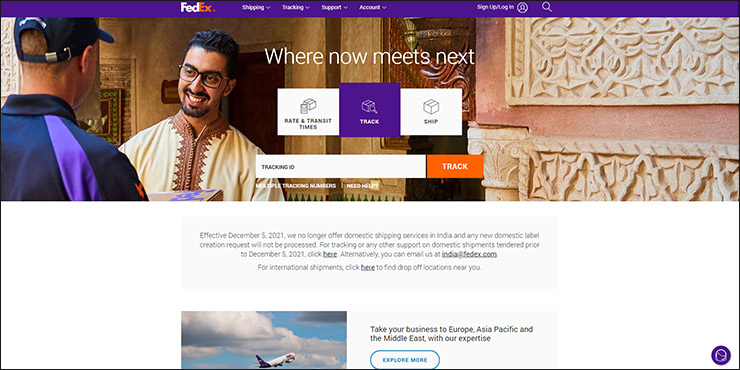 It has a robust supply chain management and eCommerce logistics ecosystem that enables the company to handle delivery orders of any scale and industry.
From same-day delivery to free packaging, from cold chain solutions to a fast customs clearing system, FedEx has it all.
It has adapted to the changing industry, and client demands over the past decades by implementing and testing multiple innovative solutions like robotics, machine learning, artificial intelligence, computer-assisted vehicles, and drone delivery options.
You can associate with FedEx if you are an enterprise business dealing with retail, eCommerce, healthcare, technology, and electronics; industrial products look to deliver products globally or nationally with a delivery platform.
Ideal for: E-commerce businesses that want to reach a global audience and for delivery services with primary products.
2. UPS
UPS or United Parcel Services is another American multinational supply chain management and package delivery company founded in 1907. Being one of the old delivery companies in the world, it has a powerful last-mile delivery service among its other competitors.
It offers features like an API integration option. Simple return services, delivery status notification by email, cold chain solutions, extensive customer service team, among others, help you streamline your delivery service.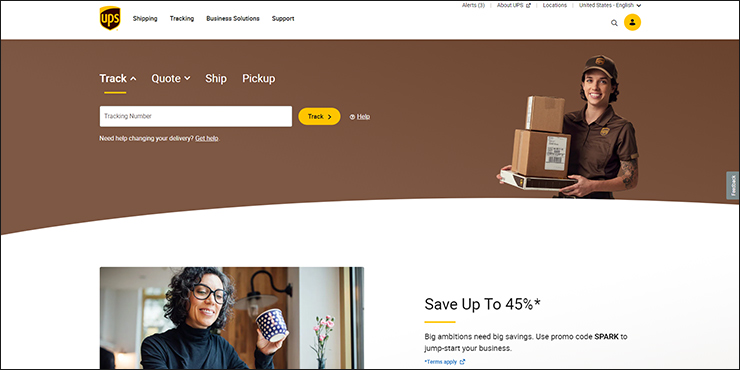 UPS is constantly looking to expand its horizon in the delivery segment and include AI, drone delivery, electric cargo tricycles, and other technologies in its ecosystem to minimize traffic congestion and carbon emissions.
Being an enterprise business in tech, healthcare, eCommerce, retail, or other product delivery business, you can choose UPS to ship items globally or nationally.
Ideal for: Logistics, express courier services, and freight forwarding services that are not looking for faster shipment delivery.
3. Purolator
A Canadian delivery company, Purolator, is controlled by Canada's postal service and is known for its quick and agile deliveries in Canada and internationally deliveries.
It offers same-day nearby courier delivery service, fast transportation management, a large customer service team, large goods management, and less-than-truckload service to help businesses scale and handle unique delivery requirements.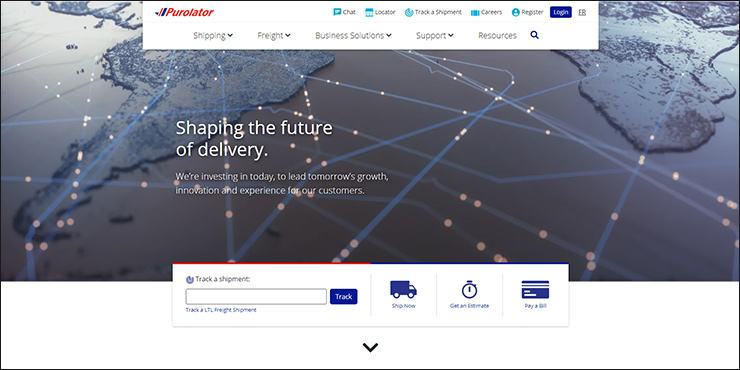 It has added innovation in its delivery segment and moves towards zero-emission fleets like electric cargo bikes and low-speed electric vehicles. Purolator has also included automated self-serve lockers to minimize contact and improve its delivery ecosystem.
Being an online retailer, you can choose Purolator to help you with last-mile delivery services to ship internationally or handle local orders.
Ideal for: E-commerce businesses who are into fast parcel delivery, freight forward, and efficient logistics.
4. Postmates
Postmates is a local food and other goods delivery business based in San Francisco, USA. It helps over half a million restaurants, grocers, and retailers in the United States and Mexico to scale their businesses and connect with the large customer base of Postmates.
Postmates is focused on the mission to enable its customers to deliver anything on-demand. They offer a 24*7 delivery service, reach customers within an hour, and help businesses and customers gain complete visibility of the delivery status.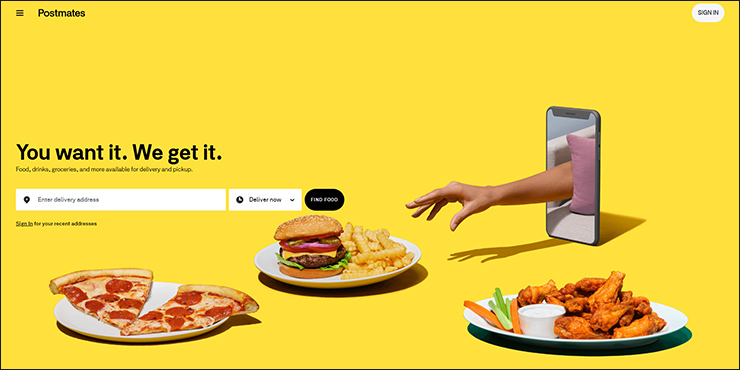 It is looking to include delivery to drone services in its fleet of cars and bikes to minimize the delivery time window and adapt to the latest delivery trends in the market.
Being a local business, if you want to deliver your customer's on-demand deliveries, you can associate with Postmates to handle your requirements. Postmate offers planned deliveries for industries like pharmacies, restaurants, retail, and grocery stores.
Ideal for: Food and meal delivery services that are looking for faster and same-day deliveries. Easy to place orders and faster delivery for logistics, meal delivery service, and same day delivery.
5. Instacart
If you are looking to deliver doorstep groceries across major cities in the United States, Instacart can provide you with same-day, secure delivery assistance. The surge in the grocery business has helped Instacart serve its customers and grocery stores to bridge the gap and minimize the delivery service cost in the industry.
It offers quick delivery service within the horse and helps businesses serve new customers in different cities. It is the leader in providing high-tech solutions for the grocery delivery industry. It has partnered with Sephora and Best Buy to expand its horizons beyond 'bread and butter' grocery delivery.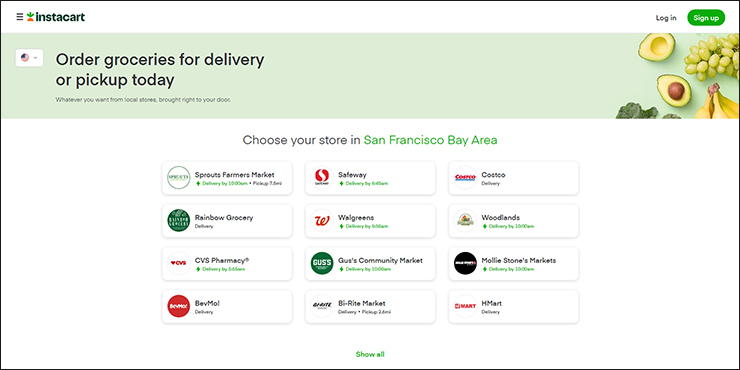 They provide excellent service for local grocery stores in the United States and Canada to handle the rising local stores by using demand grocery delivery platforms.
You can choose one of these last-mile delivery companies based on your business and requirements.
Ideal for: Essential home and grocery delivery services that are looking for fast same-day delivery to local customers.
6. Nuro
Nuro is a perfect example of innovation where technology matches human needs. It was an autonomous startup that took the delivery process to another level. Do you know Nuro does not have any delivery drivers?
Yes, Nuro is an automated SUV that delivers orders to their intended delivery destinations. The automation vehicle was founded in 2016 by Dave Ferguson and Jiajun Zhu. Recently, Nuro has teamed up with FedEx to provide an efficient last-mile delivery experience.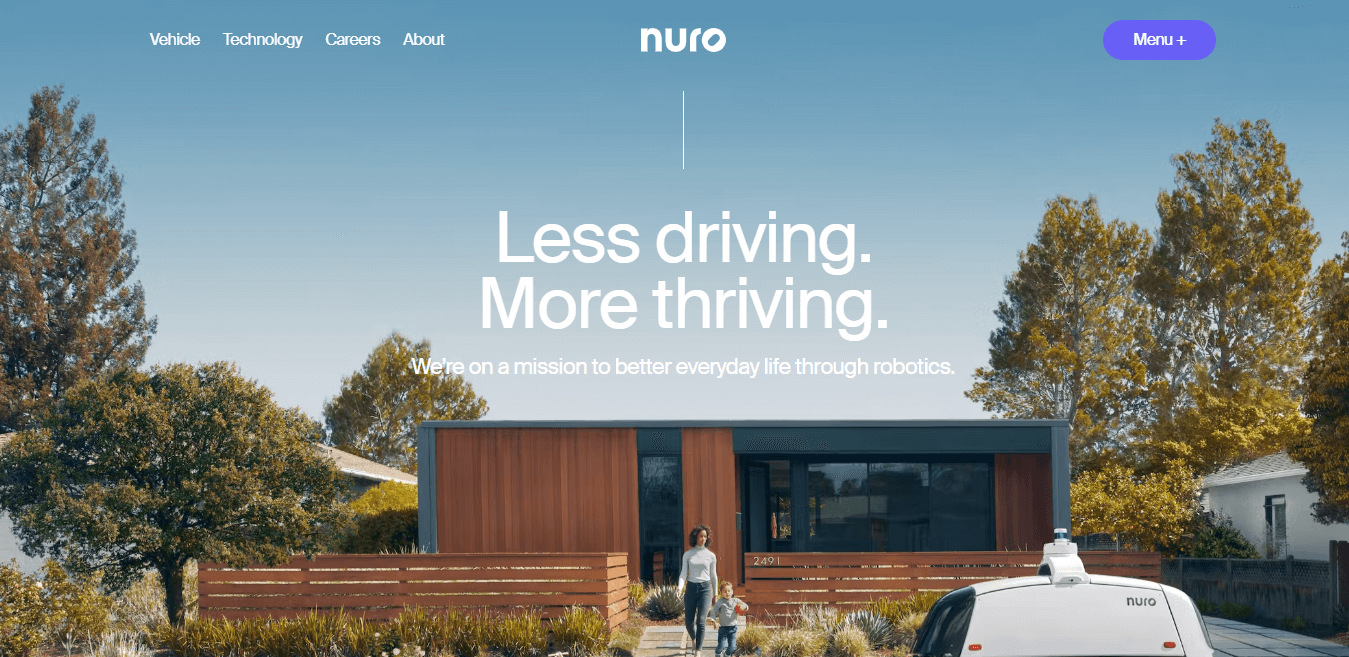 However, the last mile logistics hold cargo or orders up to only 115 kg. Nuro is designed to deliver instantly and avoid any hurdles that come during delivery. It is ideal for the last-mile delivery process because it can pick up from the hub and deliver directly to the customer's door.
Nuro has partnered with large companies such as Domino's, Walmart, 7-eleven, and Uber Eats. It is an eco-friendly and safe alternative for last-mile delivery.
Ideal for: E-commerce companies and food delivery services that are looking for instant and small efficient deliveries with limited parcels.
7. Matternet
Another futuristic approach to improve last-mile delivery is Matternet. They are a last-mile delivery startup founded in 2011 by Andreas Raptopoulos, Dimitar Pachov, and Paola Santana. Matternet is quite popular in drone services and has started drone delivery for faster and contactless delivery.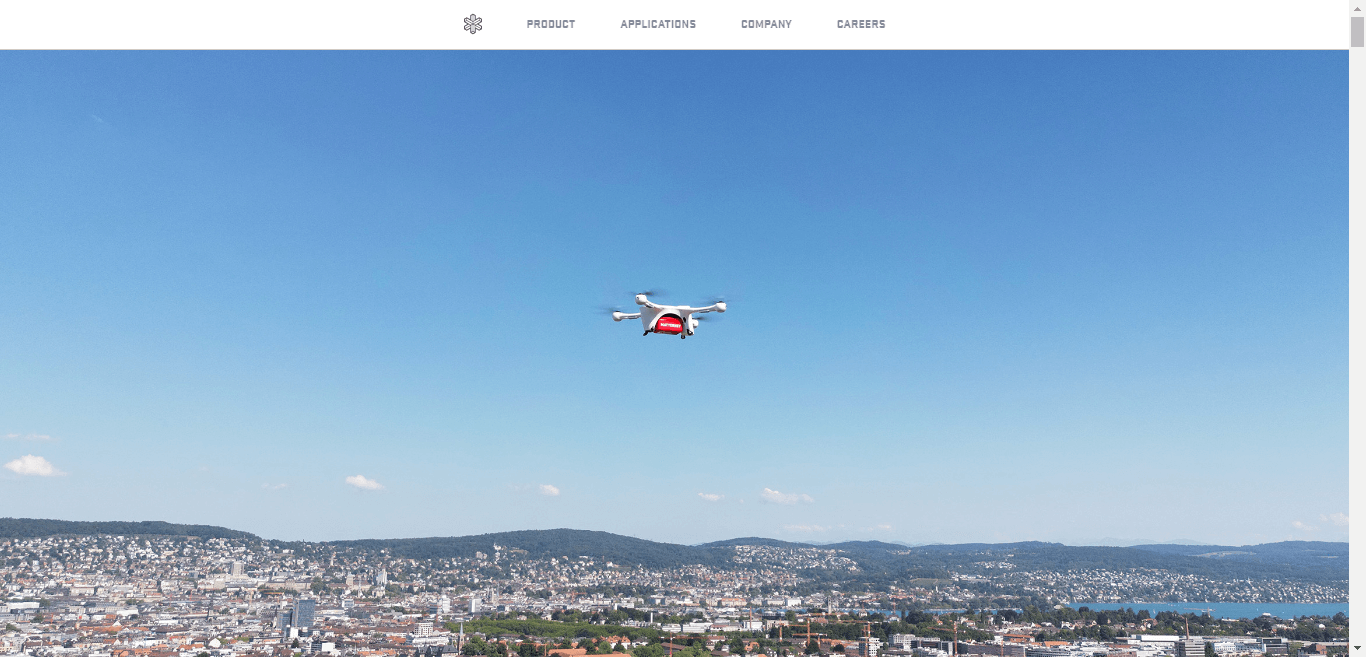 The Matternet operates in two countries: the USA and Switzerland. The drone company has an M2 drone, a delivery drone that transports up to 12 miles and can carry a 2 kg weight load.
It has partnered with UPS for drone delivery. This company for drone delivery is a combination of cloud software, safe landing depots, and advanced drones. It is user-friendly and can program by using the smartphone app.
M2 drone transports medical on-demand products across continents. However, a drone is not legal in every country, so it will only be delivered to restricted areas only.
Ideal for: Healthcare, logistics organizations, and e-commerce orders service for small essential deliveries.
8. Amazon Flex
After making its space in the e-commerce sector, Amazon has started Amazon Flex to enhance last-mile delivery experiences. As the name suggested, Amazon flex is a flexible delivery where an independent driver can deliver for Amazon.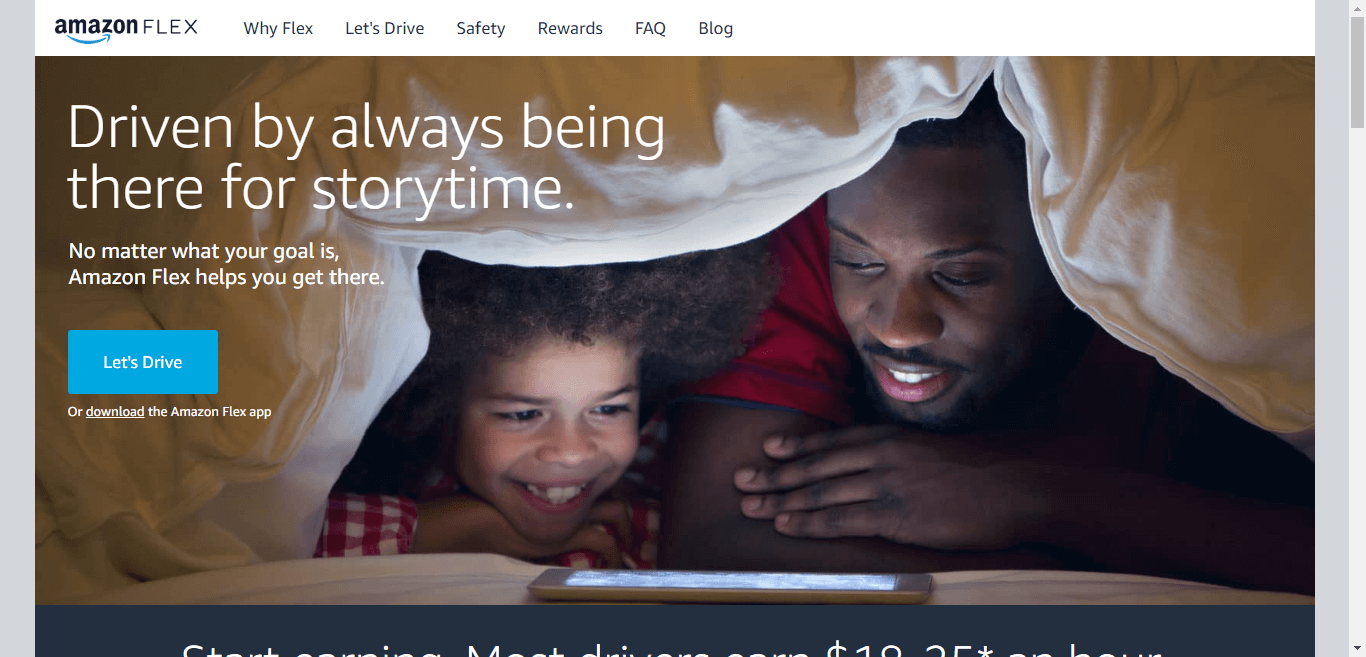 It is a paid service where the driver can use their own vehicle to deliver Amazon parcels to the costumes. They can choose their time and location.
Also, if the delivery driver faces any issue, they can contact Amazon flex support to solve that issue. Additionally, if you are considering Amazon Flex, you should know what it means to be an Amazon flex driver.
Ideal for: Eco-friendly delivery system, to earn a decent commission and flexible work schedule for delivery drivers.
Things to Consider While Choosing a Last-Mile Delivery Company
There is no second guess that last-mile delivery is essential for delivery operations. It is the last final process of delivery, so you cannot take the risk of doing it wrong. Thus, choosing a last-mile delivery company is crucial.
We have curated points that you should consider while selecting a last-mile delivery company for your business.
1. Real-time visibility
As we have mentioned above, customers have started losing patience when it comes to delivery. So, it is vital to have a last-mile delivery company that offers a real-time visibility function. It helps to build transparency and reliability.
Also, it will help customers to know when their orders are out of inventory when orders will be shipped, and reach them. Also, they can track the entire delivery process.
2. Offer local services
Before finishing the final mile delivery process, look for a company that offers local warehouses and cross-dock facilities. Because most of your customers would be locals who want instant delivery services.
Moreover, if a last-mile delivery company is offering delivery to numerous locations, then it will be a brownie point for your business. Also, have communication with your delivery partner to cover your preference areas. Add those serviceable regions that are beneficial for your business.
3. Multiple delivery options
Last-mile delivery services are supposed to be quick and efficient. So, it is vital to know that there are multiple delivery options such as same-day delivery, buy online and pick up in-store, curbside, 3-minute delivery time, and 2-day delivery.
You should determine what your customers want and deliver what they demand the most. If you are a start-up company, try to focus on one delivery option rather than multiple delivery options. Also, you can include integration with third-party fastest shipping providers.
Let's dive into elements of last-mile delivery companies and last-mile delivery startups.
Last-Mile Delivery Companies Vs Last-Mile Delivery Startups: which one should you choose?
Both last-mile delivery companies and last-mile delivery startups have benefits and similar offerings. But one of the biggest distinctions between well-established companies and startups is the latter's inability to transport one item to another quickly.
As startups do not have that many resources compared to companies. However, last-mile delivery startups always have innovative ideas to offer and new technologies to make logistics services efficient.
Another factor is price because both have different price ranges when it comes to freight shipping and global delivery.
So, which one is ideal? That depends on your delivery requirements. If you are looking for large scale delivery, then last-mile delivery companies are for you. But, if you want innovative delivery services, go to last-mile startups as they will offer out-of-box ideas.
Moreover, do you know you can improve your last-mile delivery experiences with software? Yes, let's find out in the next section.
Enhance Your Last-Mile Delivery Process With Upper
Upper route planner is an advanced route planning software that helps you plan and optimize routes for last-mile deliveries. It streamlines your delivery workflow and ensures you achieve delivery targets in a determined time.
Upper allows you to import up to over 100 delivery addresses from Excel sheets within a few clicks. Moreover, you can optimize delivery routes and dispatch multiple drivers in one go when it comes to last-mile deliveries. In addition, you can schedule pickup and delivery routes in advance.
Also, you can capture proof of delivery with photos or e-signature.
Whether you are running a medical delivery business, a food delivery business, or any delivery service, Upper helps you run last-mile delivery efficiently.
Performing Deliveries is Easier With Optimized Routes
Have difficulty performing last-mile deliveries? Opt for Upper to find the best optimized routes in less than a minute and achieve your delivery targets in desired time.
Try it for Free

FAQs
Yes, the last-mile delivery startup is profitable because of the rising demand in the industry and changing consumer behaviors.
You can optimize last-mile deliveries by using robust planning and route optimization software that can automate and streamline your business operations.
The last-mile deliveries are considered problematic because of the inefficiencies in the delivery business, which increases the operational cost and makes it time-consuming.
The last-mile delivery companies handle the business's delivery segment and assist them in delivering on time and secure delivery to the customers.
The last-mile delivery operation is a process of transportation of goods from the warehouse to the final destination, such as the customer's doorstep delivery.
Conclusion
In final mile delivery, you have to fulfill every order and meet customers' delivery expectations. Therefore, you need to ensure that you are following a suitable route that supports your last mile delivery business.
Upper Route Planner is a route planning solution that helps you deliver goods and items more quickly. Get access to a 7-day free trial, create a robust delivery ecosystem, and handle your delivery business yourself.