Typically, a last-mile delivery firm handles the last leg of the delivery for goods. Such a company ensures that items reach their intended destination. The chief idea is to deliver items within a particular timeframe and geography.
But last-mile deliveries are not foolproof. They are the most expensive aspect of e-commerce shipping. Failed deliveries or delivery exceptions, delayed orders, a lack of a suitable order monitoring mechanism, and other issues are the key hurdles to assuring a seamless last-mile delivery experience.
Since customer satisfaction and retention are exceedingly crucial for all e-commerce businesses. Companies must give their best shot to enhance customer satisfaction by streamlining the last-mile operations.
So, let us now hop right into our effort towards getting to know the top last-mile delivery companies.
What are Last-Mile Delivery Companies?
Last-mile deliveries have a significant impact on any business. As 61% of online retailers believe the last mile is an ineffective part of the supply chain, last-mile delivery must be handled with care.
This is where last-mile delivery companies come into play.
Their primary function is to cater to the increasing customer demand by strategizing the business processes. All this is done to make delivering shipments quick and efficient.
Whether it is a personal residence or a retail store, the last-mile delivery company must be able to deliver products at a lightning-fast pace. Since this leg of delivery is more expensive than others, optimization is necessary.
The customer demands from different last-mile services are distinct. It is not just about reaching the final destination correctly. But the process that goes into the last mile delivery solution is equally important.
As we can see from the table below, customers value "full visibility" most within last-mile delivery, followed by "Same day delivery" and "Next day delivery." Customers want perfect transparency and want to be a part of the process that involves the arrival of goods.
If these factors are fulfilled in your delivery, they'll purchase from you in the future.
But if your last-mile service providers fail to satisfy your customers, you'll lose them in the competitive space. As 56% of the customers won't purchase from your brand the next time, they encounter a poor delivery experience.
With the surge in demand in the delivery market, multiple logistics and courier companies have come up to help you fulfill your delivery demands. So, how can you choose the best for your business that can fulfill the customer's expectations and help you retain and increase your customer base?
We have filtered the best third-party last-mile delivery providers to help you simplify the filtration last. So, without further ado, let's go through the list.
Top Last-Mile Delivery Companies
We have shortlisted the last-mile delivery startups and the industry-leading delivery companies to help you pick one that suits your requirements. We have focused on highlighting their USPs to make things simpler for you.
1. FedEx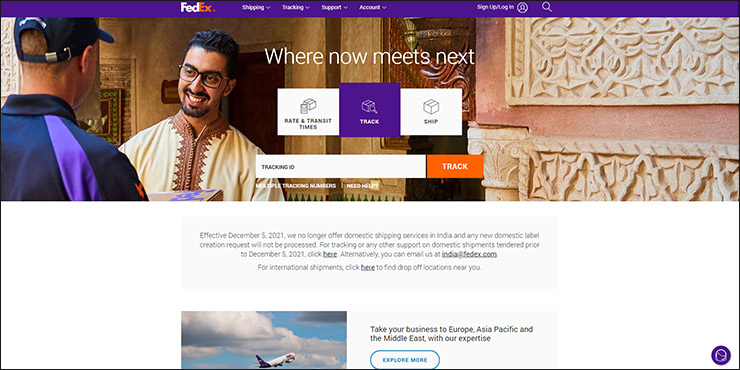 FedEx is one of the biggest eCommerce shipping companies with a vast network of warehouses and delivery vehicles globally.
It's an American multinational delivery company established in 1971 and gives businesses a more comprehensive range of delivery services than just a last-mile delivery.
It has a robust supply chain management and eCommerce logistics ecosystem that enables the company to handle delivery orders of any scale and industry.
From same-day delivery to free packaging, from cold chain solutions to a fast customs clearing system, FedEx has it all.
It has adapted to the changing industry and client demands over the past decades by implementing and testing multiple innovative solutions like robotics, artificial intelligence, computer-assisted vehicles, and drones.
You can associate with FedEx if you are an enterprise business dealing with retail, eCommerce, healthcare, technology, and electronics; industrial products look to deliver products globally or nationally.
2. UPS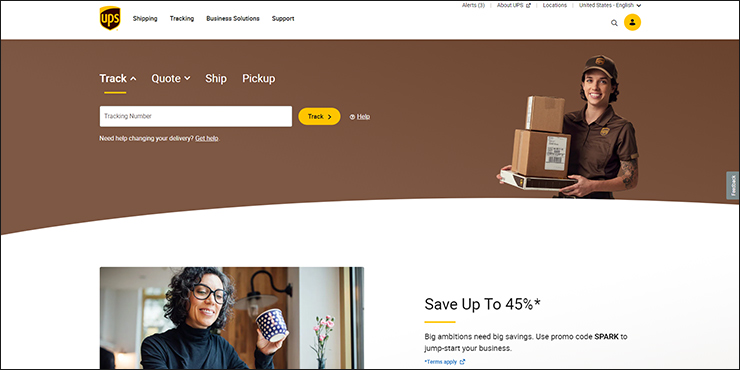 UPS or United Parcel Services is another American multinational supply chain management and package delivery company founded in 1907. Being one of the old delivery companies in the world, it has a powerful last-mile delivery service among its other competitors.
It offers features like an API integration option. Simple return services, deliveries status notification by email, cold chain solutions, extensive customer service team, among others, help you streamline your delivery service.
UPS is constantly looking to expand its horizon in the delivery segment and include AI, drone delivery, electric cargo tricycles, and other technologies in its ecosystem to minimize traffic congestion and carbon emissions.
Being an enterprise business in the tech, healthcare, eCommerce, retail, or other product delivery business, you can choose UPS to ship items globally or nationally.
3. Purolator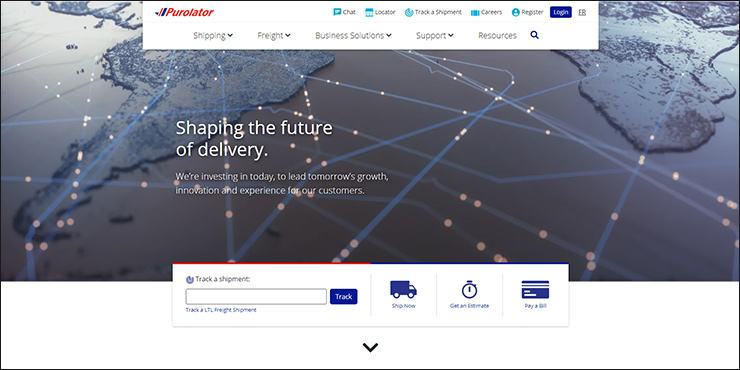 A Canadian delivery company, Purolator, is controlled by Canada's postal service and is known for its quick and agile deliveries in Canada and international deliveries.
It offers same-day courier delivery service, fast transportation management, a large customer service team, large goods management, less than truckload service to help businesses scale and handle unique delivery requirements.
It has added innovation in its delivery segment and moves towards zero-emission fleets like electric cargo bikes and low-speed electric vehicles. Purolator has also included automated self-serve lockers to minimize contact and improve its delivery ecosystem.
Being an online retailer, you can choose Purolator to help you with the last-mile delivery services to ship internationally or handle the local orders.
4. Postmates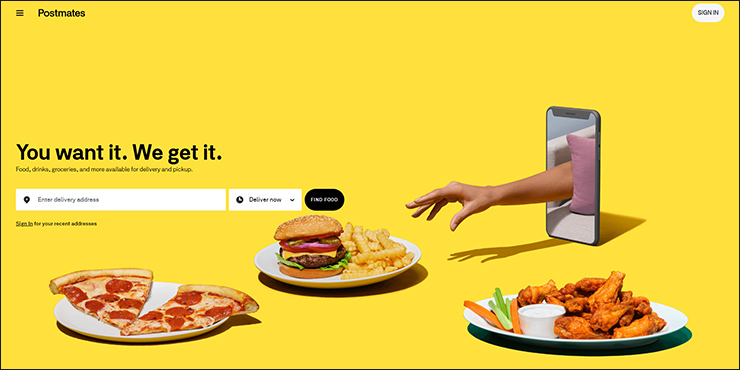 Postmates is a local food and other goods delivery business based in America. It helps over half a million restaurants, grocers, and retailers in the United States and Mexico to scale their business and connect with the large customer base of Postmates.
Postmates is focused on the mission to enable its customers to deliver anything on-demand. They offer 24*7 delivery service, reach customers within an hour, help businesses and customers gain complete visibility of the delivery status.
It is looking to include drone delivery services in its fleet of cars and bikes to minimize the delivery time window and adapt to the latest delivery trends in the market.
Being a local business, if you want to deliver your customer's on-demand deliveries, you can associate with Postmates to handle your requirements. Postmate offers planned deliveries for industries like pharmacies, restaurants, retail, and grocery stores.
5. Instacart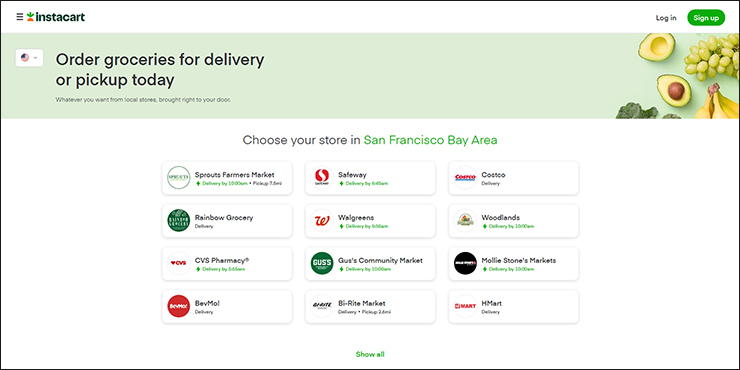 If you are looking to deliver doorstep groceries across major cities in the United States, Instacart can provide you with same-day, secure delivery assistance. The surge in the grocery business has helped Instacart serve its customers and grocery stores to bridge the gap and minimize the delivery service cost in the industry.
It offers quick delivery service within the horse and helps businesses serve new customers in different cities. It is the leader in providing high-tech solutions for the grocery delivery industry. It has partnered with Sephora and Best Buy to expand its horizons beyond 'bread and butter' grocery delivery.
They provide excellent service for local grocery stores in the United States and Canada to handle the rising local demand for groceries.
You can choose one of these last-mile delivery companies based on your business and requirements.
But before taking the next step, let's explore the other side of the coin and discuss the drawbacks you'll get when choosing a third-party delivery provider for your business.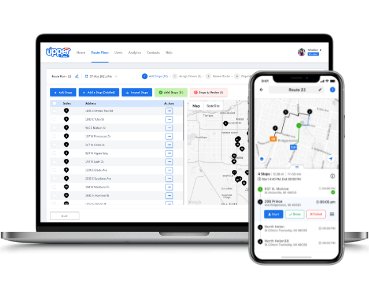 Upper Route Planner
A Simple-to-use route planner that every one is talking about.
Save up to 95% of planning time
Save up to 40% of time on the road
Plan 500 stops at once
No credit card details required
Drawbacks of Using Third-Party Last-Mile Delivery Services
There's no doubt that these companies can help you streamline your delivery flow and enable you to escape the hassle of management and transportation. But there are some drawbacks that you might need to consider.
1. High commission fees
Commissions fees or additional cost plays a huge factor that you can't ignore when choosing a third-party delivery partner. Multiple last-mile delivery providers have different strategies of delivery fees for different businesses.
Let's take the example of the food industry. Businesses need to pay the service providers 30% of every ticket, including credit card processing fees, sales tax, among other charges that can be minimized if you handle delivery on your behalf.
Even if a customer offers some tips to the delivery drivers, they are channeled to the last-mile delivery providers, and nothing comes into the pockets of your workforce.
2. Lack of control
The second vital disadvantage of outsourcing your last-mile delivery service is the lack of control over the operations. The quality of the delivery experience depends totally on the third-party service providers, and if something goes downhill, you lose your customers.
Over 82% of the customers blame the restaurant for poor food experience because of delayed deliveries. Even in other industries, the number is higher because of the delayed deliveries done by third-party delivery providers.
You can control the operations and set up your delivery operation segment to ensure a professional and quality customer experience. If you don't have the capital to spread an extensive system, try integrating the hybrid business model into your last-mile delivery service to kickstart things.
3. Location limitations
Not all third-party delivery companies can help you deliver to different locations where you want things delivered. Some are restricted to local areas, and some focus on international shipping.
To fulfill your dynamic requirements, you need to associate with multiple delivery partners, which can get overwhelming. You can switch towards making deliveries on your own and providing your customers a genuine delivery time window to keep them in the loop with your delivery service.
Once you can deliver a quality delivery experience and scale your customer base, you can expand your delivery network and minimize the delivery time in multi-stop delivery locations spread across the country.
But you need the right strategies and tools to create your in-house delivery department. Talking about the right tools, we got the best route planning and optimization software for you to streamline your new delivery segment.
---
FAQs
Yes, the last-mile delivery startup is profitable because of the rising demand in the industry and changing consumer behaviors.
You can optimize last-mile deliveries by using robust route planning and optimization software that can automate and streamline your business operations.
The last-mile deliveries are considered problematic because of the inefficiencies in the delivery business, which increases the operational cost and makes it time-consuming.
The last-mile delivery companies handle the business's delivery segment and assist them in delivering on time and secure delivery to the customers.
The top 5 last-mile delivery companies are FedEx, UPS, Purolator, Postmates, and Instacart.
Upper Route Planner to Your Rescue
Upper Route Planner is an easy-to-use and advanced route planning and optimization software that analyzes different delivery aspects and delivers optimized and shortest last-mile delivery paths.
It helps you minimize the flaws and human errors in the last-mile delivery that restricts multiple businesses from creating their powerful delivery system.
Irrespective of the scale and industry of your business, you can deliver the rising demands in the delivery business using Upper Route Planner.
It offers powerful features at cost-effective prices and helps your workforce communicate and collaborate to bypass the dynamic roadblocks during the last-mile delivery execution.
It minimizes the route planning time by 95% to help you focus on your core business operations.
It enhances the workforce's productivity by 40% and enables you to handle bulk orders with finesse.
You can export up to 500 delivery addresses from Excel sheets within a few clicks and get optimized and shortest delivery routes for multiple drivers.
These benefits can help you escape the drawbacks and dependencies on third-party last-mile delivery businesses and establish your in-house ideal delivery environment.
Get access to the 7-day free trial, create a robust delivery ecosystem, and handle your delivery business yourself.