Key Takeaways:
Planning and optimizing your route can help you make long-term savings in terms of time, money, and resources.
For efficient route optimization, you must have accurate and up-to-date data.
Real-time data integration and driver interaction can aid in dynamic route optimization.
To stay ahead of the competition, you must continuously evaluate and enhance your route planning and optimization tactics.
Are you facing challenges to find efficient routes to optimize your delivery operations?
Planning routes for drivers is complex and incomprehensible without a proper tool, especially when there are hundreds of delivery routes.
And ineffective methods, such as paper and excel sheets, result in time-consuming and chaotic data entry.
Therefore, to be more successful, you need to deliver your shipments more efficiently. The main key to success in the field is optimizing delivery routes and getting from point A to point B.
According to sources, the global delivery service sector is estimated to exceed $200 billion USD by 2027.
To help you optimize route planning, we have curated a list of seven route planning and optimization tips 2023 for you.
But before we get to those wonderful tips, let's first understand what route optimization is.
What Is Route Optimization?
Route optimization is a method organizations in the delivery business use to optimize delivery routes by creating efficient routes. In other words, it is the procedure that assists in determining the most cost-effective and time-efficient route from point A to point B.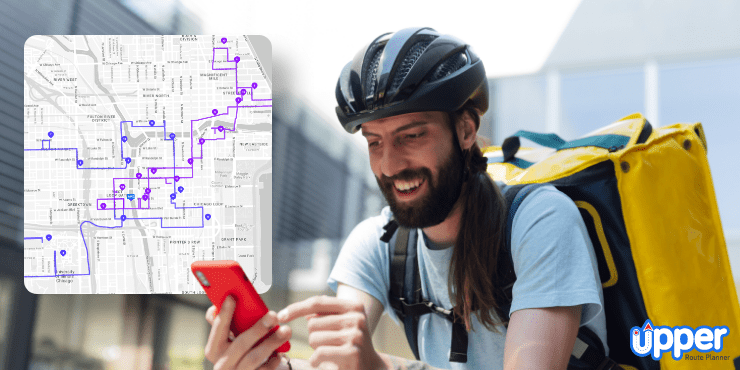 Route optimization is vital for company success because it allows companies to not only execute orders but also do so while successfully combining aspects such as
Driver schedules
Available hours
Total stops
Fulfillment estimations
Regulatory requirements
It is critical to emphasize that route optimization is not about discovering the fastest or inexpensive route. Instead, it is about finding an efficient and suitable path for all variables involved.
For instance, simple route optimization will plan for the lowest possible cost to fulfill client orders and guarantee that all orders are delivered regardless of the price.
Complex route optimization employs a more balanced strategy that could be adapted to the company's customer service and financial plans. This could involve meeting client delivery needs while saving expenses or delivering items that make the most profit when delivery resources are limited.
Tips to Optimize Your Route Planning
Here are seven remarkable delivery route planning tips to optimize your route planning effectively:
Tip 1: Optimize Vehicle Capacity, Utilization, and Loading
You will need to create a comprehensive strategy to maximize revenue from route optimization. You can focus on increasing overall operational productivity by optimizing vehicle utilization, capacity, and loading.
To optimize vehicle utilization, determine time spent on:
The road
Idle time
Pre-loading and awaiting departure time
Loading and unloading time
Maintenance repair time
Delayed delivery time
You need to implement changes based on these parameters to ensure on-time delivery.
Before assigning tasks to your driver team, assess the storage space available for each vehicle in your fleet to optimize vehicle capacity. This will assist you in making the best use of your automobile.
When loading the deliverables, ensure that your delivery drivers can organize the packages according to the efficient delivery route to optimize vehicle loading. This package sorting and positioning allows them to locate the package in the vehicle ready and reduce time spent at each stop.
Tip 2: Monitor Drivers' Availability and Requirements by Location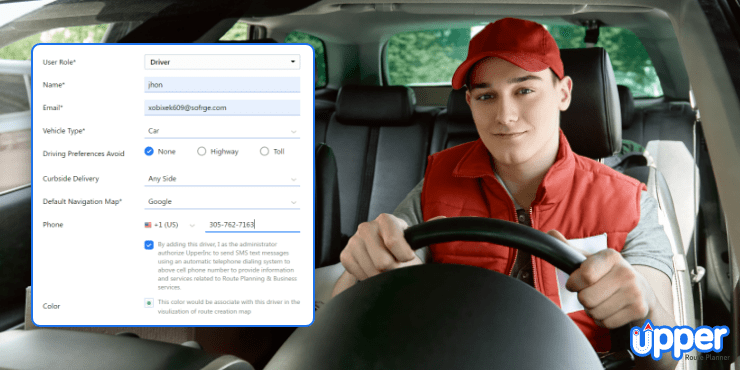 Accurate scheduling is the foundation of driver coordination and delivery management. Dispatchers must know which drivers are available at a specific particular time. Using one of the best route planning tools for delivery drivers allows you to manage your drivers' time better.
You can plan and allocate tasks to drivers using the robust and sophisticated route planning functionality and guarantee they are taking the right routes. Such planning enables on-time last-mile deliveries during peak hours.
Using such a technology, dispatchers can also make adjustments with improved flexibility and management control. They could just switch routes or re-optimize delivery schedules. It also streamlines deliveries during busy hours based on the availability of drivers.
Such route changes are automatically updated in the driver's smartphone application, providing instant access to the information they want for their ride.
To efficiently plan a route, you must consider the start and endpoints.
For instance, if you have many pick-up locations, you can set the beginning point for the delivery drivers.
Furthermore, you can set their endpoints appropriately if you want drivers to finish their itinerary at a specific location, such as their residential address or operations center, you can set their endpoints appropriately.
Tip 3: Increase Cross-Fleet Productivity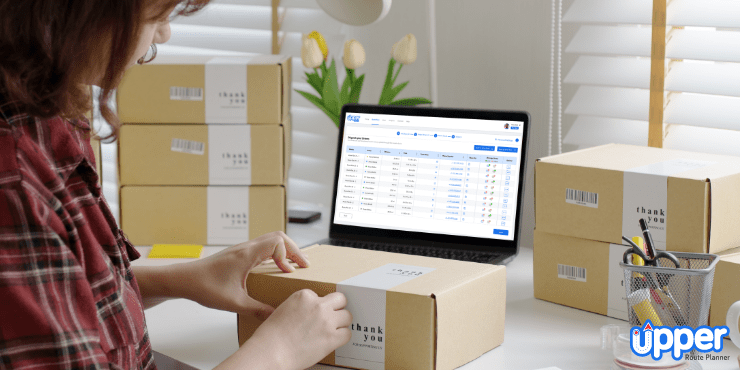 Understanding how your fleet operates is essential for optimizing and maintaining workforce efficiency. Planning multi-stop routes for a team of delivery drivers is challenging and time-consuming. Factors such as fleet size, traffic conditions, and delivery windows make manual route planning even more complex.
In such circumstances, route planning software designed to boost the number of successful deliveries is the solution. It automates the planning of the most efficient delivery routes while keeping your entire team of delivery drivers in mind.
When you use efficient delivery route optimization software, you gain instant access to data and can effortlessly accommodate cross-fleet. Your management will be able to keep records of all the drivers and vehicle data and access them as needed.
Tip 4: Minimize Mis-Deliveries and Re-Deliveries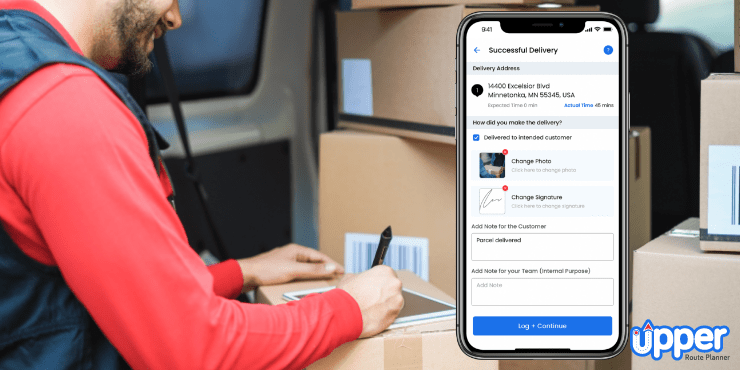 To improve the efficiency of your delivery operations, you must take steps to prevent shipments from being redelivered or delivered to incorrect locations. Such re-delivery entails more effort, and money is spent on the same load, with no additional revenue. This also leads to an increase in the costs of delivery operations.
Mis-deliveries, on the other hand, necessitates locating the parcel, replacing it if it has incurred any damage or gone missing, and delivering the replacement item. It is nothing but time-consuming and expensive, and it sucks away your profits.
The global same-day delivery industry is expected to hit $8.4 billion USD in 2021. This market is expected to reach 26.4 billion US dollars by 2027.
Mis-delivery and re-delivery issues can be avoided by using delivery route planning software. Your drivers will receive specific driving directions and ETA for every location, and your customers will receive notification alerts of the delivery ETA of their shipments.
Drivers will have access to electronic proof of delivery options such as photo capture and e-signature, proving successful contactless deliveries.
Tip 5: Maintain Consistent Customer Communication
Many organizations in the logistics industry find it challenging to keep their customers notified about their delivery ETA. Route management software provides you and your clients with real-time updates on the status of your delivery drivers, ensuring that delivery times are always accurate.
Customer communication can be managed with automation. This will guarantee that your customers receive the information they require to plan their day-to-day activities. It will also minimize incoming phone calls to your customer support.
Such alerts can be sent to the customer's contact by email notifications or SMS, relieving customer support personnel to handle more complex customer issues, if any exist.
Tip 6: Automate Importing the Data
Manual data entry is a constant and significant roadblock for your fleet managers. Updating work orders, expenditure details, and other similar data manually into spreadsheets is a waste of energy and time. It also does not provide you with an accurate reflection of your business processes.
On the other hand, a route management system can import excel files, saving you a lot of time and effort. You can closely check your business processes and performance with its personalized dashboard and robust reporting tools.
Tip 7: Avoid Delays
You must optimize delivery time to increase customer retention. Customers who have their shipments delivered late are less likely to use the services from the same company again in the future.
As a logical response, you must have contingency plans in place to avoid delays caused by:
Bad weather
Curfews
Lockdowns (due to the ongoing COVID-19 pandemic)
Traffic jams
Major blockages, and detours
Construction of roads
Accidents
To accommodate such unpredictable circumstances, a route planning, and optimization system's technology automatically calculates routes in real-time.
It also gives your driver driving directions that are up-to-date. Delivery drivers can focus on fulfilling their deliveries rather than determining the best path to avoid such disasters.
On second thought, if you consider planning and optimizing your routes manually, it is going to be severely challenging. It is difficult to plan and optimize routes manually when heavy workloads and many delivery drivers and destinations are involved.
When things are done manually, factors such as productivity, scalability, reliability, and flexibility of your supply chain are jeopardized.
On the other hand, route optimization software improves the efficiency of delivery operations while fulfilling desired customer service expectations. This productivity enhancement can result in reduced delivery expenses or higher delivery capacity.
Route planning and optimization that is more advanced can maximize earnings. They can analyze more delivery variables than humans, resulting in a more efficient route and increased customer satisfaction.
Now that you know how these top route planning tips can help you in route planning and optimization let's take you to a route optimization software that can streamline all your delivery processes.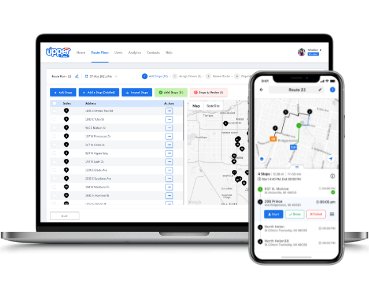 Upper Route Planner
A Simple-to-use route planner that every one is talking about.
Save up to 95% of planning time
Save up to 40% of time on the road
Plan 500 stops at once
---
FAQs
Static routes are predefined routes where the stop destination remains the same regardless of delivery variations. As a result, the static route causes a telecommunications breakdown. Because their deliveries are arranged on a predetermined timeframe, delivery drivers on a static route cannot make last-minute adjustments.
On the other hand, dynamic routes consider new changes to an existing route plan. In essence, it uses advanced routing software to produce an optimized route.
Your route optimization software must be tailored for one of three types of routing: static, dynamic, or real-time. This enables you to plan your route more efficiently.
Processing speed is an important aspect in ensuring a smooth route planning process. The software system could be better suited to planning route updates in seconds rather than minutes.
A GPS route planning software such as Upper Route Planner will offer you an accurate route map and GPS information. It is determined by the location you are heading and the pace at which you are driving.
When running a business online, you could find Google Maps useful. This is a simple solution to getting from point A to point B and is a bare minimum for a number of small businesses. A simple GPS map planner, on the other hand, will not be enough for a large fleet handling daily and weekly deliveries.
For a pick-up and delivery company, Google Maps has no built-in capabilities to handle big volumes of shipments or a large number of delivery drivers and vehicle capacity. Upper Route Planner, a powerful delivery route planning software, is definitely a useful tool for your delivery drivers.
When choosing a good route optimization tool, several factors need to be considered. Historical data is useful for determining current traffic conditions in an area and the operating and closing periods at certain businesses. Your delivery planning software will retain previously scheduled routes and plan routes accordingly.
With enough management of delivery operations and vehicle capacity, planning a delivery route can be a complicated task. Due to the complexities of transit, it is critical for drivers to streamline their route planning. This is beneficial to your business, driver services, and customers.
Upper Route Planner is one of the top route optimization software. It increases the efficiency of route planning and delivery operation. It also helps reduce delivery costs and boost profitability by optimizing its route. Upper Route Planner is a reliable and robust route planning software for businesses of all sizes.
Upper Route Planner Has Got You Covered!
To optimize the efficiency of your delivery business operation, here's a reliable solution: Upper Route Planner
Upper Route Planner is a robust route planning and optimization software with a user-friendly interface. It is a web and smartphone (Android and iPhone) product created with a human-centric development model.
This software is intended to make route planning convenient at every stage of the delivery process.
Upper Route Planner supports over ten industry sectors: food delivery, pharmacy delivery, courier delivery, and retail delivery. It also tries to reduce the time and money spent on delivery operations by providing the most effective routes. Users can plan multiple routes for multiple drivers at the same time.
Start your FREE trial today to save time and effort and deliver more!