What is the one common link that connects an independent driver, delivery businesses, moving companies, and logistics businesses? It is a need to plan routes with multiple stops and optimize them. This simple process of planning and optimizing routes drastically improves delivery performance and overall operational efficiency.
The vehicle routing problem is a common problem in the delivery and logistics industry. The one thing that can help businesses tackle this problem is fleet routing software. Dealing with complex distribution networks and increasing customer expectations makes it necessary to adopt a tool that helps automate the manual process and easily tackle the problem.
This blog will talk about the vehicle routing problem and how a routing solution can solve it. We will also talk about many good routing solutions and features that you must look for while choosing one. Let's get going.
What is the Vehicle Routing Problem?
The Vehicle Routing Problem is a combinatorial optimization problem that deals with finding the most optimal routes for a fleet of vehicles to move from one point to another. Another addition to the problem is that of the need to route for multiple stops. For example, finding the most optimal route to go from Point A to Point B is different than figuring out the most optimal way of going from Point A to Point B with multiple stops on the way.
If there are no other constraints in the picture, the goal is to find the routes with the shortest distance. In a practical scenario, there are other factors that come into play like capacity constraints and time windows. It is cognitively challenging for humans to figure out the fastest possible route in a matter of seconds while considering various constraints. This is why we need the help of route planning software solutions.
How Fleet Routing Solution Resolves the Vehicle Routing Problem?
The concept of the Vehicle Routing Problem has been around for a very long time. With the advancements in technology, we have been able to decode the problem of VRP. The Vehicle Routing Problem has been made simpler to crack with the help of algorithms. Deep digital integrations were required in order to solve this problem.
Now thanks to sophisticated technology, we have a bunch of software solutions at our disposal that help us tackle the Vehicle Routing Problem. These solutions are known by different names like Fleet Routing Solution, Route Planning Solution, Route Optimization Software, Vehicle Route Planning Software, Fleet Management Systems, and more.
A fleet routing solution offers useful algorithms that help you in finding optimized routes automatically, without any manual input. We have many third-party fleet management solutions that integrate with your existing systems and improve the overall delivery performance by solving the Vehicle Routing Problem.
Capabilities to Look in Weighing Fleet Routing Solutions
The following are the features that must be offered by the routing solutions you choose.
Route Optimization: The ability to optimize your multi-stop routes daily is an important feature for efficient deliveries. Having a route optimization solution is important to find out the most efficient way of making deliveries. Every fleet management solution must offer this feature.
Proof of Delivery: Collecting proof of delivery by capturing a picture of the product being delivered at the doorstep or capturing the customer's signature at the time of delivery is a good way of making sure the deliveries are being fulfilled planned. If there is a missing package, the driver has proof to show that the delivery had been fulfilled from his end.
Customer Notifications: Customer notifications allow businesses to inform their customers about the estimated time of arrival of their package. The customers can be ready to receive the package or make adjustments to be present to receive the package whenever the driver reaches the destination.
Delivery Constraints: Planning a route with specific delivery constraints like a priority, time windows, vehicle size and capacity, and more can be difficult to take care of manually. When you have an algorithm taking care of these factors, you can easily focus on your deliveries.
Driver Tracking: Driver tracking allows a fleet manager or delivery business to have complete control over the delivery fleet and delivery drivers. Driver tracking or fleet tracking improves the fleet management of the business and makes sure delivery operations are carried out smoothly.
5 Best Fleet Routing Software Solutions
Here is a list of some of the best fleet routing solutions you can choose for your delivery needs.
1 – Upper Route Planner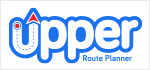 Upper Route Planner is a route planning and optimization software solution. It creates the most suitable delivery routes and is widely used by independent drivers/contractors, small businesses, and trucking businesses. The simple and easy-to-use interface of the app is one of its most charming features.
Upper Route Planner follows a human-centred design approach that focuses on making things easier for the users. It is reflected in the way the interface of the app. The new Upper for teams allows businesses to create multiple routes with multiple stops for multiple drivers at once and within just a few minutes. It optimally divides the routes between the number of drivers and making sure the load is distributed equally among all the drivers on the list.
2 – Optimoroute
Optimoroute is a cloud-based fleet management software that helps different types of businesses in organizing and managing their mobile workforce. It optimizes your orders and tasks by taking into consideration factors like day of the week, time windows, priority, reverse logistics order, and skills.
Last-minute route modifications and adjustment of stop sequence are easier with Optimoroute. The software can help businesses in planning for up to 5 weeks in advance with just one click. Other features like Multi-day Long-haul routes, Workload Balancing, and Breadcrumbs, help you manage your delivery operations better.
3 – Workwave Route Manager
WorkWave Route Manager automates and manages each step of the delivery process effortlessly. It tracks and optimizes routes in real-time, accommodates changes easily, dispatches those routes to your drivers on their mobile apps, offers real-time updates regarding each delivery in-process.
The same SMS notifications can be sent to the customers to inform them about the location of their package. This little feature can improve customer service and communication. With the reports generated by the software, fleet managers can gain insights and make important business decisions. WorkWave is a route manager in the truest sense of the words.
4 – Paragon Routing Software
Paragon's routing & scheduling software aims to reduce planning time to minutes, cut down on fleet operation costs, and help businesses make better decisions. Paragon offers different modules like Single Depot, Multi Depot, and Integrated Fleets. These modules are designed in a way that there is something to offer to all kinds of businesses and individuals looking for efficient routing. Paragon's software system supports businesses by offering:
Smarter Mapping helps businesses build highly accurate routes
Paragon Live helps drivers stay on track by tracking their real-time progress
The business modeling and planning tools can trigger useful strategies for business productivity
5 – Circuit Route Planner
Circuit for teams is a great delivery route planning software for creating routes, tracking packages, managing drivers, customers, and delivery operations. Taking control of your delivery operations becomes easier with features like route optimization, driver tracking, SMS notifications, and accurate ETAs.
Circuit software allows users to optimize unlimited routes with up to 500 stops per route. Sending out delivery updates to your customers becomes easier with Circuit through text or email notifications. The need for proof of delivery is often undermined for delivery businesses. But Circuit has grasped the problem and offered proof of delivery through customer signature or marking the delivery of the package in a safe place.
Which Route Planning Software is Right for Managing Your Fleet?
Even though fleet routing software is basically used to create optimal routes for your fleets, but that's not the only reason why they are so important for your deliveries. A bunch of other features and functionalities when blended with the route optimization algorithm creates a functional fleet management software.
Have you assessed your fleet management needs as a business? If you have, then you must have a list of tasks you would like to automate with the help of some tools. That is the best way of figuring your needs as a business. Once you have the tasks at hand, you will look for tools that offer solutions to complete those tasks. Any software solution that manages to offer maximum benefit to you at the least amount of expense involved is a good option for you.
In this case, any route optimization software allows you to not only improve the efficiency but automate a large chunk of your business process and does the heavy lifting is the right software solution for your business.
---
---
Final Thoughts
Vehicle routing problem is a common problem that has been faced by travelers and businesses alike. We just discussed how solving the problem manually is not feasible, so we take support from technology.
We hope the software solutions mentioned above are of help to your business and prove to be beneficial. Be careful while assessing the features, and you will be good to go. Any questions that you have are welcome.