The demand for last mile and on-demand delivery has risen rapidly as a result of the Covid-19 pandemic. Industry experts expect this trend to continue expanding in the years to come. In response to this rapid growth in demand, several last mile carrier startups have entered the competition. These last mile startups are offering a variety of innovative features and services at the lowest prices that are shaking up the delivery market.
In this article, we'll take a look at the key features to consider when choosing the last mile carrier. We'll look at evolving customer expectations. We'll also compare five of the top last mile delivery startups and identify the pros and cons of each. Finally, we'll offer tips on how to choose the right service based on your organization's specific needs.
What is the Last Mile Carrier?
Last mile carriers are shipping companies that provide fast and accurate shipping of the products from the fulfillment center to the end customers. These are mostly third-party logistics companies that help meet customer expectations through exceptional delivery services. Last mile remains one of the most important parts of the delivery process.
Communication and full visibility are two vital aspects of last mile delivery services. These last mile delivery companies provide real-time tracking that boosts last mile visibility. All the necessary tracking information is generated and with help of last mile tracking software real-time updates and accurate ETAs are provided to the end customer.
Some of the most popular last mile carriers or best last mile delivery companies in the United States are FedEx, UPS, USPS, DHL, and other regional companies offering logistics services.
What is Last Mile Carrier Tracking?
The last mile is the last leg of a shipment process when you shop online. It is the step where a package is moved from a fulfillment center or warehouse to the end destination by last mile logistics companies.
The last mile carrier tracking is the process or act of using tracking technologies by the last mile delivery partners to find the correct location of the packages being delivered.
Final mile carrier tracking is done so that the seller is aware of the exact location of the packages and also for providing customers with regular notifications to let them know about the ETA of their deliveries.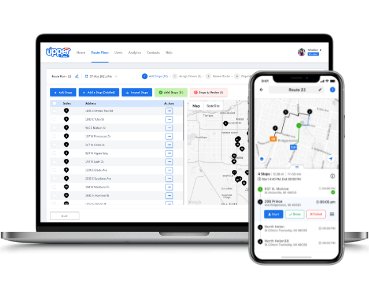 Upper Crew
A Simple-to-use route planner that every one is talking about.
Save up to 95% of planning time
Save up to 40% of time on the road
Plan 500 stops at once
No credit card details required
Why are Last Mile Carriers Important?
Data suggests that last mile delivery can account for up to 53% of all shipping costs. If the last mile delivery process becomes inefficient it can cost a lot more than that.
But here's how last mile carrier help in avoiding costly processes and making things easier for the sellers as well as the buyers.
Fixes Inefficiencies: Last mile carriers are essential because, without them, the supply chain management process can prove to be inefficient.
Saves Costs: These inefficiencies in the last-mile delivery experience and transportation management can end up costing a lot of money and lose the trust of your customers.
Saves Time & Effort: Because these carriers are responsible for delivering packages to many residences and businesses, there are many opportunities for inefficiencies to arise. Poorly planned routes could result in unnecessary tracking.
Provides Accurate Delivery Details: Unclear drop-off directions could result in packages left in the wrong location (e.g., front door instead of the back door).
Provides More Visibility: Almost 90% of customers expect more visibility into the delivery process every time they shop online. It is an important determinant of an exceptional delivery experience. Last mile carriers provide proper carrier tracking using last mile tracking software.
Improves Customer Experience: Since final mile delivery often involves direct interaction with the customer, a poor experience can reflect poorly on your business. On the other hand, a prompt and positive experience can contribute to higher customer satisfaction. It helps improve brand loyalty and powers repeat purchase.
With bottom-line costs and customer satisfaction both at stake, you can see why it's crucial to choose the last mile delivery company that will meet your business's specific needs.
The opportunity is open for anyone to use innovation, new methods such as drones, and real time data analytics to take a bigger market share.
How are Carriers Solving Last Mile Delivery Problems?
Lower Costs and Time: Last mile carriers allow businesses to focus on more important aspects of the process and also save money and time. They promise to offer same day shipping services, shipment tracking, automatic alerts, and managing customer expectations while cutting down on last mile delivery costs.
Provides Real-time Tracking: Last mile carriers have all the technical support to provide real-time tracking for the customers to be informed about the location of their package. This improves visibility and accountability.
Establishes Clear Lines of Communication: When the customer knows that for any changes or questions, they can talk to the driver, it becomes easier for both the parties involved. The same goes for the driver. The communication becomes simpler and quicker, without having to rely on mediators.
Use Optimized Routes for Delivery: Last mile carriers use highly optimized routes that are built considering factors like urgency, time windows, and proximity. Using optimized routes makes the driver's job easier. It can help them deliver more efficiently.
Improved Overall Customer Experience: When factors like real-time tracking, direct communication, and faster delivery are combined, it improves the overall experience of the customers. It improves the possibility of exceptional delivery services and customer loyalty.
Factors to Consider When Choosing a Last-mile Delivery Service
In this section, we'll look at several critical features to consider when choosing carriers.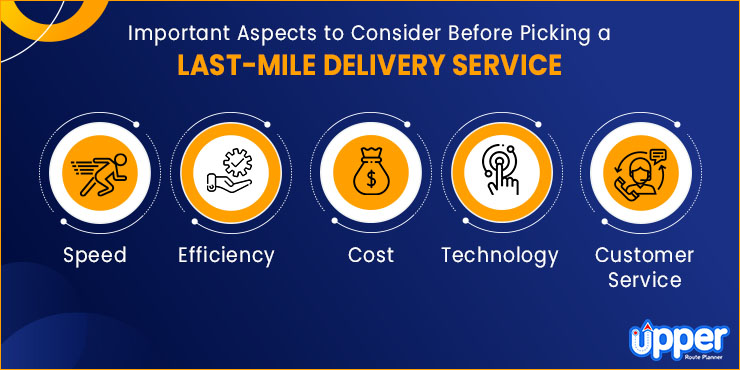 Speed

We cannot underestimate the need for delivery speed. Today's customers are used to receiving packages from logistics companies like Amazon and other big e-commerce retailers very quickly – sometimes within 24 hours.

Often they are using a driver and vehicles that ship from warehouses at different routing points.

Of course, there are many stages in the supply chain. This supply chain ranges from original manufacturing to the final destination. The last mile is only one of those legs.

Still, with today's carrier tracking technology, customers can often see information on when a package has arrived at the local transportation hub. If the delivery does not happen promptly, customer satisfaction will probably suffer.

Efficiency

Efficiency goes part and parcel with speed in getting to the final destinations. An efficient company will have technology and systems in place to manage every aspect of the delivery – from sophisticated route planning software to well-trained drivers that follow a standardized delivery process at each residence or business.

An efficient process reduces things like delays and inventory in all industries (from furniture to appliances to food, or anything else for that matter).

It gives a company the capacity to execute and to meet the expectation of everyone they are serving. At the same time, it works towards increasing the profit margins but also pushing brand loyalty among customers.

Cost

Cost always matters, but beware of choosing the cheapest option just because it appears the most cost-effective.

If the carrier is skimping on customer service, technology, and other features to save money, you may end up losing customers and spending more time and resources dealing with issues that crop up.

Technology

Many new startups in the logistics industry are giving the established dominant players a run for their money with innovative technology solutions. Specialized software can contribute to better delivery data, greater efficiencies, fewer errors, and exceptional customer service.

Everything from route optimization, to machine learning, to transportation management, to proof of delivery (image capture or digital signature), to dispatching can be better managed with sophisticated software. Understanding your business' needs when it comes to last-mile delivery will help you identify the best technology match.

Functionalities like proof of delivery can help reduce fraudulent loss claims. This technology can support final mile tracking through the package's journey. With the help of a mobile app, tracking packages and receiving automatic text messages for accurate shipping process times become possible.

Customer Service

Don't discount the importance of a customer-centric logistics strategy. In this day and age, a customer-centric approach is a must to provide the best last-mile delivery experience. If issues arise, you want to know that you'll be able to reach the carrier and resolve the problem quickly.

On the customer-facing side of the equation, you also want to ensure that the carrier has a solid reputation for excellent customer communication (such as real-time delivery notifications for orders) and delivery experiences during its services.

In short, the standard is higher and higher for clients. Meeting consumer expectations must be paramount for any delivery business.

When customers stay informed about the shipping updates of their packages, it can help improve the level of customer service on the part of the company.

All these above-mentioned aspects can be controlled if the last mile carrier companies use a good planning and optimization tool. Using a route planning tool will not only contribute in terms of advanced technology, but it will help reduce costs, find local routes quickly, reduce unexpected delays, meet consumer expectations and improve customer experience.
Upper Route Planner works toward making your last-mile fulfillment tasks quicker and easier for your drivers with local routes. It helps you in providing customers with a delightful experience. Try it now!
Which Are the Best Last Mile Delivery Companies?
The best last mile delivery service providers that are serving the United States are:
FedEx;
UPS;
DHL;
USPS
The USPS (United States Postal Service), run by the US government, is another big player. It has an advantage over the Big Three in that it has operated for a more extended period.
Until recently, the Big Three (FedEx, UPS, and DHL) focussed primarily on getting parcels to the local transportation hub/warehouse and partnered with USPS for the final destination delivery.
| Last Mile Carrier Companies | Best Used for: |
| --- | --- |
| FedEx | Fast Delivery |
| UPS | Larger Shipments |
| USPS | Smaller Shipments |
| DHL | International Delivery |
A List of Last Mile Delivery Startups
In recent years, many These startups have developed SaaS and other technology solutions to make the last leg of the delivery process more efficient.
Many partners with local couriers to execute the final deliveries. Others have innovated their in-house carriers, including robots and autonomous cars.
| Startups | Services Provided | Service or Product |
| --- | --- | --- |
| Postmates | Delivers food, drinks, groceries, and more. | Offers services. |
| Startship | Delivers food and packages through autonomous deliveries. | Offers products. |
| Deliv | Crowd-sourced, same-day delivery service for retailers. | Offers services. |
| ShipHawk | Advanced shipping software for high-volume wholesale, retail, and eCommerce. | Offers products. |
| Matternet | Urban drone logistics platform for deliveries using drone technology. | Offers products. |
The following five top last mile delivery companies in the US are proving to be top contenders in the market:
Plan quickly, deliver faster, delight customers and get home early.
Everyone deserves to have simple and easy route planning.
What is the Importance of Last Mile Carrier Tracking for Customers?
Last mile carrier tracking is significant to the customers for the following reasons:
Real-time Notifications or Alerts: With last mile carrier tracking, customers stay informed through real-time notifications and alerts from the carrier company. It helps them know where their package has reached. Customers can receive automatic text messages when their package is about to arrive at their address.
Direct Communication with Driver: The customers can easily call or text the driver to know the exact driver or package location or give them any specific drop-off details. The drivers can do the same in case they are unable to find the address or if there are any changes to the delivery schedule. It can be done through email or SMS alerts.
Real-time Tracking: Real-time tracking provides clear real time visibility to the customers. Real-time tracking in last mile logistics can have a great impact on the customer experience. Customers like to stay informed and if that is done proactively, the company can provide an exceptional delivery experience.
Rating Delivery Experience: Customers can rate their experience for individual aspects like delivery time and driver's behavior. It gives a sense of importance to the customers when feedback is accepted and applied to the last mile delivery process on behalf of the company.
Last Mile Delivery Business Model
Exceptional delivery experience is offered if you have an effective last mile delivery business model. Let us take a look at the ideal models that last mile logistics providers can follow:
FAQ
A last mile delivery company is a company exclusively offering delivery service. The drivers of last mile delivery companies pick up packages from their clients (online stores or retail stores) and deliver them to an end customer.
It's the portion of the delivery from the last warehouse to the door of the end consumer. For the most part, it happens with the use of trucks and delivery drivers. Many would say that Amazon and eBay jump-started e-commerce sales in North America to meet customer expectations.
When you order a product through a last mile carrier, it takes between 8-10 days for the product to be delivered with economy class service. If you have applied for expedited delivery, you may get your package in 2-3 days.
The average total cost of a last mile delivery is $10 per package. Businesses can easily cover around $7-8 from last mile charge and the rest from the profit of the products.
Final mile logistics make up almost 53% of the total delivery cost of a product. It is an expensive step for the logistics provider in the business model. It involves a human element and is supported by advanced, sophisticated technology for the purpose of last-mile carrier tracking, providing real-time information, and improving customer experience. With good route planning solutions, you can ensure timely deliveries and control last mile delivery costs.
The Amazon Last-mile team helps deliver products from delivery stations or warehouses to the customer's address. Amazon is constantly working on improving customer delivery times and offering innovative delivery solutions to its customers.
With Amazon, you can either be a Retail Partner or join the Amazon Delivery Service Partner Program. Being a retail partner, you will be able to sell your goods through Amazon. While being a delivery partner, you will be providing last mile delivery services under the name of Amazon and get access to Amazon's technology and logistics experience.
Choose the Most Suitable Last Mile Carrier Partner
There is no one last mile business that beats out all the competition in the entirety of the supply chain. The key message here is there are a lot of startups working towards a single goal: this is not your good ol' post office anymore. It comes down to finding the right match for your business or organization's specific needs.
If you're an urban grocery store serving local customers, the best delivery company for you is probably not going to be the same as it is for large retailers with urban and rural delivery options. Even though the end result is the same, the processes need to be more customer focused.
If you are handling your last mile deliveries on your own, you will still need to optimize your routes cost effectively. For that, you must try a route planning and optimization tool like Upper Crew. For a team of drivers, you can opt for Upper Crew. But if you have a single driver, you can go for Upper Solo.
We hope this article has helped you make some of the decisions you need to make. As always, if there's anything we missed or something you'd like us to discuss, please get in touch with us and let us know!