Do you wonder how fleet tracking has helped businesses and how it does so? Vehicle or fleet tracking technology combines location tracking and vehicle data in a software interface. Organizations can use this to make informed decisions.
This brings us to our next question: How exactly does a vehicle tracking system work?
Businesses can enable vehicle tracking on vehicles by attaching a GPS device to them. The device is capable of detecting the real-time location of a vehicle. The recorded information is then sent to a central location. Not just the location, fleet managers can also know the exact route followed by the vehicle.
Integrating vehicle tracking solutions or fleet management solutions with route planning solutions can significantly benefit a business – big or small. The integration allows you to compare the planned activities with what is happening in real-time.
Why is Vehicle or Fleet Tracking Important?
Vehicle tracking is a part of more comprehensive telematics solutions. With GPS fleet tracking software integration with route planning solutions, identifying disparities in business processes and plans becomes easier.
It smoothens the glitches in communication between the drivers and fleet managers. Customers can also be allowed to track their packages and receive real-time updates regarding their package location.
With real-time GPS fleet tracking, driver safety increases. A business can also avoid hefty fuel costs and misuse company vehicles when tracked around the clock.
8 Benefits of Integrating Vehicle Tracking & Route Planning Solutions
Here is a list of benefits derived from integrating fleet tracking software solutions with a route planning solution.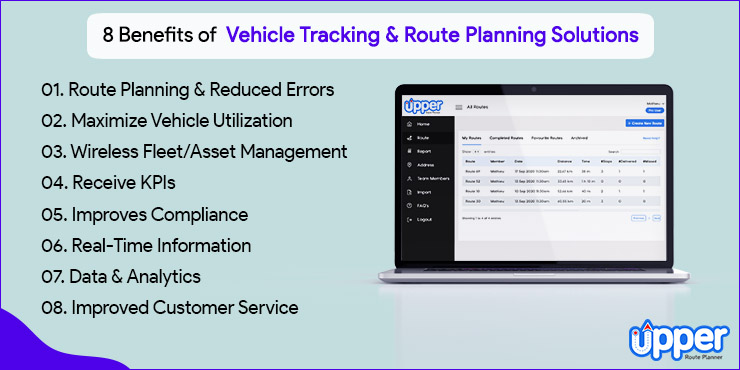 Route Planning & Reduced Errors
With GPS tracking data, a business can identify the best routes to save time and money. With intelligent route planning, idle time is reduced, drivers can accept more work orders, and the overall productivity boosts. Businesses can avoid unnecessary fuel expenses and reduce errors in the delivery process.
Maximize Vehicle Utilization
With accurate GPS tracking for fleet management, managers can use real-time data to eliminate vehicle idle time, reduce speeding, improve driver behavior, and reduce fuel consumption.
With vehicle tracking support in the fleet management process, a business can save time by guiding drivers away from traffic or accident-prone areas.
Wireless Fleet/Asset Management
With wireless management of the vehicles, fleet operations become easier to control and look after. Any communication can instantly be made between the fleet managers and drivers or drivers and customers. The wireless activity offers a business more ways of being in control and being aware.
Receive KPIs
It becomes possible to receive and record important KPIs for measuring the overall performance of the operations. You can replay routes so that any discrepancies between the planned and actual routes can be identified then and there.
KPI summaries can be referred to find out issues related to mileage, arrival times, number of deliveries made, and more. Businesses can create detailed reports and reach a conclusion.
Improves Compliance
ELD (electronic logging devices) and GPS tracking systems can automatically track driver work hours and make sure drivers log their hours of service. Drivers can receive important messages related to the route, delivery tasks, and other compliance-related tasks.
Businesses can rely on the drivers to comply with the rules and regulations while getting enough rest time. Compliance can improve the number of violations, traffic incidents, fines, or rash driving can be reduced.
Real-Time Information
With GPS fleet tracking technology, keeping track of the vehicles by receiving real-time information is made possible. Geofencing alerts can be activated to know when drivers exit a designated area or predetermined routes. It offers more control over the fleet operation.
Data & Analytics
Fleet managers can receive real-time data related to the routes and deliveries. These can be turned into detailed reports & analytics. It can give them insights into where they are succeeding and which areas need improvement in better planning and execution. Insights can be received from any real-time data or KPIs that are offered by vehicle tracking systems.
Improved Customer Service
With real-time information, loopholes can be identified, and compliance can improve. It can eventually lead to improved customer service. When a business receives up-to-date and reliable real-time information, the same can be forwarded to the customers – improving customer experience.
Businesses can proactively keep customers informed through ETAs and real-time alerts about their scheduled deliveries. With an increase in visibility, efficiency increases which can lead to better customer service.
4 Must-have Features for your Vehicle Tracking Systems
Consider the following features before choosing a fleet tracking solution.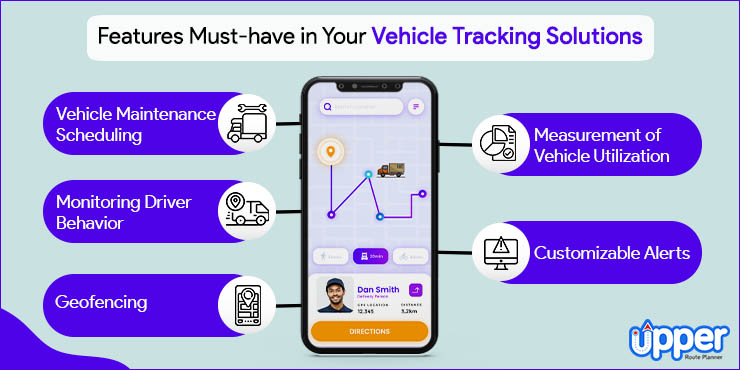 Vehicle Maintenance Scheduling
Keeping the vehicles or the fleets up and running is the priority of any business. Vehicle tracking systems allow you to keep track of your fleet's health.
With this feature, a business can spot new maintenance issues, provide vehicle diagnostics, and ensure preventive maintenance is in place. This scheduling can help you avoid more minor problems turn into bigger and expensive ones.
Measurement of Vehicle Utilization
Measuring vehicle utilization can be an indicator of the efficiency of vehicles. Keeping track of the utilization of all kinds of vehicles you have is vital for a business. Vehicle tracking systems can provide reports with all the data regarding the utilization.
A business can identify any missteps in terms of buying or allocating the wrong vehicles for deliveries. It can underline the need for right-sizing your fleet.
Monitoring Driver Behavior
Monitoring the mobile workforce can be a challenging aspect of fleet operations. Monitoring and improving driver behavior are essential for boosting productivity and efficiency.
A business can get visibility into several driving behaviors like speeding, rash driving, harsh braking, and rapid acceleration with tracking solutions. These reports can be used to coach and guide your drivers to be more aware and alert on the road.
Customizable Alerts
A company can sign up to receive real-time updates or notifications regarding various aspects ranging from driver activity to vehicle maintenance.
Customizable alerts can work as reminders for improvement areas, which can eventually affect your deliveries' performance. A company can customize alerts or notifications according to their needs.
Geofencing
With geofences or geographical boundaries on the map, designated areas for drivers can be specified. Managers can receive alerts every time team members enter or exit the geofence.
The regular monitoring feature is vital to know the vehicles' whereabouts and determine their path. With this feature, a business can elevate safety while improving operational efficiency and workforce optimization.
---
FAQs
A vehicle tracking system uses GPS satellites to know the GPS tracking hardware's exact location or its attached vehicle. The data gathered from the hardware is transmitted by the satellite to the provider using a cellular or wireless network.
The purpose of a vehicle or fleet tracking is to track fleet vehicles' exact location and the direction chosen by the vehicles on a near-continuous basis. It is used for several purposes like grasping fleet analytics, knowing driving habits or driving behaviors, real-time notifications to customers, and knowing the visibility or vehicle activity.
---
Improve Overall Productivity with Integration of Fleet Tracking Software
When it comes to the benefits of having a vehicle tracking device or the technology to the delivery industry, the points mentioned above are just the tip of the iceberg. As you implement a user-friendly tracking solution with your fleet management software, you will notice the real difference it can make to organizations in different industries.