Key Takeaways:
Apps that plan walking routes can assist users in locating the most effective and pleasurable walking paths.
GPS tracking, voice guidance, and points of interest are all features that the top walking route planner apps provide.
Apps that plan walking routes can be helpful for commuters who wish to beat the traffic and take a more beautiful route to work.
Apps that design walking routes might also assist those who have mobility challenges or disabilities in locating accessible paths and avoiding hazards.
Walking is an effective way to increase your fitness level as it has multiple benefits. Taking steps will have a positive influence on your health status. Therefore, going for a regular walk can keep you in good shape and help in burning calories. It is the best exercise that reduces illness and helps you achieve longevity.
But, if you plan for a long walk or hike, you may need a companion to count your steps, monitor your heart rates, body weight, outdoor activity time, mile split times, and much more. So, in present times, what would be a better option than a walking trip planner? The walking app can keep track of your steps no matter how many miles you cover in a day.
Here, we have compiled a list of 13 top walking trip planner apps to look for in 2023.
13 Best Walking Route Planners and Apps for 2023
Here is a list of the 13 best walking route planner apps that you are looking for.
1. Google Maps
Best for: Regular walkers
Price: Free
Google Maps is one of the most widely used route planners and has been that way for many years. Google Maps or Google fit is completely free to use and is easily accessible whether you or on your desktop or a mobile phone. Google Maps is easy to use and offers real-time navigation for walking, driving, cycling, and public transport. Google Maps offers a topography view that allows users to view the elevation levels of a particular location. With a street view and traffic visibility on the map, Google Maps is one of the most preferred route planning apps.
Pros
Multi-stop route planning
Very easy to use
Displays your timeline
Cons
Not always provides quickest route
It only allows 10 extra stops
Available on: Android & iOS
2. PlotaRoute
Best for: Traveler
Price: Free
Plotaroute is a simple yet powerful route planning app. It offers four ways of creating routes: Point and Click, Choose Waypoints, Make me a Route, and Upload a Route. Depending on physical activity for people, whether it is a walk or hike, you can check the road surface and have a Google Street View to plan accordingly on your phone. PlotaRoute allows you to generate multi-layered maps to check out where you can get to in a given time or distance. The mobile app is available on iPhone and Android devices.
Pros
Best for improving speed
Displays average pace and walking speed
Offers Google street view
Cons
Expensive subscription fees
Trouble while syncing
Available on: Android & iOS
3. Komoot
Best for: off-roaders
Price: starts from $3.99
Komoot is a route planning app designed explicitly for off-roaders. But in addition to off-roading sports, it offers route planning for walks and hikes as well. Depending on the adventure you choose, Komoot offers hand-picked guides or even ready-built, localized routes for online that fit your needs. Komoot makes sure you are informed about the path you choose. So it provides inch-by-inch surface, way-type, and elevation analysis in the planning panel. There are very few route planners that offer such detailed information regarding a route.
Pros
Route planning and navigation
Popular spot recommendations
Voice navigation
Cons
Access to premium features is quite expensive
Difficult to navigate routes
Available on: Android & iOS
4. Footpath
Best for: Walkers & Bike riders
Price: $24 per year for Footpath Elite
The Footpath Route Planner is one of the most popular mobile apps for planning and navigating custom routes. You can measure distances by tracing a map with your finger or Apple Pencil. It will then snap to roads and trails on the map. You can also measure distance during walks and elevation to know how high you will travel with these elevation profiles. Footpath allows you to plan and keep up to 5 routes on hand. You can choose to share routes and location with friends, family, or workout partners.
Pros
Wearable apps support
Turn-by-turn navigation
Basic version is free
Cons
Export routes may not work
App freezing issues
Available on: Android & iOS
5. Map Pedometer
Best for: Running or walking
Price: Free
Map Pedometer helps you in creating daily routes. It is powered by Google Maps to calculate the distance traveled for running, cycling, walking, and other activities. It uses Google's precise mapping application. After saving your route on Map Pedometer, you can view elevation/altitude graphs. Constant pedometer gives you clear information about elevation increase or decrease in feet or meters. It also offers some additional features like Print map routes, add reverse route, and a map size drop-down list. You can be a registered Map Pedometer user for free.
Pros
Feature-rich app
Easy to access for new users
Reverse route option
Cons
GPS might drain your phone battery
Inconsistent step tracking
Available on: Android & iOS
6. Map My Walk
Best for: Advanced walkers
Price: Free
MapMyWalk by Under Armor, Inc is a GPS walking and workout trainer. For every mile you walk, you get feedback and essential stats on how to improve. You can discover and share routes with friends. With every GPS-tracked walk, you get audio feedback. You get detailed stats like distance, current pace, duration, calorie burn, etc. Map My Walk is a feature-rich route planner that quickly connects with other apps and wearables. Some of the premium features include a personal training plan, monitoring heart rate zones, creating custom splits, etc.
Pros
Audio feedback
Tracking and data analysis
Option to add custom routes
Cons
It requires a paid upgrade
Annoying advertisements
Available on: Android & iOS
7. RouteYou
Best for: Route navigation
Price: Free
RouteYou allows users to search interactively for routes and tracks. Users can also create and add their information-related routes. RouteYou encourages its users to create a sub-community and interact with the information provided by others. It can easily convert traditional non-topological or analog data to structured digital routes. It also offers navigable data as digital routable maps for navigation devices in the format of those devices, for example, Garmin. You can export GPX files directly to the device.
Pros
Multiple language options
Automatic route-finding features
File export
Cons
Not easy to use for first-time users
It may freeze while running
Available on: Android & iOS
8. Nike Run Club
Best for: Running
Price: Free
It is a widely used app by fitness experts as well as runners to measure their long runs. The app offers in-built training programs for its users for a better experience. It has an accurate fitness tracker that makes this app one of the best for walking and running activities.
Also, if you are a first-time user, it won't be difficult for you to use the app. You can set the fitness goals before going out for a walk, and it will remind you every time you enter the app. Plus, you can share your easy-to-read charts with your dear ones.
Pros
Training programs
Enhanced user experience
Sharing option
Cons
Data might not be saved on the app
User logging issues
Available on: Android & iOS
9. Runkeeper
Best for: Hikers
Price: $9.99 per month
Runkeeper has won the hearts of many users who use it for walking or hiking. It is a very user-friendly app that measures your steps no matter wherever you go. It has no trouble syncing with the Apple Watch or any other smartwatch. It allows you to set goals in advance so that you can work on it by keeping tabs on daily steps. In short, the Runkeeper does everything to assist you in maintaining your health standards. It has different tracking modes for indoor runners and outdoor runners as well.
Pros
Easy-to-use interface
Simpler to connect with wearable device
Different training plans
Cons
Inconsistent GPS accuracy
Pro version is costly
Available on: Android & iOS
10. StepsApp
Best for: Wheelchair users
Price: Free
StepsApp is a GPS-enabled app that seamlessly allows you to customize the route. You can click on the route which you prefer to walk on just with a click of your finger. It will display the distance covered by you and the actual position with the help of the phone's GPS. Using StepsApp, you can also access the turn-by-turn directions. What's good is you can even save your favorite routes in your personal library. It works well for wheelchair users.
Pros
Detects arm pushes for wheelchair users
User-friendly for daily step count
Ability to import health reports
Cons
Only keep data from the last 7 days
No glance support if you wear Apple watch
Available on: Android & iOS
11. Fitbit
Best for: Casual walkers
Price: Premium upgrade @ 9.99 per month
Fitbit is capable of transforming your regular walk into an intense walking workout session. It has the ability to keep a tab on your steps whenever you start walking or running. It is designed to take your walking exercise time to the next level. Basically, Fitbit relies on your phone's GPS and sensors as it has activity tracking abilities. Whether you are on a leisure walk or on a hike to the mountains, it can continuously used for tracking steps. The fitness app is good at tracking your burned-out calories.
Pros
Records all-day activity
24/7 heart rate monitor
Sleep tracking
Cons
Tracking errors are unavoidable
Inaccurate information
Available on: Android & iOS
12. Walkmeter
Best for: Solo walkers
Price: Free
Once you start using a Walkmeter, it can be your go-to app for sure. The app is well-developed for early morning walkers who want a solo walk. It has an in-built private tracking mode so that it keeps counting your steps. Also, you can share your current location if you're walking or in a stationary position. The app not only focuses on walking activities but also assists you in tracking activities like cycling, hiking, kayaking, and much more.
Pros
Offers easy navigation
Live tracking option
Reads out your messages
Cons
It doesn't allow the export of GPX files
Users may not get accurate data
Available on: Android & iOS
13. AllTrails
Best for: Outdoor enthusiasts
Price: Paid-for version @ $29.99 per year
AllTrails has become the first pick app for walkers as it is quite accurate in measuring your footsteps. It demonstrates the popular routes considered by other people to march on. The user can even save their favorite routes for future walks as well. It displays the stats like route distance and walking pace. It quickly syncs with your own workout tracker to fetch the data. You can follow the route displayed on your phone to avoid taking the wrong turn.
Pros
Downloadable offline maps
Customizable plans
Off-route notifications
Cons
Expensive fitness app
Lack of accurate information
Available on: Android & iOS
So, these were the best apps used for walking and hiking purpose. However, if you are still searching for the right app with more advanced features, you can leave things up to route optimization software. Let us know more about it in the next section.
Use Reliable Route Planner for Easy Navigation
Whether you are walkers, hikers, or road trippers, Upper has effective routes for you. If you are not impressed with a standard route planner or fitness app, we recommend you try accessing the optimized route on the route planner app.
In terms of route planning and navigation, Upper Route Planner is one of the best route planner apps to reduce your planning time. You can directly import routes from the file to create a multi-stop route plan and optimize it anytime. In addition to that, it will have a customizable feature and allows you to share the routes directly from the web app. It uses a human-centric design approach for its app, which makes it easy to use for existing customers as well as first-time users.
Upper aims to provide a much better and enhanced user experience, no matter if you use it to plan unlimited routes or track your on-field team. It takes a minimal time to sync with the web app whether you are iPhone or Android user. Upper could be the worthy alternative option for users who are left unimpressed with the ordinary step-counting app.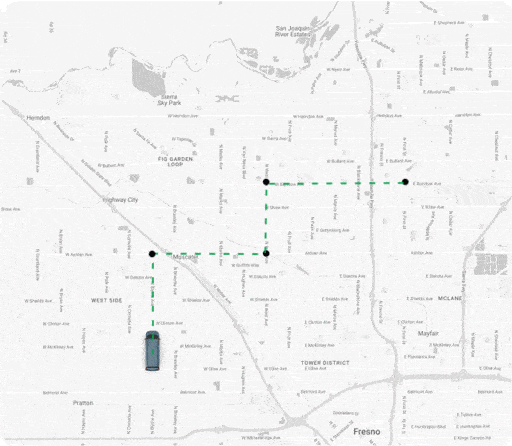 ---
FAQs
You can enter a start point and a destination or create a round trip on Google Maps and choose the walking sign in the commute options presented under the address. By clicking on the map, you will drag to positions to experiment with different route options. You can draw a walking, running, or cycling route with turn-by-turn directions, exact distance, and time.
There are several apps like Google Maps, Footpath, and MapMyWalk that you can use to map a walking route on your iPhone. With these apps, you can plan routes ahead of time. But if you choose Apple's own Maps app, you will only be able to navigate and not design and create a walking route.
If you are an iPhone user who wants to install the walking app for leveling up your fitness and burning calories, you should consider "Footpath" or "Walking for Weight Loss." These two apps come out on top when it comes to accessing the app on an iOS device.
Not really, but walking can turn your walking habit into making money. There are many apps that will reward you for accomplishing your walking goals. It will send you gift cards or rewards points which can be later used as money from your digital wallet.
---
Explore New Areas Without Worrying
A walking route planning tool can help your regular walks or hikes and new tourist destinations you are not familiar with. Each route planning application mentioned above offers ways in which you can reach your goal safely. With the help of these mapping sites and apps, you can explore a new location without worrying too much about being lost. You must pick a tool that shows accurate route conditions, offers safety alerts, voice guidance, and meets your routing requirements.