Going for a walk or a hike is about creating an outdoor experience where you connect with nature. For many, it is often perceived and carried out as a meditation practice. But do you plan your walking or hiking routes? Most people step out with a specific plan of going for a 5k or a 10k hike. But how do you prepare to be sure that you are on the right path?
We live in a time where technology meets fitness, and it takes care of things we would otherwise be worried about. We are talking about walking trip planner services. Several mobile applications help hikers and walkers in planning their next walk or hike.
Basics of Walking Trip Planner & Route Planning
Whether you go for a walk in your neighborhood park or nearby forest trails, you need to carve out a particular path you will follow. People often use Google Maps for such planning. Google Maps has been an excellent option for navigation services and directions through traffic. Good walking route planner tools have certain distinct features. They need to be specifically designed for people using maps for walks and hikes.
If you are someone who goes for a walk on the sidewalks, you know how important the information about crossings, streets, and approaching vehicles is to you. Similarly, if you regularly go for hikes, you will need accurate hike trails, elevation, detailed satellite maps, etc.
A lot of these route planners offer a street view, turn-by-turn voice navigation, and safety alerts. These are important in routing.
7 Best Walking Route Planners and Apps for 2022
Here is a list of the seven best walking route planner apps in 2022.
1. Google Maps
Google Maps is one of the most widely used route planners and has been that way for many years. Google Maps is completely free to use and is easily accessible whether you or on your desktop or a mobile device. Google Maps is easy to use and offers real-time navigation for walking, driving, cycling, and public transport. Google Maps offers a topography view that allows the users to view elevation levels of a particular location. With street-view and traffic visibility on the map, Google Maps is one of the most preferred route planning apps.
2. PlotaRoute
Plotaroute is a simple yet powerful route planning app. It offers four ways of creating routes: Point and Click, Choose Waypoints, Make me a Route, and Upload a Route. Depending on your activity, whether it is a walk or hike, you can check the road surface and have a Google Street View to plan accordingly on your phone. PlotaRoute allows you to generate radius maps to check out where you can get to in a given time or distance. The mobile app is available on iPhone and Android devices.
3. Komoot
Komoot is a route planning app designed explicitly for off-roaders. But in addition to off-roading sports, it offers route planning for walks and hikes as well. Depending on the adventure you choose, Komoot offers hand-picked guides or even ready-built, localized routes that fit your needs. Komoot makes sure you are informed about the path you choose. So it provides inch-by-inch surface, way-type, and elevation analysis in the planning panel. There are very few route planners that offer such detailed information regarding a route.
4. Footpath Route Planner
Footpath Route Planner is one of the most popular mobile apps for planning and navigating custom routes. You can measure distances by tracing a map with your finger or Apple Pencil. It will then snap to roads and trails on the map. You can also measure distance and elevation to know how high you will travel with these elevation profiles. Footpath allows you to plan and keep up to 5 routes on hand. You can choose to share your routes with your friends, family, or workout partners.
5. Map Pedometer
Map Pedometer helps you in creating daily routes. It is powered by Google Maps to calculate the distance traveled for running, cycling, walking, and other activities. It uses Google's precise mapping application. After saving your route on Map Pedometer, you can view elevation/altitude graphs. It gives you clear information about elevation increase or decrease in feet or meters. It also offers some remarkable features like Print Map Routes, Add Reverse Route, and a map size drop-down list. You can be a registered Map Pedometer user for free.
6. Map My Walk
MapMyWalk by Under Armour, Inc is a GPS walking and workout trainer. For every mile you walk, you get feedback and stats on how to improve. You can discover new routes and save and share them. With every GPS-tracked walk, you get audio feedback. You get detailed stats like distance, pace, duration, calorie burn, etc. Map My Walk is a feature-rich route planner that quickly connects with other apps and wearables. Some of the premium features include a personal training plan, monitor Heart Rate zones, create custom splits, etc.
7. RouteYou
RouteYou allows users to search interactively for routes and tracks. Users can also create and add their information-related routes. RouteYou encourages its users to create a sub-community and interact with the information provided by others. It can easily convert traditional non-topological or analog data to structured digital routes. It also offers navigable data as digital routable maps for navigation devices in the format of those devices, for example, Garmin. You can export GPX files directly to the device.
A Route Planning Alternative to Consider
Upper Route Planner is one of the best route planner apps to plan your driving routes. It allows you to enter multiple stops in a route. In addition to that, it will enable you to customize and share the routes you create. Upper Route Planner uses a human-centric design approach for its app, which makes it easy to use. It offers a great user experience, whether you are looking to plan a route for a walk or a road trip. Upper Route Planner syncs across web, iPhone, and Android mobile phones. Upper Route Planner can work as a good alternative for users if they are looking for something that goes beyond walking routes.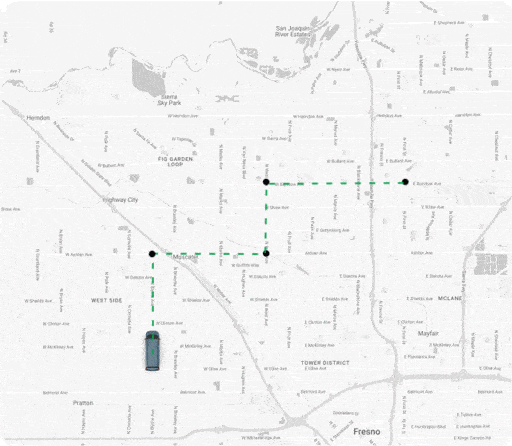 ---
FAQs
You can enter a start point and a destination or create a round trip on Google Maps and choose the walking sign in the commute options presented under the address. By clicking on the map, you will drag to positions to experiment with different route options. You can draw a walking, running, or cycling route with turn-by-turn directions, exact distance, and time.
There are several apps like Google Maps, Footpath, and MapMyWalk that you can use to map a walking route on your iPhone. With these apps, you can plan routes ahead of time. But if you choose Apple's own Maps app, you will only be able to navigate and not design and create a walking route.
---
Explore New Areas Without Worrying
A walking route planning tool can help your regular walks or hikes and new tourist destinations you are not familiar with. Each route planning application mentioned above offers ways in which you can reach your goal safely.
With the help of these mapping sites and apps, you can explore a new location without worrying too much about being lost. You must pick a tool that shows accurate route conditions, offers safety alerts, voice guidance, and meets your routing requirements.