Key Takeaways:
With the help of Bing Maps Route Planners users can plan their journeys and optimize their routes thus saving time and money.
Users using Bing Maps can add several stops and alter their routes according to variables like traffic, weather, and road closures.
The app has features like StreetSide view that let users visually explore places before going there in person.
Bing Maps users can store locations in their library for later use or reference.
We require mapping and navigation tools daily – to help us on our commute, find gas stations and restaurants on our road trips, find the right address for delivery, etc. There are quite a few route planning and navigation apps like Google Maps, Waze, and Mapquest. But there is one such route planner that people often forget about: the Bing Maps route planner.
Bing Maps is one of the original route planning and navigation apps to be made available to us. Bing Maps came out at the same time as Google Maps. While all the updates on Google Maps catapulted its growth to a new level, the updates in Bing Maps went unnoticed. Bing Maps has some really amazing features, and it proves useful for many people needing route planning for multi stops and navigation. But not many people have much information about it.
In this article, we will take a look at some of the features of Bing Maps, how you can use them and whether Bing Maps is as good as Google Maps or not. Let's dive in.
Basics Of Bing Maps by Microsoft
Bing Maps by Microsoft has been one of Google Maps' most direct competitors since its launch in 2005. Bing Maps is a mapping software provided as a part of Microsoft Bing's suite of search engines. The app is powered by Bing Maps for Enterprise framework.
Bing Maps offers a fresh and clean interface, quite different from the interface provided by Google Maps. The controls for driving directions, traffic, and other features are provided in legible icons on the top.
Bing Maps was previously launched as MSN Virtual Earth, as a continuation of older Microsoft technologies like TerraServer and Microsoft MapPoint.
Bing Map's original standout feature, which it was pretty popular for, was the aerial imagery. In 2009, Microsoft rebranded Live Search Maps as Bing Maps and the Virtual Earth Platform as Bing Maps for Enterprise.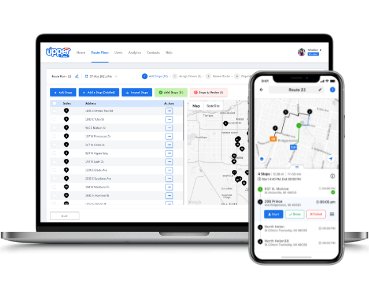 Upper Route Planner
A Simple-to-use route planner that every one is talking about.
Save up to 95% of planning time
Save up to 40% of time on the road
Plan 500 stops at once
Features of Bing Maps
Here are some of the features offered by Bing Maps by Microsoft.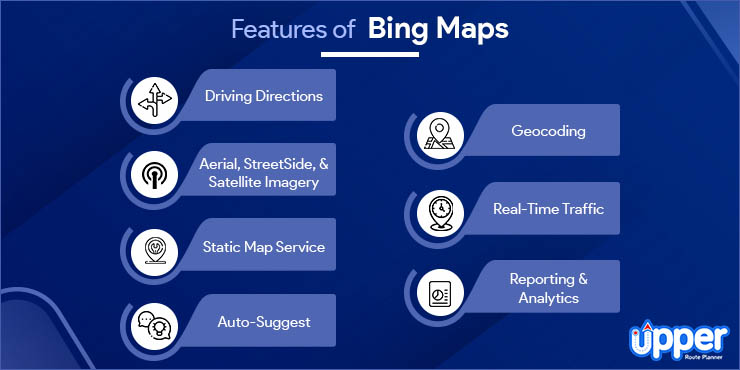 Driving Directions
Bing Maps is said to be one of the fastest routing engines. In your routes, you can choose to avoid or minimize toll roads or highways. It calculates driving directions or public transit directions to a location from nearby major roads and can be a valuable tool for route planning.
This versatile platform is not limited to a single region; it extends its services to most countries, offering the capability to optimize routes while considering factors such as traffic, road closures, and more.
Aerial, StreetSide, and Satellite Imagery
Bing Maps by Microsoft offers some stunning aerial and satellite imagery. It is among the best available online route planning services. The streetside imagery offers street-level panoramas of the specific location of your choice.
Static Map Service
Bing Maps offers a REST service. It helps retrieve images of maps. These images are useful when generating reports or when you do not require a fully interactive map. You also get high-resolution 3D models of over 250 cities in 11 countries.
Auto-suggest
As you start to type the stop or location in the search bar, Bing Maps auto-suggests addresses, so you do not have to type in the whole address.
Geocoding
You can use forward and reverse geocoding to locate where a particular address is look for an address or stop in a specific location. It offers batch geocoding of 200,000 reverse or forward geocoding and processes at once. This way, it cuts downtime, bandwidth, and the number of requests.
Real-Time Traffic
Bing Maps provides real time traffic information in 35 countries. It presents the results either in individual incident data points or as color-coded roads depicting traffic flow in the streets. The app updates the real time traffic data every 15 minutes. The app retrieves traffic incident information like construction, traffic accidents, and road closures.
Reporting & Analytics
Users gain insights from the reports and analytics. Users calculate useful information regarding their routes and stops. This data helps make informed decisions in the future.
How to Use Bing Maps Route Planner?
Open Bing Maps in a browser on your desktop or mobile device.
In the next step, enter the starting point followed by the destinations or stops that you want to cover in your route. Bing Maps allows you to add multiple destinations/stops to the route up to 25 stops.
Plan a route and choose from options like walking, biking, public transport mode, or driving directions.
You can also choose to print the routes you plan.
Save the routes and destinations.
The routes you plan can be shared with others as well.
Finally, it is possible to receive additional information for your routes related to traffic data and elevation.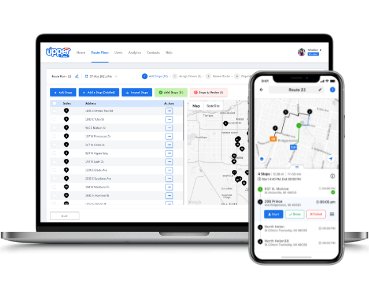 Upper Route Planner
A Simple-to-use route planner that every one is talking about.
Save up to 95% of planning time
Save up to 40% of time on the road
Plan 500 stops at once
Bing Maps Vs. Google Maps – Which is Better?
Bing Maps by Microsoft offers features quite similar to Google Maps, including transit and walking maps driving maps, and road, aerial, and streetside views.
Pros
Bing Maps route planner offers a modern, easy-to-use interface
Bing Maps offers extremely detailed maps with multiple layers
Users can easily save locations to their library for future reference or use
Map add-ons help to find gas stations with the cheapest fuel and best parking spots
Cons
Bing Maps doesn't have a mobile app for Android and iOS devices, but it offers SDK for building mapping applications
This mapping software lacks the feature of the trip planner
Bing Maps has limited features and tools compared to Google Maps
Bing Maps does not optimize routes. Users will have to arrange multiple stops according to their priority and the distance
Some distinctions between Google Maps and Bing Maps
Both Bing Maps and Google Maps offer identical routes; the only difference may be the map's navigation style.
When compared, Google Maps has a better reach and usage coverage in categories ranging from business to travel.
Bing Maps offers more conservative travel times compared to Google Maps.
Google Maps is a leading navigation and mapping service for driving directions or public transit directions in most countries.
Google Maps has a better, widespread coverage image coverage and offers an excellent mobile experience lacking Bing Maps.
---
FAQs
Yes, you can download offline street maps for certain countries. If you are using a Windows 10 app, you can use the downloaded maps offline. The offline street maps are limited to the Windows 10 app. It requires users to download maps ahead of time.
Bing Maps is free to use if you add Bing Maps to a free mobile app and make less than 125,000 transactions in 12 months on a non-password-protected website.
When you compare navigation, mapping, and overall mobile experience, Google Maps is far better and more advanced than Bing Maps. Google Maps has the lead over Bing Maps in any given country whether it is for biking, walking, or public transport mode.
---
Which is a Better Option for You?
Both Google Maps and Bing Maps route planner came around at the same time. Over time, while Google Maps was able to work its way towards developing and making navigation and route planning services more accessible, Bing Maps was left behind, being restricted to a few thousand users who had access to the map on a Windows device.
It makes sense why Google Maps, and not Bing Maps, is the first choice when it comes to routing and navigation. Google Maps is predominantly found on Android devices, where it is a default application. iOS users can download it from the App Store.
We hope this article about Bing Maps route planner and its similarities and differences with Google Maps has helped you determine which app is a better option for you.