Key Takeaways:
The most widely used navigation app, Google Maps, is accessible on both iOS and Android smartphones.
For both Android and iOS devices, Waze is a crowdsourced navigation application that offers real-time traffic updates.
The default navigation tool for iOS devices, Apple Maps provides turn-by-turn directions with a simple, straightforward user interface.
The voice-guided, turn-by-turn directions provided by MapQuest, a free navigation tool, are compatible with both Android and iOS smartphones.
Whether you are traveling to a new city, finding lower gas prices, or even cutting down sometimes on your daily trips, there are many GPS apps for navigation.
Each navigation app comes with distinct features that set it apart from the competing apps.
With such a variety of GPS navigation apps available on our mobile devices, it often becomes confusing when choosing the most suitable for you.
Most people use GPS navigation apps for three reasons:
To locate the new address by GPS-enabled app.
Finding the best route to reach the location.
To share the route map with their travel partners.
If you are one of them, this article is for you. Here, we have listed some of the best navigation apps of 2023 to help you weigh their usefulness.
What is a Navigation App?
A navigation app is an application on your mobile phone or any portable electronic device that uses GPS technology to offer real-time turn-by-turn directions with an estimated time of arrival and other useful information.
A good navigation app will provide you with features like turn-by-turn voice-guided navigation, traffic updates, estimated arrival time, bicycle routes, and access to offline maps. These apps must also be functional on the most popular platforms like the web, iOS, and Android.
In the next section, we have rounded the 15 best navigation apps whether you need help planning a road trip, your daily commute, or a walk to the nearest park or restaurant.
A Comprehensive List of Best Navigation Apps for Android & iOS Users
Logo
Navigation Apps
Top Features
Ideal for
Google

Route Planning
Google assistant
Live traffic updates

Trip Planners
Upper Route Planner

Route planning & optimization
Route scheduling
Street views
Voice navigation

Delivery services
Waze

Map navigation
Real-time updates
Parking notifications

Better driving experience
MapQuest

Custom maps
Displays gas prices from gas stations
Webcams

Pedestrians
Apple Maps

GPS-enabled Apple maps
Integration with Apple device
360-degree map view

Frequent travellers
CoPilot GPS

Custom route plan
3D maps
Offline Maps

Long-haul deliveries
Maps.me

Offline maps
Pedestrian navigation
Auto-follow mode

Globetrotters
Here WeGO

Heavy traffic and parking information
Routing
Offline access

Road trips and vehicle parkings
InRoute

Multi-stop routes
Non-direct trips
Weather alerts

Multi-stop trips
MapFactor Navigator

Download maps
Street view
Audio navigation

Tour guides
TomTom GO

Customizable maps
Real-time traffic updates
Driving guidance

City riders
Sygic

Lane guidance
Voice-enabled navigation
Driving instructions

Heavy duty vehicles
Polaris GPS Navigation

Turn-by-turn driving directions
Waypoint navigation
Track records

Outdoor activities
BackCountry Navigator

Navigation access
Offline access to map
Favorite destinations

Hikers
Roadtrippers

Trip guides
Pre-planned routes
In-built compass

Off-road adventures
Here are the 15 top navigation apps for android and iOS devices:
1. Google Maps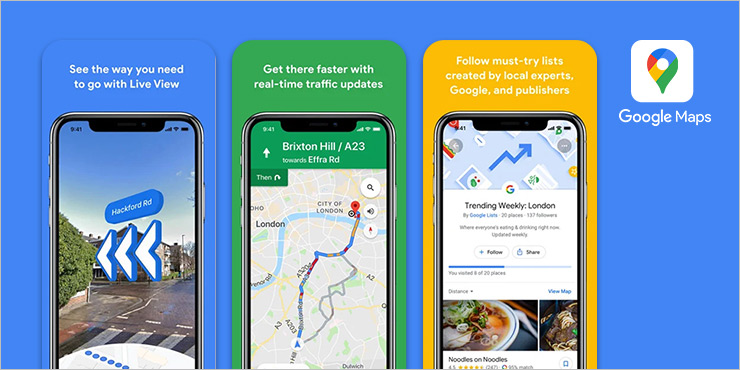 Price: Free
Available on: iOS, Android
Google Maps, with its data-driver simplicity, offers real-time traffic information and ETAs to the users. Travelers like the vast library of events, activities, bars, local restaurants, and must-try places curated by experts and Google Maps itself. This can be extremely useful for people on road trips.
Google Maps includes offline maps for searching and navigating with turn-by-turn directions using your GPS device without Wi-Fi or data coverage.
Other additional features like street view, satellite images, voice navigation make Google Maps one of the most favored GPS apps.
Pros
Google Maps provides the most efficient route for biking, walking, and driving
Updates you about live traffic.
Google Maps Offers street view, accurate ETA, and offline navigation.
Cons
The GPS drains your phone battery very quickly.
Google Maps can only create a route with up to 10 stops, including the starting point.
Collects user data.
Social media sharing option is unavailable.
If you want a navigation app with more than 10 additional stops, try pro version of Google Maps, Upper Route Planner for your future trips.
Plan Routes on Upper

2. Upper Route Planner
Price: Starting from $80 /month
Available on: iOS, Android & Web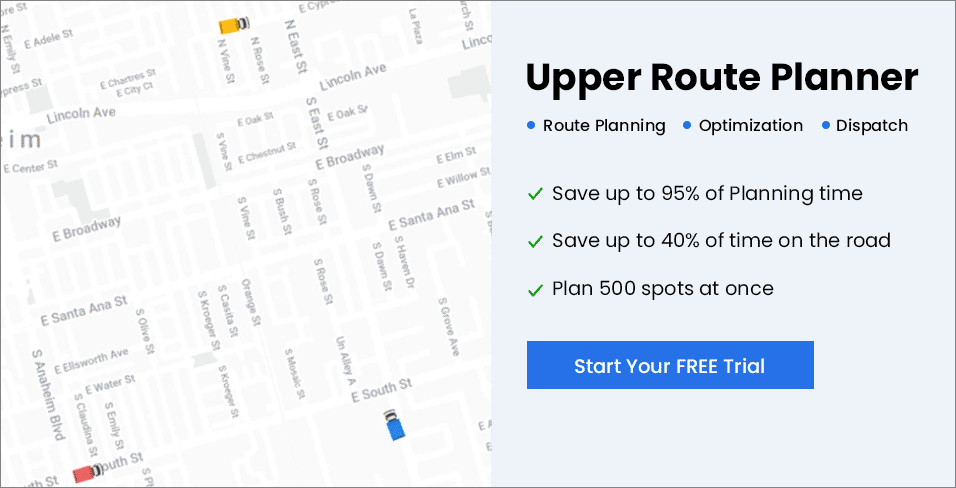 Upper Route Planner is a highly-intuitive route planning software that supports businesses as well as individual drivers. Users can schedule optimized route plans for timely and accurate deliveries.
Upper has one of the most advanced route optimization algorithms that help businesses and individuals by optimizing multiple routes.
The routes are optimized according to several constraints like – vehicle type, delivery time window, service time, and priority.
Delivery businesses can easily maximize the number of deliveries they do daily, thanks to Upper Route Planner's savvy route planning and optimization capabilities.
Upper has been adopted by businesses from several industries, like meal-kit delivery, pet food delivery, field sales, HVAC services, and inspection services.
While GPS apps will be useful for people with one route to plan or only need navigation and no optimization, for professional delivery drivers and contractors who make multiple deliveries daily, a navigation app will not be enough.
Upper Route Planner helps you navigate your trips and optimize them in the best possible way. It allows you to plan unlimited routes at once.
Pros
Offers cost-efficient route planning in a few seconds.
Human-centric design approach for an intuitive user experience.
Set parameters like driver breaks, time windows, curbside pickup, and priority stops.
Cons
Only offers a 30 days free trial.
You can only add limited route plan in free version.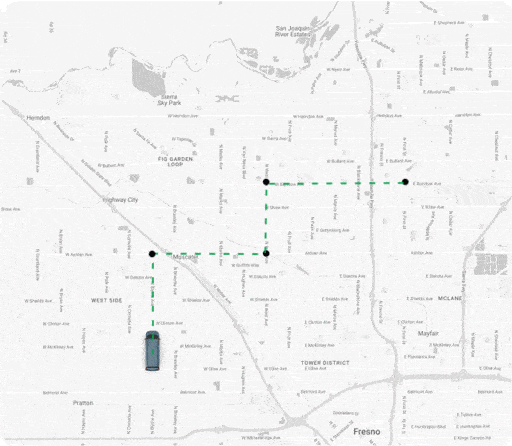 3. Waze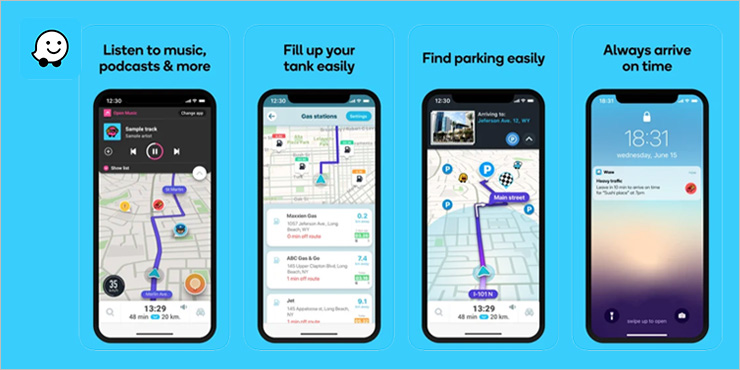 Price: Free
Available on: iOS & Android
Waze was acquired by Google back in 2013 and further developed as a community-based GPS navigation app. It comes with real-time crowd-sourced social networking features, which is one of the highlights of the app.
Waze route planner provides its users with alerts regarding road hazards, accidents, police activity, speed traps, road closures, etc., that may require the user to change the route. Waze allows users to listen to music from platforms like Spotify from within the app.
Waze comes with a more playful interface and has a strong preference for driving mode, speed camera warnings, real-time traffic, etc. The GPS app works in alliance with Android Auto or Apple CarPlay.
Pros
User community base is Waze's strongest feature.
Waze lets users share current fuel prices.
The GPS app also allows users to connect to Facebook and Google Calendar.
It helps find event addresses and create directions.
Cons
Waze's design has icons that are difficult to understand. This creates a cluttered layout of the maps.
The battery power and data resources that Waze consumes is high, due to the numerous icons and large data sharing.
Difficult to find directions from places that are not your current location.
4. MapQuest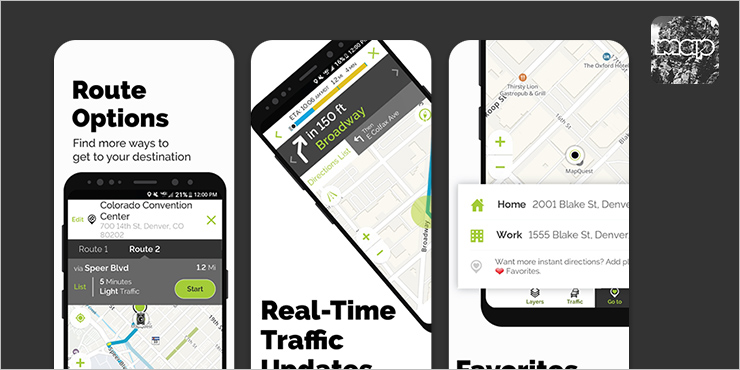 Price: Free
Available on: iOS & Android
Mapquest is one of the original and long-running GPS apps that is available in desktop and app formats. Even with options like Google Maps and Waze around, MapQuest is still a good GPS navigation app because it includes real-time traffic data and access to live traffic cams. With this feature, users can stay informed about the on-goings on their commute.
With real-time traffic alerts from MapQuest, users can choose to find alternative routes. Users can mark their favorite locations using custom icons. In addition to this, MapQuest also has a speed limit display and on-demand roadside assistance.
Pros
Offers multi-segment routing and built-in traffic information.
Gives you live traffic camera.
Lets you find the best prices.
Driving friendly features like night mode, driver speeds display, and real time traffic data.
Cons
Doesn't offer directions or details for public transit.
Can be used only by 1 driver.
Recurring pop-up ads.
No offline use.
5. Apple Maps
Price: Free
Available on: iOS
Apple Maps comes preloaded on all Apple devices and is also available in the App Store. Following the criticism it accrued at its launch, Apple Maps has since been working to fix its initial bugs. With Apple's map app, you can use Siri for voice command inputs and advice.
Apple Maps features include turn-by-turn voice-guided directions, interactive 3D maps, and proactive suggestions for choosing the right lane. Apple Maps can automatically record the parking spot you left your car in, and you can also select public transport, car services, and walking options on the map.
Pros
Excellent map design and visual style, including 3D map view and buildings.
A virtual tour guide feature.
Apple Maps gets you weather and AQI for the selected location.
Cons
Users mention that Apple at times has issues locating destinations.
No recommendation points of interest on Apple Maps
In Apple Maps, 'Look Around' doesn't work for every user.
6. CoPilot GPS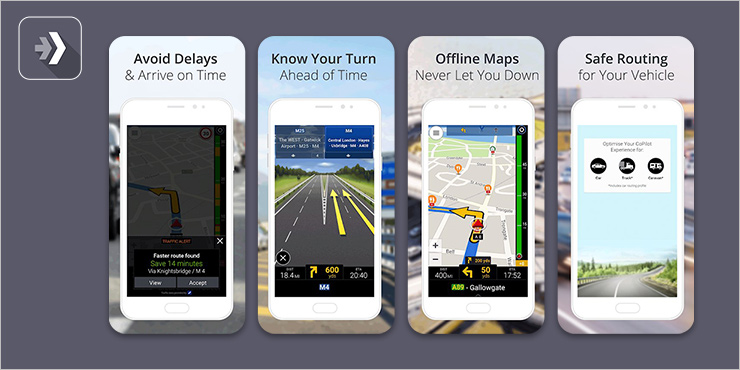 Price: starts from $14.99 per year
Available on: iOS & Android
CoPilot GPS is a navigation app that focuses on route planning for cars, RVs, and larger trucks. It offers customization options for routes for all vehicle types by considering factors like road width or low clearance.
It offers driver-friendly directions with clear driving views, uncluttered maps for offline access, and easy-to-read instructions. Drivers can easily add up to 100 stops on a single multi-stop route. The premium version of the app offers audio navigation, 3D maps, and traffic information.
Pros
Offers navigation for pedestrians and cycling.
It is possible to navigate using offline maps.
It has 3D maps
Cons
There are often errors while navigating.
After your first year of using, you need a subscription to get access to traffic details.
You can only add up to 52 stops per route.
7. Maps.Me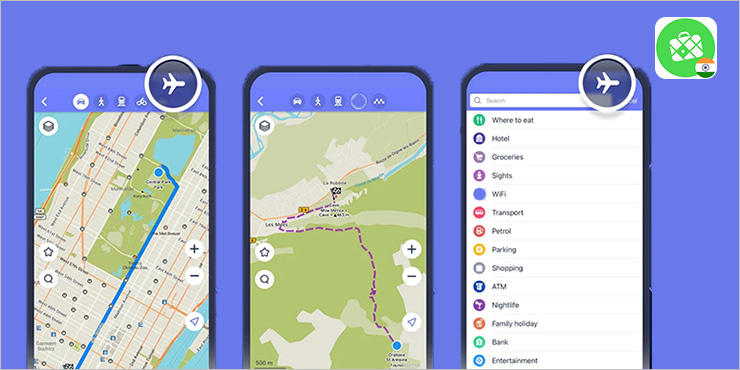 Price: Free
Available on: iOS, Android, Blackberry
Maps.Me is another free GPS app for travel tips and navigation. Maps.Me is known for offering high-quality maps around the world. It offers turn-by-turn directions, offline map options, and updated maps via OpenStreetMap.
Using Maps.Me, users can bookmark locations, search offline, get traffic data, and receive worldwide support. It offers full offline functionality, including a search feature, navigation, and searching for a destination or stop. Since users can do everything offline on Maps.Me, it saves battery power on your smartphone or mobile device.
Pros
Provides auto-follow mode with turn by turn directions.
Allow you to share the location.
The night mode option is quite good.
Cons
Not all businesses are available on the maps.
There is no way to distinguish between the fastest, shortest, or most efficient route.
No way to hide buttons or configure language.
8. Here WeGo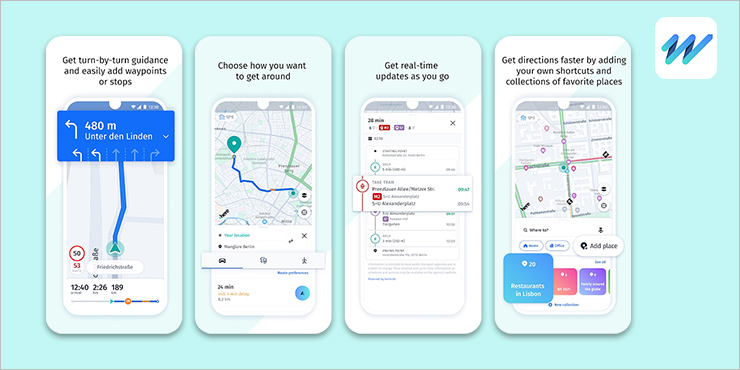 Price: Free Base plan
Available on: iOS & Android
Here WeGo is a slightly lesser-known mapping and navigation app on the list. This navigation app is designed specifically for city travel. Users can download maps of cities in more than 100 countries. Here WeGo can help users find major points of interest like restaurants, tourist spots, ATMs, etc.
Here WeGo offers real-time updates, price information, and public transport directions in a select number of cities. It is also possible to order a taxi from the app and receive a price estimate for your trip. In addition to that, HERE WeGo also offers bike line navigations and path information with elevation details.
Pros
A user-friendly app that works perfectly without the internet.
Offline navigation gives the names of the streets as well as the names of places, landmarks, businesses, etc.
The navigation can find you routes using public transportation.
Cons
Not very accurate at indicating traffic jams and recalculating routes.
Not very accurate at indicating traffic congestion and recalculating routes.
It consists lots of Ads.
9. InRoute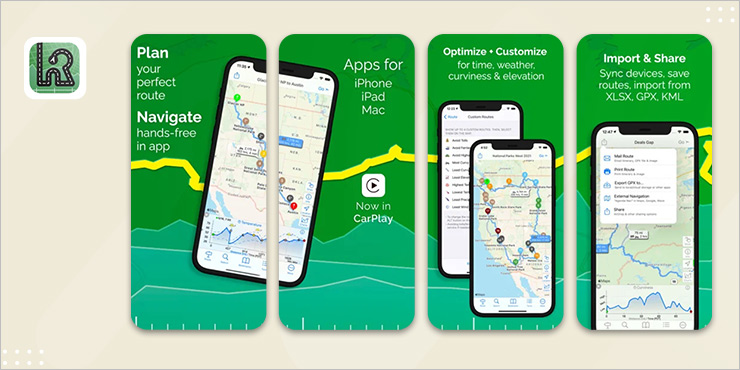 Price: Free
Available on: iOS
When you initially download inRoute, the app is free. But you have to pay for accessing features like turn-by-turn navigation.
For driving directions, pedestrian, or public transport directions, Google Maps is still a better choice. But if you are planning a long trip and want to incorporate weather data, InRoute is a useful app.
InRoute GPS is a decent app for navigation, but it offers limited service until you are opting for premium upgrades. Also, the interface isn't so easy to navigate.
Pros
Efficient trip planning with info like weather forecasts and road conditions.
Offers the "drag and drop" features to find exact location.
Allows exporting routes to other mobile apps.
Cons
Only available on the App Store and is thus limited to Apple devices only (iPhone, iPad, Mac, iPod Touch, Apple CarPlay).
Allows 7 extra routes in a free version.
If you go off route, it can't seem to figure out where you are and even get you back to where you were going.
10. MapFactor Navigator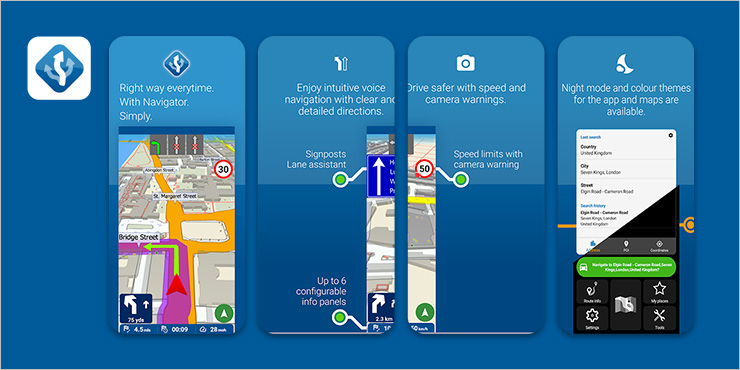 Price: Free
Available on: iOS & Android
MapFactor Navigator is a free navigation app. It comes with free offline maps from OpenStreetMaps. It offers intuitive turn-by-turn voice guidance navigation, speed limits, camera warnings, 2D/3D mode and other useful features.
You can navigate without an internet connection in 200+ countries. MapFactor Navigator is one of the best offline navigation apps for Android. It is a very reliable app that even works for offline use.
Pros
It offers free map updates every month.
Users can define vehicle type, road preferences (highway, secondary roads, local road).
MapFactor warns you if you approach a speed camera or exceed the speed limit.
Cons
Usually gets you wrong traffic data.
Sometimes the navigation or alternate routes suggested by it are questionable.
You can't exit without being nagged to install other apps.
11. TomTom Go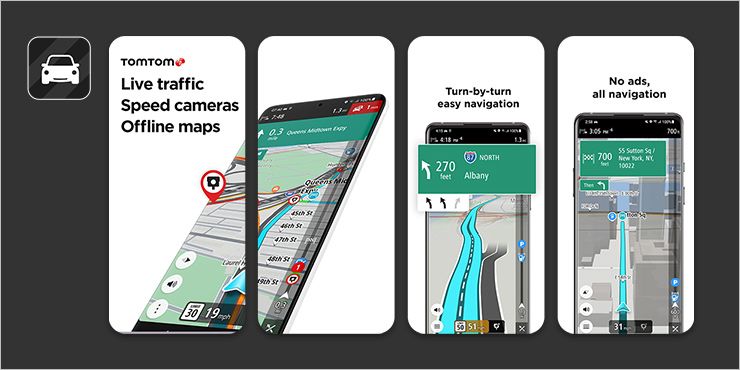 Price: Starts from $4.99 / month
Available on: iOS & Android
TomTomGo is a powerful navigation device. The interface is functional and easy to navigate, with large, easy to tap buttons, and vibrant colors.
The interface is easy to control, thanks to the responsive touchscreen and a new processor, which make this the fastest sat nav you'll ever use.
TomTom Go is an easy-to-use app to limit distractions and help you see only what is important on the road. If you are looking for an app that can give an amazing navigation experience, TomTom Go is the app for you.
Pros
Tomtom is the only mapping system that is efficient and has an audible warning of speed and red light cameras.
It has a navigation assistance and provides key details like speed limits and traffic camera alerts (driver a photo feature).
It allows sharing of ETA to others.
Cons
The navigation app often freezes and requires a restart while driving. It can be annoying and sometimes very difficult to do safely./li>
The maps won't download in the background. So you must keep the app open and primary in your phone.
TomTom didn't get frequent updates.
12. Sygic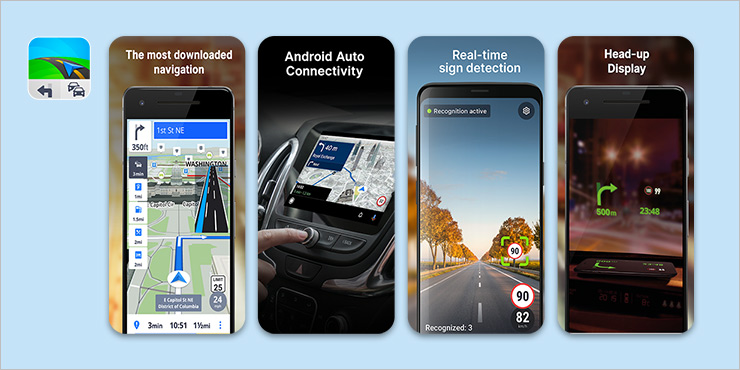 Price: Starts from $13.99
Available on: iOS & Android
Sygic is a world-class navigation app that includes high-quality 3D maps. It guides you safely to your destination even if you do not have access to an internet connection.
Sygic offers the most up-to-date information about fuel prices at petrol stations. It helps you avoid speeding tickets with warnings for speed limit and speed camera.
It also offers voice-guided GPS navigation with precise directions, spoken street names, and pedestrian GPS navigation with walking directions and tourist attractions (POI). Not only this, it offers several safety features too.
Pros
A lot of issues in the app are now fixed with new updates.
Offline 3D maps are great.
Real-time sign detection is extremely useful.
Cons
It seems to expect you to know the full address as there is no way to get address suggestions.
It tells your speed and distance but there are no cues to warn you about exits or turns.
The inaccurate city navigation makes it difficult to know where to turn next.
13. Polaris GPS Navigation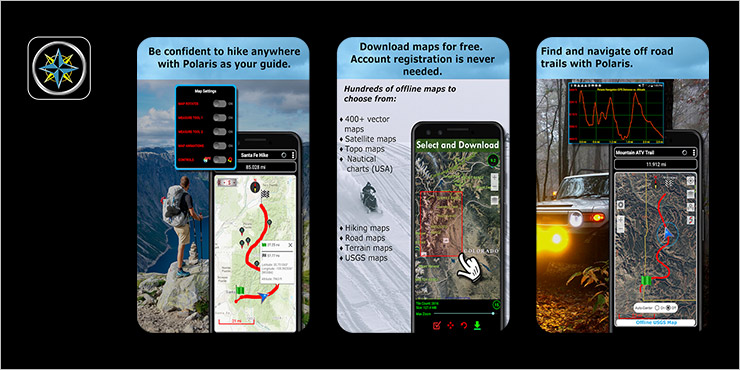 Price: Free
Available on: Android
Polaris GPS Navigation is an easy-to-use GPS navigation app for wherever you need guidance in your travels. Users are not required to setup an account setup or get a subscription.
Polaris is used primarily for Hiking with the best hiking maps, Back country exploration and outdoor adventure, Trail recorder, Sailing, Boating, Fishing GPS, Hunting, Geocache, Camping, Mountain Biking, Backpacking and other outdoor sports, Compass orienteering.
Pros
It has accurate navigation services.
The ability to get a position even without cell service and send a location quickly via text when you get a bit of signal is great.
GPS works great for walking or driving.
Cons
It has too many full screen ads after almost every click.
The app is quite inaccurate for tracking time and distance.
It is not made for daily use.
14. BackCountry Navigator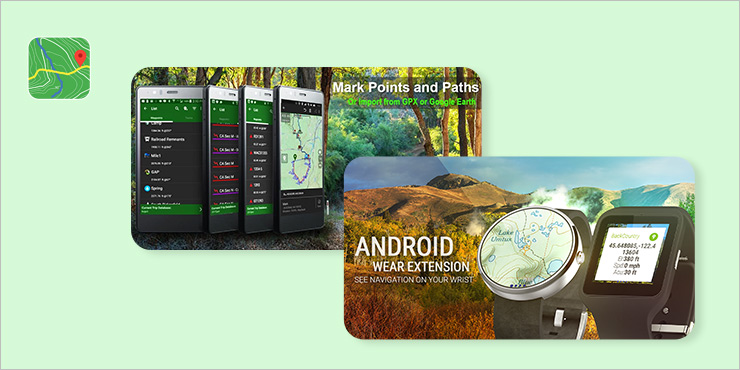 Price: Starts from $9.99
Available on: Android
BackCountry Navigator is an off-road topo mapping handheld GPS app to explore beyond cell coverage for hiking and other recreation.
Explore outdoors with the help of our huge selection of maps on BackCountry Navigator. Download maps for the US and many other countries, you don't need cell coverage for the navigation.
To make things even more easier and handy for its users, BackCountry Navigator's app supports Android Auto and other Android wear as well.
Pros
It provides you with maximum up & down speeds, time moving and other statistics.
It works great offline, no cell service needed.
You have to choose areas to download onto your device before you go out and use it.
It takes a bit of practice, but it's a powerful navigation system that works well.
Cons
It just keeps crashing when you're trying to start it.
The maps are also quite out-dated compared to other map apps out there.
Importing waypoints is difficult and downloading maps takes hours sometimes.
15. Roadtrippers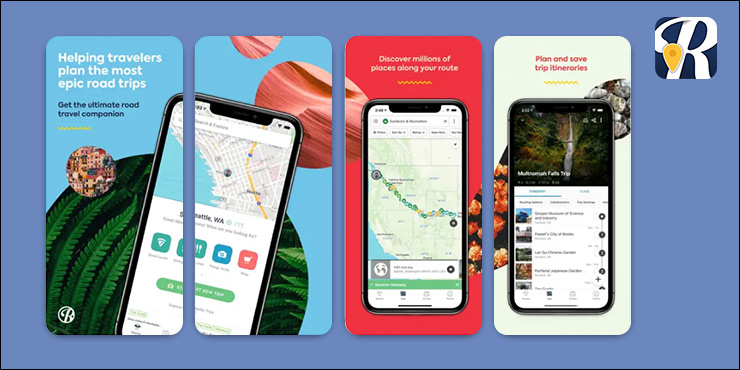 Price: Starts from $ 6.99
Available on: iOS & Android
Roadtrippers is one of the efficient tools for navigating routes. Especially, for those who are fond of organizing an adventure trip. It lets you create a route plan and once you are ready to step out, you can access the turn-by-turn navigation via the mobile app.
In addition, like other GPS navigation apps, it also allows you to add extra stops while creating a route map. User can even download the map and share it with their travel partners. The app itself recommends you to add new stop so that travellers can also explore new places.
Pros
It provides accurate information for new places.
Navigation for outdoor activities such as off-roading adventure and hiking.
It has in-built compass for route navigation.
Offline maps downloads.
Cons
The navigation app is only suitable for daily commuters and not for complex routing needs.
It lacks user-friendly display in a mobile app.
Shows you ads while you access the map.
Premium version is quite expensive.
Get Upper for Multi-stop Route Planning
Include more than hundred of stops in your route plan and find the efficient routes instantly. Use Upper for your multi-stop delivery and save planning time.
Start Using Upper

FAQ
It usually depends on the user's requirements. If you are looking for a navigation app for route planning, Google Maps, Apple Maps, or MapQuest are ideal for you. But, if you want an all-in-one app for navigation, Upper Route Planner is the best navigation app for you.
Navigation app is an app that lets you provide turn-by-turn directions using the GPS system. It offers information about added stops and calculates ETA based on the traffic conditions.
Google-approved mapping platform is best used for route planning upto 10 stops. However, if you need more than Google Maps, switch to Upper Route Planner. The online route planning and optimization software helps you find optimized routes including 500 stops.
Below are the best GPS apps that are completely cost-free.

MapQuest
Google Maps
Apple Maps
Waze
Maps.me
Google Maps or Apple Maps are widely used for GPS and navigation purposes. These two popular apps are considered the best GPS apps in comparison to other apps. These two are popularly considered the best GPS apps in comparison to other map apps.
Conclusion
With the best technology, we have navigation apps with accurate location information, street view, and real-time traffic data, to safely navigate our desired location. Also, they offer many other features that help users in dodging traffic, real-time road incidents, toll checks, etc.
Navigation apps are used to reduce the hassle and enhance your journey to your destination. Whether you are looking for a GPS app to suit your new device or one to suit your changing navigation needs, the navigation apps mentioned above will help you.