Top Features
Roadtrippers
by Roadtrippers
4.0

Planning & Scheduling

3.8

Route Optimization

3.9

Analytics

3.8

Team Management

3.8

Support
Overview
For passionate travelers, there's a constant inner conflict. On the one hand, they yearn for exciting unplanned journeys where they can follow their whims and explore freely. On the other hand, they also desire a well-organized trip that ensures they don't miss out on the best experiences each destination has to offer.
And striking the perfect balance between planning and enjoyment can be a daunting task. However, integrating the right route planning and optimization software for effortlessly planning your trips can help you get a breather.
Roadtrippers, a comprehensive web and mobile-based app, emerges as the perfect solution for effortlessly planning multiple trips along with personalized recommendations to enhance your travel experiences. Frequent travelers can avail invaluable insights to plan unique stays, attractions, outdoor activities, dining options, camping spots, nightlife hotspots, and shopping delights.
The main targeted countries pitched by Roadtrippers are the USA, Canada, Australia, and New Zealand. Herein we will delve into the details of Roadtrippers, its features, pros, cons, and pricing to determine whether this software is worth the investment or not.
Roadtrippers Review
Positive
Suggestions for local attractions, restaurants, famous landmarks, and stores that are in close proximity to the destinations involved in trip planning can be obtained.
It can help you customize the route that can be specifically tailored to accommodate the unique needs and characteristics of your recreational vehicle (RV).
Has an intuitive user interface with ease of navigation, high-quality graphics, and good availability of information on how to use the software.
It can help you enable the preferable map style: light or dark mode, whichever suits you.
Has a huge database, including a bundle of resources like various articles and predesigned itineraries to help users discover new trips and stops.
It can easily let you share the routes that are in progress.
Can provide gas cost estimations which can help with pre-departure budgeting.
Live route updates can be availed in case of bad traffic conditions or road closures.
Offline mapping functionality, along with collaborative trip planning, is available.
Negative
In a free version, only up to 7 waypoints can be added to plan a trip. If you want to add more than that, you need to upgrade to the paid version compulsorily.
There is a limit of adding 150 stops under a paid version to plan a single trip.
Credit card details are required while signing up for the 7 days free trial.
Also, users are given a free version which has limited features availability. To entirely use the software with premium features, you need to upgrade to the higher pricing plan.
No monthly subscription is available, you need to pay for the entire year mandatorily.
The free version or free plan is full of ads which can be irritating at times.
Auto-renewal applies to the Roadtrippers Plus (a premium version), which means you need to mandatorily disable renewal (in profile settings) if you do not want to purchase Roadtrippers Plus again.
Adjusting the suggested route can sometimes be challenging. Sometimes, the app gets crashes in between tasks.
Images also don't load all the time, and the app often freezes.
The app gets completely unreliable at times because of the outdated suggestions being shown for restaurants and hotels that have been shut down or relocated for some time.
Crucial details like opening hours and addresses of certain locations tend to be inaccurate due to a lack of updates.
Features+
Route planning
Stop suggestions
Turn-by-turn navigation
Gas cost estimator
Customer review access
Basic version features +
No in-app ads
Offline mapping
Collaborative trip planning
Custom route based on RV
Live traffic updates
Discounts/Deals from travel partners
Price Plan For Team
Upper
Essential
$80/for 3 users
Up to 250 stops
Free Trial Available
Roadtrippers
Roadtrippers Plus
$107.97/for 3 users
Up to 150 stops
Free Trial Available
Is Roadtrippers Worth the Price?
Since we are already on our way to evaluating the true value of the investment, a head-to-head comparison between route planning software like Roadtrippers and Upper is a must. While it's no secret that Roadtrippers boasts a tempting price point, we shall uncover the hidden treasure within Upper's impressive collection of features.
Through this section, we believe that the true worth of any investment lies not just in the digits on the price tag but in the seamless blend of efficiency, versatility, and unparalleled features. As you navigate this comprehensive feature comparison section, you will witness a side-by-side analysis of these two competitors, unveiling the unique capabilities that set Upper apart.
| | | |
| --- | --- | --- |
| Data Import | | |
| Addresses (stops) | Limited | Unlimited |
| Route Optimization | | |
| Service Time | | |
| Time Windows | | |
| In-app RV Navigation | | |
| Offline Mapping | | |
| Turn-by-Turn Navigation | | |
| Route Scheduling | | |
| Monthly Subscription | | |
| Multi-stop Selector Tool | | |
| One-Click Driver Dispatch | | |
| One-Click Driver Dispatch | | |
| Reassigning Routes | | |
| Share Route Progress | | |
| Stops Priority via Color Coding | | |
Features Roadtrippers Upper

Data Import

Addresses (stops)

Limited

Unlimited

Route Optimization

Service Time

Time Windows

In-app RV Navigation

Offline Mapping

Turn-by-Turn Navigation

Route Scheduling

Monthly Subscription

One-Click Driver Dispatch

Reassigning Routes

Share Route Progress

Stops Priority via Color Coding

Try Upper for FREE No credit card required
What People Say About Upper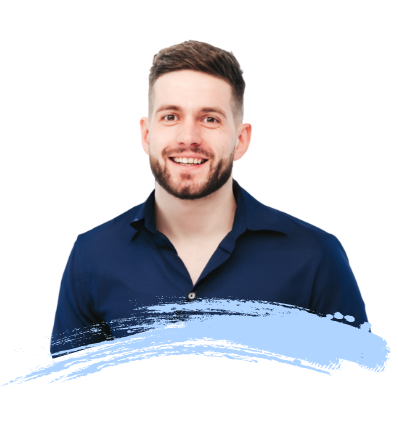 Saved 10 hours per week & delivering 3x more meals with Upper. It's easy to take proof of delivery, the speed is great, it's super super fast!

Ben Parker,
Delivery Manager of Flavors2Go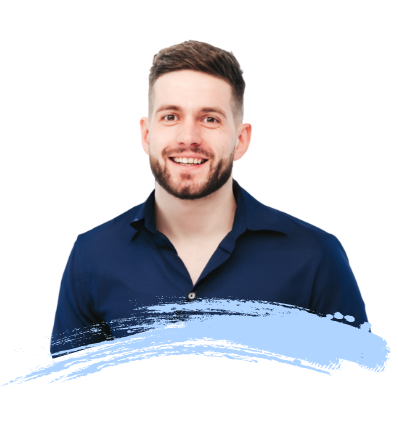 Key Features of Roadtrippers
1. Efficiently Plan Road Trip:
A range of trips can be planned right, from shorter journeys with few stops to long multi-day journeys up to 150 stops in a trip. However, with Roadtrippers, you can only plan your trips and cannot customize them.
On the other hand, a Roadtrippers alternative like Upper can help you with prioritizing the destination, as well as allocating dedicated time duration for which you will pause at that specific stop. This can help you customize your itinerary, and resultantly, you will be able to design a journey that perfectly aligns with your unique travel style and vision.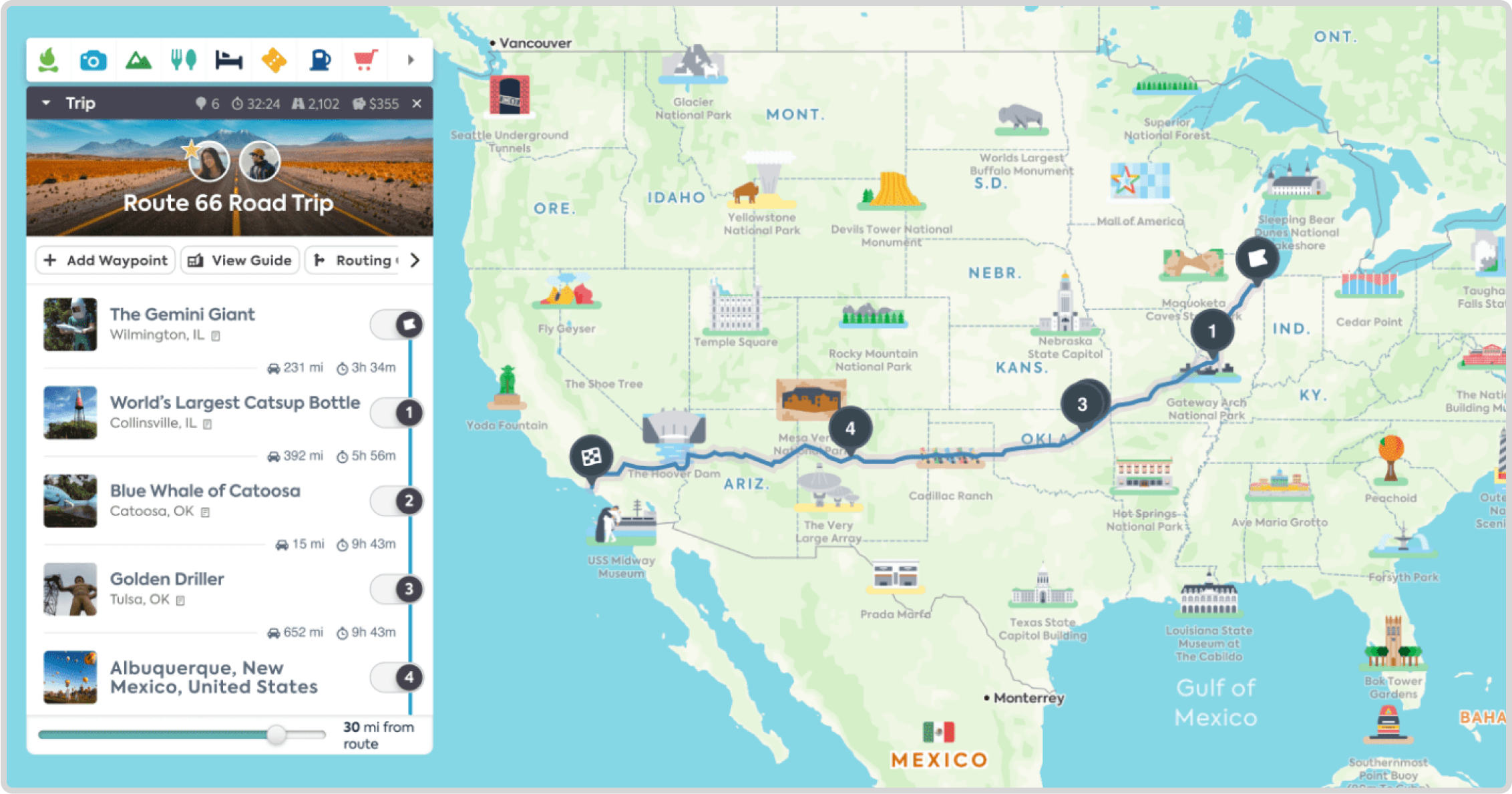 2. Automated Driving Statistics:
Roadtrippers Plus offers automated driving statistics, including mileage, drive time, and estimated gas costs between stops and for the entire trip.
As users add or remove stops from their itinerary, the app dynamically adjusts the approximate gas cost and drive time, allowing travelers to see the impact of their changes on their journey.
This feature proves to be valuable for road trips as it helps users plan and optimize their routes based on real-time adjustments. Additionally, the app allows users to toggle stops on or off, enabling them to make last-minute itinerary changes and find the best route even during the trip.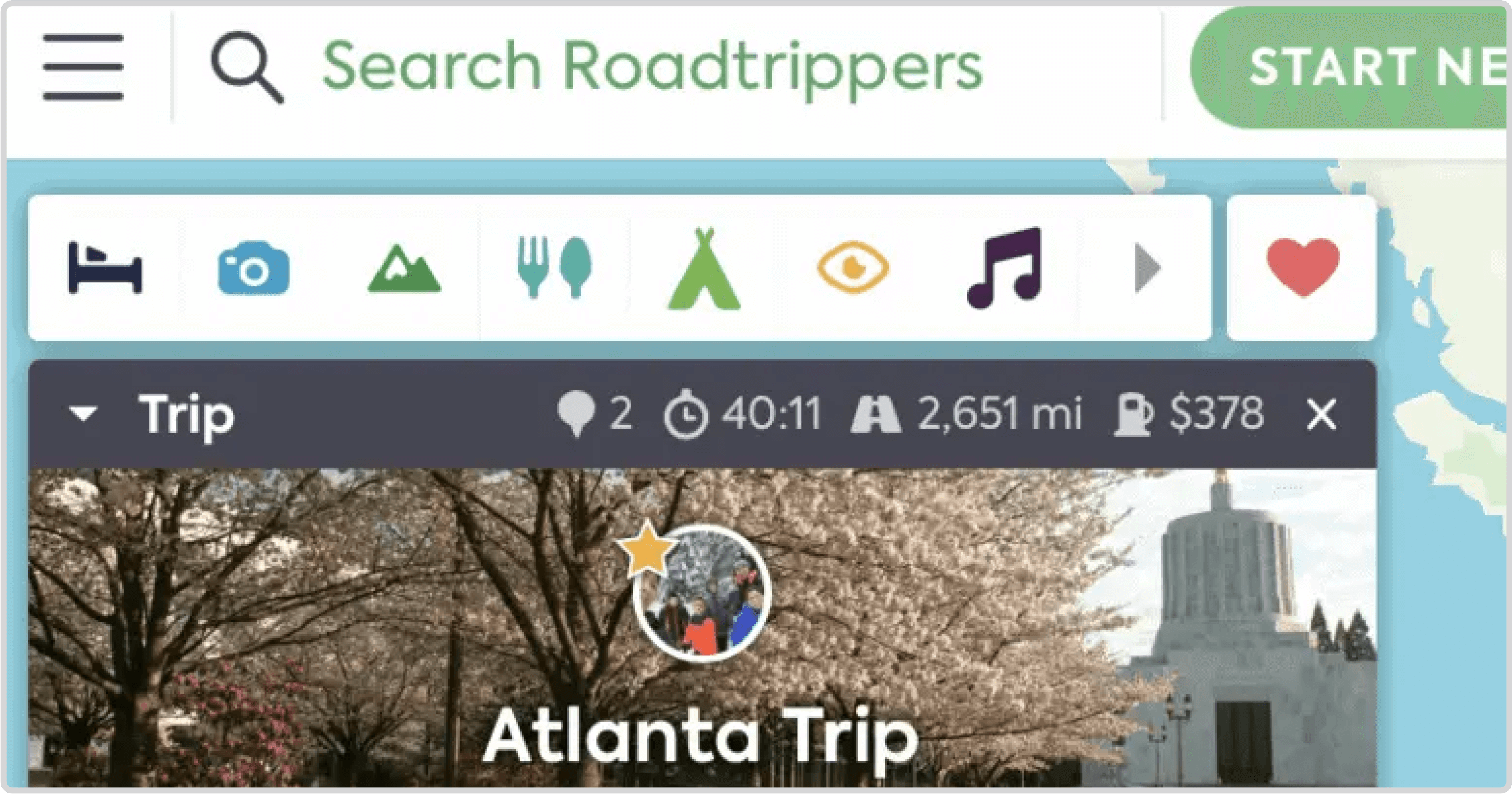 3. Discovery Features:
The platform not only assists in mapping out your trip route but also provides valuable suggestions to enhance your adventure. From hidden gems and local attractions to cozy accommodations and unique stays, Roadtrippers opens a gateway to a world of possibilities.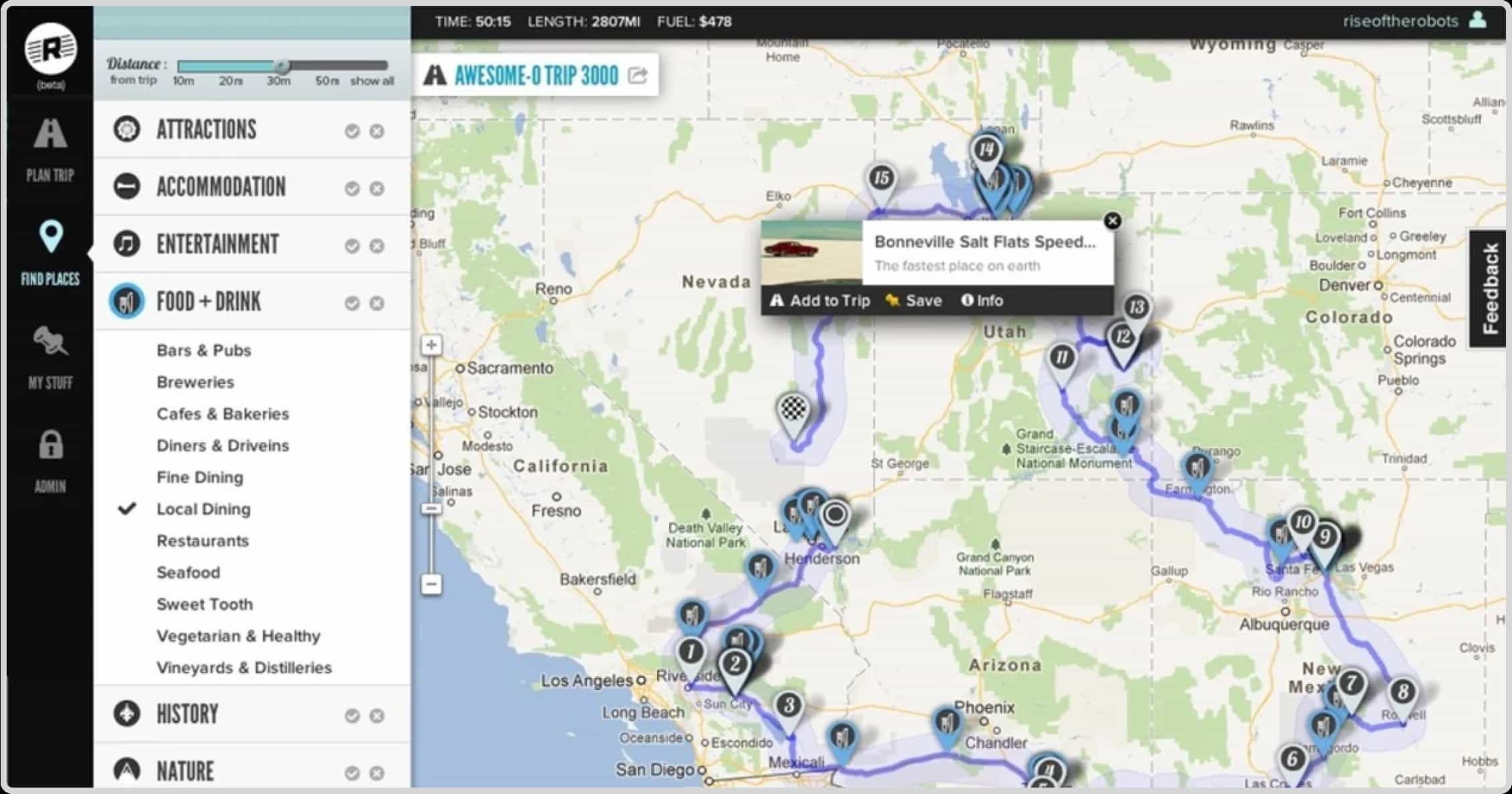 4. Collaborative Planning:
The collaborative planning feature ensures that you and your travel companions can contribute to the itinerary, suggesting stops, attractions, and accommodations that cater to their interests. Whether you're traveling with friends, family, or colleagues, collaborative planning can turn out to be one of the favorite features that guarantee a unified planning process, avoiding the hassle of endless back-and-forths.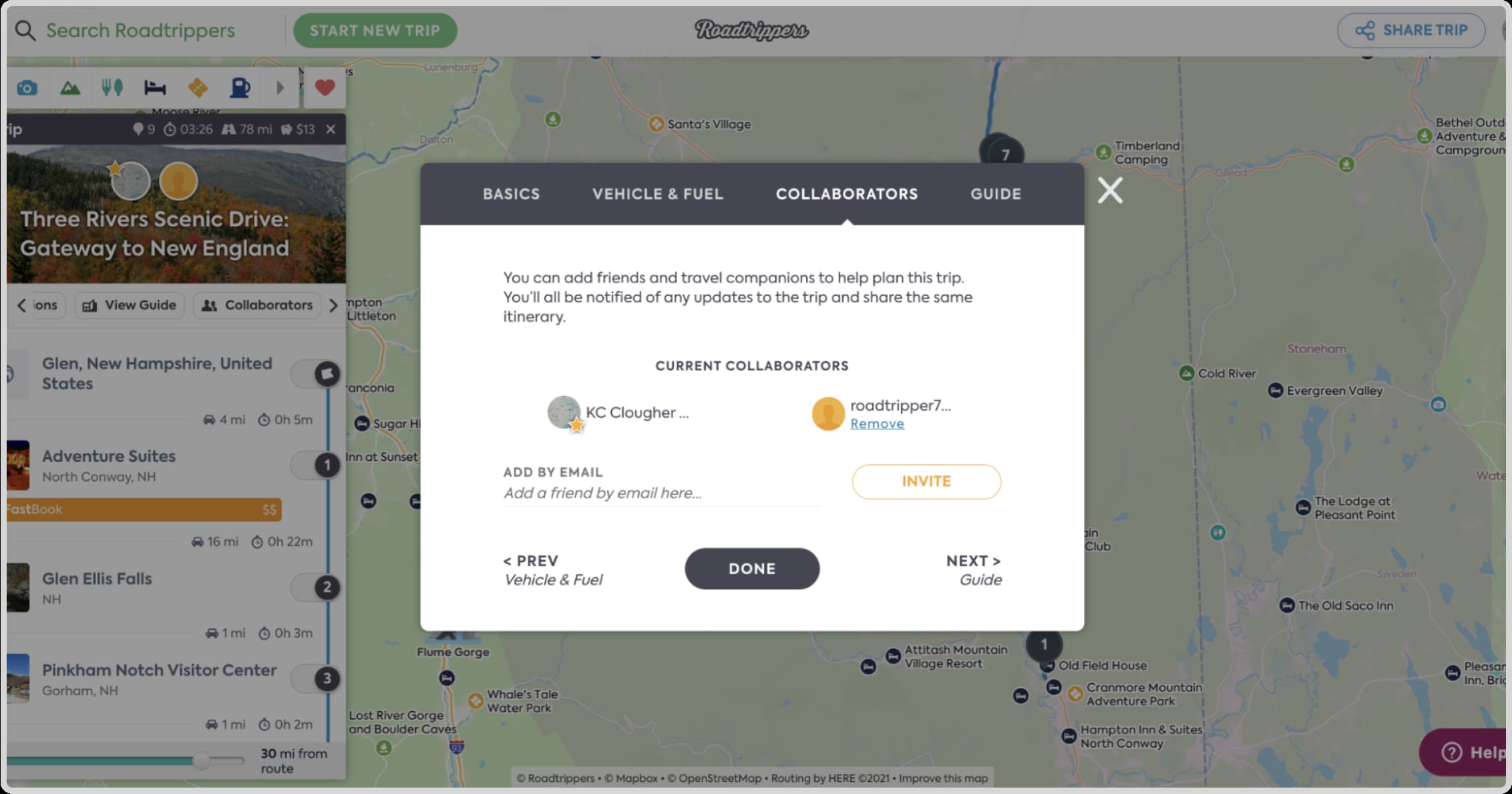 5. Additional Content:
Once the journey route has been planned and the user is on the road, it provides them with various additional information about the traffic conditions, detour suggestions, gas prices, etc. Not just this, even on their website bundle of helpful information is available, like travel guides, pre-planned road trips, blogs, and other valuable resources about destinations to plan your itinerary precisely.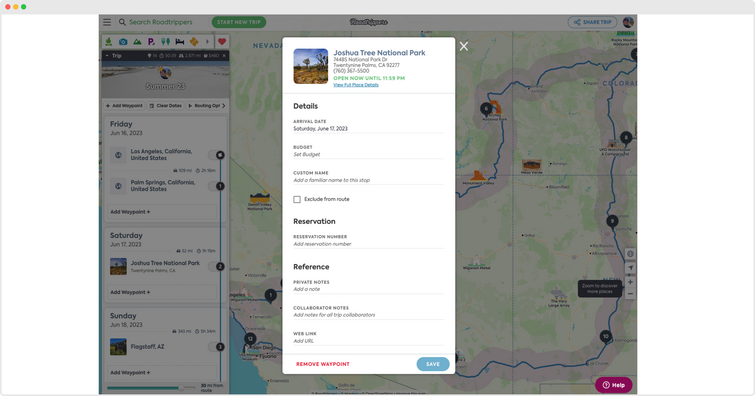 Is Roadtrippers Right for You?
After an in-depth exploration of Roadtrippers, we came to the conclusion that binding yourself with an integrated route planning software is a huge decision. Hence settling for something less even after spending from your pocket might not turn out to be a healthy option.
Though Roadtrippers serves users with a wide range of features, they are not enough in comparison to what is already been offered by the other Roadtrippers alternatives like Upper.
For instance,
Limited route planning capabilities
Rigid pricing plans
Limitation over the no of stops to plan
Minimal route-sharing option
Less or inadequate customer support
Lack of advanced routing algorithms
Roadtrippers
$107.97/for 3 users
No discount offered
Stop Capacity: 150 Stops only
Import itinerary data: No
In-app Ads: Yes
Upper
$80/for 3 users
Save 20% with annual billing
Stop Capacity: Unlimited
Import itinerary data: Yes
In-app Ads: No
Access powerful features without breaking the bank.
Road trip planning is no more a complex thing unless you have Upper integrated into your system.
Create more comprehensive itineraries for your road trips ensuring ensures your journeys are tailored to your preferences and needs.

Affordable pricing tiers with a range of features.
A Perfect Alternative for You
To curb all the limitations listed here, the only solution that comes to the rescue is an advanced route planning solution like Upper. Using Upper for your manual route planning and optimization can benefit you in many ways.
A few of them are listed here:
Seamlessly import your itinerary data through the excel-import feature into the software, and you're all set to kick-start your journey

Enjoy the freedom to craft as many trips as you desire, with no restrictions on the number of stops you can include.

Tailor your routes for optimal efficiency, either prioritizing distance or travel time.

Swap routes effortlessly to accommodate last-minute changes, especially when assigned drivers are unavailable.

Plan your trips up to a month in advance, ensuring your travel logistics are well in hand.

Customize routes avoiding highways, toll roads, tunnels, and ferries based on your preferences.

Receive clear, step-by-step directions through your favorite navigation apps, such as Google Maps, Apple Maps, Waze, Yandex, or Maps.Me.

Access accurate Estimated Time of Arrival (ETAs) to stay on top of your schedule.

Instantly synchronize optimized routes with Garmin devices for seamless navigation.

Prioritize destinations according to your individual preferences and requirements.
DON'T MISS OUT! LIMITED OFFER
Upper's Growth Plan now available @
$160/mo
Get the Best Cost-Effective Roadtrippers Alternative & Speed up Your Deliveries by 3x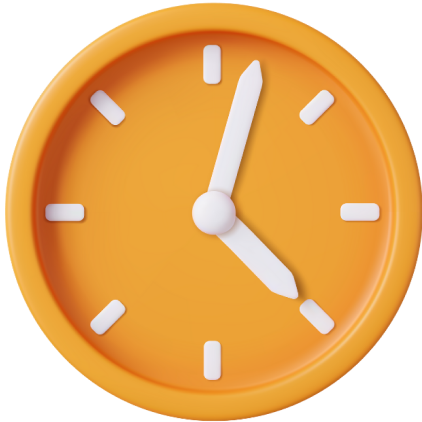 Conclusion
As we are about to end our Roadtrippers review, it is clear that the world of route planning and optimization is diverse, offering various options to suit different travel needs. While Roadtrippers presents an appealing choice with its efficient road trip planning and budgeting features, we must not overlook the exceptional capabilities that Upper brings to the table.
As adventurers, travelers, and road trip enthusiasts, your journey deserves nothing short of excellence. That's why we encourage you to consider the possibilities that Upper unlocks with its unparalleled feature set.
So, we invite you to explore Upper's potential firsthand with our 7-day free trial. This way, you will be able to embrace the opportunity to experience the features & functionalities and know how it helps you.
Frequently asked questions
Is Roadtrippers available as a mobile app, and which platforms does it support?

Yes, Roadtrippers is a web and mobile-based travel planning app. It is flexibly supported on the Google Play Store and Apple App Store.

Is Roadtrippers worth the money?

Considering other alternatives or competitors available in the market like Upper, Roadtrippers might not be worth the money invested. It is because of the limited functionality, restricted pricing plans, outdated app data, or difficult navigation.

How many stops can be added to the Roadtrippers app?

In a free version, a trip planner can add as many as 7 waypoints/stops. However, when upgraded to the Roadtrippers Plus plan, they can add up to 150 stops to plan a single trip. On the contrary, Upper and other software does provide a stop limit of up to 250/500 stops per route, depending on the pricing tier user chooses.

How does a Roadtrippers app work?

The road trip planner app allows users to

Add starting point and final destination to plan trips with multiple stops
Calculate the driving time between stops
Calculate the estimated gas cost
Add gas stations
Add rest areas to your route
Discover local attractions, restaurants, and accommodations along the way of the planned trip

Is the road trip app available freely?

Road trip planning tool is available in both a free version as well a paid version. However, the main point of difference is the complexity of trip details, ad-supported content, and the flexibility to add stops. As you might expect, the paid version comes ad-free while the free version will display a few ads on a constant basis. Paid users can also add up to 150 stops to a single trip while free users are limited to just 7 waypoints/stops.

Is Roadtripper ideal for planning a longer trip?

The Roadtrippers free version is ideal for planning short trips up to 7 waypoints/destinations. However, for planning longer trips users are required to upgrade to the paid version, Roadtrippers Plus where you can plan a trip up to 150 stops.

Is Roadtrippers user-friendly software?

Yes, Roadtrippers web and mobile apps are very easy and convenient to use. You just need to simply add the start and end point of the route to plan road trips. After that, add whatever stops you want, and then once done, share routes with other travelers.