Key Takeaways:
Click and Mortar combines online and offline retail seamlessly.

Implementing Click and Mortar enhances customer experience and increases outreach.

Avoid pitfalls by prioritizing technology, data, and staff training.
Are you still using traditional methods like Brick and Mortar to run your business operations? Then, you need to upgrade.
95% of purchases will be facilitated by eCommerce by 2040 and online sales have grown to 300% while departmental stores have dropped by 50%.
With these statistics, you would surely want to transform your Brick and Mortar stores into online stores.
If you are still in a dilemma about where to start, fret not. You have reached the right place.
Click and Mortar has been a game-changing business model that seamlessly merges offline with online operations. With this model, businesses can offer convenience and accessibility of online shopping with personalized service of physical stores.
In this blog, let's explore the transformative power of Click and Mortar businesses, how to implement and its benefits. But, before let us understand what exactly Click and Mortar is, as many of you might have heard only Brick and Mortar businesses model.
An Overview: What is Click and Mortar?
Click and Mortar is a type of business model that combines both online, e-Commerce channels (click), and physical retail stores (mortar) to merge as a single business.
Sometimes, it is referred to as brick-and-click which allows you to integrate your offline business into online purchases to provide a seamless shopping experience for your customers.
Click and Mortar gives a choice to your customers over how and when they want to shop. They can either choose a delivery or pickup option that works for them. Either way, they need to check out and pay for their order online.
Walmart: A real-life example of Click and Mortar 
One of the world's largest retail giants- Walmart, is the best example of a Click and Mortar business model. 

Walmart offers a user-friendly e-Commerce website and mobile app to browse a vast collection of products and make purchases and choose either home delivery or in-store pickup option.

Walmart extends its services by providing an extensive network of physical stores spread across multiple locations.

The integration of this has allowed Walmart to provide a flexible experience to its customers.

 
Now that you have explored the concept of Click and Mortar, let's delve into why the traditional Brick and Mortar model is becoming obsolete leading to the new innovative approach of the Click and Mortar model.
What is the Key Difference Between Brick and Mortar vs Click and Mortar?
The main difference between the two lies in their retail strategies.
Click and Mortar businesses have both online and physical presence, whereas Brick and Mortar stores have physical storefronts. With Click and Mortar, transactions happen online. On the other hand, Brick and Mortar businesses accept payments through cash as their type of retail business is in person.
The Click and Mortar strategy always allows your business to take advantage of growing tech and reach more customers. So, if you are interested in implementing a Click and Mortar business model, the below section is for you.
How to Implement the Click and Mortar Strategy in Your Physical Store
Here's the process to follow for implementing the Click and Mortar business model.
Enhance omnichannel marketing

Omnichannel is to leverage the data and customer insights to understand customer behavior. A successful omnichannel approach guarantees that your retail business reaches to clients across different channels. Similarly, align your online and offline content with customer service delivery strategies.

For a successful marketing strategy, an omnichannel presence provides a start-to-finish seamless customer experience. Consider identifying the channels that your customers frequently use, and create content that is relevant to integrating online retail strategies.

Prepare inventory system

Even if you want to offer your customers both pickup in-store or delivery, you will need a streamlined tracking inventory system. This helps in avoiding overselling the product that is not in stock. In both cases be it store pickup or delivery, the product should be available in stock. If you are tech-savvy in managing your inventory, even customers will show interest in purchasing online.

Keep the system updated in both physical stores or online and keep track of the products to make the process easier.

Maintain a consistent inventory level

By maintaining consistency between online and offline channels, you can provide a seamless shopping experience to your customers. Take time to invest in the best inventory management system to notify customers what's available in-store or for online purchases.

Invest in the right point-of-sale system

You can link your POS system to your online store and ensure smooth management of both the business model. With a reliable POS in place, you can provide B2B e-commerce products and services in time. There are many things you can do with the system like managing items and processing payments.

Additionally, a robust point-of-sale (POS) system can have a significant impact on efficiency of your retail shop by lowering labor costs and improving customer service.

Easy shipping and returns

The most crucial part of the Click and Mortar strategy is shipping. Shipping and return policies should be in place to make it easier for you and the customers for efficient online shopping. Make shopping or returns easy for customers by keeping clear communication on returns from the beginning. Also, choose a reliable shipping provider to simplify the process.

Note: Keep in mind the shipping costs if products are delivered through online stores.

Analyze overall data

Combining your online and offline operations gives you a complete picture of how your business is doing. That's why an e-Commerce platform offers in-depth analytics with all the data at your fingertips. This helps to make informed decisions.
Following and implementing the above practices will help the Click and Mortar businesses enhance ROI. Apart from revenue generation, there are multiple other benefits of using Click and Mortar businesses.
Let's read.
What are the Benefits of Implementing the Click and Mortar Model?
The main benefit of this model is omnichannel selling. With online and in-store selling, customers can get access to a wider market and shoppers can discover more from your business.
Here are the benefits of Click and Mortar.
1. Builds customer trust
Customers have always preferred to see and touch the products personally before buying them. Today, with the digital transformation, they prefer to depend on online shopping over offline. Customers can engage with the merchandise in person or buy it online later. This increases customers' trust as they have more options to purchase.
2. Reduces marketing costs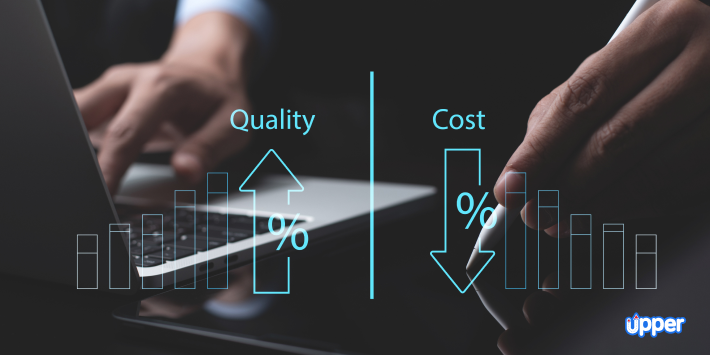 eCommerce businesses spend a lot of money on marketing and advertising activities to increase customers. But, opening a physical store can help you attract more customers reducing the costs of marketing. It can also help you boost brand recognition as a market leader. However, operating a physical store has its own costs, so it is important to work as per your business goals.
3. Provides a seamless customer experience
With Click and Mortar, customers have the option to choose their products and experience seamless checkout. Some people prefer to shop offline, while others prefer online comfort. Customers can also check the products online and then visit the physical store to purchase them.
4. Saves shipping costs
By choosing both the Click and Mortar approach and offline store for your business, some buyers may opt to Buy Online, Pick In-store (BOPIS). This helps business and customers save a lot of money on shipping and lead to more sales at your store. If a customer comes to pick up the order, they might also see other products and add them to their purchase.
5. Increase sales revenue
The more sales channels you have, the more you are able to increase the revenue. Investing in an eCommerce store will increase your customers virtually that's in your shipping zone. However, keeping a physical store will attract more local users.
By adopting both store and online business models, you can cater to a wide range of audience and boost revenue at the same time.
What are the Pitfalls to Avoid While Implementing Click and Mortar Business Model?
Implementing a Click and Mortar business model can be a transformative sales strategy for retailers, but it also comes with its share of challenges. Here are some of the pitfalls to avoid while implementing the business model.
1. Inadequate technology integration
Failing to integrate online and offline systems can lead to disjointed customer experiences and inefficient operations. Seamless data synchronization and a centralized platform are essential for effective Click and Mortar implementation.
2. Lack of consistent branding
Inconsistent branding across online and offline channels can confuse customers and dilute the brand message. It's crucial to maintain a cohesive brand identity and messaging to reinforce brand recognition and trust.
3. Overlooking mobile optimization
As mobile usage continues to grow, retailers must prioritize mobile optimization for their websites and apps. Neglecting mobile-friendly interfaces can lead to a poor user experience and deter potential customers.
4. Ignoring customer feedback
Customer data or feedback is invaluable for improving the Click and Mortar experience. Ignoring or not acting on customer feedback can hinder improvements and customer satisfaction.
5. Ineffective inventory management
Balancing inventory levels between online and offline channels is crucial to avoid overstocking or stockouts. Accurate inventory management ensures that customers can access products when and where they want.
6. Neglecting localized strategies
Each location may have unique customer preferences and behaviors. Failing to implement localized marketing and inventory strategies can result in missed opportunities for growth.
7. Not measuring and analyzing performance
A lack of data analysis and performance tracking can hinder optimization efforts. Retailers must regularly measure and analyze key performance metrics to identify areas for improvement and make data-driven decisions.
8. Not adapting to consumer trends
Consumer preferences and behavior continually evolve. Retailers must stay updated with industry trends and customer demands to remain relevant and competitive.
Ensure to check all the above points to avoid any mistakes while implementing the Click and Mortar strategy. However, apart from these, you need to also ensure quick and seamless shipping options or delivery to your customers.
But how is this possible? Some businesses choose last-mile deliveries to save shipping costs. If you choose to handle delivery yourself, consider using routing software like Upper to efficiently optimize delivery schedules for single or multiple drivers.
Manage Your Click and Mortar Business With Upper
Upper is the top route optimization software for logistics and delivery businesses that need to plan multiple routes for delivery, pickups, and service. This route planner comes with advanced features like route planning, route scheduling, and one-click dispatching. You can also plan and optimize multiple routes every day and dispatch them to drivers. To maintain transparency, your drivers can use the proof of delivery feature to get assurance of package delivery.
Upper gives you exclusive features like below:
Import CSV or Excel files to add multiple addresses
Plan and optimize routes based on distance and dispatch routes to your drivers
Drivers can collect proof of delivery with photos and e-signatures
Keep customers informed with delivery status and ETAs
Get highly detailed reports to improve business operations
A dedicated driver app that helps the drivers to check their next delivery
With Upper, you can efficiently plan, schedule, and get optimized routes to reach retail store locations in the shortest and fastest way possible. One of our esteemed clients shared his experience with Upper. By efficiently planning routes with Upper route planners, they are able to save 10 hours per week.
Want to Accelerate Your eCommerce Business?
Upper helps you to plan routes efficiently for your daily delivery operations. Get optimized routes for your eCommerce deliveries within a few seconds
Start Upper's FREE Trial

FAQs
Successful implementation requires effective technology integration, consistent branding, staff training, and a focus on data security. Retailers should prioritize mobile optimization, analyze customer feedback, and ensure efficient inventory management. Moreover, adopting a seamless e commerce strategy becomes important if a retail business wants to grow their business.
Click and Mortar enhances customer experiences by providing flexibility and convenience. Customers can seamlessly switch between online and offline interactions, receiving consistent messaging and personalized recommendations across all touchpoints.
Challenges may include inadequate technology integration, inconsistent branding, insufficient staff training, and data security concerns. Effective inventory management and addressing localized strategies are also critical for success. Additionally, establishing a balance between online and offline sales channels becomes complex for retail businesses.
Click-and-Mortar businesses can significantly enhance the customer experience by leveraging various technologies. Through e-commerce platforms and mobile apps, customers can enjoy seamless online shopping. Customer relationship management systems allow for personalized engagements. Route optimization software ensures efficient and timely deliveries offering immersive shopping experiences.
Conclusion
If you want to expand your retail business, transforming your Brick and Mortar store to a Click and Mortar business model is an ideal choice. Before you reach any conclusion, it is better to understand your audience initially. With Click and Mortar stores, it becomes easy to manage and analyze the stocks online and in-store at your fingertips.
With this business model, you can boost the customer experience, which will lead to an increase in overall ROI. Once you start online and offline sales, you can invest in route optimization to streamline your deliveries.