International shipping costs have amplified in the last two years. For instance, the cost of shipping between Britain and China has gone up by a whopping 350%, according to CBBC.
But the question that baffles individuals and businesses alike is why shipping is so expensive.
It is a ripple effect that's been flowing since the limited supply of goods being sent out. But it is not as simple as it seems.
Let us take a look at why the shipping costs have skyrocketed in the last year and a half.
5 Major Reasons Why Shipping Is So Expensive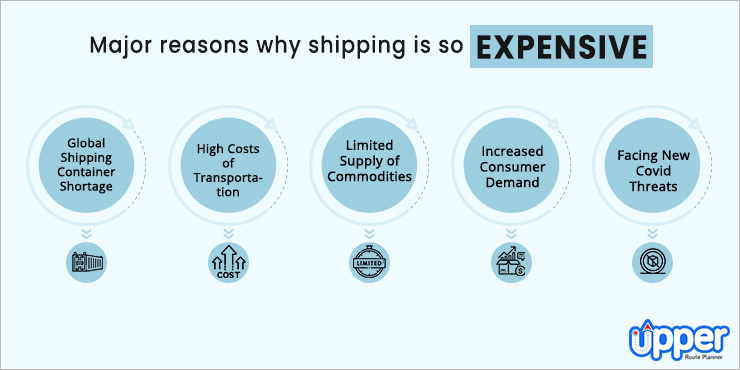 Global Shipping Container Shortage

During the 18 months when most countries were under lockdown, China's shipping companies sent many shipping containers to the USA & Europe market.

Due to the lockdown, there was a congestion of consumer goods stuck in China.

The shipping containers have been stretched across South Asia and Africa to supply high levels of demand for consumer goods in the US.

High Costs of Transportation

Shipping is really expensive. Currently, the shipping industry is pushed to get a huge amount of work done with limited resources.

The cost of transporting a shipping container has gone from $3,000 to $8,000 in 2021.

This is due to supply chain disruptions, expensive gas prices, fuel costs, and limited cargo space.

Limited Supply of Commodities

The manufacturing & shipping of products domestically and internationally is increasing drastically.

Due to the limited quantity of commodities being shipped to more buyers, the prices of the commodities have skyrocketed.

Courier companies are unable to ramp up shipping volume for commodities because of various limitations on the distribution channels.

Increased Consumer Demand

In the past year, more people have turned to eCommerce for buying goods whether it is clothes, digital products, meal-kits, or groceries.

The rise in the number of products shipped leads to a rise in prices. To keep up with the supply chain price fluctuations and counterbalance the shipping price, eCommerce businesses charge a higher price.

Facing New Covid Threats

The new Covid variants and the rising number of cases are becoming a threat for shipping companies around the world.

Most countries that recently opened up their borders for international travel are going back in lockdown. Governments around the world will implement lockdown to keep the new variant in control. This affects shipping from one country to another.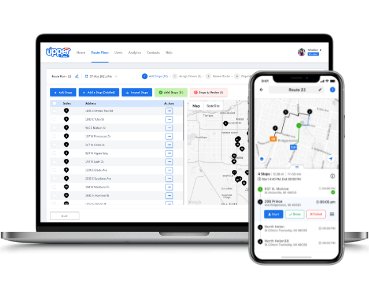 Upper Route Planner
A Simple-to-use route planner that every one is talking about.
Save up to 95% of planning time
Save up to 40% of time on the road
Plan 500 stops at once
How Do Courier Companies Determine Shipping Costs?
Below are the factors that are considered while determining international shipping costs.
Courier Agreements

Courier agreements are made up of multiple smaller aspects of the delivery process that are not expensive alone. But when added up, it can raise prices for the overall shipping.

Fuel Surcharges

Fuel surcharges are extra fees that include any fuel price fluctuations. Even though many ecommerce companies often overlook these charges, they can subsequently increase the shipping costs.

Value Added Courier Services

Value added services (eg. delivery area surcharges & residential fees) will obviously increase the shipping expenses dramatically. Sometimes these value added costs are difficult to identify. But these charges add up quickly for online merchants.

Overhead Costs

Shipping is a multi-stage process. Every cost incurred at each stage is added up. Overhead costs are the ongoing expenses that are made in order to keep the shipment moving from one stage to the other.

Variable Costs

Variable costs are the costs that vary with the level of output or the services offered to the clients. Parcel dimensions and weight are often variable factors that are considered while deciding the variable costs.

Minimum Package Charges

Minimum package charges are covered by many courier businesses. This is a net charge based on minimum courier delivery agreements. It is the lowest amount a shipper has to pay to send a package through.
How Can Companies Reduce Their Shipping Costs?
There are alternatives for businesses to cut down on the shipping prices. Let's see how you can do that:
Move Manufacturing Locations Closer
The global pandemic has pushed countries to be self-reliant. Many countries are looking for alternatives to manufacturing locations that are not in close proximity.
Moving manufacturing units closer to home has helped many businesses operate easily even during lockdowns in other nations.
Having manufacturing locations closer to your primary market not only help you save transportation cost, but you will also save a significant amount of labor cost as well.
Choose In-house or Self Delivery
If your manufacturing units are based locally, you can choose to offer direct-to-consumer services. It seems like most local businesses are jumping on the bandwagon. They choose to offer in-house or self-delivery and ensure that the products reach their customer earlier than expected.
In-house delivery or self-delivery helps businesses have complete control over their delivery operations, have higher visibility, and offer a better customer experience. These businesses can choose not to rely on third-party services.
Upper Route Planner route optimization software helps you with exactly that.
Plan deliveries for months in advance with Upper Route Planner. Schedule multiple driver routes in advance and pull them out when required.
Automated route optimization helps your drivers stay on track. It offers the most optimized way of going from one delivery stop to another.
Recipient notifications keep your customers informed at all stages of the delivery process.
Proof of delivery helps you keep a record of each package delivered & avoid false claims from customers.
Plan quickly, deliver faster, delight customers and get home early.
Everyone deserves to have simple and easy route planning.
FAQ
The major causes for higher shipping costs are inefficient cargo ships, shipping container shortage globally, limited supply of commodities, and increased consumer demand. Each of these factors add pressure on the international shipping rates.
Shipping is a complex process. Each part of the process has a separate cost. When each of these costs add up, it eventually makes delivery for shipping companies & ecommerce businesses expensive. This leads to higher shipping costs from courier companies.
Shipping Prices Aren't Going Down
The rising shipping costs will not be lowered anytime soon, for businesses that rely on shipping distribution channels, it is important to be prepared.
Businesses operating locally need to take action accordingly to be able to act when the time comes.
If you are a business that wants to rely on itself to deliver goods locally, we are here to help you out. Our route planning solution helps you simplify and streamline your entire delivery process.
Just start your free trial with Upper and experience how it benefits your gift delivery business.