ElasticRoute is a heuristic route planning and optimization software that uses hybrid heuristics to solve the traveling salesman problem and meets a logistics business's daily routing needs.
Industries like waste recycling management, field services to construction and postal services to food-beverage delivery can use Detrack Systems' ElasticRoute. ElasticRoute uses an efficient planning and optimization algorithm that solves large fleets' routing problems with high-speed route planning.
In this Elastic Route Review, we will discuss how Deskart Systems' recent ElasticRoute software uses hybrid heuristics to improve the route planning and optimization process in last-mile delivery.
What is ElasticRoute?
ElasticRoute, a product of Detrack Systems, was launched in March 2019. It is a route planning solution that can help produce natural cluster-based routes using proprietary heuristic programs instantly. This way, it adds a human touch to the route optimization process. When routes are created using a proprietary heuristic route planning algorithm, the routes produced are more natural and face less resistance from drivers. The solution boasts planning 1000 stops in just 90 seconds and comes with features that can deal with challenges like unplanned changes to the delivery route.
How is ElasticRoute Different?
Heuristic algorithms have been incorporated into a route planning solution that solves the vehicle routing problem. But these solutions couldn't tackle scale. Even with the use of heuristics, many algorithms struggle to scale. It is because with the number of stops increasing, the time required to plan also increases. But with ElasticRoute, the time is linear, so it doesn't grow exponentially with the number of stops.
Elgo, a heuristic algorithm used in ElasticRoute, can reduce the polynomial-time required to plan routes into linear time. ElasticRoute aims to make route planning quick, scalable, and affordable so that businesses worldwide can use a heuristic-based route planning solution for deliveries.
Pricing Plans
ElaasticRoute has three pricing plans which are as follows:
Free: Users can use the Free plan for one vehicle and up to 20 stops. You can have access to Dashboard API, unlimited plans & re-plans, in-house geocoding provided, unlimited sub-users, and email support.
Monthly: The Monthly plan comes with unlimited stops, unlimited plans and re-plans, access to Dashboard API, priority email support, and 14 days free trial.
Annually: The Annual plan comes with unlimited stops, unlimited plans and re-plans, access to Dashboard API, priority email support, 14 days free trial, and two months free.
ElasticRoute software is free to use for everyone until April 2021.
We do not comment on specific prices and costs regarding plans because they may vary. Please consult the company or visit the website for an updated price.
Ways in Which Elastic Route Solves the Vehicle Routing Problem
Speed is an essential aspect of successful last-mile delivery. Couriers and delivery businesses need to plan optimized routes and dispatch them to the drivers quickly. Fast route planning and optimization software help businesses in creating routes rapidly.
ElasticRoute can solve vehicle routing problems with an improved time frame for a last-mile delivery transaction. In addition to this, it can provide the benefits of natural clustering and natural flowing routes.
ElasticRoute makes use of Hybrid Heuristics. This feature can make route planning fast, scalable, and affordable. Even with last-minute changes to the plan, couriers and businesses can now accommodate them instantly. So creating high-speed, natural routes with low computation costs is no longer a problem with ElasticRoute.
What are Hybrid Heuristics?
Hybrid Heuristics is a mix between straight-line heuristics and real road distance metrics for developing a routing algorithm that can solve large-scale Vehicle Routing Problems with accurate solutions.
The last-mile delivery problems we are faced with today cannot simply be solved by a pure straight-line heuristic or a pure road-distance metric. In ElasticRoute, the straight-line heuristic is used to make smart guesses regarding the road distance metrics that need to be evaluated. The user gets the accuracy of road-distance metrics without the implication of slow speeds and high costs.
Natural Cluster-Based Routes
With a machine-powered clustering algorithm, natural cluster-based routes can be created by creating micro-clusters based on the stops and not the geographical region. The vehicles are then assigned to serve these micro-clusters. With the increased number of stops in a particular region, the algorithm creates more clusters in that specific area. Businesses can serve an entire region without any actual manual human intervention. This kind of algorithm can help businesses offering a wide range of logistics services regardless of size.
Customer Reviews & Overall Rating
Here are some positive comments and areas of improvement provided by users of the app.
Positive Comments
Easy to set up new profiles and also easy to use.
Not having to export and import using spreadsheets to create optimized routes.
The customer support team answers questions in no time.
Areas of Improvement
Routes start from the stop and not the depot.
Need more options for customization.
Looking for a way to default a specific driver for assignments.
You can check out another review by us here:
Xfleet (My Smart Route) Review – Is It a Convenient Route Planning Software?
Is There An Alternative?
ElasticRoute is a heuristic route planning and optimization algorithm that solves many issues relating to logistics services. It is an affordable and effective solution for all kinds of delivery service businesses regardless of size. It will mostly be helpful and affordable for medium and large-sized businesses that have their operations spread out in different parts of the world. It might prove to be a little extra for a smaller business or an individual driver or field service agent. For them, Upper Route Planner is a good alternative.
What is Upper Route Planner?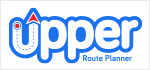 Upper Route Planner is a route planning and optimization software that helps an individual driver or a delivery service business plan their daily delivery routes and save time and money. Like ElasticRoute, Upper can help save fuel, labor costs and improve overall business profitability with optimized routes. The only difference is that ElasticRoute makes use of a hybrid heuristic algorithm that can help businesses develop fast, scalable, and affordable routes. At the same time, Upper Route Planning has a different advanced algorithm that considers multiple factors for developing efficient routes and saving time and money.
What Makes Upper Route Planner a Suitable Alternative?
Any individual drivers, field service agents, or small businesses that might find ElasticRoute to be a bit expensive or not practical enough can choose to use Upper Route Planner. Upper Route Planner makes route planning easy with features like Bulk Address Import from Excel, Location-Based Auto Detect, Quick Route Creation, Duplicate Routes, etc.
In addition to route planning and optimization, Upper Route Planner allows users to customize and share routes and develop reports and insights for each delivery. Upper Route Planner can be used as a web-based app or a mobile app on Android and iOS devices.
Conclusion
Last-mile delivery is a competitive field. Businesses need cutting-edge technology to work according to the requirements and manage large fleets and vehicle resources to survive in the industry. ElasticRoute can be helpful for large businesses that have operations spread out in different parts of the world. In comparison, small businesses and individual drivers can quickly achieve their delivery targets with an alternative without a hyper-heuristic algorithm.