While digital print and online news have grown in popularity, many Americans still love to catch up on the news with a print edition delivered right to their door every morning. Since the advent of digital media, many people say that paper news is dead, although his remains to be proven. And while the delivery of news may seem 'old-fashioned' and uncomplicated, this is simply untrue. Newspaper runs can be complicated and, if poorly planned, they can be time-consuming and costly. The solution? A software or app that's well-suited to the unique needs of these routes. Yes, there is such a thing!
In this article, we'll take a look at the ins and outs of Paper Route Planning dive into some of the issues that can crop up with manual actions, and examine ways that optimization software can assist. We'll also discuss some of the unique factors that come into play with the delivery route plan and features to look for when choosing a software solution. Let's get started!
The Basics of Route Optimization and Mapping
Before diving into any specifics, let's take a look at what's involved in organizing your route and what optimization is possible with a smartly-designed software solution.
How do you Create the Best route?
Route planning involves determining the most efficient course possible to service all your customers while also saving the most time and fuel. The steps required to be a useful route planner include:
Gathering data – this includes information such as time frame, number of orders, loading and unloading times, road restrictions, addresses, delivery frequency, etc.
Planning – this involves trying to minimize two essential resources: time and money. In other words, the goal of this phase is to find the path that takes the least amount of time and is most cost-effective. This process can be a very time-consuming task when done manually, given the many and ever-changing variables.
Determining costs – The final step requires the route planner software or app to calculate fixed and variable costs involved (e.g., vehicle costs, fuel costs, tolls, etc.)
It wasn't so long ago that businesses of all sizes managed their course-plotting manually – there was no other option.
Typically, the task of route management would be managed by a dispatcher, although the drivers may also take the lead on certain elements. The dispatcher would be responsible for receiving work orders/deliveries, organizing stops, and assigning them to specific drivers based on the area or postal codes under their responsibility. In some cases, the dispatcher would coordinate the orders/deliveries in a particular sequence, but in other instances, the driver could take responsibility for their route.
Plan quickly, deliver faster, delight customers and get home early.
Everyone deserves to have simple and easy route planning.
What Issues Can a Manual Route Plan Present?
As you can probably conclude, the manual organization of routes presents many limitations and inefficiencies. One of the main issues with manual scheduling is that it isn't always easy to identify inefficiencies or poorly planned courses. If the dispatcher or driver assumes they are using the best way forward, what motivation do they have to try an alternate route? People tend to get comfortable in their routines. Unless they receive data that there is a better or more efficient way to complete their task, the incentive isn't usually there for dispatchers and drivers to test their assumptions about the best routes.
Another issue that's inherent in manual organizing is the lack of real-time information available to the dispatcher and delivery drivers. A well-planned route can suddenly become a nightmare if there's a traffic accident or other delay that occurs en route, and the driver does not have this information at hand.
Human errors are also an issue that crops up with manual designing. Whether it's completely missing deliveries on the route, delivering a package to the wrong address, or another oversight, the price of human error can be significant in an era where customer satisfaction is king.
As you can see, manual systems can cause costly inefficiencies and impact customer satisfaction levels, which can ultimately impede a business's ability to grow and meet its customers' expectations.
How Does it Differ from Last-Mile Parcel Delivery?
Now that we've 'mapped' the ins and outs of how to get started let's take a look at route planning for a newspaper delivery route and how it differs from traditional delivery scheduling. Last-mile parcel delivery involves delivering packages to their final destination and is dominated by couriers such as UPS and FedEx.
It may be tempting to lump newspaper delivery into the same category as last-mile parcel delivery. After all, both these industries involve delivering an item to its final destination, which is usually a personal residence. There are, however, subtle differences between last-mile parcel delivery and news delivery that need to be taken into account when mapping your delivery route. For example, last-mile delivery is a large and expanding industry. Also, last-minute parcel delivery is almost exclusively executed with the use of a vehicle, while many complete newspaper deliveries on foot or bike. Another notable difference is that a newspaper route tends to be more stable (i.e., the same customers are part of the course every day), while the schedule for last-mile parcel delivery tends to change from day-to-day.
In the next section, we'll look at some of the key considerations to take into account when preparing a newspaper delivery route and choosing the best software solution.
Key Considerations and Features for Newspaper Route Optimization Software
Here are a few of the key considerations you'll need to take into account when route planning for news delivery and which features to look for in routing software:
Mode(s) of transport
Are the routes and addresses are generally by foot/bicycle, exclusively by vehicle, or a mix of all different transport types? As you can imagine, software to optimize for vehicles will not necessarily be suitable for walking routes that can ignore one-way streets, traffic delays, etc.
On the other hand, if your delivery routes depend exclusively on vehicles, you'll know that wear-and-tear can be extremely high and costly.
When choosing your solution, take into consideration the modes of transport you depend on for your newspaper delivery. If some/
all addresses and stops rely on walking or biking, you'll want to ensure that the software can optimize for these modes of transport. If your routes rely on vehicles, look for built-in features such as the ability to measure 'fuel consumption/costs.
Number of Users
Are you merely trying to find a more efficient way to plan your route? Or do you manage delivery routes for a daily newspaper with a large circulation and many carriers?
The solution that's most suitable for you could depend on the number of users that will be accessing the software. Typically, the more users, the pricier the monthly fee for the software. On the other hand, if you're merely looking for a way to optimize your route, you may have some luck finding a free option!
Number of Customers
How many customers do you have? Is there a limit? What is the distance between them? While high-quality software or app solutions will likely permit an unlimited number of routes and addresses per route, some lower-priced or free versions will cap the number of addresses or routes.
App Platforms
What devices or platforms do you currently use? Do you need a smartphone device to access apps found on the App Store? Or would you rather Android? Do you prefer a web-based (or cloud-based) app? Do you use a tablet such as the iPad? Do you need the flexibility to choose between these? It's often beneficial to look at which interface you want to use to track progress and operations.
Pricing Structure
What type of prices are you looking to get? Is there a cost that is too high? Would a subscription model work for you? What types of accounts does the company support? Does it offer a free trial? How frequent are payments?
Specific Features
There are many other questions that one can ask here. Does it integrate with Apple Maps? Does this do driver tracking? What logistics account settings can I toggle? Does it have planners, locations (destinations), directions (navigation), and fleet options? Can it also handle appointments and customer relations management software (CRM)? These are a few of the scenarios to consider in your overview and research.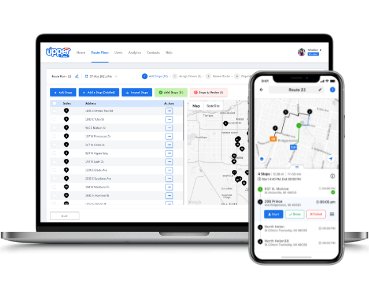 Upper Route Planner
A Simple-to-use route planner that every one is talking about.
Save up to 95% of planning time
Save up to 40% of time on the road
Plan 500 stops at once
No credit card details required
How Can Software Optimize Route Planning?
All route optimization software has increased in recent years alongside advances in technology, including GPS mapping. Designed specifically to address the issues that arise with manual route planning, a sophisticated route planner app solution can dramatically decrease inefficiencies and human errors.
The right software can achieve these efficiencies thanks to sophisticated algorithms that automatically account for an immense number of variables that can impact a route's efficiency at any given moment. These types of complex calculations would simply be beyond the capabilities of even the best human route planner.
The integration of GPS technology also gives this kind of software a massive advantage over the human route planner. Paired with the software's high-speed algorithms, it can provide real-time updates to the route plan based on the latest traffic information.
The core functions of any quality software should include:
Route optimization algorithm – As mentioned above, the algorithm is at the heart of route optimization. It is the 'brains' of the operation and essential to effective plotting a route for multiple stops and addresses.
Route planning visualization – A picture or, in this case, a map is worth a thousand words. A visual map of addresses will provide the driver with valuable reference points for their route.
Mobile app – Drivers/delivery persons must have access to the route planning software while in the field – otherwise, it's rather useless, isn't it? Ideally, the route planner apps should be available on both iPhone and Android.
Real-time tracking – live tracking of delivery vehicles/drivers provides valuable information to the dispatcher, who can identify delays in real-time and adjust addresses or stops accordingly. It is always useful that this information goes to the customer, so they know when to expect delivery.
Analytics/reporting – The value of analytics/reports cannot be underestimated. This data can help dispatchers and drivers identify 'weak links' in their routes and adjust accordingly. It can also help dispatchers identify which drivers are performing best (or worst).
Increase in volume – A delivery person can start to make more delivering, and increase their success.
For more information, please check out:
Best route planner apps in 2022
---
FAQs
The best way to map a route is to use route planning tools such as Google Maps, MapQuest, or any other paid application like Badger Maps or OptimoRoute. In the digital age, it is no longer efficient to map service calls or sales routes using a spreadsheet.
In general, two leading apps are considered the best and free options. The first option is Google Maps, which has the advantages of being powered by Tech juggernaut Google which means that it contains an incredible amount of data integration and features. The second option is MapQuest, which offers a simplified user experience as well as optimization features.
---
Make Paper Deliveries Smoother with Route Planning Software
In conclusion, we hope this article helps newspaper field sales people improve their delivery service performance, improve productivity, and address some challenges inherent o the industry. We hope his list of tips on delivery management will help in delivering outstanding customer service to all clients reading newspapers. We always hope to add the maximum amount of value to you. If there's anything we missed or anything you,d like to see added in the future, please feel free to contact us at any time!