Every supply chain and logistics company needs a web-based or mobile-based route planning software that helps them automate vehicle scheduling and optimize fleet management by offering the most time-saving and cost-efficient route. Courier drivers, fleet managers, service dispatchers, delivery drivers, etc., are some people who need to optimize routes online regularly and reduce their carbon footprint.
Route optimization, driver management, drag-and-drop scheduling, performance metrics are some of the basic things required for a well-performing route optimization application. A navigation app like Google Maps cannot satisfy all these advanced requirements, like managing multiple locations, import contacts, etc. In this MyRouteOnline review, we will discuss features and the overall rating of the software curated from a variety of sources like customer reviews and other blogs.
Overview of MyRouteOnline
MyRouteOnline is a SaaS company that has the ability to convert addresses from an Excel file into an optimized route plan, which can be shared through a web-based route planner, mobile device, or GPS app. It helps businesses from various industries to optimize delivery routes while allowing maximum and minimum route duration. Users can map multiple routes on a planner, review and manually adjust routes.
The application offers ease of use and allows you to set a default service time for different locations. It also enables staff members and sales reps to check out the planned routes or saved routes, accept notifications, add or remove addresses, etc. It allows you to send details via email, and the API also helps you integrate with third-party systems.
The software offers its services and customer support through five different pricing plans. We do not include specific prices and costs because they may vary. Please consult the company for updated pricing details.
Major Features of MyRouteOnline
Below are the defining features of MyRouteOnline: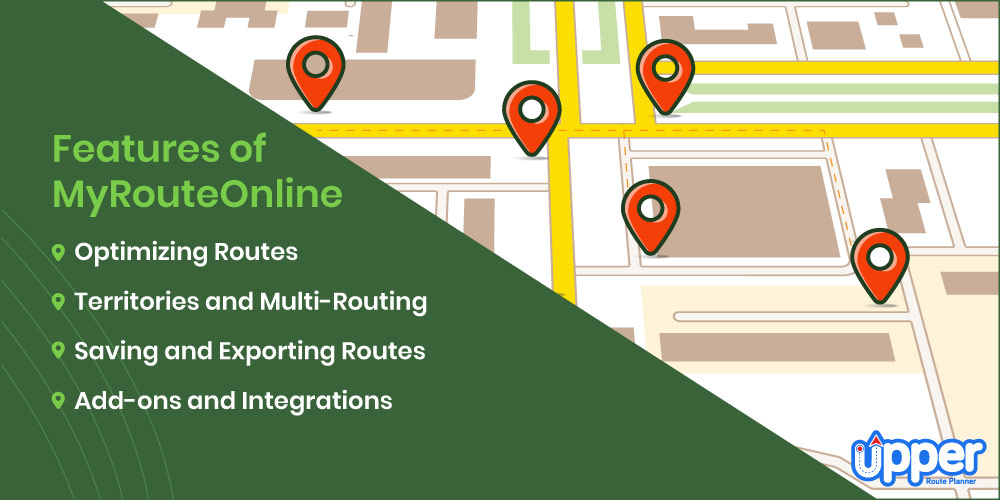 Optimizing Routes
With MyRouteOnline, you can upload and import any address and sheet structure easily as it doesn't require you to follow a specific format. It also allows you to obtain individual service time for each location. The service time will be included in the route optimizing software to get accurate details of your finished route. You can choose to set a default service time or separate service times, depending on the requirement.
You get to choose from 4 optimization goals like Minimize Distance, Minimize Time, Balance Time and Distance, and Keep Order As-Is. Depending on the goals you select, you will receive a perfectly optimized route. In addition to this, it also allows you to shift several addresses at once manually. This can be done within one route or among different routes.
Territories and Multi-Routing
Our routes often have unexpected deviations from the original territory design. This deviation happens due to distance calculation and is done for better optimizing the routes. The software allows changing the Mixed Territories default to Disallow and lay down different multiple-routes parameters.
MyRouteOnline offers advanced options for planning multi-point routes and adds further limitations for creating a plan according to your needs. You can plan multiple routes for multiple drivers, sales reps, or real estate agents. For these multiple routes, you a list of pick-up and drop-off locations given side-by-side, for which you will have to mention them in your Excel sheet clearly.
Saving and Exporting Routes
Depending on the pricing plan you choose, you will be able to save your route online and will be able to view and modify it on any computer. With each saved plan, the software creates a new copy of your route plan. You can now replace the old plans with the new ones. You can also export routes to Excel and save them on your local computer.
You can choose to email multiples routes at once or even separately if you wish. The application works with Google Maps to optimize and calculate the most cost-effective and time-efficient route for you. The software maps aim to provide a clear and efficient plan that considers the travel time and physical proximity of the stops.
Add-ons and Integrations
The app for Android, iPhone, Tablets, iPads, and Windows Phone. Whether you are running a trucking business, a courier service, or a delivery company, it will navigate your mobile devices and optimize multiple locations and give you time for each location. The API can also be integrated with any software.
Best Use Cases of MyRouteOnline
Here are some of the best use cases for MyRouteOnline
Road Trips: Be it college kids on a break or families taking a vacation, or tour buses with visitors and retirees, everyone can make use of the application for multi-stop planning on their road trips. This is an easy to use program that can be accessed through a mobile phone (Android or iPhone).
Commercial Transportation: Drivers and managers at a commercial transportation company need control and awareness while maintaining efficiency. This software manages to do this by offering well-optimized routes while maintaining a general awareness in several business operations like multi-stop deliveries, multiple locations, time for each location, regular visits, and saving money in return.
Deliveries and Distribution: Courier and delivery drivers or vendors have to overcome many obstacles daily during their time on the job. MyRouteOnline allows them to set and plan multiple routes online, with up to 300 addresses, and any time is taken off between deliveries. It not only solves the problem of getting lost but also reducing wear and tear and save money.
Service and Maintenance: For technicians who offer service and maintenance to customers they often find difficulty finding locations and managing time gaps between each stop. MyRouteOnline helps them by accounting for the gaps and lets you save routes online and use the hands-free navigation system. They aim to make your job day more productive.
User Reviews & Overall Rating of MyRouteOnline
Let us take a look at what the users have to say about their experience with MyRouteOnline.
Positive Comments – Ease of Use and Good Support
It helps in planning the day more efficiently to improve the routing experience.
It is easy to use, and the ability to derive data directly from Google Drive helps.
A solidly programmed software with no crashes that works on various devices.
Good customer support and service.
MyRoutes Online is no more a web-based service; it also has a MyRoute app now. So you can use route animation to review route planning.
Negative Comments – Issues and Bugs
Not enough information on how to use the mapping program.
The new version requires more clicks and is time-consuming with unnecessary drop-down windows.
There is no way to assign a unique fixed stop for each driver.
The routes always need a little optimization from the users even after the app generates them.
The routes aren't exactly efficient when there are more than 100 stops nearby.
Quite a few times, the optimized routes are not the best.
Users wish there were more customization options for their businesses.
Offers limited flexibility while creating the export file
No easier way to keep you signed-in or reload the routes
Changes the order of the original route while moving destination from one place to another
Considering its premium plan and overall price, it only proves beneficial to bigger company size.
Is There a Better Alternative?
All businesses have different requirements depending on the kind of business they do. Sometimes an option might work for one company but might not work for another. In such a situation, it is good to have alternatives. There are quite a few alternatives to a route optimization solution.
Why is Upper Route Planner an Ideal Software?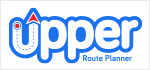 Upper Route Planner is one such alternative that makes deliveries easier by optimizing delivery routes through a user-friendly interface on a mobile app. It allows companies to create delivery routes, input several addresses and note driving directions, map multiple stops and get the best route.
Feedback and reviews from users have been considered to offer the maximum amount of value and the best customer support to each user. Upper Route Planner can cater to any company size, be it a small business or a large corporation, and strives to offer the best customer service.
Major Features
Here are some of the most important features:
Ease of use, thanks to the smart input system that quickly recognizes the addresses even before you finish typing
The software has one of the simplest features to import address list, contacts, and saved routes.
The smart system also detects errors and corrects them.
You can create, edit, share, and export routes and address lists really quickly.
Allows you to duplicate any previous travel routes or saved routes.
The naming and customization of the routes are some of the best attributes.
24/7 customer support available to offer a solution to a problem and accept feedback on the user experience.
The powerful reports make important insights available at your fingertips.
Offers free trial.
Caters any company size and optimizes a large number of routes.
Works with Google Maps, Apple Maps, Waze, and Yandex.
---
FAQs
The need for an alternative arises when the same services are available at a much lower price. This means the alternative offers value for money. In this case, an alternative like Upper Route Planner is needed as it offers all the necessary attributes that match with its competitor and has value for money. Upper Route Planner's yearly plan is the price of MyRouteOnline's Premium Plan for a month.
An alternative app must cover some of the most basic aspects: ease of use, great customer service, intuitive mobile app, export routes, import contacts, and value for money. Upper Route Planner satisfies all these aspects and much more.
---
Conclusion
A route planning solution is a key to the successful handling of deliveries for a fleet management company or any organization that promises to deliver a product or service and has a large number of routes to handle. This MyRouteOnline review is put together to bring the best option to your attention. It can help you make a good choice and better purchase decisions. We tried to offer a gist of many MyRouteOnline reviews for you while also presenting you with the best alternative available to you.