With the increasing demands of last-mile delivery operations, the companies and businesses in the industry need to control how their customers are served. This can be done when the processes are supported with good management software. A routing and scheduling software is key to useful last-mile delivery operations. In addition to routing and scheduling, they offer real-time driver location and analytics, offer GPS tracking, and manage daily delivery operations.
This Paragon Routing Review will discuss one such routing, scheduling, and compliance software that helps end-users receive their products and services on time. We will look at the features it offers, the industries it has helped, and some customers' comments.
What is Paragon?
Paragon is a routing and scheduling software that helps maximize the use of drivers and vehicles, reduces operational costs, and enhances overall customer service. The smart route optimization algorithm of Paragon creates practical and cost-effective routes. The transport plan can optimize truck and driver utilization while managing business KPIs and customer expectations.
You can choose a module to match the relevance of your transport operation.
Single Depot
Single Depot is most suitable for delivery operations that have a single warehouse. It not only reduces miles and transport costs but also reduces planning time and carbon emissions. You can also provide accurate arrival times to your customers.
Multi Depot
When there are multiple sites to work from, scheduling and delivering can become difficult to manage. Paragon Multi Depot can help you optimize the use of operation-wide resources, increasing visibility of transport operation, and decrease over time and spot-hire costs.
Integrated Fleets
Paragon Integrated Fleets help in planning complex operations with multiple sites and hundreds of vehicles. It can help manage collection and deliveries in a single plan, generate routes with efficient backloads, reduce empty miles, and combine primary and secondary distribution.
How Does Paragon Software Systems Support Your Work?
These are the features of Paragon Software that offer support to its users.
Smart Mapping
Street Level Mapping provides you exact details that you need to reduce time and miles. It improves the driver and vehicle performance, delivery performance and increases the accuracy of delivery routes and schedules. With address-range geocoding, customer location accuracy also improves.
Delivery requirements are aligned with truck attributes to make the best use of the vehicles. Factoring in the truck size and weight will automatically avoid weight-restricted roads. This way, you can maximize fleet and driver utilization, reduce costly detours, and enhance mixed fleet scheduling.
Road Speed Data helps you produce accurate journey times, produce more elastic and achievable routes, and use real-world data to improve routes.
Paragon Live
Paragon Live offers Route Execution that can link route planning to vehicle tracking, respond efficiently to problems or delays, review daily performance, and cut down transportation costs.
With Live Management, be alerted about issues, manage staff availability based on ETAs, share KPI data across an organization, and improve overall store efficiency by ensuring the relevant staff is around.
Dynamic Tripping can help you re-assign routes to meet time window commitments, make more efficient planning, minimize the number of drivers and vehicles, and optimize transport plans throughout the day.
With Waypoint Mapping, you can reduce the amount of slack, feed the Paragon plan directly into your GPS device, guide drivers turn by turn, and make sure risk-assessed routes are followed.
Flexipod is proof of a delivery system that can simplify mobile data capture and enhance real-time visibility activities. It helps in enhancing customer service while streamlining internal operations.
Business Modeling
Territory Optimizer uses actual maps to determine transport workloads, minimize travel times between deliveries. This way, it can reduce miles driven, calculate compact zones with even workloads, and improve mileage through efficient route planning.
Paragon Fastnet network optimization can offer various distribution network options and identify clients' best distribution locations. This will cut fuel and transport costs and make informed business decisions based on actual data.
Multi-Period Planner allocates multi-frequency deliveries for a multi-week planning horizon. This can ensure deliveries are clustered geographically. The multi-period planner can also maintain the required period in-between deliveries to customers.
How Has Paragon Route Planning Software Transformed Businesses From Different Industries?
Cut Down Costs, Miles, and CO2
Food and Water companies have managed to cut transportation costs, miles, and carbon emissions by employing Paragon route planning & management software. The software, with resource management functionality, offers dynamic planning and produces efficient delivery schedules. Food and Water companies have received benefits like improved delivery reliability, operation expansion, managing delivery volume fluctuations, and greater visibility for emergencies.
Increased Efficiency, Flexibility, & Productivity
Maintaining consistently high efficiency and improving driver productivity is key for distribution companies. Paragon has helped them achieve that result. For and distribution and 3PL companies, Paragon has helped cut down thousands of miles and reduce fleet size by removing overcapacity from the distribution plan.
Customer Service Benefits
Paragon helped a seed delivery company by planning deliveries with multiple route options and adding last-minute route changes. The software recalculates and produces an efficient and optimized route automatically. This helps them deliver in time and, in turn, improve customer satisfaction.
Customer Reviews & Overall Ratings
The visual nature of the routing process offers good value.
Auto-routing is efficient.
User-friendly interface that makes things easier for users.
Easy to integrate and customize according to company requirements.
Difficulty in generating reports and delivering data needs more work after it's generated.
Required more advanced features that are more relevant to the delivery processes we deal with now.
Good, timely customer communication and service.
You can check out another review by us here: StreetSync Review – An Efficient Route Planning Software for Android Devices.
Is There An Alternative?
Paragon routing software was founded in 1991 in the United Kingdom. Over the years, there have been several updates to the software. But the recent development in the logistics and fleet operations industry is so vast and challenging that you need software that is more recent to better deal with the current business changes.
What is Upper Route Planner?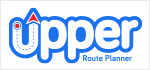 Upper Route Planner is a route planning and optimization software that helps individual drivers, contractors, couriers, and businesses plan the most efficient daily delivery routes. It aims to save time and fuel costs and offers a great overall customer experience to its users, thanks to the human-centric design.
Why Makes Upper Route Planner a Suitable Alternative?
Upper has some impressive features that make it a compelling option as a routing solution. At the same time, Paragon is only a web-based SaaS, Upper syncs across Web, iOS, and Android devices. Small businesses dealing in-home delivery and supply chain activities with a limited fleet can make fair use of this solution.
Conclusion
Paragon Software can really help supply chain businesses boost productivity and efficiency with its wide variety of features. But determining the usability of the software in your case rests on you. We hope this blog has helped you better understand the software available at your disposal and which one will best suit your needs.