Top Features
Overview
RouteXL is a smart cloud-based route planning software designed to make your delivery process a breeze. With its advanced algorithms, it can plan the most efficient route for you in a few minutes.
RouteXL is perfect for field services, delivery services, couriers, and lawn maintenance services, offering an affordable and user-friendly platform. It's the go-to solution for small and mid-sized business owners who want to tackle delivery challenges effortlessly.
This software comes packed with helpful features, including traffic alerts, GPS tracking, and route simulation, ensuring you reach multiple destinations in record time.
Route optimization is made easy with RouteXl. Just enter the addresses, and the software will do the rest. It takes into account various factors like restricted areas, toll booths, and traffic congestion to present you with the optimal route.
RouteXL Review
Positive
Adding multiple stops and relevant information is straightforward, making it ideal for handling a small number of stops efficiently.
RouteXL excels as a route planning software for product deliveries, ensuring smooth operations.
The software automatically saves previous routes, allowing easy access to route history for reference.
RouteXL offers a free plan accommodating up to 20 stops with unlimited routes. Upgrading to RouteXL 200 provides up to 200 stops per route.
Users can choose from various navigation maps like Google Maps, Apple Maps, and Waze based on their preferences.
RouteXL provides decent real-time tracking capabilities, enhancing delivery operation visibility for dispatchers.
The software efficiently plans routes for different vehicles, drivers, or days, considering their capacities, such as volume and weight restrictions.
Negative
Adding stops and creating optimized routes may not be as simple as expected. The type-based address system doesn't allow adding addresses without an absolute address, and it lacks exact address suggestions.
Creating an optimized route can be time-consuming and demanding in terms of effort.
Uploading multiple addresses through Excel sheets is a cumbersome process, requiring the manual application of formulas for each address.
The software does not detect address accuracy, leading to potentially incorrect locations on the map and misleading directions.
Geocoding inaccuracies can result in addresses being misaligned on the map, impacting overall routing accuracy.
RouteXL lacks a dedicated mobile app, necessitating the use of the website on mobile devices, which may not offer the same convenience as a mobile app.
There's no live support for resolving bugs or errors during the route optimization process, which may hinder the user experience.
The provided video tutorials lack comprehensive explanations, requiring users to figure out software usage on their own.
RouteXL lacks an option for direct route dispatch to multiple drivers. It requires creating separate rounds for each driver, which can be cumbersome for large-scale operations.
RouteXL 20
Free
PER MONTH PER DRIVER/VEHICLE
Features
Up to 20 stops/route
Unlimited routes per day
Free geocoding (low quality)
RouteXL 100
€35
Per Month Per Account
Unlimited Orders Per Month
RouteXL 20 Features +
Up to 100 stops/route
Premium geocoding (high quality)
RouteXL 200
€70
Per Month Per Account
Unlimited Orders Per Month
Route XL 100 Features +
Up to 200 stops/route
Premium geocoding (best quality)
Is RouteXL Worth the Price?
We know that the right routing solution can make all the difference in streamlining operations and maximizing ROI.
So, let's carefully assess RouteXL's value proposition in comparison to an alternative route planner in today's competitive business landscape.
| | | |
| --- | --- | --- |
| Data Import | | |
| Route Optimization | | |
| Service Time | | |
| Time Windows | | |
| Curbside Delivery | | |
| Route Scheduling | | |
| Pickup & Delivery Options | | |
| Swap Routes | | |
| Reverse Routes | | |
| Multi-stop Selector Tool | | |
| Driver's App | | |
| One-Click Driver Dispatch | | |
| Proof of Delivery | | |
| Reassigning Routes | | |
| Export Routes | | |
| Stops Priority via Color Coding | | |
| Reports & Analytics | | |
| API Integration | | |
| Expected Time to Arrive | | |
Features RouteXL Upper

Data Import

Route Optimization

Service Time

Proof of Delivery

Swap Routes

One-Click Driver Dispatch

Time Windows

Curbside Delivery

Route Scheduling

Pickup & Delivery Options

Reverse Routes

Multi-stop Selector Tool

Driver's App

Reassigning Routes

Export Routes

Stops Priority via Color Coding

Reports & Analytics

API Integration

Expected Time to Arrive

Try Upper for FREE No credit card required
What People Say About Upper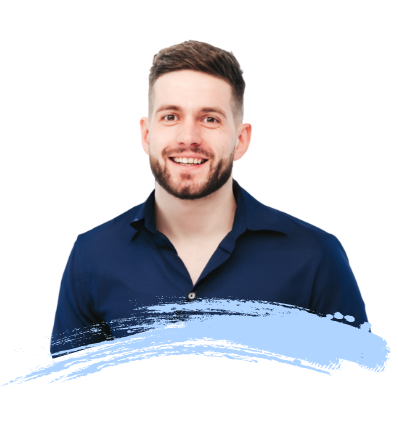 Saved 10 hours per week & delivering 3x more meals with Upper. It's easy to take proof of delivery, the speed is great, it's super super fast!

Ben Parker,
Delivery Manager of Flavors2Go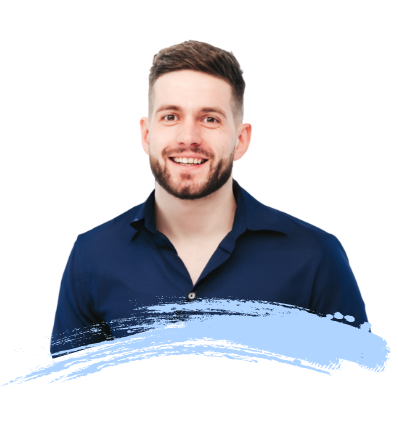 Key Features of RouteXL
1. Multi-route optimization:
RouteXL offers the ability to optimize trips for multiple drivers, vehicles, or days. Users can define the number of rounds in the options, and the software intelligently balances between total travel time and the time required to complete all jobs (makespan).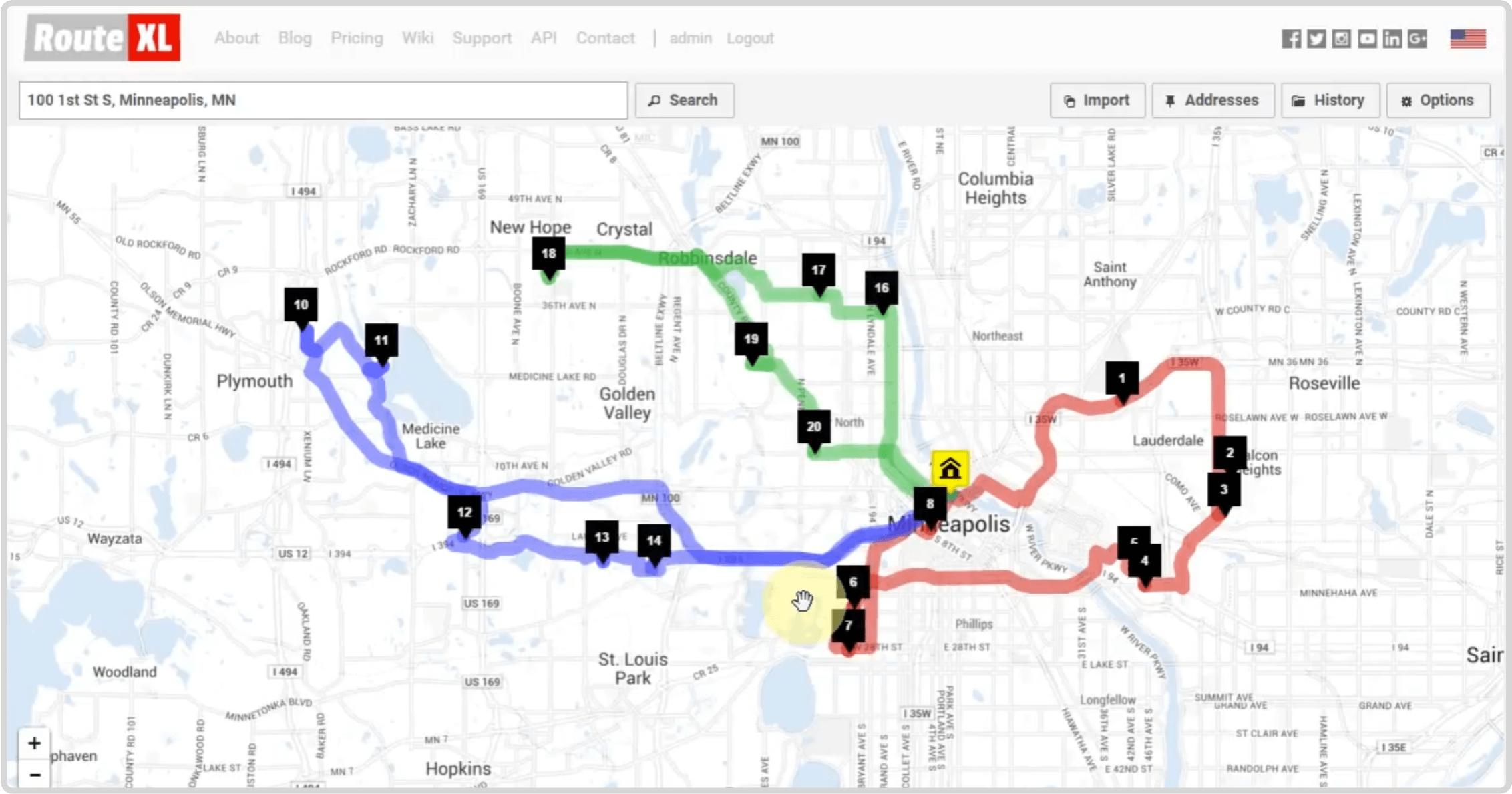 2. Easy fulfillment list:
With RouteXL, users have a convenient list of ordered stops for pickups, deliveries, or services. The easy fulfillment feature allows users to navigate to each stop efficiently. After completing a job, they can simply remove it from the list and proceed to the next one.
3. Enhanced navigation options:
RouteXL supports multiple navigation apps for turn-by-turn directions, including Apple Maps, Google Maps, and Waze. Users can also integrate third-party GPS navigation apps like TomTom GO using the general geo: intent, enhancing flexibility and choice in navigation methods.
4. Customizable map print width:
Unlike fixed-sized maps, RouteXL allows users to adjust the map's width according to their needs when printing. This customizable print width feature ensures that users can obtain clear and detailed printouts tailored to their requirements.
5. Time windows support:
For time-sensitive deliveries, RouteXL allows users to set specific time windows for each stop. The whole route will be planned to meet these time requirements, ensuring timely deliveries when needed.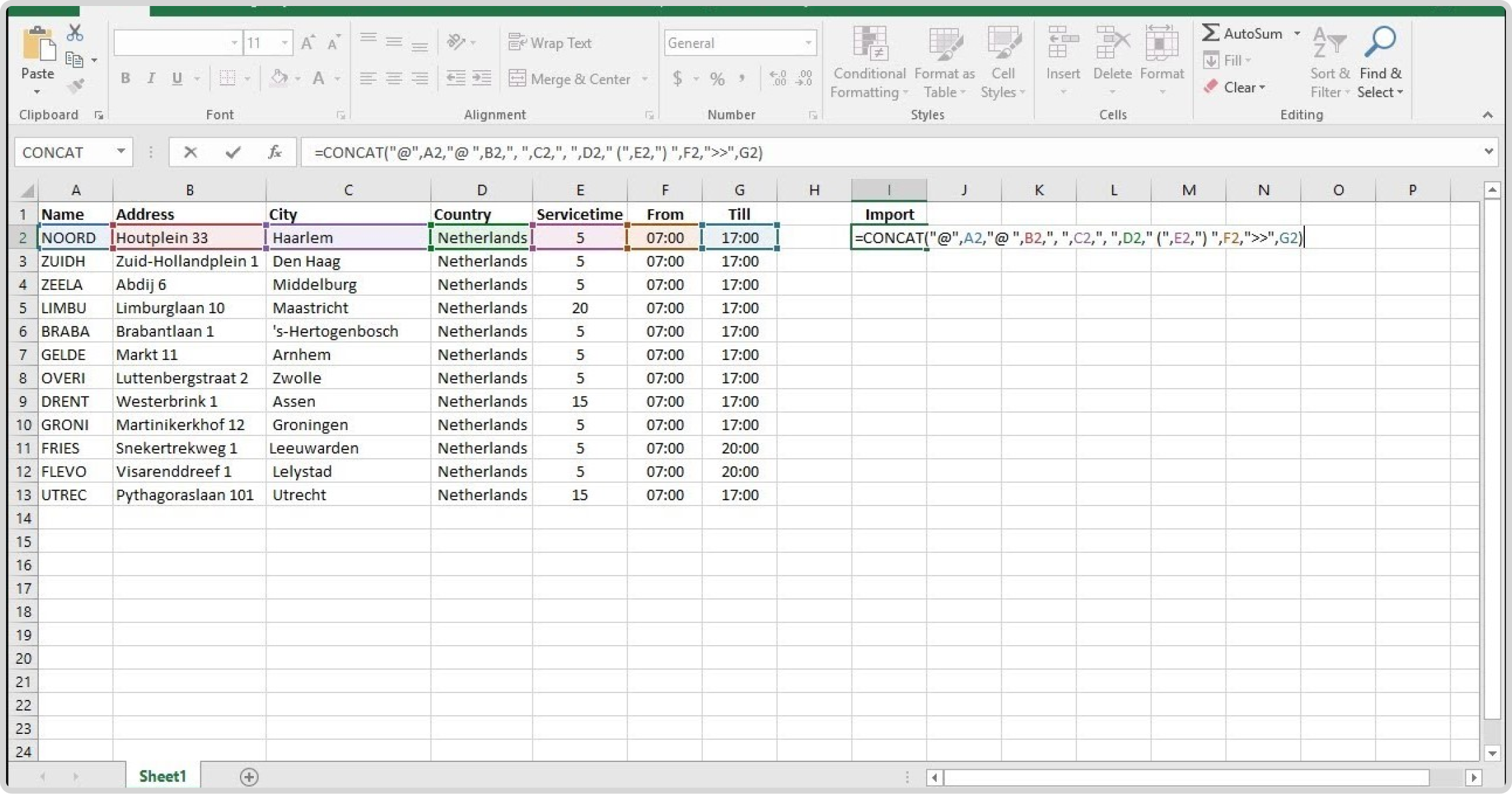 6. Vehicle capacity consideration:
RouteXL route planner also takes into account vehicle capacities, such as volume and weight restrictions, when planning multiple round routes. For businesses with various vehicles having different carrying capacities, the software optimizes the route and assigns addresses to each vehicle accordingly.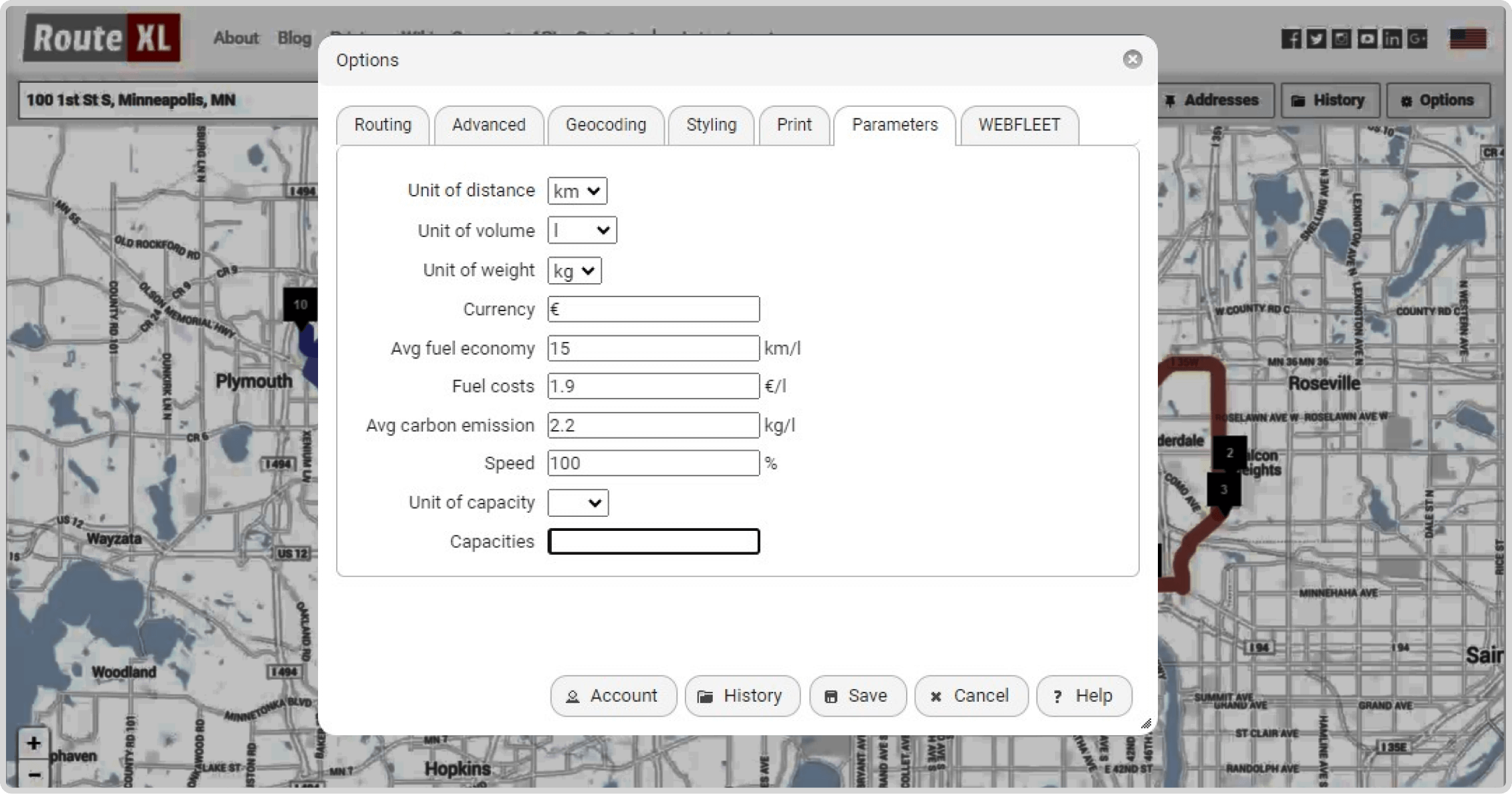 7. Manual route reordering:
After the optimization process, users have the option to manually re-order the route by dragging stops. This manual intervention enables users to fine-tune the route according to specific preferences or real-time constraints.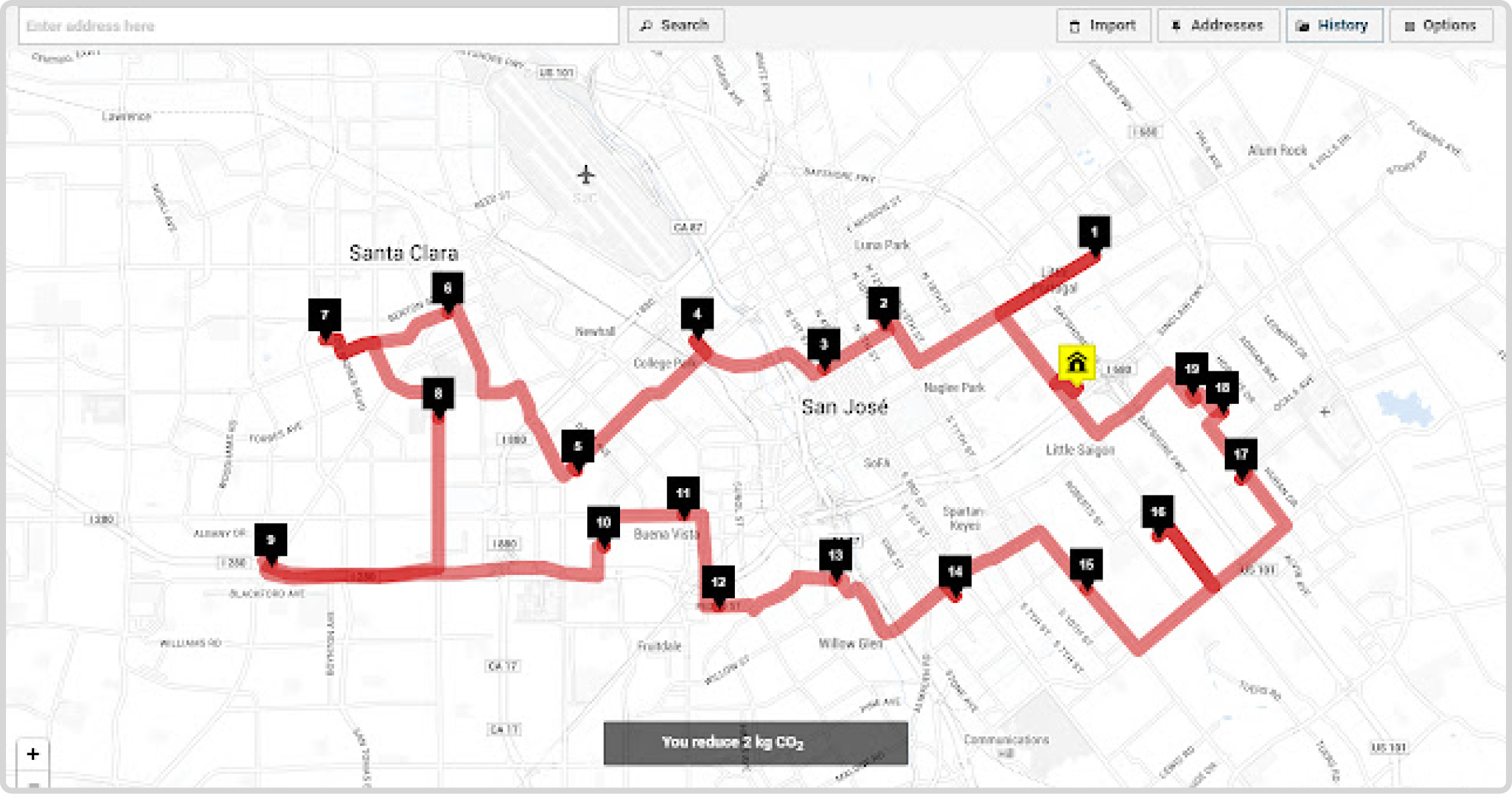 Is RouteXL Right for Your Business?
In terms of simplicity and overall functionality, RouteXL is good route-planning software for small to midsize businesses. On its flagship plan, you can cover up to 200 stops per route, along with premium geocoding.
However, the features offered by other route planning software are far more advanced at similar price points. Hence, you should consider RouteXL alternatives for the best routing solutions
RouteXL
No discount offered
Up to 200 stops per route

No proof of delivery

No Customer notifications
Upper
Save 20% with annual billing
Up to 500 stops per run

Proof of delivery

Customer notification
Plan unlimited routes per day with Upper!
Planning multiple routes and dispatching them in a click has now been easier with Upper.
Route optimization has now been streamlined with such user-friendly and reasonable software available.

Go and grab the one that can help you feel worthy for every penny you paid.
Is There an Alternate Route Planner?
Among dozens of route planning software out there, Upper rises to the top as a remarkable alternative to RouteXL. With an impressive array of routing features and affordable pricing, Upper stands out by minimizing route planning time through its powerful optimization algorithm.
If RouteXL's features didn't quite impress you, give Upper a try and experience the difference it can make for your business.
Let's take a closer look at why Upper is better than RouteXL route planner for your business:
Proof of delivery:Say farewell to cumbersome paperwork! Upper lets you capture proof of delivery digitally. Obtain customer signatures directly on phones after deliveries and even take photos to confirm successful delivery. Add notes for each delivery stop or team as needed.

One-click driver dispatch:Forget frequent phone calls to drivers. Upper streamlines driver dispatch with accurate driving directions and delivery instructions in one click. Keep your delivery driver team organized and send automatic notifications to customers for ETA and delivery status.

Stop priority with color coding: Stay on top of your schedule by color coding stops to assign priority tasks based on your preferences. This feature comes in handy for fulfilling time-sensitive or urgent orders.
DON'T MISS OUT! LIMITED OFFER
Upper's Growth Plan now available @
$160/mo
Get the Best Cost-Effective RouteXL Alternative & Speed up Your Deliveries by 3x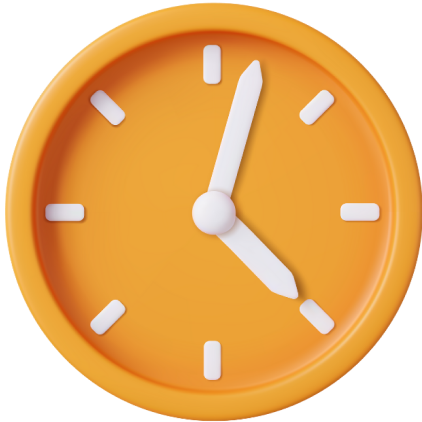 Conclusion
When considering any product for purchase, diving into its reviews becomes crucial to gain a comprehensive understanding of its strengths and weaknesses. Review blogs, in particular, prove to be valuable resources in assessing the suitability of software solutions for your business requirements.
RouteXL proves to be a capable option for small to midsize businesses seeking multi-stop route planning. However, it may fall short for field sales and courier businesses that demand robust route planning and optimization features.
The good news is you don't have to break the bank to access excellent features! Upper gives you an economical route planning solution that excels in delivering top-notch capabilities.
Don't just take our word for it – use the software firsthand and make an informed decision before making a purchase. Experience it yourself with our 7-day free trial.
Frequently asked questions
RouteXL is an online route planning software that automates the process of finding the most efficient routes for multiple stops. It employs advanced algorithms to optimize the routes, minimizing travel time or distance while considering various constraints.

What are the features of RouteXL?

RouteXL offers features such as the addition of multiple stops, real-time tracking, multiple navigation maps (Google Maps, Apple Maps, and Waze), and multiple round route planning for various vehicles and drivers. It also has a free plan for up to 20 stops with unlimited routes.

Does RouteXL have an app?

RouteXL does not have a dedicated mobile app. Users can access the software through their mobile devices by adding the website to their home screen, and it will adjust according to the screen size.

To use RouteXL, simply enter the addresses of your stops, and the software will automatically plan the best route for you. It takes into account factors like restricted areas, toll booths, and traffic congestion to provide an optimal route. Users can also check previous route history and upgrade to higher plans for more stops per route.

Can RouteXL handle time windows for specific delivery requirements?

Yes, RouteXL supports time windows, allowing users to set specific time requirements for each stop. This feature ensures that deliveries are scheduled within designated time frames when required.

Does RouteXL provide address quality detection to verify the accuracy of addresses?

RouteXL lacks address quality detection, which means it does not automatically validate the accuracy of addresses. Users need to ensure the correctness of addresses manually to avoid any potential misdirections.

Is there live support available in case of any issues during route optimization?

RouteXL does not offer live support for resolving bugs or errors encountered during route optimization. Users may need to rely on documentation and self-troubleshooting to address any technical difficulties.

Which is the best alternative to RouteXL software?

As mentioned, there are dozens of software available in the market; however, Upper stands out from other software due to its excellent customer support and exclusive features like route scheduling, proof of delivery, live driver monitoring, and customer notification. All you can do is take a 7-day free trial and experience it yourself.