Challenges faced by last-mile delivery businesses, be it big or small, local or international, can go on for the next few years for the better. This can be related to the way technology is taking over our daily lives and businesses. 2020 is probably the year where the base of this change has been made or at least strengthened. The best proof is how people have been ordering and receiving things with ease and with hardly any inconvenience.
Route planner software or route optimization software is a big part of this transformation. We have all kinds of apps that help us plan and optimize delivery or travel and save money and time. It is also commonly known as a trip planner app, a navigation app, or a territory planning app. In this blog, you will read a comprehensive interpretation of several Circuit Route Planner reviews. We are hoping to help you know more about Circuit Route Planner and how it can help you.
What is Circuit Delivery Routes Planner?
Circuit is a multi-stop route planner. It helps you optimize the order of your delivery route and saves you time and money. It uses sophisticated technology that considers current traffic conditions with the most updated map data. This makes sure you can plan and optimize your routes efficiently, whether for delivery, road trip, running errands, or travel plan. It aims to create value for all businesses, be it startups, small and medium-sized businesses, and global corporations. Even individual drivers and sales reps can use it to create routes with multiple addresses or stops.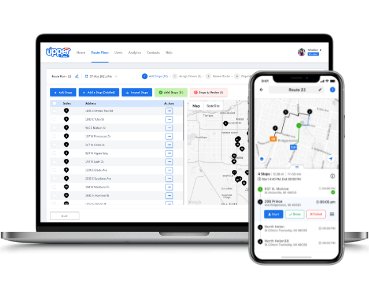 Upper Route Planner
A Simple-to-use route planner that every one is talking about.
Save up to 95% of planning time
Save up to 40% of time on the road
Plan 500 stops at once
No credit card details required
How is Circuit Route Planner Useful to a Delivery Driver?
Circuit Route Planner is built specifically for delivery drivers, keeping in mind what they need daily while performing their job. It helps them plan better routes, deliver packages much faster, and finish their delivery tasks before the given end. Circuit also provides features like video, voice, messaging, screen share, and file sharing through a single platform to improve teamwork. All these features can be easily accessible through multiple devices and platforms.
It considers drivers' driving history to accurate ETAs. Stops and pickups can be labeled as priority or time-sensitive to keep them on time. The Circuit app decides a suitable stop order route that avoids traffic. It helps teams integrate workflows through Google Drive, Box, and Syncplicity. There is a list of APIs for custom integrations. Being a cloud collaboration platform, Circut Route Planner can easily integrate with any existing telephone solutions.
Pricing Plans
Circuit offers free routes for up to 10 stops. For larger routes with more stops, you will have to opt for a paid plan. The Pro Subscription allows you to optimize unlimited routes up to 500 stops and allows spreadsheet import, but only for Android devices. Circuit offers a free trial for the Pro Subscription. There are in-app purchases that can be bought and accessed whenever you feel the need.
We do not include specific prices and costs because they may vary. Please consult the company or visit the website for updated prices.
Circuit for Teams
Circuit for teams allows you to create a delivery route, track drivers, and deal with customer complaints. Your in-office team can create a delivery route with a simple Spreadsheet import, swap drivers between routes, add a priority level or time window. Circuit for Teams is a different app from Circuit Route Planner.
Circuit Package Tracker
Circuit Package Tracker is a separate app that allows you to track any package from anywhere in the world. You can know the location of your package, and it works for any courier or delivery service. You have to enter the package number provided by the company. No matter which part of the world a user is in, whether it is the USA, Canada, UK, Europe, China, India, Australia, etc., you can use it to track your package's exact location. It connects with various systems, including UPS, FedEx, DHL, Hermes, eBay, Amazon, Apple Pay, Australia Post, Canada Post, Royal Mail, etc. Circuit Package Tracker is a different app Circuit Route Planner.
Use Cases for Circuit
These use cases help you understand Circuit features better.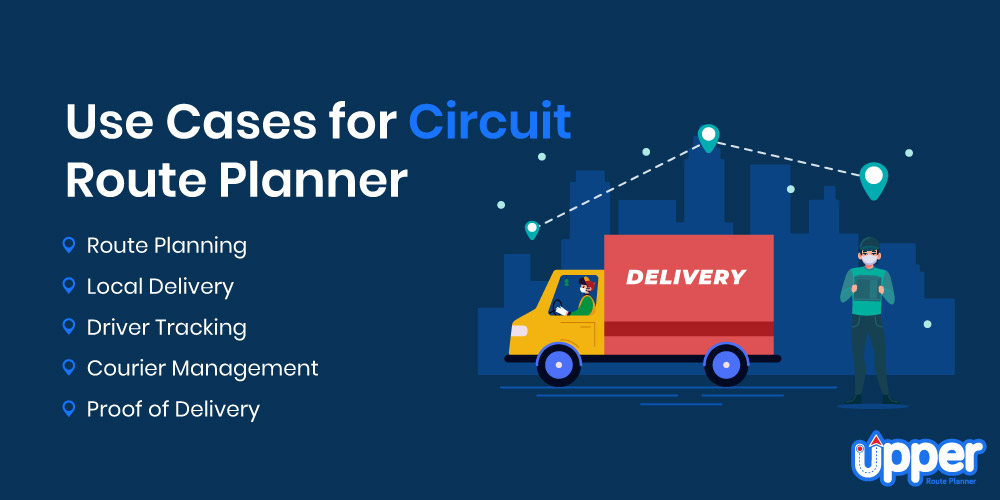 Route Planning
Circuit enables you to export a list of deliveries and divide them among your drivers. The Circuit app calculates the optimal route for each driver carefully to don't have to do it manually. Circuit considers the stops that need to be made on a certain route and works a solution around those stops. It can also handle an unlimited number of stops in a single day.
Local Delivery
Circuit for Teams has allowed several local businesses to speed up their delivery management and improve route planning. This allows businesses to meet increased demand. The Circuit multi-stop route planner makes sure that the daily planning of deliveries for every small business using it only takes 15-20 minutes. Even small, local businesses need robust management for multiple drivers and complex multi-stop routes for delivery.
Driver Tracking
Circuit's interface allows you to track your drivers. For this, your drivers will have to be using Circuit for Teams app. The driver locations are synced every 15 seconds. At the end of the day, all the locations appear as circular beacons on the map. It allows you to check how long a particular took to be fulfilled and estimated arrival times for later deliveries. Circuit provides complete route monitoring for a dispatcher. So you can see your driver at any given time and receive real-time updates.
Courier Management
All businesses involved in the delivery of products and services daily can benefit from a good courier management system. It can reduce transportation costs by providing route optimization and preventative vehicle maintenance checks. With route monitoring, ETAs, and Proof of Delivery, it offers better customer service. It also makes invoicing easy and making it accurate with customer accounts.
Proof of Delivery
The driver's Circuit route planner app can be turned into a terminal for customer signature, which can work as proof of delivery. With a proof of delivery feature, a driver can leave a package outside the door and click pictures as proof. The same can be forwarded to the customer for their reference. In addition to this, the driver can also leave notes along with the picture. These little things make a delivery operation much more efficient for the drivers and their organization and all their customers.
Customer Reviews and Ratings
We have put together a bunch of customer reviews and ratings for Circuit Route Planner.
Positive Comments
Here is a list of positive comments for the Circuit Route Planner.
Easy to use and accessible on different platforms (Android and iOS).
The software is well designed and the Circuit app is efficient.
It is a versatile product.
Video conferencing, screen sharing, and outlook integration are good features.
Suitable software for geographically distributed teams.
Negative Comments
Here is a list of criticisms for Circuit Route Planner.
The software often crashes.
There is no way to delete conversations, which creates a lot of clutter on the dashboard.
There is no customization option.
The route optimization feature is inaccurate at times.
Users cannot name the stops.
The price is high.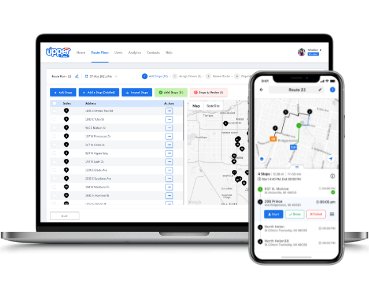 Upper Route Planner
A Simple-to-use route planner that every one is talking about.
Save up to 95% of planning time
Save up to 40% of time on the road
Plan 500 stops at once
No credit card details required
Is There an Alternate Route Planner?
Businesses need to keep looking around for alternatives. There are times when the current software or process you are using will not prove to be useful or has become expensive for completing your daily operations. In such a situation, it is good to have an alternative ready to make the shift. With software or apps, businesses need something that works with their in-build or systems already in place. Here, the alternative is called Upper Route Planner.
What is Upper Route Planner?
Upper Route Planner is a delivery route planning and optimization software that solves all your potential routing problems for couriers and small businesses. It helps businesses and delivery drivers plan and optimize a multi-stop route seamlessly by considering traffic conditions and time windows. Features like Quick Address Input, Route Sharing, and Detailed Reporting make the route optimization platform even more effective. It can help delivery drivers make faster multi-stop deliveries and improve overall customer service for your business.
What Makes Upper Route Planner a Suitable Alternative?
Upper Route Planner can help businesses automate a large part of their process and save time and money. The advanced algorithm and technology of the navigation app take multiple deliveries and route optimization factors into consideration. Works perfectly for individual drivers, contractors, road trippers, small and medium businesses.
A driver or user can choose from map services like Google Maps, Waze, Yandex, etc. It uses a human-centric design approach that focuses on the requirements of the sales reps and delivery personnel. This way, it offers impeccable customer service. Upper Route Planner offers a 3-day no obligation free trial for a driver or user to check out the functionalities.
---
FAQs
Yes, Google Maps does have a route planner. It can help with route optimization by generating driving directions to multiple locations. Google Maps can be used for driving, cycling, walking. You can optimize routes on Google Maps using the website or the mobile app.
There are a bunch of route planner apps available. The way to decide if is the best option for you is by making sure it helps you with your daily delivery targets and solves all your potential threats or difficulties in delivery. The best route planner will have unlimited stops, allowing you to set up priority level and time window for deliveries.
---
Conclusion
With our customers' changing needs, the businesses need to step up and make sure they have the right tools to help them. Hopefully, this review blog has provided you with more information about what is available to you and what you can expect from a route optimizer or route planner software like Circuit Route Planner App and Upper Route Planner App. As a user, you must try out both Circuit Route Planner and Upper Route Planner to have a better overview of which software works well with your business process.