Running a business is not as easy as walking in the garden. However, there is one aspect of the business that gets overlooked. And it is delivery! It involves everything from managing inventory to finances as well as dealing with customers and suppliers.
With the rise of e-commerce and online shopping, there is a greater demand for faster and more reliable delivery, making it important for businesses to have a streamlined delivery process in place. But there are several challenges faced by the last-mile delivery businesses.
However, with the advancement of technology, there are several software available on the market to streamline the delivery process. One of them is Circuit Route Planner. In this blog, we will be going through some Circuit Route Planner reviews to help you understand whether it can make your delivery process efficient. So, no more waiting, let's start.
About Circuit Route Planner
Circuit route planner is a multi-stop route planner to determine cost-effective routes. It is generally used by logistics companies and delivery services to streamline their delivery operations. It utilizes advanced algorithms to calculate the best routes considering various factors such as distance, traffic patterns, road conditions, and delivery time windows.
Circuit provides two route planning services: one is Circuit for Teams and the other is Circuit Route Planner for individual drivers. Circuit for Teams is for delivery businesses managing a team of delivery drivers. On the other hand, individual drivers can download the route planning app on their Android or iOS devices.
Instantly Find Efficient Routes With Upper
Exploring options for a reliable route planner? Your search for circuit alternatives ends here. Switch to Upper's fully automated process and get rid of multi-stop delivery chaos.
Try Upper for Free!

Key features of Circuit Route Planner
A Circuit Route Planner is a software often used to optimize multi-stop delivery routes. It includes a number of features for managing delivery operations efficiently and effectively. Some of the key features include:
1. Route planning
Route planning is a feature used by businesses to optimize their delivery routes. The key advantage of route planning is that it saves time, fuel, and other resources. Circuit uses algorithms to calculate the most efficient route based on starting and ending locations, number of stops, and time constraints.
Overall, route planning and optimization helps to save hours of planning time and creates multiple routes for multiple drivers.
2. Driver tracking
Circuit's interface allows you to track the location of your drivers. It provides real-time driver tracking and updates to know the whereabouts of your driver to ensure that the delivery timelines are met leading to a better customer experience.
The driver's driving history is considered to calculate the accurate ETAs. In addition, driver tracking can provide valuable data and analytics on driver performance.
3. Customer notifications
This feature is customer demanding and delights the customer as well. The notifications via email or SMS helps to keep the customers up-to-date. This is because the ETAs can fluctuate due to multiple reasons like traffic or weather conditions. Hence, the notifications help to update the customer about the actual ETAs to avoid any chances of missed deliveries.
Additionally, labeling the stops and pickups as priority or time-sensitive can help to make the deliveries on time. So, keeping customers informed with all the necessary information regarding their orders helps boost customer experience.
4. Proof of delivery
This feature helps the delivery drivers to capture proof of delivery for each order delivered successfully. It is a form of photographic record which is helpful if the customer claims in the future that they did not get the parcel.
Drivers can choose the relevant option upon delivery like- delivered to the recipient, delivered to a third party, left in a mailbox, left in a safe place. Moreover, if the parcel delivery requires a signature, it can be collected through the app and if it does not require any signature, the driver takes a photo of the package and uploads it.
Besides features, pricing is equally important for those who run small or medium-sized businesses. Here is what circuit offers in mainly three different plans
Pricing Plans
After learning the key features, the next step is to assess the pricing plans offered by Circuit Route Planner and select the one that best suits your company's needs. So, here's the Circuit route planner pricing:
Essentials Plan: $100 per month with up to 3 drivers
Standard Plan: $200 per month with up to 5 drivers
Pro Plan: $500 per month with up to 10 drivers
However, it is always advisable to visit the website to find the most updated prices.
Does Circuit Really Help Delivery Drivers?
Circuit Route Planner is a route optimization software designed to help delivery drivers to plan the most efficient routes. Some drivers are fond of using it on a daily basis, while some of them have totally different views when asked if Circuit really works as a driver's best buddy on the road.
One of the main benefits of Circuit is that it uses an advanced algorithm to plan the best routes considering the factors such as traffic and distance. In addition to route planning, Circuit helps drivers with turn-by-turn directions to help them navigate unfamiliar areas easily. Therefore, Circuit can be a virtual driver's assistant as far as delivery efficiency is concerned.
However, it is important to note that Circuit is just one software in a broader ecosystem of delivery operations, and its effectiveness will depend on several factors like the skills of the driver, vehicle type, and delivery volume. As a result, before determining whether Circuit is the best answer for delivery drivers, drivers, and delivery organizations should evaluate their needs and objectives.
Is There an Alternate Route Planner?
There are plenty of route planners available in the market with an array of features. Among them, Upper comes out on the top of the list. Upper, a route optimization software, is a worthy alternative to Circuit.
It is being said so because Upper offers similar routing features, just like Circuit along with affordable pricing. The route planner aims for minimizing route planning time with the help of its optimization algorithm. If you are not impressed with the Circuit's features, using Upper can do wonders for your business.

In recent months, some of the users have cited concerns regarding the accuracy of Circuit while many others have switched to its alternative. In case you are not satisfied with Circuit's offerings, you should switch to Upper Route Planner.
Upper Route Planner: The ultimate multi-stop delivery solution
Upper Route Planner is a robust software designed to make it easier to plan, optimize, and carry out deliveries. Its intuitive interface and flexibility make it the ideal choice for multi-stop deliveries. Upper offers a range of features, including one-click dispatch, real-time driver tracking, and proof of delivery, so that the deliveries can be managed with ease.
Upper has pricing plans to meet the needs of different businesses, from small startups to large enterprises. However, Circuit is not always feasible, as it is more expensive than Upper Route Planner.
On the other hand, the delivery drivers can simply change and modify routes as needed, making it easy to adapt to changing delivery needs whereas the drivers are unable to manually reorder routes in Circuit Route Planner.
No wonder why Upper is the perfect solution for streamlining delivery operations and maximizing productivity.
Here are some of Upper's noteworthy features:
Excel Import: Upper allows to import multiple delivery addresses by simply importing the excel sheet. The "drag and drop" feature helps to get the optimized routes within a few seconds.
Automated Route Planning: This feature helps to reduce the time consumed in planning the routes from hours to minutes. The process considers the factors like live traffic, weather conditions, and avoidance zones while planning the routes. It also reduces manual dependency and eradicates the risk of any human error.
Reports & Analytics: This feature enables one to get a bird's eye view on the route performance, driver productivity, and other important variables. The reports can be generated on a daily, weekly, and monthly basis.
API Integration: Upper allows a quick and easy integration of our API with any existing software. This helps delivery businesses to optimize routes and streamline their operations. For example- Shopify, XCart, Aftership, Salesforce, and many more.
Additionally, delivery businesses with multiple vehicles who need to handle their deliveries on the go would find Upper more advantageous due to its seamless automated process. Ultimately, choosing a route planner will highly depend on the specific business requirements.
What Makes an Upper Route Planner a Suitable Alternative?
Upper Route Planner can help businesses automate a large part of their process and save time and money. The advanced algorithm and technology of the navigation app take multiple deliveries and route optimization factors into consideration. Works perfectly for individual drivers, contractors, road trippers, small and medium businesses.
A driver or user can choose from map services like Google Maps, Waze, Yandex, etc. It uses a human-centric design approach that focuses on the requirements of the sales reps and delivery personnel. This way, it offers impeccable customer service. Upper Route Planner offers a 7-day free trial for a driver or user to check out the functionalities.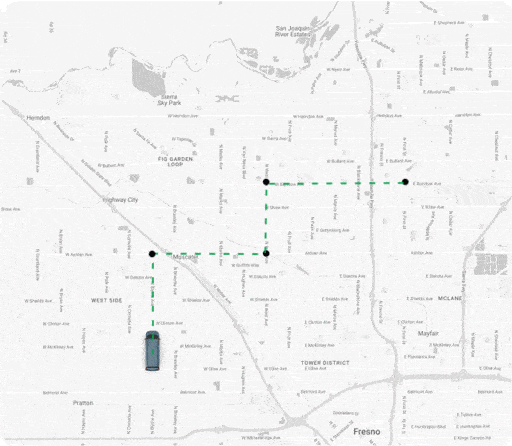 FAQs
Users having Circuit as a route planner are disappointed over its poor time calculation and constant backtracking. Some of them also complained about its expensive plan which has less features to offer. One of the challenges on Circuit Route Planner is manually adjusting stops as well as routes.
Here is the list of some best route planners available in the market.
Upper Route Planner
Route4me
RoadWarrior
Speed Route
Upper allows its user to add more than 500 stops on each route plan and to do so you can directly import the excel file or CSV file. Once done, you can even edit stops if required before getting your route ready within seconds.
Conclusion
Circuit Route Planner is a valuable software for any organization to optimize its delivery process. Its ability to create efficient routes, save time, and reduce costs makes it a popular choice for the delivery and transportation industry. By using Circuit Route Planner, companies can streamline their operations, increase their productivity, and provide better service to their customers.
In addition to Circuit, Upper Route Planner is also worth mentioning as a software that can help make delivery processes more efficient. Factors such as the size of your delivery fleet, the number of stops per route, and the type of deliveries you make can all impact which solution is the best fit. Though both provide similar benefits and features, it's important to choose the right solution considering your specific needs.
Hence, by investing in a route planning software, you can streamline your delivery process, save time, and improve customer satisfaction. Ultimately, choosing between two route planners will depend on your specific needs and the goals you want to achieve. However, both Circuit and Upper Route Planner have the potential to make a significant impact on your business.