A decade ago, planning a regular workday was a task for sales and delivery people before heading out. This led to spent hours of time that could have easily been spent covering more orders or leads.
But things took a turn with the arrival of Microsoft MapPoint. MapPoint was the go-to option for planning and mapping sales territories.
After all these years, Microsoft MapPoint is not available for use. But there are some excellent MapPoint alternatives to this mapping software that can help salespeople, field service technicians, and delivery drivers tackle various daily challenges.
What is Microsoft MapPoint?
Microsoft released MapPoint, a mapping software, back in 1999. It was built specifically for sales reps & delivery teams to visualize their routes, plan trips, and target potential customers. Outside salespeople could also track customer data within a specific territory.
Microsoft MapPoint was one of the initial GPS systems. MapPoint proved to be a game-changer for salespeople and professionals in trip planning.
This gave salespeople more time to do what mattered the most for them – closing deals and maintaining customer relationships.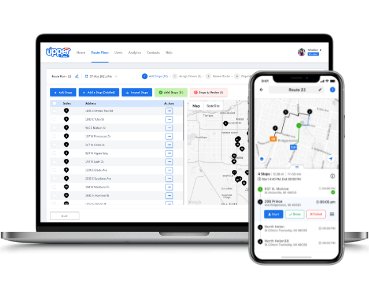 Upper Route Planner
A Simple-to-use route planner that every one is talking about.
Save up to 95% of planning time
Save up to 40% of time on the road
Plan 500 stops at once
No credit card details required
Why Do You Need MapPoint Replacement?
Microsoft MapPoint provided map-based data visualization to help salespeople & delivery drivers understand location-based information.
Over the next few years, until its discontinuation in 2014, MapPoint's toolkit grew into a comprehensive suite. Microsoft MapPoint 2013 was the last updated version of this popular software.
Without the necessary automatic updates, the software would lag the technological curve for the growing sales and routing needs.
For this reason, salespeople and other MapPoint users with routing needs have started to look for a custom solution that works as a MapPoint replacement.
Most businesses and their delivery teams have used apps like Google Maps. This led to frustration in planning and in executing those manually prepared routes.
This is why businesses need a new-age route planning software like Upper Route Planner that will help them with:
Advanced route scheduling
Instant route optimization
Easy driver management
SMS & email notifications for customers
Reports & analytics for generating valuable insights
What Makes Upper Route Planner The Best Alternative to MapPoint?
Optimized Route Schedules

Using Upper Route Planner for scheduling and optimizing routes helps create the most efficient route possible. For example, Upper Route Planner creates routes with up to 500 stops in less than 2 minutes.

Businesses, like food delivery and pharmacy delivery that use Upper Route Planner to plan and optimize routes save up to 8 hours of planning time and boost driver productivity by 20-30%.

Businesses are able to plan and schedule routes for months in advance. The software helps them stay a few steps ahead of their schedule by doing this.

Moreover, Upper Route Planner helps you plan your days instantly without spending hours in scheduling. By saving time and resources with quick scheduling and optimized routing, the users deliver more orders and drastically improve the customer experience.

File Import/Export

Dispatchers can plan and schedule routes with up to 500 stops at once. Forget manually adding each address to the software. Upper Route Planner allows you to upload 500 addresses using an Excel/GPX file.

Upper Route Planner identifies duplicate addresses. With such quick address input capabilities, you can plan and schedule routes in less than 5 minutes. All you need is a list of addresses.

Cloud-based Software

Upper Route Planner is 100% online. This means you can access it anytime and anywhere. There is no software to download or install. Simply log in and start routing. This makes it easier for business owners and dispatchers to plan routes for their delivery drivers, no matter where they are.

Record Proof of Delivery

Equip your drivers with the best tool to help them with routing and keep a record of all their package or service deliveries. Upper Route Planner helps your driver capture pictures or customer signatures for each product or service delivered.

Recording proof of delivery helps you ensure that the delivery was fulfilled successfully. So if a customer comes to you with complaints, you can present them with the proof of service or delivery that is signed.

Keep Your Customers Informed

Upper Route Planner offers customer notifications feature to all businesses that need to keep their customers informed with delivery notifications through SMS or email.

Customer notifications help keep your customers in the loop at each stage of the delivery process.

Letting your customers in on the delivery process and improving their visibility elevates the overall customer experience and brand image for any delivery business.

Generate Reports & Analytics

Using Upper Route Planner, dispatchers and business owners can generate daily, weekly, and monthly reports for their delivery operations.

With detailed reports for each delivery route and driver, businesses get insights into how they are functioning and whether or not the delivery process needs any improvement.

Getting regular reports and analytics helps businesses improve and make informed decisions.
Microsoft MapPoint and Upper Route Planner Feature Comparison Table
| Features | MapPoint | Upper Route Planner |
| --- | --- | --- |
| Find addresses | | |
| Archive routes | | |
| Share routes with others | | |
| Route scheduling | | |
| Route optimization | | |
| Driver management | | |
| Save customer profiles | | |
| GPS guidance | | |
| Proof of delivery/service | | |
| Customer notifications | | |
| Reports & analytics | | |
| Customer Support | | |
| Android, iOS, PC, Mac | | |
| Pricing | $300 | $39.99 per user, per month |
Try Upper Route Planner To Boost Your Delivery Orders
Upper Route Planner helps you scale your deliveries while optimizing multiple routes and managing multiple drivers at once.
FAQ
There are several apps like Upper Route Planner, Badger Maps, and Circuit Route Planner that you can use instead of MapPoint. These apps help drivers, outside salespeople, a delivery team, or a sales team map multiple locations on a route.
Mappoint was discontinued back on 21 December 2014. Since then, there have been no updates or technical support for this mapping software.
Yes, Microsoft's Bing Maps platform is a web mapping service that helps businesses to build intelligent location-enabled and map-based experiences for the real world.
Try Upper Route Planner – The Best Microsoft MapPoint Alternative
Being a versatile and easy-to-use tool, Upper Route Planner is an excellent alternative to Microsoft MapPoint. Upper Route Planner empowers a large variety of businesses worldwide, whether it is a food delivery business, postal & courier business, meal delivery business, field sales, or repair and maintenance business.
MapPoint was a great way to map your daily routes. But Upper Route Planner is a more advanced version of route planning software that helps you with more than just route optimization.
Still, wondering why Upper Route Planner is a great Microsoft MapPoint replacement? Give it a test ride with our 7-day free trial.