Starting a new meal prep business is not only limited to serving hot food to its localities, but it could help you double your income as well. That's right because the revenue of the meal kit market is projected to get hiked by $64.4 billion USD in the next few years.
But what about food buyers? They too would become a part of your meal prep business due to these three factors:
To order a hot-served meal from favorite cuisine
Not having much time to buy extra groceries
To refrain from cooking food at home
Now, you may wonder how will you operate a meal prep delivery business, would you handle multiple order deliveries at the same time? Will you be able to manage food drivers? For answers, let us understand how to start meal kit delivery business, its challenges, and solutions.
What is a Meal Kit?
A meal kit is a small box consisting of half-cooked food, and pre-prepared ingredients, along with the recipe card attached to the top of it. Also, you may get pieces of vegetables and fruits to assemble and prepare a hot meal.
Ordering meal kits from an online meal prep business will save your kitchen time and help you prepare hot food with fewer ingredients. Meal kits are usually preferred by young consumers working away from home in order to eat homemade delicious meals. And so, they order meal kits from an online meal prep company instead of going out to grocery stores.
What is a Meal Kit Delivery Service?
It is the process to deliver meal kits from a food delivery company to the buyer's location. Meal kit delivery services offer fully meal prepped dishes to be delivered at the customer's doorstep. Then, the customer can use partially cooked meals and meal ingredients to prepare healthy food or comfort food as per the given detailed meal description.
The meal kit delivery concept was coined to reduce the meal planning time and to cook ready-to-bake food quickly.
How Does a Meal Kit Delivery Business Work?
Nowadays, every food delivery business offers meal kit subscriptions for customers to avail of weekly or monthly online meal kit delivery at discounted prices. While ordering the food, you can select any one option from the menus, and pay accordingly to confirm your order.
Now, let us study a real-life example of HelloFresh.
HelloFresh is one of the leading online meal kit delivery service providers that lures new customers by launching new offers and loyalty programs. But, it takes extra charges for food delivery up to $8.
If you are a new user, it will give you a discount of -$22, plus five recipes for two people. Then, you can select your choice from the menu, such as veggies or low-calorie options before confirming an order. Ultimately, it may cost you approx. $68 for your first online order.
Reasons Why Meal Kit Buyers Choose Online Food Service
Customers prefer to order online meal kit delivery for a variety of reasons:
They don't want to go out grocery shopping
To get fresh food ingredients in meal package
To cook new food by following recipe cards
To reduce food waste
To taste vegan meals from different cuisines
When they don't have time for meal planning
If they need homemade food delivered to the working space
What is the State of the Meal Kit Industry?
As far as the meal kit industry is concerned, many big players like Blue Apron and Hello fresh stepped into the market between 2011-2012. Blue Apron specializes in delivering meal kits to local customers while other companies like Purple Carrot specialize in plant-based eating meal delivery.
With the growing list of food delivery companies, there were more than 150 online food delivery companies in the US. And therefore many business experts believe that these companies will cover 1.3% of food sales. So, it is projected to reach $2.2 billion USD in the near future.
Here is the list of some well-known brands which hold a large market share in the meal kit industry.
HelloFresh
Blue Apron
Chef's Plate
Sun Basket
The meal kits business and kit deliveries are very hot, and there is lots of room for startup businesses to create an amazing kit business for a local market and attract potential customers.
These are preferred a lot by college students and working professionals who are away from family.
How to Start a Meal Kit Service in 6 Steps?
Let us understand how to launch a meal delivery service in 6 easy steps.
Step 1: Apply For Food Service License
First of all, you need to apply for a business license and a food handler's license. You can get a catering license from the online web portal. Thereafter, local officials will visit your meal prep workspace. Later, the health department permits a business license if your meal prep workspace complies with all safety norms. The business licensing process may cost you up to $1000 USD.
Step 2: Know Your Competitors
Competitors are the ones who may inspire you to develop a business idea for your meal prep delivery service. So, you should closely watch how they are performing in the meal kit market. Such techniques will help you to create a business model and find out business requirements. During this process, you will understand to set up the price per meal.
Step 3: Set Up SOP
Once you are ready to explore a meal plan, set up business structures by creating a standard working procedure (SOP). By doing so, it will be easier to manage the shift timings of drivers and customer service teams. This step will help you to perform timely deliveries. Also, you can get the right delivery management software to improve delivery efficiency.
Step 4: Contact Meal Packaging Supplier
In the next step, you should reach out to the one who provides meal packaging supplies. Also, you need to figure out how you will represent the food inside containers. And so, you should get in touch with portion packaging suppliers to get containers in bulk. You should meet farmers for daily deliveries of vegetables. In this process, you should keep in mind changing the weekly menu.
Step 5: Introduce Your Own Food Delivery App
To become a customer's first pick for meal kit delivery service, as a business owner, you should come up with a well-developed food delivery app or meal prep website. It will help mobile users quickly browse your food menu to place an order. Therefore, you should assemble the development team to build a feature-rich food delivery app.
Step 6: Use marketing strategies
Launching a mobile application is not enough as you will need the best minds for marketing. So, you can hire an SEO executive or business analyst to create a content marketing plan. Else, do offline marketing by posting an advertise in the newspaper. The marketing team would help you attract desired customers and carry out a successful business operation.
Challenges in Meal Kit Business
Below are the main challenges you may come across as a new owner of a meal kit business.
Customers using service for 2-3 weeks
Since you are new to the meal kit delivery market, there are strong chances that meal kit buyers may order food online and never come to avail of your service again. Most customers may buy a meal kit subscription plan and might not use it for a long time.
To convert new customers into repeated buyers
Discounted offers for online meal prep service may only work for first-time customers who may not appear again on your platform. This could be possible due to meal prices, expensive subscription plans, or late deliveries. Therefore, you must figure out how to increase customer retention rate.
Inefficiency due to poorly planned routes
The food delivery business may take a hit if your delivery team is wasting more time on the road rather than delivering foods quickly. And for that, you may have poorly planned routes to blame. Such issues may adversely affect delivery efficiency and financial plan.
How Upper Route Planner Helps Your Meal Kit Business
Using an Upper Route Planner for food delivery is like putting a cherry on top of the cake. The reason why it is said is that an online planner brings you multiple benefits for your meal prep business. Here is how the online route generator assists you in performing meal kit delivery service.
The Upper makes sure you don't waste more time planning routes.
With Upper, you are most likely to deliver the hot-served meal in less than the expected time.
In addition, you can even set the priority like crucial, high, or low for confirmed food orders.
It guides the delivery drivers to offload the food from the delivery vehicle by providing parcel information.
Reaching the delivery stop, drivers can check out if the portable food warmer is lying in the front or backside of the vehicle.
At the end of successful delivery, your delivery executive can capture proof of delivery in their mobile apps.
How To Use The Upper Route Planner In Your Meal Prep Delivery Business?
Follow these steps to use Upper Route Planner.
Step 1: Log into your Upper account using your email or phone number.
Step 2: Now, generate a new route plan before adding the user's details and including multiple stops.
Step 3: Tap the 'Optimize' button and let Upper find you the best optimized routes.
Step 4: Verify the routes and remove the duplicate addresses. If needed you can also edit stop before clicking the 'Next' button.
Step 5: If the route plan is ready, you can share the route URL link with your delivery agent using SMS or email.
Step 6: Then, drivers can follow route directions in the desired mapping platform and complete the delivery.
Step 7: After handing over a meal kit, drivers can capture an e-signature to confirm food delivery at the right location.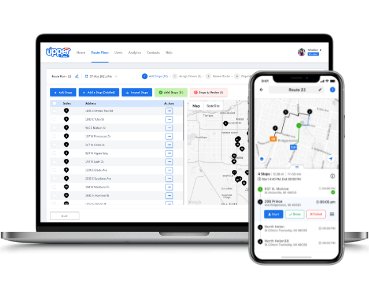 Upper Route Planner
A Simple-to-use route planner that every one is talking about.
Save up to 95% of planning time
Save up to 40% of time on the road
Plan 500 stops at once
No credit card details required
FAQ
Below are the points to be considered for developing a meal prep delivery business plan.
An affordable working space
Necessary certificates from the local administration
A valid license from the food & drugs control department
Collaboration with popular restaurants
Delivery management software
Starting cost for a meal prep delivery business will be anywhere between $20,000 and $30,000. However, it depends on factors like business scale, owning a
ghost kitchen
, office space lease, and delivery team size.
Yes, the global meal kit delivery service is valued at over USD $10 billion. And therefore, meal kit companies' share of the market is likely to increase. Hence, you may achieve desired business profits.
Young consumers, especially college students or working professionals are the main target of the meal prep industry.
Pick Upper Route Planner to Guide Your Meal Prep Food Deliveries
All in all, stepping into the meal prep business industry requires a proper meal prep business plan. But, you need to invest hefty amounts to expand your food delivery network. When it comes to scheduling or planning delivery routes, the Upper Route Planner comes in handy.
Exactly, the Upper Route Planner supports you as much as you put the effort into serving the hot meal. It helps you optimize delivery routes so that your delivery agents don't spend more time on the road and quickly reach the delivery location.
Well, don't just believe our words, sign up with Upper Route Planner for free and experience seamless route generation in seconds.