The online meal kits business is booming! Since the start of Covid-19, there are many changes in our society. One major trend we know for sure is that people are ordering-in a lot more. That means that delivery services and all sub-sets of the food industry are in high demand. This includes general food delivery services (take-out, fast food), meal delivery services (such as freshly cooked meals, meal planning), and of course, the meal kit deliveries services.
In this article, we'll seek to help answer the question of "how to start a meal kit delivery service." We'll pay special attention to the route planning and optimization components of this type of meal kit service. Now, time to talk a little bit more about starting a meal kit service.
What is a Meal Kit Delivery Service?
How Does it Work?
A meal kit is a food service that is "subscription-based." This follows consumer product trends – such as Dollar Shave Club, or Quip, or some other products delivered on a subscription basis (per month or week). For the meal-kit delivery service, the flow would be the following steps:
Customers go to the online business to order meal kits;
The meal-kit company prepares the ingredients;
The online meal-kit delivery company packages all the meal kits along with a recipe card & cooking instructions;
The delivery people take the boxes from the shipping center and deliver them to the customers.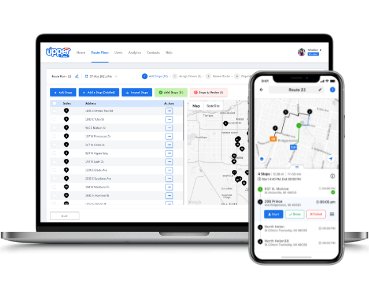 Upper Crew
A Simple-to-use route planner that every one is talking about.
Save up to 95% of planning time
Save up to 40% of time on the road
Plan 500 stops at once
No credit card details required
Why Do Customers Order Meal Kit Delivery Services?
Many customers will want to order an online meal kit delivery for a variety of reasons:
They don't have to go to the grocery store to do grocery shopping;
They can get fresh food ingredients & meal packages;
They get new recipes in the form of recipe cards;
They reduce food waste;
They feel healthy and happy.
What is the State of the Meal Kit Industry?
There are many players, big and small in the meal prep business industry. The larger companies in the United States and beyond are well-known brands such as:
HelloFresh (sometimes called Hello Fresh)
Blue Apron
Chef's Plate
Sun Basket and many more.
These companies hold a large market share in the meal kit industry.
Many local kit companies and local entrepreneurs like blue apron specialize in delivering meals and meal kits to the local customer base. Then there are companies like Purple Carrot that specialize in plant-based meal delivery. As is the case in all industries, Davids always room against the Goliaths (such as HelloFresh or Amazon). And the meal kit market is no different. The meal kits business and kit deliveries are very hot, and there is lots of room for a company to create an amazing kit business for a local market and attract new customers. These are preferred a lot by college students and working professionals.
How Do You Start a Meal Kit Service?
A few steps are to get started in the food industry and the meal prep business or the meal kit delivery market. Here is a quick list of the things you'll want to consider while making the business plan:
Start the research of your meal prep business market based on your business idea;
Research your consumers or target demographic;
Get business license & health department permits (food handler's license, sales privilege license, & catering license);
Start setting up your commercial kitchen with refrigeration storage space and packaging station;
Research the best meal prep business services;
Start the meals and menu creation process, you can also create a fusion concept for different kinds of meals;
Set up your kitchen & meal prep workspace or use an existing restaurant kitchen;
Start investigating the meal kit delivery businesses and services related to the meal kit business;
See if it's more advantageous to get a route planner for delivery drivers instead;
Create your business model;
Run it by as many people as possible, in particular, an existing meal prep delivery service;
Refine your food delivery business model for your online meal kit delivery service;
Create your online meal kit ordering platform;
Start to market and sell set meal plans to your consumers on the benefits of ditching the grocery stores;
Choose your services with different payment options(in-house or out-source the kit delivery);
Start the beautiful path of the entrepreneur. ?
We could add many more steps to this list; we will limit ourselves to this for now. We've also written extensively on other topics, including a broader set of articles on how to start a delivery business,
If you found this interesting, please check out:
Checklist to Start a Courier Business: 32 Best Steps on Getting Started
A Big Problem in Meal Delivery: Optimizing Delivery Routes is Complex
As mentioned, we here at Upper Route Planner deal in route optimization. The meal kit delivery service or any food business doing deliveries requires high accuracy and optimization because delivery is a major component of the meal kit service. It matters as it is a part of the customer experience. This is true for several reasons:
Plan quickly, deliver faster, delight customers and get home early.
Everyone deserves to have simple and easy route planning.
A Meal Kit business wants to have speedy and timely deliveries. Consumers want their meal kits at their door in a reasonable time;
Therefore, a meal kit delivery service's success is contingent on the delivery portion's success, contingent on the value of the route planning application.
The optimization problem is so complex that we have a large team of dedicated specialists looking into solve thing problem for you. This is to focus on your meal kit service and ensure that every meal kit is the best meal kit the customers will ever have.
Case Study: How to Organize Routes to Do Deliveries for a Meal Delivery Business
We have had several food entrepreneurs and meal kit delivery services using Upper Route Planner to help their meal kit delivery business. We want to run you through a case study of such a meal-kit business:
Starting Point: Lots of Chaos and Confusion
You're starting as a meal kit business. You have the menu on your website. People fall in love with your menu. And you have some meal kit subscriptions coming in. A customer on the east side of town wants three meal kits per week. Another one on the west side of town wants two meal kits per week. You prep your meal kit. Space, get the ingredients, print the recipes,
This grows and grows until, at some point, your company has reached another stage. Instead of just focusing on meal kits, ingredients, and simply making meal kits, you are now thinking about "how am I going to organize all these deliveries in a manageable way?
You may have 1 or 2 or 3 drivers, and figuring out the best route forward is a huge challenge. How do we get all these meal kits to where they belong? How can we deliver these meal kits in a timely fashion? While making good use of our delivery drivers?
This is where route planning comes into play.
Route Planning to the Rescue
Our solution is to provide you with a simple, intuitive, and easy-to-use interface that will allow you to quickly and easily enter (or import) your addresses, create routes, and allow your drivers to deliver your meal kits in no time.
Our meal kit delivery users have been able to do the following:
Import their addresses
Create Routes with customization option
Share routes with their drivers
Save much time, money, and miles on the road.
The result is that they can invest all that time and money saved into what matters most to their company: making their core product even better and satisfying their consumers.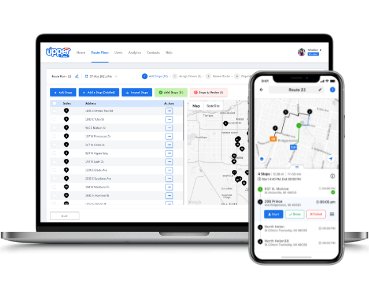 Upper Crew
A Simple-to-use route planner that every one is talking about.
Save up to 95% of planning time
Save up to 40% of time on the road
Plan 500 stops at once
No credit card details required
FAQ
Setting up a meal prep company, you need a strong business plan. You need several meal options, get a space to setup your kitchen, get all the necessary certificates and licenses from the health department and the government, and start selling your meal kits.
The starting up cost for a meal prep delivery business depends on the scale and whether or not you have your own kitchen and delivery team or you are leasing a place and hiring contract drivers. The costs can be anywhere between $20,000-30,000.
More and more people prefer to order meal kits instead of going to the grocery store every week and buying supplies and ingredients for cooking. Instead, they would prefer receiving order supplies and specialty ingredients from a meal delivery company. The global meal kit delivery service is valued at over USD $10 billion. This shows how much the meal kit companies earn and their share of the market only keeps increasing.
A meal kit company plans your weekly meals, creates recipe cards, and delivers all the necessary ingredients at your doorstop. They provide you with all the necessary information and resources to make your meals.
Pick Upper Route Planner to Guide Your Meal Prep Food Deliveries
In short, we know from our customer feedback that food delivery route optimization is crucial, and we want to be able to support you as much as possible so you can focus on your ingredients, recipes, and other facts that are best for your market. And oh! If you're ever reading this, and you're in our town, well, please get in touch with us. We'd love to try those ingredients and those recipes for ourselves. ?
Safe traveling out there!