With digitalization transforming different business sectors globally, the eCommerce industry has skyrocketed in the recent past.
The global sales of the eCommerce industry are expected to cross $5.5 trillion by 2022.
People are adapting to the online shopping wave, and businesses are focusing on delivering a quality customer experience from the buyer's journey to delivery.
If you aim to start a new eCommerce delivery business or optimize the existing one, we've got you covered.
Look at the top eCommerce delivery business statistics & trends in 2022 and make well-informed decisions to enhance eCommerce product delivery.
eCommerce Delivery Business Statistics Trends
The rise in the eCommerce delivery business is happening because of multiple reasons:
The global pandemic forced people to purchase products from the ease of their homes.
Integration of modern technologies improving the supply chains.
Easy accessibility, shorter sales cycle.
Increased mobile phone usage and quick internet access.
The factors have affected consumer behavior drastically. These numbers prove the change:
Latin America witnessed a hike of 25% of eCommerce sales from 2020 and saw $85 billion worth of eCommerce transactions.
Over 50% of eCommerce consumers use smartphones.
Over 30% of grocery businesses globally moved online because of the COVID-19 outbreak.
46% are open to purchasing expensive items online.
The numbers are equally staggering if we look at specific eCommerce delivery statistics.
Over 50% of eCommerce customers transact with the business if they see the delivery conditions.
Over 25% would spend more to get the free shipping feature.
Undoubtedly, there is an increase in the sales numbers, and consumers are looking to purchase their day-to-day essentials from an eCommerce platform, but the delivery aspect is still unsatisfactory.
We'll discuss how you can enhance your delivery process, but before that, let's understand the top eCommerce delivery business trends for a better business approach in the future.
eCommerce Delivery Business Trends
We have shortlisted the top 5 trends that can help you strategize your eCommerce delivery business. Have a look.
1. Supply chain resilience
Before the global pandemic, the eCommerce supply chain was based on:
Minimal inventory
Low-cost supply
Globalization
But because of COVID-19, companies were forced to build supply chain resilience. The pandemic exposed logistical vulnerabilities to natural disasters, regulatory changes, and future political instability.
Many companies adapt to the supply chain resilience transformation by integrating and handling logistics and transportation in-house rather than outsourcing.
Businesses are focused on improving efficiency and effectiveness by streamlining the supply chain and having more control over the operations for delivering quality customer experience.
2. Mobile shopping and social commerce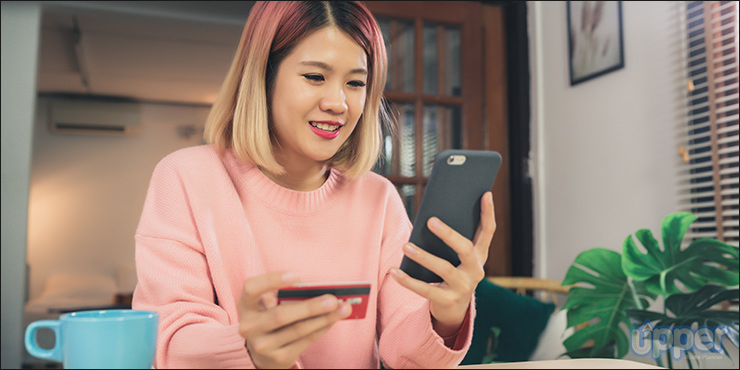 With a significant impact on brick-and-mortar stores, businesses and shoppers have shifted to the internet to sell and buy goods.
The shift towards online shopping has accelerated because of the COVID-19 and m-commerce in the trendy lingo surrounding the eCommerce industry.
With technology advancements like 4G/5G, shopping apps, and social media shopping, consumers prefer mobile devices to fulfill their shopping requirements.
Consumers, especially in the United States, use mobile shopping apps similar to social media apps. The increase in the shopping numbers is directly proportional to the order deliveries, but there's a significant improvement still required to match the rising demand.
With the trending social media usage, brands are investing heavily in social commerce content to strengthen their impact on modern-day consumers.
Platforms like TikTok, Instagram, Facebook have taken center stage for social commerce and are helping eCommerce businesses to strive forward.
3. Cross-border buy now, pay later adoption
The BNPL (Buy Now, Pay Later) trend is skyrocketing, and there's no sign of stopping it. Consumers are adapting to the new payment and shopping methods that are helping businesses strengthen their online presence.
Klarna is one of the best examples of this new payment adoption. The Swedish brand witnessed a sharp increase in its transactions and doubled its gross merchandise volume to $19 billion in 2021.
The BNPL model is trending globally in Australia, Japan, and Germany. Soon, the BNPL model will become a standard checkout method as different partnerships between BNLP brands, banks, digital wallets, and other financial institutions are on the rise.
Businesses are focused on making it easier for consumers to purchase online goods and products to increase their delivery numbers.
4. The metaverse and interactive shopping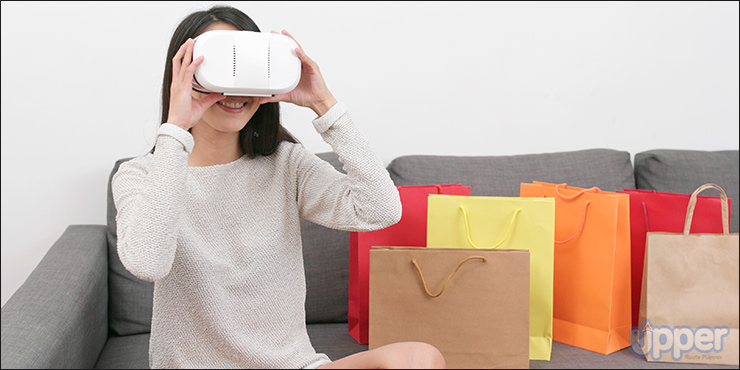 With cryptocurrency, blockchain technology, and metaverse making highlights in the international news, top eCommerce brands are batting high on delivering a virtual shopping experience to their customers.
The introduction of metaverse removes the borders for customers because of the 3D virtual world. It focuses on enhancing the online 2D buying experience to the next level.
Different global brands like Gucci, Nike launched their fashion shows inside an innovative game Roblox. Adidas recently launched their NFT (Non-Fungible Token) collections, and Balenciaga sold their apparel in Fortnite.
Consumers are willing to spend on buying virtual goods, and in the coming years, the spending numbers will rise exponentially. The adoption curve is slowly beginning to rise, and businesses will soon adapt to the new change.
5. Language localization
67% of the global consumer base claimed they had purchased products from a foreign site. And the majority of the consumers stated they find it difficult to make transactions because of language barriers.
In the United States, people stated they would not purchase if the site was not in English. So businesses looking to expand overseas and into new locations should focus on language localization to attract customers to make the transaction.
Brands need to focus on the language used in product descriptions, checkout processes, and product reviews while expanding overseas. Adapting to the local customers and communicating in a localized language can help your businesses to increase their sales, boost conversion rates and deliver a quality experience.
But some other factors can also assist you in enhancing the quality of customer experience of your customers and, i.e., robust delivery planning and optimization.
How Delivery Planning and Optimization Will Play a Significant Role in eCommerce Success?
Delivery planning and optimization are among the most neglected aspects of the eCommerce business operation. Businesses are highly focused on creating their online presence and attracting their target audience to complete the transaction. Still, they deliver a poor customer experience of delay or unsatisfactory product delivery.
The fact that 85% of consumers are not satisfied with the delivery process proves that a lot of work is required to enhance the delivery ecosystem of eCommerce businesses in the changing times.
Delivery planning and optimization help to find the shortest multi-stop delivery path and enhance the productivity of your logistics and transportation team. It can help you control the on-ground operations and deliver a quality customer experience to stand out from the rest.
But many businesses rely on manual routing processes or use Google Maps as their prime route planner app to streamline their business flow. And that is where the problem starts.
Relying on traditional pen and paper is outdated and ineffective for a modern-day eCommerce delivery business. Using apps like Google Maps won't help you achieve the maximum efficiency of your workforce when you aim for scalability.
Because Google Maps doesn't:
Deliver an optimized path for orders above 10.
Have any 'proof of delivery system to deliver contact-free deliveries.
Help your online store cut fuel costs and other additional delivery expenses.
So what's the solution then?
Switching to dedicated route planning and optimization tools can solve all your modern-day delivery issues and help you match the consumers' expectations.
You can streamline the rising demand in the eCommerce industry and help change the dissatisfied majority of online shoppers with a quality customer delivery experience.
Strengthen your brand by delivering what you promise to your target audience with the power of powerful route planning software.
But out of hundreds of route planners available on the market, which software can you assist your business to solve the significant delivery roadblock?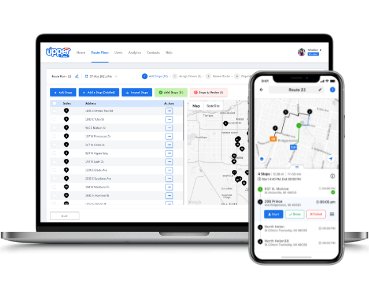 Upper Route Planner
A Simple-to-use route planner that every one is talking about.
Save up to 95% of planning time
Save up to 40% of time on the road
Plan 500 stops at once
FAQ
Yes, the eCommerce business is one of the most profitable business industries in the world right now. The growth is possible because of the increasingly mobile user percentage and changing consumer behavior. Customers want to experience the buying experience without leaving their locations. The global pandemic also played a huge role in fueling the rise of the online eCommerce industry.
Many offline businesses and new-age startups adapt to the online eCommerce site to strengthen their online presence. With more and more people spending more time on social media and surfing through the internet, businesses want to make the most of the opportunity. There's not a specific number of retail businesses using eCommerce, but eCommerce is responsible for 20% of the global retail sales in 2021.
The eCommerce industry is expected to grow at an average rate of 16.1% in the next few years. The drastic boost to the industry is possible because of the COVID-19 outbreak that forced customers to avail of goods and products from their homes.
There are multiple future trends in the eCommerce industry that can assist you in making well-informed decisions for your business. But let's look at the few prominent ones:
Supply chain resilience by online retailers
Mobile shopping online and social commerce
Cross-border buy now, pay later adoption
The metaverse and interactive shopping
Language localization
eCommerce is growing mainly because of the consumer shift towards using online social and web platforms. The penetration of mobile devices, the internet, and multiple advanced technologies has also boosted the rise of the eCommerce industry. And one of the prime reasons the global adoption of eCommerce is happening is because of the global pandemic that enabled consumers to switch to eCommerce platforms quickly.
Upper Route Planner is Your go-to Solution
Upper Route Planner is the ideal tool to assist you with eCommerce route planning and optimization. It can sprinkle the power of automation in your delivery process, help your workforce work in sync, minimize your shipping costs, and boost productivity.
It can help you:
Get a broader perspective of the on-ground delivery operations.
Increase your productivity and order delivery rate by 40%.
Streamline the multi-stop delivery process and help you cut 95% of route planning time.
You can add up to 500 delivery addresses from your Excel sheets and create an optimized route plan within a few clicks. You can create different routes for different delivery drivers and dispatch them within seconds.
Get instant access to the 7-day free trial of our powerful route planning software and experience the transformation in your delivery process.