Are you looking to improve your delivery business results?
Do you want to minimize your delivery planning time and maximize your operational efficiency?
Well, to improve your overall customer experience, your delivery services should be optimized.
Customers now expect products to be delivered to their door in record time. According to a survey, 80% of customers want businesses to offer same-day shipping options.
So how do you compete with logistics giants such as Amazon, which offer free two-day and one-day shipping?
A delivery planning software can help you with all your delivery businesses, regardless of how many stops are on your route. After all, the more efficient your route is, the less time your drivers will spend on the road, and the more efficient your overall operations will be.
So, which delivery route planner is best for your company? In this post, we have curated a list of the top 6 delivery route planning software.
Let's get started.
What Does Delivery Planning Mean?
Delivery planning can be referred to as planning routes and logistics for product delivery. It is used by businesses that deliver products to ensure fast and efficient deliveries to their customers.
A delivery plan is used to sequence the work. It specifies when deliveries will take place and when the project will be completed. It also considers people's availability and capacity, as well as a rough estimate of whether the work can be completed in that amount of time.
Main elements of the delivery planning process
When evaluating your delivery operations, you should consider the following factors. A well-executed delivery strategy should aid you in the following areas:
1. Delivery efficiency
It should help keep your transportation costs low while increasing your earning potential. It should come up with the most optimized routes so that your drivers deliver the products in a short time.
2. Balanced workload
It should offer a balanced workload for your delivery fleet so that no one on your team feels burned out. A good delivery-planning system will help you focus more on strategizing than delivery.
3. Customer experience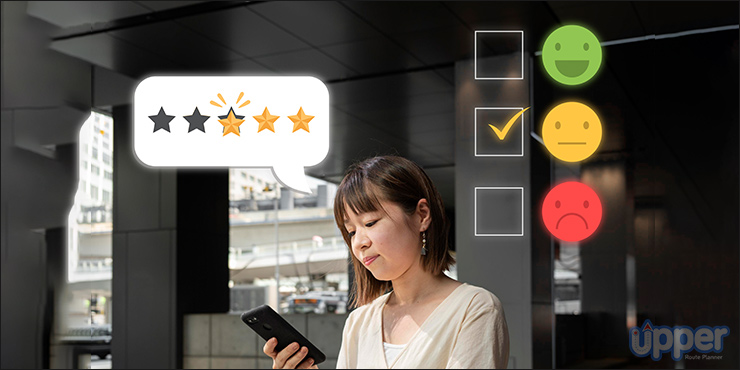 Your delivery strategy should help you to deliver products to customers on time or within the delivery window specified. This is essential for customer retention, satisfaction, and positive feedback.
4. Route optimization
Effective delivery planning should assist you in reaching maximum capacity without overburdening your drivers or forcing them to work overtime. It should consider the capacity of each vehicle in a fleet and distribute the deliveries accordingly.
Importance of Delivery Planning
For online businesses, having excellent delivery planning is essential to be competitive in today's market. The number of digital buyers worldwide is increasing yearly, and e-retail revenues are projected to grow to $6.54 trillion US dollars in 2022.
Buyers want everything from food to equipment delivered to their homes, and they are willing to pay more if you can deliver their order quickly. About 80% of shoppers are willing to pay a premium for same-day delivery.
If you don't have a good delivery plan in place, you won't be able to exceed or even meet your customers' expectations, and you might lose them forever.
That's why, integrating route-optimization software in your business can assist you with planning deliveries that will lead to faster deliveries and customer retention.
6 Best Delivery Route Planning Software And Their Features
Here, we'll look at six delivery routing apps and how they help businesses in the delivery space and help you decide which one is best for your own.
1. Upper Route Planner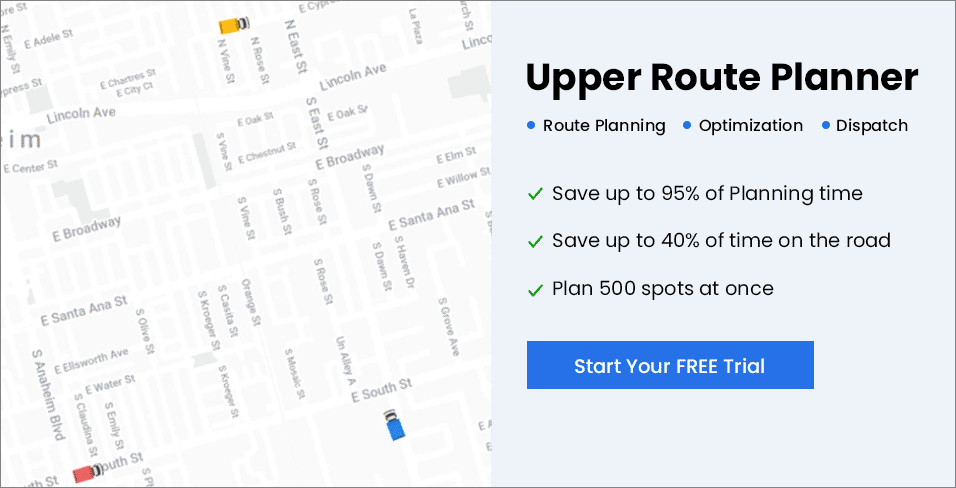 Upper Route Planner is a user-friendly route planning and optimization software with a simple interface. It is created using a human-centered design approach to make route planning easier at every stage of the process.
Upper serves multiple industries, including food delivery, pharmacy delivery, courier delivery, and retail delivery.
Upper Route Planner helps you reduce the time and costs associated with complex delivery tasks by recommending the most efficient route. Users can generate multiple routes for multiple drivers at the same time.
Features
Excel Import

Route optimization

proof of delivery

Single click dispatch

Route scheduling

API integration
2. RouteXL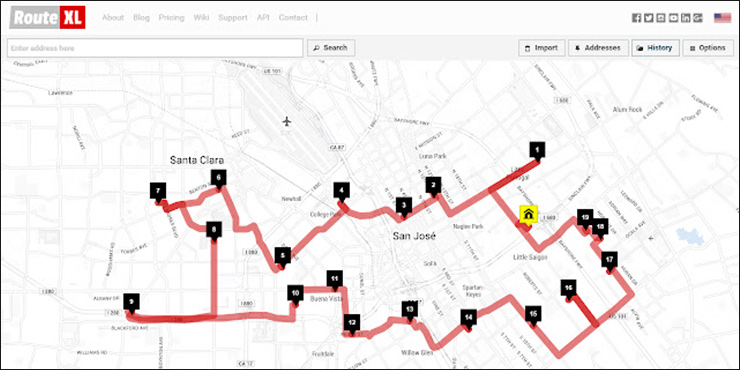 RouteXL is a multi-stop route planner that finds the best route for deliveries, pickups, and services. These optimized routes are generated by smart algorithms that sort addresses to minimize their duration. You can then email or print the route to your drivers.
The downside of RouteXL is that it does not support real-time optimization or automatic updates, which means that if any changes occur on the road, your drivers will have to be reactive rather than proactive.
RouteXL isn't the most powerful tool available, but if you're a small single-driver company with fewer than 20 stops per month looking for a simple solution, this app may be all you need.
Features
GPS monitoring.

Task distribution.

Cloud-based automated system.
3. MapQuest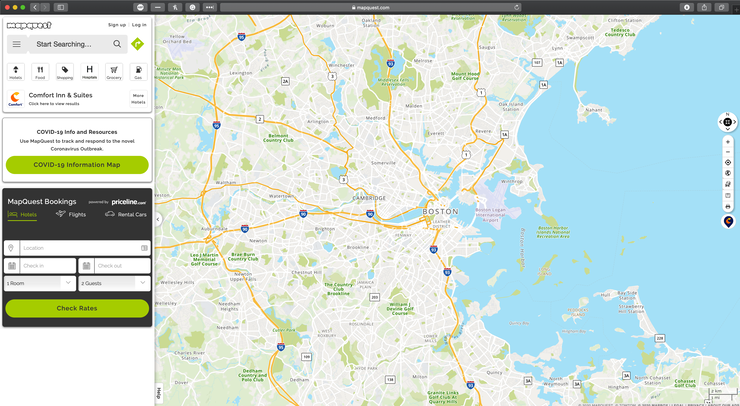 MapQuest is similar to Google Maps but allows you to enter more addresses. You can upload addresses using copy/paste or a spreadsheet, just like the other options on this list.
Your route is then optimized for free, and stops are reordered to make it as efficient as possible, giving you the option of traveling in the shortest amount of time or the shortest distance.
What distinguishes MapQuest is the ability to configure your route as a round trip, accounting for the real-time visibility of your driver to return to the warehouse.
The drawback of this app is probably the pop-up advertisements, which can be frustrating. Otherwise, if you only have one driver and less than 25 addresses to deliver to, MapQuest is a good free option.
Features
Driver tracking

Real-time tracking

Import routes

Map options (satellite or street view)
4. TourSolver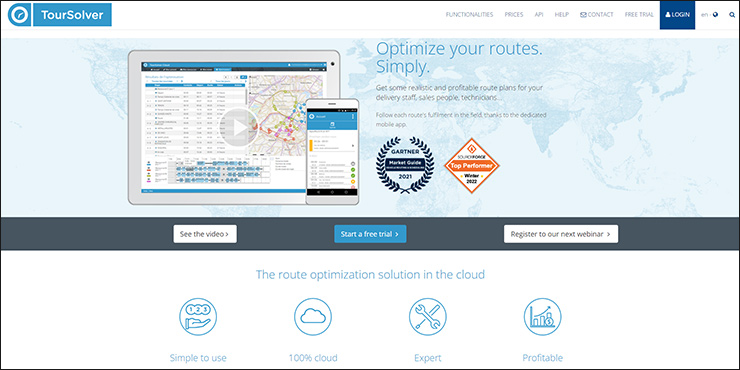 TourSolver is a cloud-based fleet management solution. It can assist delivery companies in managing and optimizing their supply chain deliveries, callouts, and collections.
TourSolver allows businesses to export agent itineraries and schedules in Excel, iCalendar, and PDF formats which can be emailed to team members.
The most unique feature of TourSolver is its simulator, which allows businesses to assess time, mileage, and cost savings from optimized routes. It also offers features such as routing, dispatching, and employee management.
Features
Integrated customer reference table

Notifications by e-mail and SMS

Geographical territory management

Personalized satisfaction surveys
5. WorkWave Route Manager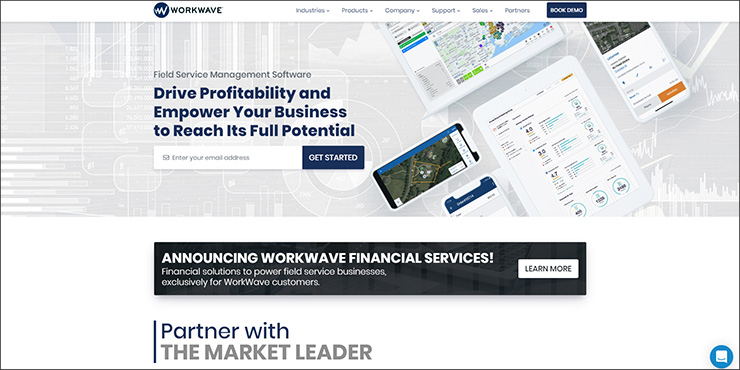 WorkWave Route Manager is a top cloud-based route planning software that lets you plan routes for delivery people and field service providers, track drivers, and stay connected in real-time.
Any business can use it to plan around service time windows and customer requests, manage schedules/routes as needed, confirm driver ETAs, and much more.
WorkWave allows delivery drivers to sync updates back to the office via the mobile app to manage the business remotely. They receive routes, capture last-mile delivery proof, and mark orders as rescheduled or skipped. When GPS tracking is enabled, planners can also track delivery operators and routes and maintain complete visibility.
Features
Easy API integration

Accurate GPS tracking

Routing and scheduling

Real-time monitoring
6. Onfleet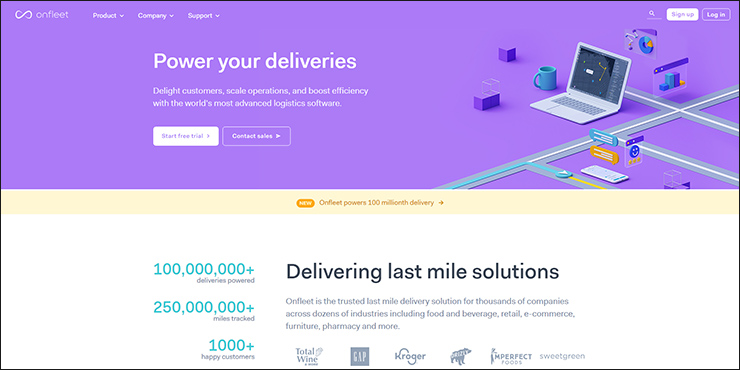 Onfleet provides the most advanced route planning features, promising leaner operations, smarter decisions, and offers an outstanding customer experience.
One feature that distinguishes Onfleet from competitors is the ability to create individual driver profiles, each with its start and end location, shift schedules, and vehicle capacity. This is a critical feature for businesses looking for a scalable solution.
Once you've entered your driver information, Onfleet will optimize your routes so you can dispatch your drivers. Drivers can access the Onfleet app on their mobile devices, and you will be able to track their progress from the web dashboard.
It is a great app for delivery businesses, but it is not as cost-effective since its competitors offer the most basic features for a much lower price.
Features
Predicts ETAs

GPS tracking

Customer communication integration

Automatic status update
Plan Your Delivery Routes Instantly on Upper
Upper is an intuitive route planning and optimization software that can assist delivery businesses in planning and optimizing their delivery services efficiently.
Upper Route Planner can help businesses focus on their core operations by reducing manual planning and scheduling hours while the algorithm handles the rest.
By using Upper's route planning feature, you will save time, deliver more orders, and increase profitability. Its delivery scheduling feature allows you to schedule deliveries for months in advance, which aids in delivery planning.
Sign-up today and avail the 7-day free trial and plan your deliveries to improve the efficiency of your business.
Let Upper Deal with Your Route Planning Hassles
Delivery Route planning needs no manual intervention when you are on the Upper Route Planner. Import your excel file for adding multiple stops and get optimized routes with a single click of a button.
Plan Routes Now

FAQs
A delivery route planner uses machine learning algorithms, predictive intelligence, and information integration to predict traffic conditions while using real-time location, weather, and traffic updates to suggest the most efficient delivery routes. This delivery management software allows real-time tracking, seamless communication, and automated notifications.
Delivery route planning tools can make your logistics operations more transparent while ensuring timely and accurate deliveries. The following are the primary advantages of implementing a delivery route planning solution for businesses:
Efficient route planning

Multi-driver routes

Reduced delivery delays

Optimized route

Better fuel efficiency

On-demand customer service

Increased productivity
There are several delivery routing tools on the market, beginning with Google Optimization Tools , traditional Transport Management Software, cloud-based platforms for route planning, and fully customizable, AI-backed delivery routing software for small and established businesses.
Shipments are assigned to drivers by route planner to ensure that the most work is completed in the least amount of time while ensuring accurate deliveries. These are also capable of dynamic re-rerouting, which means your delivery partners are notified of any upcoming traffic congestion or no-entry windows and given an alternate route to complete the delivery.
Route monitoring allows users to see in real-time whether or not their drivers have completed a specific set of deliveries. This option can save time by identifying tasks completed by the driver and informing the customer of the most recent ETA for their order. Delivery companies plan ahead of time by monitoring their routes. They can schedule the next delivery as soon as they learn that the driver is about to complete one. So the driver can return and pick up the most recent orders.
Enterprises can ensure timely and accurate deliveries with real-time updates and embrace the possibility of accommodating customer preferences in the delivery schedule by leveraging a routing app for delivery drivers. Modern logistics software also analyses variables such as distance traveled, delays, route efficiency, and others to accurately predict ETAs, which aids in setting realistic and easily met expectations for customers.
Conclusion
Fast and efficient deliveries are essential for delivery businesses to be competitive in today's market, but planning deliveries do not have to be a monumental undertaking. With the right software, delivery and route planning can be a breeze.
At Upper, we strive to assist businesses of all sizes in perfecting their deliveries and keeping their customers satisfied. Our most advanced features, such as route planning, route optimization, and route scheduling, can assist you in achieving success in delivery planning.
Start your 7-day free trial today.