Key Takeaways:
Through its website and mobile app, Walmart offers several delivery options, including same-day delivery and grocery pickup.
Customers can sign up for a Walmart+ membership for free unlimited delivery and other perks.
Walmart also partners with third-party delivery services like DoorDash and Postmates to offer delivery from select stores.
In the era of online orders, everyone is looking for convenience, even if the delivery charge is a bit higher. After all, who wants to waste time in a queue and wait for their orders to be packed if they can get them delivered to home?
Walmart is one of the benchmark businesses that provides easy and fast delivery service to its customers. It has created colossal competition among the other market players – Amazon Whole Foods, and Instacart – in the grocery delivery industry. Walmart offered same-day pickup services in around 4,600 regions and provided unlimited delivery in around 3,500 locations within the US.
So, if you have been wondering "how to get Walmart delivery?", we have explained it in this step-by-step guide.
Steps to Order Products Through Walmart Delivery Service
Walmart online shopping and delivery is a simple process. Here are the steps you can follow to order your desired products:
Step 1: Go to the Walmart website (or download the Walmart app).
Step 2: Create an account or sign in if you already have one.
Step 3: Next, choose one of the 3 ways to start:
Find an item through the search bar
Refer to the 'Departments or Services' on top.
Select whether you want "Shipping," "Pickup," or "Delivery" from the drop-down menu on the top left. (You can add your address for the delivery option or add pincode to see the pickup regions hear you)
Step 4: Then, click "add to cart" once you find your preferred items and go to your cart.
Step 4: You will find a button that says "Continue to checkout." Select delivery or pickup times to proceed.
Step 5: Checkout by paying for your order using one of the mentioned modes of payment.
What is the Walmart delivery fee?
Walmart spark delivery services come with different fees based on what you choose as below:
For Walmart Plus members: There is no delivery fee for orders amounting above $35. For orders below $35, you have to pay $5.99.
For non-members: Delivery fees are between $7.95 and $9.95
For Express delivery: $10 will be charged in addition to the existing delivery charge.
How to Order Groceries from Walmart?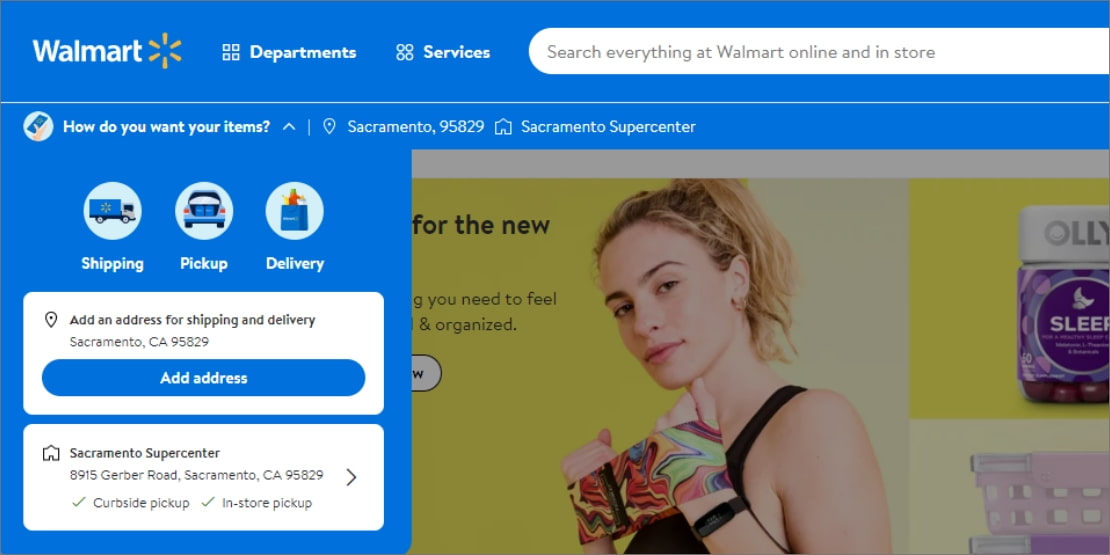 Walmart grocery delivery accounted for around 55.7% of its US sales in 2022. It doesn't just save time but also reduces the hassle of selecting groceries at the store. Follow these steps to get fresh groceries delivered to your address:
Visit the Walmart website or login into your Walmart delivery app.
Choose 'Pickup' from the drop-down menu that says: 'How do you want your items?'
Select 'Curbside Pickup,' or 'In-store Pickup,' or both. Add your specific address or pincode to check if there is a local store near you.
Add your grocery items to the cart and go to checkout.
Choose a time slot for order pickup and make the payment.
Note: For curbside pickup, you can collect the order if you place it before 4 pm. If you place it after 4 pm, you can pick it up the following day.
Once you place your order, you'll get confirmation via email or the mobile app. You can opt for text notifications too.
What are Delivery Options Available at Walmart?
Walmart provides a lot more delivery options than other businesses. When you order online through the site, you can get your orders as fast as in an hour or in some days.
1. Walmart In-home delivery
The InHome delivery program of Walmart provides you the opportunity to get groceries at home even when you are not at home. The Walmart employees will visit your home and deliver groceries with extreme care and security.
Moreover, Wamart introduced a "direct-to-fridge" delivery service under this program as an additional option. This service saves time and brings fresh groceries directly to your fridge.
It mainly uses USPS and FedEx to deliver items at home. It also uses third-party couriers such as Postmates, Roadie, DoorDash, Point Pickup, and SkipCart. These couriers cover a good amount of delivery routes and areas that FedEx or USPS don't cover.
2. Walmart same-day delivery
Walmart started providing same-day delivery in a few states by partnering with Instacart. Some of them include Alabama, California, Florida, and more. Within this program, you can order household essentials and groceries to get them delivered in some hours.
This delivery option was introduced to ensure a convenient experience and timely delivery of items for their customers. The growing competition with big giants such as Amazon has also resulted in this type of expansion of services from Walmart.
3. Walmart international delivery
Operating across 24 countries with over 10,500 stores worldwide, Walmart doesn't ship to other countries. However, other third-party carriers are making it possible for customers to get orders from Walmart. Planet Express delivers to Australia, UK, India, Ireland, Spain, and other locations.
You can place your international order through Planet Express by following the below steps:
Sign up with Planet Express and get a US address for yourself
Order your desired items from Walmart
Once your package is delivered from Walmart to Planet Express's warehouse, you will receive an email update with info about your parcel.
Never Lose Track of Your Packages Again
Use Upper's package tracker to know the status of your parcel in a matter of seconds.
Track My Package

FAQs
You can take the benefit of Walmart's free delivery through their subscription services. Walmart Plus might be worth investing in, if you use its grocery delivery service regularly. The subscription service for free delivery comes with a 30-day free trial. After that, it will charge you $12.95/month or $98/year with additional taxes.
Yes, but only if your family members use the same account and live in the same home. If they have a separate Walmart account, they need to have their own Walmart Plus account.
No, Walmart doesn't give free delivery for seniors. But, they can avail exclusive benefits and free grocery delivery if they use the Walmart Plus membership subscription.
Conclusion
As more players are stepping into the delivery industry, Walmart is coming up with strategies to boost growth and ensure customer satisfaction. Getting home delivery of fresh groceries is a privilege that everyone loves. So, it goes without saying that more customers will be using such services in the upcoming times.
To meet these demands, delivery service companies are finding smarter ways to deliver parcels in the most efficient and cost-effective manner to meet customer demands. Opting for a route optimization software is saving hours of route planning and helps them schedule multiple deliveries in advance. Upper enables businesses to make faster and extra deliveries in a simplified manner.