Many businesses rely on manual planning or manual tracking abilities to maintain the fleet efficiency of their operations. It creates confusion and wastes a lot of time and resources. These businesses need a comprehensive system that brings together route planning and fleet tracking.
Users can easily find an amalgamation of route planning and fleet tracking systems in a comprehensive all-in-one fleet management solution, which is developed keeping in mind the actual problems faced by the industry players. Having a GPS-based management system helps you save cost and improve productivity. But that's not it.
In this article, we will examine how the extra features offered by vehicle tracking software benefit fleet operations and why it is so important to integrate it with a route planning solution to achieve maximum scalability.
What is a GPS Vehicle Tracking Software?
While GPS fleet or vehicle tracking has been around for many years now, it is only with the help of recent technological advancements that it has become more accessible and easy to use. Advancements in telematics devices have allowed businesses to capture important data regarding their fleets and drivers.
A GPS vehicle tracking software uses satellite and technology using which fleet managers can locate their fleet in real-time. Modern fleet tracking systems can offer more visibility and insights into various areas like driver safety, vehicle diagnostics, driving behavior, harsh braking, and more.
When GPS trackers are paired with artificial intelligence, they bring together different fleet and asset tracking elements and turn them into a more easily understandable insight. This vehicle data and insights are useful for decision-makers in making informed decisions regarding vehicle usage, total time spent on the road, fuel consumption, and rash driving.
GPS vehicle tracking devices are of two types:
Hardwired: If the vehicle doesn't have an OBD II port, the device can be wired directly. This can easily work for older fleets or diesel trucks. This is a popular device for easy-to-implement fleet tracking.
Battery-operated: Battery-operated devices are not much different from hardwired GPS devices. These devices might not send information as frequently as other devices.
Key Features of a GPS Vehicle Tracking Software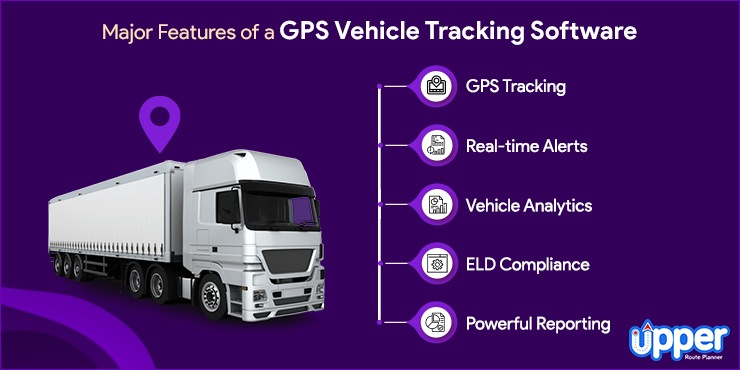 You will need the following feature to track your vehicles in real-time and record important fleet data.
GPS Tracking
The most fundamental requirement is the ability to track your fleet of business vehicles in real-time. Users must have the ability to track all the powered and non-powered assets in real-time to see where the utilization can be improved. This can provide immediate insight into the real-time location and activity of the fleet.
Real-time Alerts
When the fleet of vehicles are being tracked in real-time using proper devices, the back-office team can track vehicles and receive real-time fleet alerts and instant notifications on fuel usage, driver behavior, fleet maintenance alerts, and speed alerts.
Vehicle Analytics
The GPS tracking device must also be able to record and send vehicle analytics daily. This can help in keeping a tab on fleet performance. This can inform the fleet manager regarding any mishandling or damage to the vehicle.
ELD Compliance
Many GPS fleet tracking systems provide mobile-friendly ELD solutions. With this, the drivers can quickly log into the software and get on-road assistance on their cell phones. It can easily generate and transmit reports, store and retrieve information when needed, save time, and reduce error.
Powerful Reporting
With powerful reporting, fleet managers can track the most critical KPIs for their delivery operations. Reports can offer insights as to what's working well and what needs more focus to improve the fleet's performance.
In addition to these features, fleet management software programs provide other features like Instant Messaging, Weather Data, Dashboard, Custom Reports, Job Dispatch, and Scorecards.
Advantages of Having a GPS Vehicle Tracking in a Fleet Management Software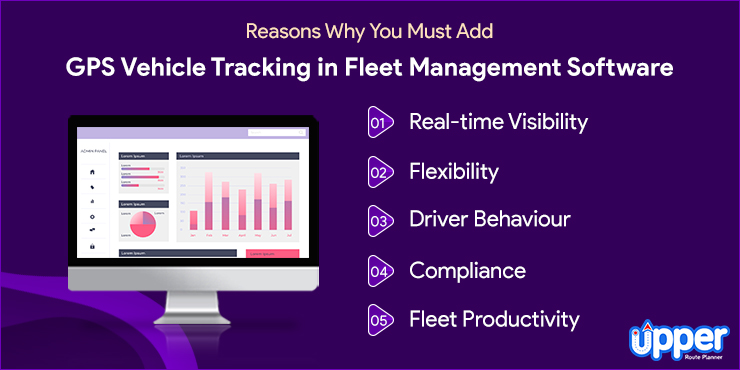 Having a GPS route-finder can really help businesses in solving problems related to scheduling, fleet safety, and customer satisfaction. Let us take a look at some of these benefits in this segment.
1. Real-time Visibility
With fleet tracking software, fleet managers can have real-time location monitoring. The tool can easily measure vehicle activity in pre-defined geographic regions with the help of geofencing tools.
The fleet tracking software allows you to have complete visibility and control over the operations no matter where you are. With real-time location updates, it becomes easier to plan other tasks and inform the customers about the same.
2. Flexibility
GPS tracking devices offer flexibility by integrating and working with any fleet management system that your business operates on.
With the dynamic needs and demands of the business, the vehicle tracking system provides flexibility to your business operations with integrations and product enhancements.
These vehicle tracking systems usually come with an Open API to allow businesses of all sizes to use the system and streamline with their all-in-one fleet management software.
3. Driver Behaviour
With a comprehensive vehicle tracking system, fleet managers can easily identify unsafe driving practices among delivery drivers. Businesses can generate customized reports to identify how the vehicles are being utilized, including rash driving, cornering, acceleration, high braking, and aggressive driving.
With an eye on driver behavior, fleet managers will see a reduction in fuel costs and road accidents and increase driver safety to a great extent. It helps businesses and drivers make more informed decisions.
4. Compliance
There are several laws related to fleet compliance that need to be followed by companies. These include ELD, IFTA, and DVIR. Occupational health and safety laws and tax-related laws must be complied with at all times.
It is the duty of fleet managers to ensure compliance is being met at every level of the operations. The vehicle tracking system helps in compliance-related formalities by providing visibility and accurate information.
5. Fleet Productivity
A vehicle tracking system provides enough information to fleet managers regarding the usage of the delivery fleets, driver behavior, compliance, and driver performance. This can help the business achieve targets on time while being efficient.
By doing this, businesses can improve planning and execution and meet customer requirements successfully. Businesses have been relying on GPS connectivity to improve their overall fleet productivity.
Why is it Advisable to Integrate Vehicle Tracking With Route Planning?
Using route optimization tools and vehicle tracking services alongside each other is very different than integrating the two systems into one comprehensive fleet management software. The integration of the two systems on one platform offers significant benefits for businesses.
Planned vs. Real-Time: Once you integrate route planning and vehicle tracking systems, you will compare the planned activities with the real-time activities. When this comparison is made, discrepancies are easier to find out.
Live ETAs & Real-time Location: With the ability to track vehicle progress in real-time, businesses can provide their customers with the real-time location of their packages. Live ETAs can be sent out to keep the customers informed about the time of delivery. It's great because if the driver is on time, the customer knows when to accept the delivery. Even if the driver is late due to some unexpected delay, the customers can manage accordingly.
Receive Important Information: By integrating the two systems, fleet managers can receive important fleet data and real-time information regarding traffic, allowing them to identify trouble spots easily. This information can be further used to update the efficient routes and schedules and create more accurate and achievable driver schedules.
Replay the Routes: It can also offer the ability to replay the driver routes that have been performed recently. With the help of this feature, any deviations from the planned activity can be identified, and a solution can be created then and there. If KPI reports show low performance, the routes can be checked and replayed to identify where the drivers went wrong.
Integrate Vehicle Tracking Software with Upper
With Upper, you can seamlessly integrate with your own vehicle tracking system and transfer the data in a few seconds. Also, track your driver's location at any point during the delivery process.
Switch to Upper Now

FAQs
Fleet tracking devices are designed for real-time vehicle tracking for companies with commercial vehicles making deliveries or transporting goods from one place to another. Garmin and RandMcNally are two of the best driver safety tracking companies for fleet-related services with fleet management apps and devices for commercial fleet tracking service.
Google Maps is a GPS navigation app and not a GPS tracking app. Thus, you cannot track your car with Google Maps. If you want to remember the exact location of where you parked your car, then that's possible with Google Maps, but you cannot track a vehicle with Google Maps while it's on the road.
Conclusion
If you are concerned about implementing the integration, you must establish an interface between the route planner and the GPS tracking software. The rest of the implementation is an uncomplicated process. You will easily find support from your route planning provider of the fleet management software company.
Thanks to smart algorithms, fleet management platforms are often capable enough to process the messages received from GPS tracking solutions. Doing this will have a huge impact on the productivity and performance of your fleet operations.