With the pandemic and the rising number of people choosing a healthier lifestyle, the meal delivery business has skyrocketed. If you own a food business then you know delivery is a crucial component of your business.
Without a sound delivery strategy, businesses fall out of service due to scalability issues. If you are unable to fulfill orders fresh and on time then it is impossible to convert new consumers to loyal ones.
In recent years, food delivery management software has emerged as a gamechanger for delivery services. These smart solutions make the life of food business owners uncomplicated and efficient.
Through this article, we are going to deep dive into the world of food delivery management.
What is Food Delivery Management?
Food delivery as a service has come a long way since its conception in 1995. The workflow includes activities like managing orders, route planning, and route optimization for delivery. These days, due to the explosion of smart technological solutions, tracking food orders and verifying on-time deliveries are very much a part of proper delivery management.
Many food businesses utilize the incredible power of delivery services to boost sales and scale their businesses. Introducing delivery into your business(if you haven't already) is an incredibly crucial step to reach consumers that you may otherwise have not been able to serve.
Food delivery management is essential to build a loyal customer base. But with an increase in demand comes the pressure to provide higher quality delivery service and if not done right, it can affect the quality of your business.
Food delivery management solutions help to ease this pressure. Although delivery management started as a manual and cumbersome process (where all the above-mentioned tasks are performed by the business owner manually), these days an increasing number of business owners are switching to more efficient solutions. These solutions also help to get the job done in just a fraction of the time it would otherwise take.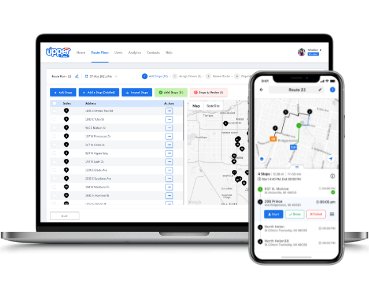 Upper Route Planner
A Simple-to-use route planner that every one is talking about.
Save up to 95% of planning time
Save up to 40% of time on the road
Plan 500 stops at once
No credit card details required
Who is it useful for?
As mentioned earlier, manual delivery management is a highly cumbersome process. Surprisingly, many business owners still depend on traditional delivery methods. Many still prefer this approach due to a plethora of reasons such as inexperience with third-party delivery systems/software solutions, fearing large logistics costs, or set up time.
Unknowingly, they are hurting their own business. As the food industry is exploding with competition left and right, the only way to stay at the top and reap the benefits is to implement delivery management software solutions into your business workflow.
Whether you are a small business or subcontract delivery services to a bigger company, it is important to make your daily or weekly processes such as scheduling routes as efficient as possible.
Benefits of food delivery management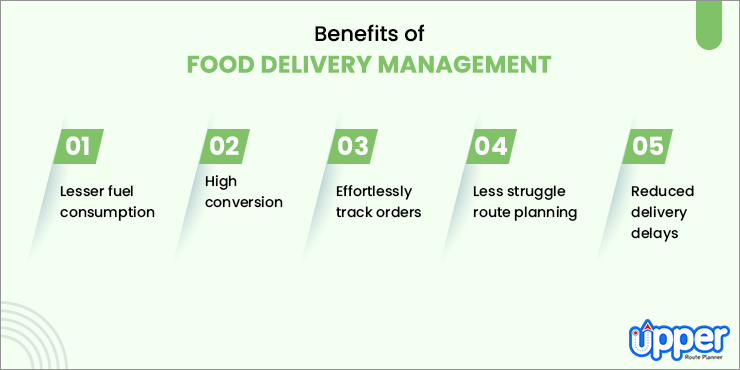 Food delivery management comes with a long list of benefits that can uplevel your delivery service. When you implement such an intricate system into your business, you are essentially changing the way you approach serving customers.
Automating the delivery lifecycle of your business can reap the following benefits:
Lesser fuel consumption and business expenses
High conversion of loyal customers
Effortlessly track orders in real-time
Less struggle route planning thus saving time
Reduced delivery delays due to unforeseen events
Challenges of food businesses and why they need food delivery management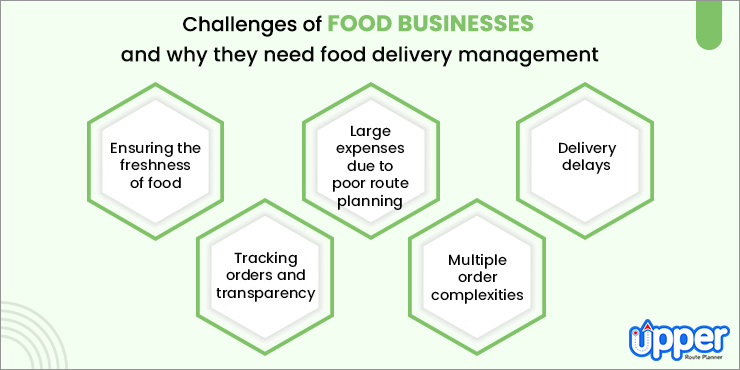 Besides the growing competition faced by the food businesses, owners deal with multiple challenges ranging from food quality to delivery costs.
Let's take a closer look at the challenges before we discover ways to solve them.
Ensuring the freshness of food

Being a food business owner, ensuring food orders are delivered and consumed fresh is a must. No matter how good of a business workflow you have got, if you cannot ensure that the same quality of food is served in-house and for delivery, then you will be left with dissatisfied customers and bad user reviews.

The delivery process must be seamless so that food reaches consumers in the highest possible state of quality. By reducing the time it takes to reach a customer i.e, planning and optimizing the route of travel to multiple delivery zones, you can prevent spoiled food from reaching the doorsteps of your customers.

The result? Efficient last-mile delivery management for multiple locations, delightful customer experience, and unparalleled customer loyalty without any targeted marketing campaigns.

Large expenses due to poor route planning

When you plan delivery routes manually, the degree of human error is large. This means the delivery drivers may not always be on the most optimized or shortest route. This causes a lot of unnecessary road time which directly leads to needless fuel consumption and therefore large delivery expenses.

This is a perfect example of a situation that you can proactively avoid with a restaurant delivery software/ restaurant management system. When you rely on route planning or optimizing food delivery software to do the routing, you are essentially saving money that would otherwise be spent on fuel.

This also solves the previous challenge of lower food quality, because your delivery personnel will spend less time on the road and deliver at record time.

Delivery delays

You can never anticipate how a day will go when you run a food business. Some obstacles are unavoidable but delivery delays are very much a solvable issue.

Delivery delays can happen due to plenty of issues like the absence of delivery drivers on time, traffic, accidents, road blockages, and more. In the traditional approach, you, as the business owner, would be very overwhelmed by things not going according to plan.

Unless you can put a stopper on these unforeseen situations(which you cannot always do), you need to have a smart system to optimize your delivery routes. This is best achieved with smart route planning food delivery software solutions that are equipped to handle and alert such situations.

Tracking orders and transparency

In case a delivery is delayed, it is in your best interest to keep customers updated about it. Imagine waiting for your food order but not having any idea about the ETA. Never leave customers hanging for too long lest they lose interest and trust.

Food delivery software solutions today can track your delivery partners' location (real-time driver tracking) using GPS and you can alert your customers about the same via notifications. Customers will always appreciate transparency which is critical for high customer satisfaction.

Multiple order complexities

In a fully-fledged food business, it is common that a single delivery person runs multiple delivery orders at one go. Trying to map the best delivery course that the driver must take can be an overwhelming process for a business owner.

To add to this, peak traffic hours like office lunch hours can cause unnecessary delivery delays. To avoid such complexities, a food delivery software solution is needed. Not only will it let you optimize the route but also divide the arriving delivery orders among the available delivery personnel to make the process of delivery easy and efficient.
Want To Manage and Streamline Your Daily Delivery Operations?
Upper Route Planner is a route planning and optimization software that allows you to easily plan efficient routes with multiple stops.
Food delivery software solutions to change the game
Now that we understand how food delivery management truly elevates your business, let's look into a food delivery software solution that can do the same in your delivery business. Today we are looking at UpperInc route planning food delivery software that is built specifically to solve the pain points that business owners face daily in their delivery service.
Take this as your personal restaurant delivery software that is equipped with the capabilities of the top food delivery software tools and thus offers an unprecedented restaurant management system experience.
UpperInc helps you extend a robust food delivery system, streamlines the process of delivery, and optimizes the routes taken by the delivery drivers. It works best for food business owners as they are required to deliver to multiple customers daily.
One of the advantages of working with a food delivery software such as UpperInc is that you can completely automate your workflow. Business owners traditionally depend on Google Maps to find the optimum route and enter all information to Excel which is used by the driver to deliver orders. This process is strenuous and time-draining compared to UpperInc which is an extremely easy-to-use food delivery solution.
Imagine not having to worry about the route you planned. Relieving, isn't it?
This is the exact freedom you achieve when you rely on a food delivery software like UpperInc to do the work for you.
Success stories
Essential Meal Delivery

David Greensmith, Founder at Essential Meal Delivery says that food delivery software has helped to completely streamline the delivery process in his business.

This meal-delivery service that mainly operates in Canada serves customers with meals focusing on organic meats and organic proteins. Before working with UpperInc, David and his team delivered around 400 meals every week by manually routing and adding customer addresses. One of the biggest challenges faced by the company was not being able to locate drivers in real-time or knowing the real-time status of an order.

After upgrading to UpperInc, the all-in-one food delivery team management software, David's team is now able to save up to 90% in planning time alone. After 100% automating the delivery workflow, Essential Meal Delivery can save 1 hour driving time per driver and they are also able to stick to a 3-hour delivery window. By keeping the customers informed using notifications about delivery status, the team can fully scale the business to new heights.

Chef Nicole(Miami)

This Miami-based meal-delivery service creates and delivers healthy meal options to its vast network of loyal customers. The main issue faced by the team at Chef Nicole was the amount of route planning they were having to do to deliver around 1000 meals in a week. They were managing around 20-35 stops daily and planning these stops was consuming much of their business operation time.

This is when they decided to switch to UpperInc, a smart food delivery software. According to Nathaniel Pool, Managing Partner of Chef Nicole (Miami), the speed and swiftness of UpperInc helped them save up to 10 hours every week.

By committing to the delivery management software-UpperInc, the team at Chef Nicole are now able to accommodate 60% more online ordering than ever before. Not only has their productivity skyrocketed more than 40%, but the route re-running time has also been reduced to just 5 minutes. These are all extremely remarkable feats that the Chef Nicole team was able to achieve with the aid of UpperInc.

Wishlist.Delivery

Yet another business success story is the one from Wishlist.Delivery. This California-based business delivers a variety of meal kits, local food, and frozen food products. According to the Founder at Wishlist.Delivery, Phred Swain-Sugarman, switching to UpperInc has simplified all their scheduling processes making the business more profitable.

Before investing in UpperInc, the team at Wishlist.Delivery used to rely on a lot of guesswork in planning efficient routes. The team also relied on Google Maps and spent up to 3 hours daily just to plan routes that would avoid traffic. The team's challenges also included managing multiple drivers running multiple delivery orders.

With UpperInc, the route optimization food delivery platform, the team at Wishlist.Delivery was able to cut down their planning time by 85%. This is monumental for the business as they were also able to increase their customer satisfaction to 70% and business profits to 60%.

The simplification of the delivery lifecycle also helped Wishlist.Delivery to reduce their delivery time by 75% which means an increased number of orders delivered in just a single day.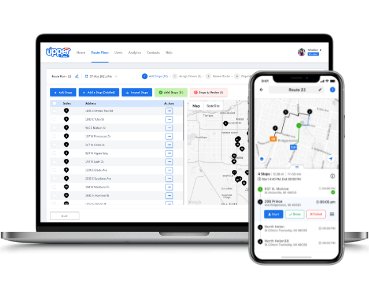 Upper Route Planner
A Simple-to-use route planner that every one is talking about.
Save up to 95% of planning time
Save up to 40% of time on the road
Plan 500 stops at once
No credit card details required
UpperInc's unique features
Some of UpperInc's competing and unique features include:
Importing Excel

UpperInc is a centralized platform that will work its magic after you import your Excel with all the order stops. With UpperInc, you can add up to 500 stops for a single route plan. This alone skyrockets the planning phase of delivery, saving precious time that you can otherwise invest in improving different areas of your business.

Route Planning and Optimizing

Route planning with UpperInc helps you save up to 10 hours every week. You can also reduce redundancy by archiving regularly accessed routes. This saves even more time.

You can also prioritize certain order stops. This essentially means the algorithm will optimize the route keeping the priority orders in mind and offering a strict delivery time window to the delivery personnel.

Optimizing the route is just as important as planning it and it reduces expenses like fuel costs spent in idle time. When the route is optimized, you will be able to increase the number of orders delivered in the same time frame. This means no more unplanned delivery delays.

Proof of delivery

For all orders, your delivery drivers will be able to provide proof of delivery by collecting signatures or photos of delivered orders.

Introducing more accountability into the delivery process motivates all employees in the team to deliver orders keeping customers' best interests in mind. Not only is it great for improving company morale, but it is also great for record-keeping as admins will be able to verify delivery completion.

At the end of the day, the main advantage is keeping the customers in the loop about where the delivery order is placed.

Dispatch drivers with just a click

As a business owner, you can keep the manual process of delivery to a minimum because UpperInc enables you to dispatch multiple drivers on all orders with just a click of a button. Big points for convenience.

You can dispatch drivers with just an email or a text notification, reassign drivers in case of driver absences, all without affecting the daily business workflow.

As business/ restaurant owners, you will also be kept in the loop every time a driver completes an order with live driver tracking. Not only will this positively affect the business but also increase the productivity of every single delivery driver out there.

Robust reporting and analytics

Good feedback helps a business grow and nothing can beat the impact of numbers in a business. With UpperInc, you will be able to generate daily and weekly reports, analyze the performance of delivery drivers, and make improvements in your business to scale even faster.

Analytics is a powerful tool in scaling a business and UpperInc helps you leverage this feature to improve the performance of each process in the delivery lifecycle.
Conclusion
In this cutthroat food industry world, you need to employ every single tool in your toolkit to see great results and deliver the highest quality service to your loyal customer base.
Food delivery businesses face high-pressure and strenuous processes regardless of their size.
Whether you manage a restaurant business or you run a meal-kit delivery business, delivery will play an integral part in your daily workflow. By avoiding common and traditional pitfalls faced in delivery, you can excel by only focusing on crucial business operations and leaving the delivery management to more capable hands of the food delivery management software.