The global online food delivery services market reached $126.91 billion in 2022 from $115.07 billion in 2020 at a CAGR of 10.3%. The growth is mainly due to the restrictive containment measures involving social distancing, remote working, and adopting new and technologically advanced trends in the food industry.
The food delivery trends keep changing every few months. In this blog, we have listed some food delivery industry trends that will be relevant for quite some time.
10 Food Delivery Trends for 2022 & Beyond
Let's highlight some of the best food delivery trends along with their examples that help you to improve your business productivity.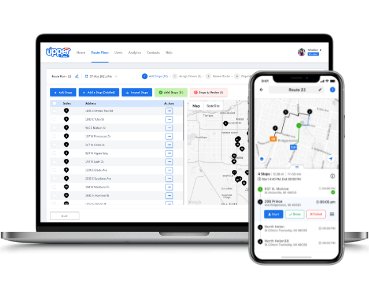 Upper Route Planner
A Simple-to-use route planner that every one is talking about.
Save up to 95% of planning time
Save up to 40% of time on the road
Plan 500 stops at once
Using Drones for Food Delivery

Deliveries using drones is one of the best technology trends for the food industry as it performs less contact with other individuals while meeting consumer demands for timely and cost-effective delivery.

In addition, this type of delivery could support changing consumer behaviors over the long term as per the interest in eCommerce platforms and improve user experience.

U.S. e-commerce is increasing at a rate of 17.9% annually.

In addition, restaurant delivery services are another area likely to experience significant growth.

Some of the best examples of companies using drones for delivering food to customers are mentioned below.

Domino

source: fortune.com

In November 2016, a New Zealand couple received the first food delivery through a drone in the world. They ordered Peri-Peri Chicken and Chicken and Cranberry pizzas, and within less than 5 minutes, the order touched down.

Mr. Meij, CEO and Managing Director of Domino's Group, states that drone delivery services are an integral part of pizza delivery. This technology enables you to safely decrease delivery time and distance by travelling straight to customers' houses by avoiding road congestion and traffic signals.

Want To Make Your Food Deliveries Faster and Safer?

Upper Route Planner is a route planning and optimization software that provides your drivers with the shortest routes to deliver food to more customers on time.

Uber Eats

Source: techcrunch.com

On 30 July 2019, UberEats went off for a trial of first food delivery. They performed testing in a high-density urban area with the help of ModalAI. A drone equipped with VOXEL, a powerful yet lightweight computing platform with 4G cellular connectivity, performed food delivery operations.

The working of this innovative drone goes like this:

A customer orders food
The restaurant will prepare the meal
Load the meal onto a drone
The drone will then take off, fly and land at a predetermined drop-off location

The new drone design is capable of transporting meals for up to two people and is equipped with six rotors. The drone can travel up to 18 miles in three six-mile segments: up to six miles to the restaurant, up to six miles from the restaurant to the client, and up to six miles back to the launch location.

Not only food delivery but this drone is also used for online grocery delivery purposes too.

Using Robots for Food Delivery

A special thanks to robots as they have made the online ordering and food delivery more accessible and more manageable.

Robot delivery service can be a long-term solution providing a technologically advanced solution in terms of delivery automation. It offers a drastic enhancement in business productivity by delivering speed, quality, and scale while reducing congestion and carbon emission.

Source: engadget.com

This robot possesses the capacity to carry 22lbs of food.

The good part of this robot is that its compartment is locked during the delivery time. The reason behind it is that no one else can steal the food or make any changes.

Once the robot arrives at the destination point, DoorDash sends a text message with a link to the recipient to unlock the robot.

In-House Restaurant Delivery Fleets

In the last few months, many businesses have realised that relying on third-party delivery services is not enough to fulfill food deliveries. Many of these restaurants and food businesses have realised that with an in-house delivery fleet, they can exercise more control over their deliveries and also have clear visibility into the process once the package leaves their restaurant.

Even though developing and maintaining an in-house delivery fleet is quite expensive, many food businesses believe it to be extremely useful for their business.

Third Party Delivery Services

Third-party food delivery providers like DoorDash, UberEats, GrubHub, and Postmates have been in huge demand. It is a convenient option for restaurants as well as their customers.

Even with most restaurants opting to have an in-house delivery fleet of its own, the demand for third-party delivery services isn't dying down anytime soon. If anything, the demand for third party delivery services is only going to shoot up in the future. It has been a trend for quite some time now and it will remain to be a major trend in the coming years.

Contactless Delivery

More than a year into this global pandemic, almost all the food businesses are working hard to stay in business to provide customer loyalty.

Owing to strict social distancing regulations, the emergence of contactless delivery is one of the best delivery models that many food industries have accepted. In this model, a delivery worker puts an order outside the customer's front door to avoid personal contact. This effectively eliminates the risk of acquiring the COVID-19 virus.

The contactless delivery provides you with features like:
Contactless pickups
Contactless payment
Contactless proof of deliveries
Temperature tracking
Adopting Smart Technology
Twitter

Twitter is the best tool to promote your restaurant or food business
Your customers can directly order food by just making a tweet.
Using social media channels like Twitter, your business easily possesses exposure to enhance online sales and brand awareness.
With a Twitter business account, you can list multiple ideas for promoting your business and customer communications.
The best example is Domino. Domino's Pizza was one of the first food providers to conquer the Twitterverse. The customers can easily order pizza by just tweeting a pizza emoji to the company's Twitter account.

Virtual Assistant

Chatbots, an AI-powered software solution, makes the business ordering process and user conversations easier.
Chatbots help to process and customize food & meal ordering quickly. The customer receives real-time information instantly.
Domino has created a pizza bot named "Dom." Customers find more convenience by just sending the order to Dom and requesting food with a single word.

Smartwatch

A food delivery platform can be integrated with Android and Apple smart devices.
Customers can order meals from their wrists in a few clicks. That's cool.
Domino was the first to launch a smartwatch app for Android watches that drastically simplifies ordering.

Smart TV

Your customers can easily book orders while relaxing in bed and enjoying popcorn.
For example, Papa John uses Apple TV to display the menu for the customers. So, the customers just have to select their orders and even make contactless payments.
Another example is TVtakeaways that provides the same offerings. It directly integrates with Samsung's Smart TV operating system, and the customers having Samsung TV can easily avail of these offers.

Using self-driving cars

Yes, you can even book your favourite order from your car.
In collaboration with Accenture and Visa, Pizza Hub initiated the concept of a pizza ordering system, especially for the customers who want to order from their car.
With its active integration in your customer's car dashboard, Visa Checkout allows them to order the food by voice.

Order with your eyes

Shocked? Order your food with eyes? How's that possible?
Pizza Hut has come up with an innovative idea that can read the customer's mind and not their thoughts.
The company has designed an interactive menu, "Subconscious menu," specially built on eye-tracking technology.
A Rise in Food Delivery Subscriptions
Food delivery subscriptions are an ideal choice for online food deliveries as well as the millennial generation.
Millennials are the first generation that would have very less restaurant visits or rather stay in than go out. They prefer to dine in with a reusable or compostable packaging meal kit or home food kits delivered to their door.
Consumers are making use of the subscription boxes to try a new or specific world cuisine and currently it is on-growing demand in the food market. Moreover, with the increasing number of customers for various food sources, there has been the continued growth of specialized food subscriptions.
With the increased number of online orders from customers, there has been an unprecedented opportunity to enhance delivery revenue and customer reach. One of the biggest challenges will be to balance the customer data and customer demand to meet the delivery expectation.
Using Food Delivery Management Software
If you're a small business owner or have just started your food delivery business, it's easy for you to deliver food in local areas. As a result, you'll require fewer full-time employees. But what happens if you have hundreds of orders to fulfill in a day? That's a daunting one. Right?
To overcome such complexities, it's better to include food delivery management software or a food delivery route planner in your business. Some of the unique features of this management software include:
Easily manage and track the food deliveries
Enhance the customer experience
Tracking status of your employees
Help you deliver food faster and safely
Manage your drivers smoothly
Enhance your business productivity
Keep your customers happy
The biggest challenge for you is maintaining the rising number of delivery routes and delivery flows, especially those handled by third-party providers or drive-thru. In addition, you need to stay ahead to measure, analyze and improve your daily business operations by having accurate data collections.
With perfect food delivery management software, you can quickly gain full visibility into delivery operations and make flawless deliveries for your customers.
Along with this software solution, you can even adopt a route planning and optimization software like Upper Route Planner which makes it easy to create route plans for multiple drivers at once. One of its prime customers, Chef Nicole, who runs a healthy meal-kit delivery business, saves 10 hours per week and delivers 3x more meals with Upper Route Planner. You can check out this video where he is sharing his experience about how his business is delivering 3x faster deliveries by including Upper Route Planner.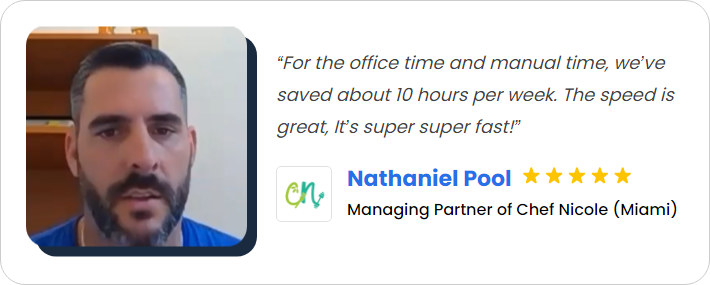 Grocery Delivery
After 2020, most people have become comfortable sitting at home and ordering groceries using delivery apps. One of the most popular examples of successful pickup and delivery options in the grocery market is Whole Foods.
Grocery delivery can be fulfilled through several delivery options like in-store pickup, curbside pickup & delivery, and contactless delivery.
Ghost Kitchens
A ghost kitchen or dark kitchen or cloud kitchen is basically a kitchen space equipped with all the necessary tools and equipment to prepare meals for customers. The only thing that differentiates a ghost kitchen from a conventional restaurant is that it doesn't offer dining experience. Ghost kitchens only prepare meals or dishes for takeaway or delivery.
Ghost kitchens have a large customer base. Ghost kitchens are one of the biggest food trends and it's going to continue to be a leading trend in the near future. It is one of the most profitable business models. There are more delivery orders, less operating costs, and more profit margins. Food Delivery FAQ
FAQ
Some of the major trends in online food ordering that have emerged in the last one year are direct-to-consumer delivery, curbside pickup, contactless delivery, and grocery delivery. These trends came into the picture due to the Covid pandemic.
The future of food delivery service is extremely bright. People have ordered more food and grocery online in the last two years than they have in the last 5 years. This trend shows that the food delivery services are in great demand and it's not going to slow down anytime soon.
Keep Up With These Changing Trends
Well!! That's not the end of food delivery trends.
To stay ahead in the food delivery sector competition, it is better to be aware of the latest on-demand delivery business ideas, technology revolution, tech giants, and industry experts. Apart from these food delivery trends, planning and optimization of multiple delivery routes is also an important trend in the food delivery market. You can make faster deliveries, boost restaurant sales, and meet consumer expectations.
To make faster deliveries, all you can do is plan routes and optimize those routes using route planner software like Upper Route Planner that helps you plan and optimize routes in real-time. This saves more time and money with every trip for sure.